Your webseries Coyote Munch Mini-Mart - in a few words, what is it about?
Ralph, a tumbleweed, pursues his rap career while stuck in the Witness Protection Program. He's overlooked by Monica Squishy, a federal agent, who also happens to be a bag of candy.
Basic question: Why a rapping tumbleweed - and how do you go about the creation of your characters?
I like writing magical realism and presenting irreverent or surreal elements in a matter-of-fact way. There was an idea that I had on the backburner about a human rapper in Witness Protection -- who's still taunted by social media while he struggles to remain in hiding. I've also been playing with inanimate objects (and talking animals) in a few other projects, such as my comic book Soul Paste feat. Arnie the Flaming Bag of Dog-Poo (a working class struggle about, you guessed it, Arnie the Flaming Bag of Dog-Poo). So I revisited the Witness Protection rapper idea with what I thought would make for an interesting character type -- a tumbleweed. Other characters quickly populated the world, such as Crinkles the plastic bag, Lil Glassy the 40oz bottle, Monica Squishy, the bag of candy, and Kevin Spatz, the spatula.
What were your sources of inspiration when writing Coyote Munch Mini-Mart?
On one hand, this is my love letter to the 90s, just like the Arnie comic, stuff that influenced me as a kid, everything from cartoons like Ren & Stimpy and Liquid TV to movies like Clerks and Serial Mom to graphic novels like Ed the Happy Clown and Pixy. Music like Ween, Butthole Surfers, Nine Inch Nails, Guns N'Roses, Pantera, Ghostface, Wu-Tang, Primus, Nirvana, Nas, Mobb Deep, Cypress Hill, Beastie Boys, Faith No More, Deftones, Danzig, Chili Peppers, Sonic Youth, Blonde Redhead, and older tunes by Frank Zappa, Captain Beefheart, and Tom Waits also influenced the overall vibe. In addition to channeling things that I loved growing up, this is also an exploration of the contemporary internet/YouTube culture, which has been growing for the past ten years. I was fascinated by this low barrier to exposure. Anybody can upload a video (or text, etc) on a basic platform. It took me a while to catch on that this was no longer "vanity publishing", which prior to the current DIY model, was generally not taken as seriously. Really it's closer to the zine scene of the 90s (and earlier), but a larger scale of self-production and self-distribution, with more advanced and cheaper technology. One of the stars on the show, Vel the Wonder (aka Vel Nine) seems to have gotten her music career started that way, and I admire that, and I'm fascinated by that. Babii Cris, our hip hop producer, who's also an actor/ rapper on the show, is on the move as well. In fact, everyone on the show has a bunch of cool stuff going on, whether they were born into this contemporary model or whether they reinvented themselves like I did. So, in a sense the show is 90s retro, but it's also a fusion of current social media and art distribution.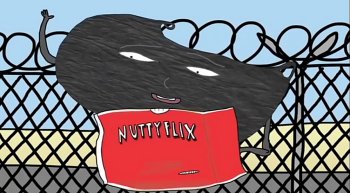 Do talk about Coyote Munch Mini-Mart's brand of humour for a bit!
One could describe the show as quirky, dark humor, satire, surreal, avant-garde, absurdist, or perhaps tangential. I always aim for emotional resonance and truth, even during irreverent or seemingly non-sequitur moments. These anthropomorphic characters, no matter how odd or funky, all have very human feelings, opinions, and desires. In addition, there's always at least one 'porn' every episode, and we keep trying to raise the bar in unexpected ways. We also pride ourselves on unexpected references to movies, hip hop songs, industrial songs, and so on. In a nutshell, uncanny scenarios are played straight.
How would you describe your directorial approach to your story at hand, and how much of an influence did you have on the actual look/design of the series?
The story is a combination of boundless possibility and grounded reality. Anything can happen, but there are basic everyday truths. Most of the character voice-overs are performed in casual and understated ways. We're reaching for a great range of emotion, but also making sure not to overplay the inanimate object gags or trying too hard to be cute or clever. We do have a few voices that are more over-the-top or more traditionally cartoony, but that approach is used sparingly. I think it creates a cool mixture of tones. It's funky and weird, but also very matter-of-fact and emotional. When I work with actors, I'm always open to whatever suggestions they bring to the recording booth. I usually have something specific in mind, but we will always experiment and play around, so that we have options. We discover things on the spot (or later while sound-editing). We run through a lot of takes. We follow the script and also leave room for some ad-libbing or other adjustments. I think the common denominator in the recording booth is that everyone is having fun, trying things out, and also bringing high energy.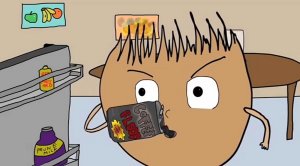 I wrote character breakdowns for all of the characters, and also had many discussions with our animator, Tyler Holtman. I also drew some basic sketches for the main characters. Tyler went off and running with the character designs, and that's what we ended up with ultimately. Sometimes we run the character designs through another round, but often the first thing Tyler kicks out is what we go with. I especially love his color schemes and the subtle details he uses to depict character expressions and movements. I was familiar with Tyler's previous ongoing animation series, Jarthur the Alien, so I knew that his overall style and vibe that would fit with this. Again, Tyler's own show had a retro 90's vibe, yet also fused with contemporary media/distribution.
What can you tell us about the animation process, and your collaboration with your animator Tyler Holtman?
Tyler is an absolute pleasure to work with. I think we're both learning more and more as we go along. Tyler is a seasoned filmmaker and this is his second animation series, so he's bringing a lot to the table, a lot of pragmatic and practical outlooks as well as creative solutions. His own work is also pretty wacky, wild, and free-spirited, yet he finds very specific ways to express his ideas and tell the story. He communicates clearly in various mediums, and that's one of the reasons I knew he'd be great for this project, even before we started.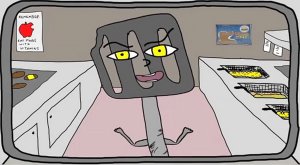 We record all the audio first in the studio (based off the scripts and some ad-libs/improv). Tyler and I sit down and finalize the storyboards. Then Tyler makes an audio-only cut of the voice-over. Then he animates the first rough cut to that. I give him notes on the rough cut, while getting feedback from a few folks, then the animation is revised as needed, and sometimes we switch out some of the voice-over with different takes. At this point, some sound effects are included and preexisting music is added, such featured songs by Turbo Sonidero Futuristico or Mari Rosa. Once we have a picture lock and the animation is complete, it gets sent over to Steve Holtman, who does the music cues and scoring. We discuss everything, and then he sends his music overall. Sometimes he'll make adjustments to things if we're looking for a different tone or vibe. It's tricky balancing everything out, but it's always an awesome and exciting process. Then the cartoon gets sent along to Matt Schwartz, who adds the final sound-effects as well as the sound mixing. Once we lock that in, Tyler renders everything, and that ends up being the version that gets released.
I should also mention two co-writers that have come on board for the second half of the first season, Chase Holtman and Abel G. Peña. They're both friends and colleagues of mine -- very creative and fascinating guys. Chase has been involved with this project since pre-production, as a producer and an actor. He initially reached out to his brother Tyler about animating the show. Abel, author of Skyewalkers, an official Star Wars novella, has been an excellent supporter behind-the-scenes, since the show's inception, and we talked about him officially coming on board as a fellow writer. We were able to make that happen starting with episode #5, which is in rough cut right now, and will be released in the early fall.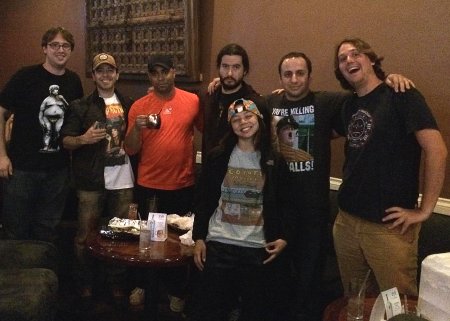 Chase Holtman, Abel G. Peña, Solomon Bond, Gary Teperman, Babii Cris, Joe Cervelin, Tyler Holtman
A few words about audience and critical reception of your series so far?
It's mostly just been word of mouth and random discovery so far. We don't have any marketing behind the show yet, and the only promotion has been through social media. I'm getting ready to shop the show around, I wanted to focus on creating content first, building up the product, demonstrating the proof of concept. Not just showing what we could do, but what we have done, and will do, regardless. I think people who have seen the show have enjoyed it overall, whether the humor and quirkiness, or the hip hop aspects, or digging the characters, or whatever else engages them.
The $64 question of course - where can one see your webseries?
For now, YouTube. In the future, Adult Swim on Cartoon Network, or something to that effect. Hopefully.
Perhaps this where I should mention that we are seeking distribution, marketing, representation, funding, and so forth. In the words of Bleezie, who plays Finna the shark on the show: "Get at me!" We're open for business.
Any future projects you'd like to share?
I have a couple of graphic novels that I'm currently shopping around (Snout House Blues and The Troll Strangler Mixtape). I also directed a couple of music videos that are coming out soon, including one with Babii Cris. I'm in early pre-planning for a lo-fi variety show that uses sock puppets and composite editing, etc.
I'd like to get hired to one day write Child's Play X or Nightmare on Elm Street XV or Jaws XII.
What got you into filmmaking in the first place, and did you receive any formal training on the subject?
I've loved watching movies since I was a kid. I'm formally trained in creative writing (undergrad at Sarah Lawrence College, MFA from the University of San Francisco, and the Professional Program in Screenwriting at UCLA). I've taken other courses in writing, acting, improv comedy, performance poetry, literature, film studies, and I've also worked on the crew of a number of film projects. As far as filmmaking, I'm mostly just learning by doing right now. Contemporary media allows for this, so I'm finally embracing that. I haven't received any formal training in filmmaking yet, so I just made sure to surround myself with the right cast and crew. That way, we can all learn and grow together. In keeping with the spirit of YouTube culture, I wanted to just dive on in (with the right team), and just learn as we go. Building this project up from scratch is one of the best decisions I've made in my life so far. I've learned, and am still learning, so much. It's a ton of fun and just really fulfilling and empowering. I recommend everyone produce their own project at some point, whatever that means for them.
What can you tell us about your filmwork prior to Coyote Munch Mini-Mart?
I worked on some other people's film and TV projects, everything from PA to AD to co-host to actor to freelance screenwriter. Earlier this year, I produced a thriller/horror feature, Killing Joan, which is currently in post-production. Todd Bartoo [Todd Bartoo inteview - click here] wrote and directed that film, and he also plays Kevin Spatz the spatula on this cartoon.
Filmmakers who inspire you?
Quentin Tarantino, David Ayer, Kevin Smith, Charlie Kaufman, Lena Dunham, David O. Russell, Vince Gilligan, Taika Waititi, Frank Miller, Robert Rodriguez, Sam Raimi, Peter Jackson, Spike Jonze, John Waters, Antoine Fuqua, Martin Scorsese, Stanley Kubrick, Woody Allen, Judd Apatow, John Carpenter, Harmony Korine, David Cronenberg, Trey Parker, Seth MacFarlane, Charlie Chaplin, Jean-Luc Godard, Paul Verhoeven, James Cameron, David Lynch, Oliver Stone, Edgar Wright, James Wan, Richard Linklater, Coen brothers, Danny Boyle, Doug Liman, Gus Van Sant, Stephen Chow, Zach Braff, Pendleton Ward, Kathryn Bigelow, Chan-wook Park, Takashi Miike, Hideo Nakata, Clive Barker and David Fincher -- to name a few.
Your favourite movies?
Being John Malcovich, Fight Club, Kids, End of Watch, Forgetting Sarah Marshall, Good Will Hunting, Rocky, Karate Kid, The Ring, Django Unchained, Pulp Fiction, Sin City 1 & 2, The Equalizer, It Follows, Robocop 1 & 2, Terminator 1 & 2, Short Circuit 2, Clerks, Eagle vs. Shark, Evil Dead 2, Crash, Se7en, Goodfellas, Training Day, Serial Mom, The Crow, American Psycho, Freeway, Cape Fear, Three O'Clock High, Hostel 2, Scarface, Return of the Living Dead, The Last Dragon, Phantasm, A Clockwork Orange, War of the Worlds, Body Snatchers, Halloween, A Nightmare on Elm Street, Robin Hood (animated), Judgment Night, Swingers, Slacker, Garden State, Kung Fu Hustle, Stoked: The Rise and Fall of Gator, The Smashing Machine, Cobain: Montage of Heck, Hellraiser, and many many more.
... and of course, films you really deplore?
The thing I'm most critical of is, actually, criticism. I can't say I love every film out there, but I'm not really interested in tearing stuff down. In a sense, any creative work is amazing. I guess I am disappointed by some movies that could have had more potential, and may have gotten watered down by the studio (too many chefs, too many studio notes) or were afraid to take chances. A lot of big movies seem to start off bold, but then they wither by the third act.
Your/your series website, Facebook, whatever else?
The latest episode of Coyote Munch Mini-Mart (#4): https://youtu.be/xeEHdUEQKEo
The full Coyote Munch Mini-Mart series playlist: https://www.youtube.com/playlist?list=PLvLKw5ff2bAHZUQWLyt5EJwZHqlkcl6HW
Facebook: https://www.facebook.com/coyotemunchminimart
Instagram: https://instagram.com/coyotemunchminimart
Arnie the Flaming Bag of Doo Poo comic: http://cmxl.gy/1Fvcbsv
Anything else you are dying to mention and I have merely forgotten to ask?

Feeling lucky ?
Want to
search
any of my partnershops yourself
for more, better results ?

The links below
will take you
just there!!!

Find Joe Cervelin
at the amazons ...

amazon.com

amazon.co.uk

amazon.de
Looking for imports ?
Find Joe Cervelin here ...
Something naughty ?
(Must be over 18 to go there !)

I'm formally trained in tap-dancing. No, I'm not. I do wish I could break-dance though. I've been training in jiu-jitsu for about a year now, and while I'm not very good at it yet, it helps keep me humbled and centered. It keeps me grounded (no pun intended).
Just wanted to shout-out my fellow producers, Solomon Bond and Gary Teperman, and a few other people involved with the show, including Jamie Bernadette [Jamie Bernadette interview - click here], Vanessa Lynnae, Shiva Elahi, Scott Epstein, Dawna Gonzales, Pavle Mara [Pavle Mara interview - click here], Teo Celigo, Bill Gibson, Danny Gardner, Adriana Guarderas, and Dave Prosper. I also wanted to thank my writing group. I also wanted to thank some of my mentors and biggest supporters, including my parents, as well as Nelson Trombley, Wendall Thomas, and Denise Morrow.
We're always looking for more emcees. Also, if you do industrial music -- or metal, or punk, or other experimental music -- please feel free to get in touch.
Thanks for the interview!
Thanks for having me, Mike! This was fun.