Your new movie Everyone Laugh at Leanne - in a few words, what is it about?
The film follows the paranoid mind of Leanne Higgis, she seems to initially have the perfect life with great friends and a great boyfriend, but things are not all as they seem, her world of paranoia soon starts to eat away the edges of her so-called perfect life and inevitably burrows its way in causing all sorts of hauntings, violence and mental disruption.
What were your sources of inspiration when writing Everyone Laugh at Leanne?
I was inspired by a succession of thoughts based around someone whoís haunted and going through an extreme mental breakdown, and I was fascinated at how this would play out in a film. Lots of films have covered this subject; two brilliant examples would be The Man Who Haunted Himself and Jacobsís Ladder.
In your movie, it's never really explained what exactly is going on in Leanne's world - so was this intended from the get-go, and/or do you have a secret explanation for everything?
I donít want to give anything away, but Leanneís paranoia is defiantly taking her over, therefore sheís seeing stuff thatís not actually real but there could be a possibility that some stuff in the film is outside of that and is stark cold reality - but you will have to make up your own mind on that one! It's great to leave it open to audience interpretation.
Do talk about Everyone Laugh at Leanne's approach to horror for a bit!
Leanne falls into horror from a drama/thriller perspective. Although I did set out to write the film as a psychological horror, it had huge elements of drama in it too. The film is very violent in places, and this was intentional as I wanted something disturbingly real feeling, and sometimes that gets lost in the fantasy world of horror films, the fact that itís a psychological horror film moves it further into the realms of reality. I see it as more Hitchcock or Lynch rather than Carpenter or Argento.
You also created the musical score for Everyone Laugh at Leanne - so do talk about the music in your movie for a bit, and its inrpirations and influences? And what came first, the music or the movie?
I always write the music to my script before we film, this way there is much more room to manoeuvre rather than scoring it and it leaves it open to use tracks on scenes where they maybe werenít meant to be in the first place. There is usually lots of piano in my films, but this time there was none at all as I opted for a very unsettling eerie sound world. I used my voice on a track as well emulating a possessed spirit which seemed to unsettle my engineer in the studio! The whole sound was incredibly dense and evil sounding; unlike lots of horror film soundtracks this does really sound like it means it rather than just the usual music to a film. My inspiration as always was my script, but if I had to pick a person who always inspires me musically especially when composing this kind of stuff, it would be Ligeti, he was the master of eerie unsettling sound, both disturbing and utterly beautiful at the same time.
What can you tell us about your overall directorial approach to your story at hand?
My idea was to direct it like a drama, as I knew with this approach the horror element would be much more powerful. I wanted Leanne to be both confident and content but at the same time slowly affected by things and totally confused by whatís going on around her and in her mind, therefore setting off a brutal breakdown. The couple of violent scenes in the film took Nicolai (DOP/editor) and me longer to work out, as we wanted them to look as real and intense as possible. I wanted the film to have an ominous underlying feeling of nastiness and mockery which I think we definitely achieved with this film.
Do talk about your key cast, and why exactly these people?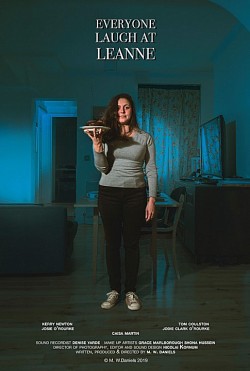 As in all of my films from Being Without onwards all the cast are phenomenal. Kerry Newton who plays Leanne is absolutely perfect for the role. She has an extremely strong presence and brings Leanne to life onscreen like no other. Tom Coulston who was in my previous film The Mind of Juliane has amuch bigger role in this film and brilliantly plays Leannes boyfriend Eddie. Real life mother and daughter Josie OíRourke and Jodie OíRourke play the mother and daughter friends of Leanne, Francine and Lily. I worked with Jodie on my film Emilyís Hands back in late 2018. Both Josie and Jodie are amazing, essentially they both work in comedy but they were by far the most sinister characters in any of my films, to my mind they play two iconic characters that could very well have their own action figures! Caisa Martin plays Mrs Stewart, and I won't explain her character as I donít want to give anything away. Caisa is essentially a non-actress but brings to all her roles a brilliant professional air. This is her biggest role to date, and she brings Mrs Stewart to life perfectly. Like one of my heroes Joanna Hogg, who works with both actors and non-actors on her films, if itís the right people for the roles it always works with great direction and a great script.
A few words about the shoot as such, and the on-set atmosphere?
There is always a brilliant atmosphere on set on all of my films, which is great. We filmed this in 6 hours and as we always do we worked extremely hard. It was filmed at a house in East Finchley in North London, a perfect location; it had a fantastic eerie feel to the house and surrounding area.
The $64-question of course, where can your movie be seen?
The film will be at festivals this year, and my other films have done really well at festivals last year so I hope this does the same. My film House of Lexi, which stars Emma Dark [Emma Dark interview - click here], won 3 awards at the Stormy Weather Horror Film Awards in America recently, which was amazing. It won best director, best soundtrack and best cinematography.
Anything you can tell us about audience and critical reception of Everyone Laugh at Leanne?
Those who have had private views of the film so far have loved it. They loved the acting, the intense story, unsettling soundtrack, and the overall insanity of it all, and of course the brilliant camerawork and editing by the great Nicolai Kornum and the brilliant sound by our wonderful sound recordist Denise Yarde.
Any future projects you'd like to share?
Whatever Iím creating next you can be sure it will be totally different to what I did previously and will be worth waiting for.
Your/your movie's website, Facebook, whatever else?

Feeling lucky ?
Want to
search
any of my partnershops yourself
for more, better results ?

The links below
will take you
just there!!!


My Facebook pages @everyonelaughatleanne and M W Daniels - @thelairofthedaniels -, and Twitter @bleakscape70 will have all the updates on whatís happening with the film.
Anything else you're dying to mention and I have merely forgotten to ask?
Just huge thanks to you for the interview, Michael. Itís very much appreciated and Iím so happy you enjoyed the film and thanks for the review.
Thanks for the interview!