The webseries In the Bedroom - what can you tell us about the main concept as such, and your involvement in it?
The concept of In the Bedroom (http://angelwoodpictures.com/
inthebedroom/index.php) is that behind closed doors, many nuances and ebbs and flows in relationships can occur. The bedroom is often the most dynamic room in the house (or hotel in some cases) for relationships, whether between spouses, parents/children or even spies and strangers. My involvement is as the writer/director of the Marriage is Bliss episode (click here) and also the writer of the Pat and Matrice episode (click here). I also helped as a casting associate for the series. About a dozen of us saw almost fifty actors in one day. That was quite an experience. So much talent in New England, USA and, as such, there were many tough casting decisions.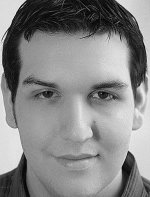 Seth Chitwood
How did you get involved with the project in the first place?
The series creator is Seth Chitwood of Angelwood Pictures (http://angelwoodpictures.com/) who is very experienced with webseries, having created other projects such as Family Problems, Red Circles and Lungs. I met Seth when Roland Khorshidianzadeh and I interviewed him on To The Edge (click here). A few months later in Summer 2013, Seth contacted me about his concept for bringing a New England collaboration of filmmakers, actors and crew together. I admired Seth for his idea and confidence in such an ambitious project. So I got in on the mix.
Let's talk about the episodes you were more deeply involved with for a bit: Pat and Matrice - what is it about, and what were your inspirations writing it?
Pat and Matrice is about two ladies who have been through a lot in life. They have both suffered through failed relationships, both with men, and perhaps with other women. Now they find themselves together in this seedy hotel room, each trying to hold on to their humanity. They both use a crutch - vodka for one, cigarettes for the other.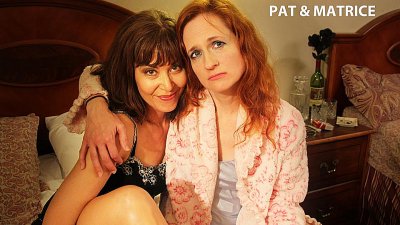 I wrote Pat and Matrice one day a few hours before teaching C.O.R.E. A.C.T.I.N.G. at the Brooklyn Coffee and Tea House in Providence, RI, USA. (brooklyncoffeeteahouse.com) C.O.R.E. is my intense scene study acting class. I knew that my students always feed off challenges and I enjoy writing my own material for class. So Pat and Matrice was born out of that desire. I wrote the piece so both roles could be done by either gender. In C.O.R.E. A.C.T.I.N.G. that night, my friends Creusa Michelazzo and Stephanie Castanos did the piece justice, interestingly enough both in English and then Spanish, as suggested by another top student David Graziano [David Graziano interview - click here]. Creusa and Stephanie do not consider themselves full time actresses, however they both brought the sizzle and steak to the piece that night as a class exercise. It was really terrific. So that was inspiring in submitting the Pat and Matrice script to In the Bedroom specifically as a two actress-piece.
Why did you choose not to direct Pat and Matrice, and what can you tell us about the episode's director Audrey Noone [Audrey Noone interview - click here]?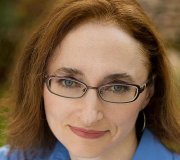 Audrey Noone
It became clear that Pat and Matrice were developing, in fact, as both women. As the characters were forming their own lives, it became clear, that "they" - Pat and Matrice - wanted to be female. As such, I felt it would be best for them to have a strong female director. Seth had an In the Bedroom meeting at the Providence IHOP - a popular USA restaurant (http://www.ihop.com/) and I believe I actually mentioned Audrey's name as a possible candidate to direct, although I did not know Audrey very well personally. Others at the meeting knew Audrey better than I did and also thought she'd be a great choice. My instinct was based on Audrey's intelligent and well written Facebook comments. In these modern times, social media presentations of personality do represent us in our dealings both professionally and personally, so Audrey's voice as an artist was coming through those channels. She certainly was the right choice to direct.
| | |
| --- | --- |
| Kathy LeShay Berenson | Natasha Hatalsky |
What can you tell us about your leading ladies Kathy LeShay Berenson and Natasha Hatalsky, and why exactly them?
Natasha and I met, once again, on the To the Edge program (click here) She's highly trained and very formidable as an actress. Her reel speaks for itself (click here).
I had not met Kathy until the audition for In the Bedroom. Kathy was dynamite in both auditioning for Pat and Matrice and a few other characters for the series. Casting can depend on many factors and actors should know that some of these factors, you can influence and some you can't. You can control having done your work in preparation for the audition. If you prepare, you give yourself the best possible shot at getting the role. Both of these ladies prepared and were on top of their game at the audition. There were some twists and turns in casting, and in the end, it worked out tremendously. Together, Kathy and Natasha have a palpable energy and chemistry, a really powerful team as led by Audrey. I am very pleased and impressed with Pat and Matrice.
Your episode Marriage is Bliss - again, what's it about and what were your inspirations?
Marriage is Bliss is about an African-American politcal power couple in the mid 1980s dealing with the fact that they are Democrats in a Republican dominated Beltway environment. Their relationship is feeling strained and the wife proposes a short break to spice things up. I wrote Marriage is Bliss on the same day I wrote Pat and Matrice. For whatever reason, I had a good writing day! The inspiration was that old chesnut of the squabbling couple. Like most of us, I've seen that scenario develop quite a few times with friends and family and it's always uncomfortable to be a witness to that dynamic in person, yet somehow, it's intriguing as fiction. I will cite the classic Bob & Carol & Ted & Alice movie as another influence, especially as the wife character Janet Union (LaNecia Edmonds) proposes a "coffee break" from fidelity.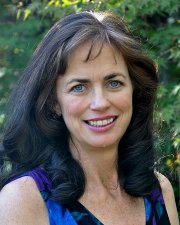 Mary Hronicek
What can you tell us about the look and feel of the episode?
Seth asked for ideas about set design and this is not my specialty yet.For some reason, I had a vision of the 1980's Reagen era. The set designer for Marriage is Bliss episode is Mary Hronicek and she honored my idea to a "T" plus some. I felt especially honored that she packaged the Bruce Springsteen Born in the USA (http://en.wikipedia.org/wiki/Born_in_the_U.S.A._%28song%29) framed album cover and ticket stub. She collaborated with her next door neighbor on the elements of that piece and it actually moves emotionally that Mary pulled that off. The Born in the USA album, and the title song especially, is loaded with meaning and historical significance. Ronald Reagen used the song as a theme song for re-election for a while, not realizing the heavy, disenfranchised voice of the American Veteran in the song. For me personally, many 1980s pro wrestlers like Steve "Dr. Death" Williams (http://en.wikipedia.org/wiki/%22Dr._Death%22_Steve_Williams) used the song to accompany their entrance to the ring as a rallying call, again, perhaps not realizing what the song's lyrics actually meant. To me, that duality adds a lot in the context of Marriage is Bliss.
The color hue of the yellow tint represents both the "candy coated/feel good" yet somehow "washed out/washed over" feel of both the times and their marriage. Credit Seth and DP/editor Alex Watrous for those choices. I believe Seth and my assistant director Creusa Michelazzo of Macremi Productions (http://www.macremi.com/) helped organize the use of music by Sebastian Zapata and Jorge Tobon. Certainly this was a team effort and everyone I mentioned along with Curtis Reid, Chris Esper [Chris Esper interview - click here], hair and makeup artist Stefani Plante, Carlyn Fournier and many others lead to the success of both this episode and the series in general.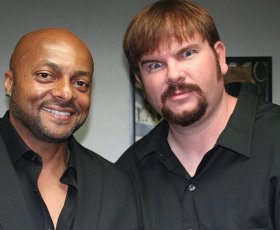 Jose Guns Alves with Mike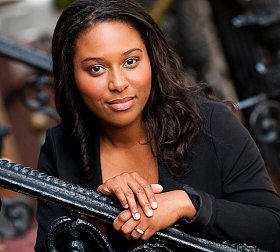 LaNecia Edmonds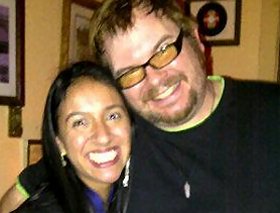 Creusa Michelazzo with Mike
Your leads Jose Guns Alves and LaNecia Edmonds - what made them perfect for their characters?
Guns and LaNecia have chemistry together and are real gifted, solid and hard working actors. Their slight age difference also reflects well on the characters of Benjamin and Janet Union. Guns is a driven guy and he and I have had many conversations about the challenges facing both of us as actors in New England and as creative guys in these tumultuous times. People throw out the "bro" term a lot these days, but me and Jose are real brothers, there's no doubt, as we understand and respect each other. LaNecia has a special place in my heart both as a friend and as an acting student. She is one of the best kept acting secrets in New England, and my hope is that she gets more quality work from her work in Marriage is Bliss.
Do talk about the shoot as such for a bit, and the on-set atmosphere?
It was fun. The In the Bedroom team set it all up for us and my job was so easy that day, I really felt empowered as an artist. This is how it should be all the time, I thought. Assistant director Creusa Michelazzo ran a great ship and there were no major obstacles. Jose, LaNecia, and I had rehearsed together the day before so their lines were memorized and their performances were on point. Again, the set almost made me cry, I was so happy. What a performance space! It was perfect.
I was fully confident in the small crew of DP Alex Watrous and audio lead by Chris Esper, with support from Curtis Reid. These are solid, quality film people. I felt great to work with this team and "not have to worry about it".
Will you be writing and/or directing any more episodes of In the Bedroom, and in which direction will the series as a whole be going to take?
Let's ask Seth to do another season! It's his call of course, but I'm up for it as both a writer and director for another season! In the meantime, I'll do what I can to bring attention to the series that everybody worked so hard on. A tip of the hat to the whole gang, especially theboard of directors (http://www.angelwoodpictures.com/inthebedroom/
board.php). What a solid team that brought it all together!
(Other) future projects you'd like to share?
I'm happy to mention that my short film The Nature of the Flame was accepted and world premiered at the Rhode Island International Film Festival (http://www.film-festival.org/). My thanks to George Marshall and Shawn Quirk for making that happen. DP/editor Chris Hunter and I feel great about that acceptance and I had an awesome time and learned so much at the festival during the screenings and workshops with industry professionals like Tommy DeNucci of Woodhaven Films (http://woodhavenfilms.com/)
We're looking for distribution for Blood! Sugar! Sid! Ace! - a completed feature film [Mike's Blood! Sugar! Sid! Ace!-interview - click here].
I'm also doing a blog on Facebook for The Industry Insiders (https://www.facebook.com/groups/industryinsiders/) called The Messier Moment.
Movie Producer/Actor David Gere and I are working together to promote his Pro Wrestling character DG Haven.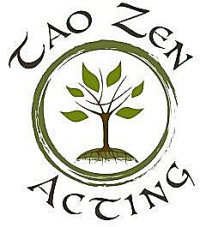 Feeling lucky ?
Want to
search
any of my partnershops yourself
for more, better results ?

The links below
will take you
just there!!!

Find Mike Messier
at the amazons ...

amazon.com

amazon.co.uk

amazon.de
Looking for imports ?
Find Mike Messier here ...
Something naughty ?
(Must be over 18 to go there !)

So these are the projects of the moment. I also started a new acting class called Tao Zen Acting - The Art of Zen and Creating the Inner Greatness (www.taozenacting.com). Tao Zen Acting implements life skills and how they apply and integrate with acting disciplines.
I'm also helping Tim Hillman with his acting class Simply Acting which is a great learning experience for me.
Of course, my long term film projects all deserve attention and most are in need of investors at this point. The current project is Disregard the Vampire [Mike's Disregard the Vampire interview - click here].
If anyone is interested in investing in or producing any of my projects... please inquire at mikemessiershow@gmail.com!
Your/your series' website, Facebook, whatever else?
Anything else you are dying to mention and I have merely forgotten to ask?
I'm learning to enjoy life a bit more, yet I'm still driven to achieve my goals. "Goals are dreams with deadlines" - Tony Robbins (www.tonyrobbins.com). To your readers, I say never quit and make the most of your time. When we're all dead, we're gonna wish we made more art and did less social networking!
Thanks for the interview!
Michael, thank you for your continued support of New England artists.