Your new film Blood! Sugar! Sid! Ace! - in a few words, what is it about?
Sid! is a man who reflects on the mistakes he's made with career and women. He creates an alter ego – Ace! – a younger version of himself, to retrace his own footsteps, to relive the journey that has been his life. There's quite a bit of pain in that journey for Ace!, much of which from his relationship with Blood! – a dysfunctional broken doll of a lady, terribly sexy, a siren who represents three women (Catherine, Charlotte and Lisa) from Sid's life. And then there's Sugar! who represents the positive, the light of day, a sweet soul mate that many of us wish we have but never find. These are the four and only characters in the 73 minute movie.
To what extent do you identify with your main characters, and how much of your own story did you work into Blood! Sugar! Sid! Ace!?
To the fullest extent, especially after casting, rehearsing and filming with the actors. The actors breathed life into these characters. My own story is pretty much the movie here… at least a very heavy portion of it. The biggest aspect of my life that is not in Blood! Sugar! Sid! Ace! is my involvement with Professional Wrestling, as I made a choice to keep wrestling out of this movie, because it is so heavily a part of my other projects… but still I managed to slip a Stone Cold Steve Austin vs. The Rock reference in Blood! Sugar! Sid! Ace!, just for fun.
(Other) sources of inspiration when writing Blood! Sugar! Sid! Ace!?
I had been hitting roadblocks for a few years with a project titled Wrestling With Sanity. In short, Wrestling With Sanity has been and still is a passion of mine that has not reached its full potential as a feature film. There's been a stageplay, three award winning short films [see here], and a graphic novel, however, the timing has not been right yet for the feature film to be produced.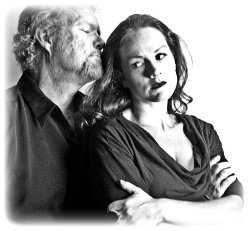 Lawrence O'Leary, Jami Tennille
Like Sid!, my own untapped talent and wasted potential was starting to corrode and disgust me. Hitting frustration, a near rock bottom, I decided, "I will no longer allow myself to be the guy who isn't making Wrestling With Sanity, I will be a movie maker".
I took a gut check and realized that I had to make a different movie. I just had to. So, I decided to write within my means, a lesson I probably picked up from Movie Maker magazine. At the end of Summer 2010, I had an epiphany for a movie with four actors and one location. I had a file folder of poetry, short stories, fiction and non-fiction, rough drafts, napkin scraps, and doodles. I sprawled these unfinished works across an octagon shaped table in my apartment. I had the World Series 2010 as background noise for a week, San Francisco over Texas, as I compiled the story. The screenplay was based on the aforementioned previous works while held together with the developing new through line of the four characters. After a week, I had 45 pages written. My DP/editor/co-producer Tim Labonte persuaded me to write a bit more. So I did. That resulted in the unique monologue exchange between Ace! and Sugar! that concludes the film.
With the very spartan set and limited number of actors, Blood! Sugar! Sid! Ace! at times does resemble a stageplay. Would you like to elaborate on that, and what can you tell us about the look and feel of your movie?
The intensity of acting complimented by close ups and camera movement by Labonte give the audience a feeling that they are "in" the world that's been created and that is, indeed, similar to the experience of a stage play. I do plan on converting the script to a stageplay in the near future and submitting the work to playhouses and festivals, but initially, I wanted to put our "signature" on this movie version first, before opening it up to other director's interpretations.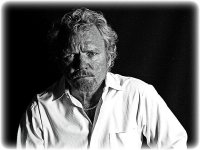 Lawrence O'Leary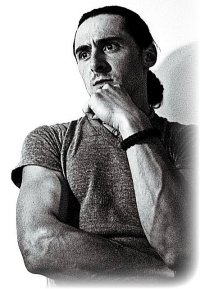 Adam Buxbaum
For the movie's direction, I was directly influenced by Sidney Lumet's Long Day's Journey Into Night, a classic Black and White film, based on a Eugene O' Neil play, showcasing Katharine Hepburn and Jason Robards in a story about a family suffering from alcoholism and drug use. That movie set the bar for what we were looking for. For the look, we ended up in the ball park of the early film quality of Metropolis by Fritz Lang. We did not have that in mind initially, but I'm quite pleased with the results.
What can you tell us about your cast, and why exactly these people?
Each actor fit perfectly with their roles. In casting, it's about what the actor brings to the table, both in technical skills and natural talents as an actor and their emotional content and life experiences as a person. When the actor and the written word merge, develop and prosper, a character is formed.
Lawrence O' Leary as Sid! - Lawrence knows me very well; we had a solid friendship going into the project. Larry was one of my first students, and later an assistant teacher, in my Acting school called C.O.R.E. A.C.T.I.N.G. Larry and I developed a real brotherhood based on similar life situations. Larry knew me well enough to be able to fully inhabit Sid! as I saw him, while adding even more to the mix. Larry's life experiences include being a war veteran, a sea captain, a professional magician and a martial arts instructor. When he got into acting, he just chomped right into it. Lawrence continues to act and hone his craft. He's really perfect for those hard to find, tough guy roles and I'm sure something big is right around the corner.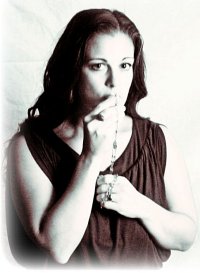 Stacey Forbes Iwanicki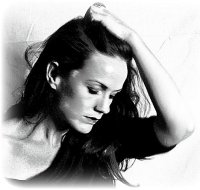 Jami Tennille
Adam Buxbaum as Ace! - I did not know Adam before our audition process. What I like about Adam is his intelligence and his ability to ask tough questions about the script and where the ideas come from. Ace! was the toughest role to cast, likely because I wasn't really sure what I was looking for. What got Adam the role is that he nailed the emotions and power of the movie's final monologue. That was the key. Everything else fell into place. Adam made a terrific shift in his take on Ace! from rehearsal to shooting, taking the character much deeper and darker. As an actor, I'm guessing Adam subconsciously chose to save his rawest emotions for our actual shooting, which I understand and appreciate. Adam has since moved to LA and is pursuing his goals. I applaud his courage.
Stacey Forbes Iwanicki as Sugar! - When I put out the casting call online, Stacey submitted her headshots, resume and a video link to a commercial she acted in for a local gym. This 30 second commercial really showcased Stacey's eyes and facial expressions, and that is something you can't teach or direct. Stacey shared with me some of the books she had been reading, metaphysical type books that I was just getting into at the time. Stacey has a huge degree of empathy as a person, and again, you can't teach or direct that type of thing. It was just a natural fit and she did very well at the audition. Stacey continues to act in the New England region, and she is a true find for anyone who works with her.
Jami Tennille as Blood! - This was also a tough role to cast, because the Blood! character is based on women that I would view as "dysfunctional" - but I'm sure they have choice words about me as well! So there had to be a very real humanity to Blood!, but not as a victim or as a stereotypical "bad girl". Ironically, I met Jami in one of my acting classes, and I thought she was "too nice" to even audition for Blood! Lawrence had worked with her on a class assignment and convinced me otherwise. It worked out for the best, Jami really nailed her role. There's a line where Blood! says "I want to be free", and it always hits home for me. Jami is currently in high demand as an actress, and recently starred in a film out of Maine called Dark Minds.
Overall, the group dynamic had to be just right. Chemistry is the key.
Could you talk about the actual shoot and the on-set atmosphere for a bit?
We shot over seven days in a black box theater that we constructed with help from set designer Horacio Lertora. Basically it was large wooden slabs painted black in a large rented space in a mill building. We shot in June and July 2011 in Olneyville, Rhode Island. Honestly, it was really hot and uncomfortable for everybody on a few days. We had an Air Conditioner and fans, but we couldn't run them while actually shooting. It was rough! However, we did have plenty of food and beverages, and with a small cast and crew there was no room for "drama" behind the scenes. We had to shoot eight pages a day. Overall, it was a pleasure. To do it "all over again", I would have used a different location, more comfortable. Live and learn. But we all got through it, as a family, a team. Overall it was a pleasure.
The $64-question of course, when and where will the film be released onto the general public?
We're looking for leads for an art-house release. I have my own ideas for a unique release that would be internet based.
Let's talk about your upcoming Chris and the Coffee Girl for a bit: Now what's that one about?
It's a parody of the pick-up artist culture, and the silly, yet somehow inspiring, advice those books deliver. In our movie, "The Book" is personified by our actor Pro Wrestling hardcore icon Raven. The Book meddles in the life of our protagonist Chris as Chris slowly pursues Penny the Coffee Girl. The Book would rather have Chris chase every girl in town. While The Book helps make Chris more confident with women and himself, ultimately, Chris must decide between The Book and The Girl.
To ask quite bluntly: Why a romantic comedy?
It's time to get funny. Blood! is my attempt to put an "end" to some of my internal (perhaps eternal) strife. Chris and the Coffee Girl is an attempt for me to find my smile. And the world needs a laugh these days, as many as it can get.
What can you tell us about Chris and the Coffee Girl's cast?
This is gonna be fun! We have Raven (theraveneffect.com) playing the Pick Up Artist Book. Raven is known for a very cryptic and macabre interview style in wrestling, but he also has a very light and humorous side. Our leading lady is Maria Kanellis, who is the gorgeous redhead from WWE Wrestling, Donald Trump's Celebrity Apprentice and Playboy. The 6'9" Big Daddy V, also known as Viscera and Mabel, will be playing against type as Felix, a fashion store salesmen. We have the legend Ox Baker and another hardcore wrestler Matt "Spike" Hyson in the movie as well.
We have cast some great local actors to round out the cast… and oh yeah, I'm playing Chris myself. I feel it's best for this movie for me to act in it. I have the look and can achieve the emotional arc of Chris that I'm looking for. I wouldn't act and direct in many movies, but for this one it will work. It will be a challenge and I'm up for it.
As far as I know, the film is still in pre-production - so what's the schedule, and any idea when and where the film might be released yet (and yes, I do know it's probably waaay too early to ask)?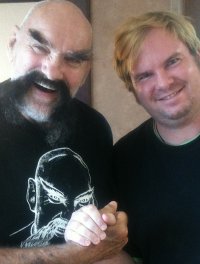 Ox Baker, Mike Messier
It's best to say we are in development. We'll start shooting when we have our budget in place. I'm working with Creusa Michelazzo of Macremi Productions and she is just as enthusiastic as I am. The scope of this project is bigger as far as locations, the amount of actors, etc. We already have interest from a distributor out of LA. I'd like to say by 2015, early 2016, we'll all be watching Chris and the Coffee Girl and having a laugh at all the hijinks. We got a jump start last year by capturing some voice overs with Raven to solidify the template for the story and to develop my business relationship with Raven to the personal relationship between Chris and The Book.
Any future projects beyond Chris and the Coffee Girl?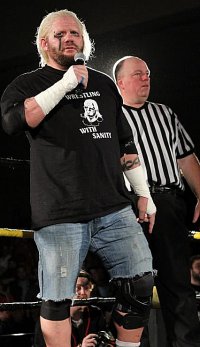 Raven wearing Wrestling with Sanity T-shirt
Wrestling with Sanity, and my other scripts:
Bad Girls With Good Tattoos is a sexy road trip movie about three rock and roll girls. There's a lot of crazy fun and sex in this one, something John Waters fans will like.
Feel the Bang! is a buddy action movie that deconstructs into an existential piece that takes place in LA. I wrote it for wrestler/Yoga instructor Diamond Dallas Page and Raven and they've both agreed to do it.
I wrote an edgy comedy called God is My Best Friend, and later adapted it to Paz is My Best Friend to feature my friend Vinny "Paz" Pazienza – a Pro Boxing Hall of Famer. Martin Scorsese is the executive producer of an upcoming Paz bio-pic and my comedy script can only benefit from Paz's success. He's a great guy and a good friend.
Fight or Play Basketball is a TV pilot I wrote about a sports prodigy that I'm very proud of. It's my only PG type script. I'd love to get this to network TV, it's very family friendly.
Finally, I have a few scripts that I co-wrote with friends. Tom Paolino and I wrote Is George Gay?, a wild character study about manhood, homophobia and friendship. Court Fisk and I co-wrote CAGE, a really cool horror script, a thinking man's zombie film. I wrote a performance piece called The Actor, about the life story of my acting student David Graziano, who gave up his acting and his girl in his twenties and got them both back in his fifties. It's a pretty deep and inspiring piece.
Let's go back to the beginnings of your career: What got you into filmmaking in the first place?
When I was a kid, I took two VCRs and set them up to edit some really raw music videos. I took footage of this wrestling tag team called The Road Warriors and put it with their usual theme song "Iron Man" by Black Sabbath. From there, I wrote a script called World War 3 Part 2 that my high school video production class decided to run with.
But ultimately, I cite the Martin Scorsese movie GoodFellas as my biggest influence. Just a great movie. I skipped school to go see it, my friend Chris and I "borrowed" a car to get to the theater. No regrets on that one.
What can you tell us about your filmwork prior to Blood! Sugar! Sid! Ace!, and also your growth as a filmmaker?
It really got going working with Jorge Lomastro on an 80 minute piece called Man in You – A Providence Love Story. Jorge directed and we both wrote and produced. I acted as the lead of Guy Smith. It took us a year and a half to make the movie and this was really no budget, but we did create a story that people could relate to. The movie has some great rock n roll music. This was a hands on education on how it is to make a movie, to organize scenes, locations, actors etc.
As mentioned, the Wrestling With Sanity short films were a big step. Before that, I created a bizarre documentary called Re:Jected by Reality, about my experiences with reality TV shows. Re:jected is a funny piece that's still good for some laughs; we got 4 and ½ stars from Film Threat which gave me a lot of encouragement. My first collaboration with the aforementioned Labonte was on a theater/film piece called Orlandis and his Puppets without Strings, which ultimately foreshadowed Blood! Sugar! Sid! Ace! And finally, Wrestling Son – Memories of my Parents' Divorce, which was my first time working with wrestlers like Balls Mahoney, the late "Eliminator" John Kronus and his then girlfriend Cassy Strayter. Even Killer Kowalski made a cameo!

As far as growth, that comes with putting the hours in, whether it's in screenwriting, acting myself, working with actors etc. I get a lot out of my C.O.R.E. A.C.T.I.N.G. workshops, my acting class since 2009. The time I put into it pays off as it teaches me to work with many different types of actors at different levels of experience. The author Malcolm Gladwell says that one needs about 10,000 hours of practice to excel at anything. So put the hours in.
How would you describe yourself as a director?
I'm a work in progress. My strengths are in casting the right people and creating a good working environment, even without a lot of money. I like script analysis and rehearsals; I like the actors to work hard on depths and layers of their characters. I'm an actors' director.
I've been accused of not being technically knowledgeable, and that's probably true, however, my DP/Editor Tim Labonte handles those aspects wonderfully. So it works out.
Filmmakers who inspire you?
Spike Lee. He takes chances. Although Spike himself is a household name, I don't think his movies get enough credit. His Summer of Sam was a masterpiece. Richard Linklater. His dialogue in films like Waking Life and Before Sunrise and Before Sunset carry his movies, and I respect that. Quentin Tarantino, mostly because Pulp Fiction struck a chord with me. I even have a tattoo that reads "Zed is Dead". Maybe someday Tarantino will be walking around with a "Chris and the Coffee Girl" tattoo. Or not. Also, when I saw Good Will Hunting, which takes place in Boston, we were in the middle of Man In You, our Providence movie. So there was some inspiration there, from good ol' Matt and Ben, just because they were relatively local guys.
Your favourite movies?
Highlander. Goodfellas. The Rocky-series, especially Rocky III, it's the most fun. There's an obscure Cameron Diaz movie called The Sweetest Thing that is good for a laugh. Citizen Kane, The Talented Mr. Ripley and many movies with Denzel Washington and Nicole Kidman. I really like movies that use music well, whether a score or a soundtrack.
... and of course, films you really deplore?
I don't know if I deplore any particular movie, however I avoid movies that I'm "supposed to see" just because everyone else sees them. Movies that have the term "franchise" associated with them, or are part of a big three part trilogy, alarm me. It seems kind of cookie cutter, pre-determined. However, those big box office movies keep the general audience in the habit of paying their money to go to the movie theater, so it's vital that those movies are created and succeed. On the flip side, backyard stuff with Karo syrup as blood doesn't do much for me either. "Not that there's anything wrong with that" as Seinfeld would say.
Your/your movies' website, Facebook, whatever else?

Feeling lucky ?
Want to
search
any of my partnershops yourself
for more, better results ?

The links below
will take you
just there!!!

Find Mike Messier
at the amazons ...

amazon.com

amazon.co.uk

amazon.de
Looking for imports ?
Find Mike Messier here ...
Something naughty ?
(Must be over 18 to go there !)

Anything else you are dying to mention and I have merely forgotten to ask?
I encourage people to do what they want with their lives. Many people do not.
There's one guy I know in particular named Mark who really has a brilliant mind for movies, and he has particular love for documentaries. He's recommend some great movies for me to see, somewhat obscure stuff, that I went out and got, and it was all really choice stuff. But Mark's not making movies. He's working in a hardware store, thinking about making these movies that are just stuck in his head. I've led him in the direction of a good, affordable camera, but he didn't buy it. He said if he were to do something, he'd have to do it 100 percent. So instead, he's doing it zero percent. It seems like a waste, doesn't it?
My friend Bryan Casey and I both make movies on very low budgets. It's hard and people ask, "why do you do it?", "how do you do it?", stuff like that. Those are fair questions but for those who are driven to make movies, they will find a way. Bryan says "if you can dream it, shoot it!"
I like the word "goal" instead of "dream". Goals you can work on, every day if you choose to. Dream is something you do in your sleep. I'll quote The Coffee Girl from Chris and the Coffee Girl: "Goals are dreams with deadlines."
So find a way. Do it. Don't be denied.
Thanks for the interview!