First of all, why don't you introduce yourself to those of us unfortunate enough to not already know you?
Hey Michael and everyone! I am an actress, writer, director and producer. I have fulfilled all of those roles in my own projects to greater/lesser extents, and have acted in and directed other people's projects. I've got about 6 of my own short films out, with a few more coming out in the next few weeks.
What got you into the filmworld to begin with, and what can you tell us about your education on the subject?
When I was a kid, I wanted to act. I was in plays and took some classes. My parents tolerated it as a pastime, but it was HEAVILY discouraged as anything to be pursued further. So I floundered around for several years, while I learned a "respectable" profession. Though I had swept my desire under the carpet, it reemerged a couple years ago, and I decided to go after it. I started auditioning and acting in a bunch of projects. After about six months, I realized that if I wanted to get a demo tape together, it would take about ten years to accumulate enough material of good technical quality as well as interesting scenes. So, I decided to write some scenes and make my own tape. Through this, I discovered a talent for writing, and I started vomiting up a whole bunch of scripts.
Acting, writing, producing, directing, editing and whatnot, you seem to have done it all - so what do you enjoy the most, what could you actually do without?
I could do without editing, though I am moving toward it rather than away. It will just be more efficient if I can take care of it myself. I think that acting and writing, in that order, are at the top of the list for me. It would be nice if I didn't direct my own pieces, because it's hard to be both behind the camera and in front, however, I have a specific vision that I want to achieve. It would probably take someone who I have a wonderful pre-existing relationship with to direct one of my scripts.
Let's talk about a few current films of yours:
The Race Card - what is it about, and how did it come into being?
The germ of the idea was a guy at a dinner table who is an agitator. For him to be agitating, there naturally had to be characters for him to rile up. So, they arose from what I wanted him to accomplish.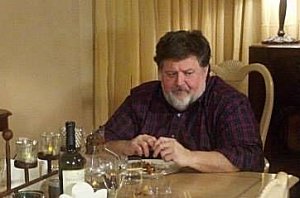 Frank O'Donnell as Harold
What were your inspirations when writing The Race Card, and how hard was it to not drift off into political incorrectness for the joke's sake?
A lot of Harold's jabs have to do with ethnic food. I thought that might keep it from being too inflammatory, rather than going after color, speech patterns, customs -- those things can easily become very unfunny. Though, some people who have viewed it, thought that Harold was VERY inflammatory. I hope that that didn't ruin it for anyone. I haven't gotten any feedback to that effect.
Do talk about your directorial approach for a bit!
With The Race Card, I did a lot of coverage. Meaning, shooting a lot of footage that you know you're not going to use in the end. We put the camera on one character and filmed the whole script. Put it on the next character, filmed the whole script, and so on. This made my job in the editing room a freakin nightmare. I had to wade through lots of footage, carefully combing for the best facial expressions/reactions. So, essentially, a lot of the direction was done in the edit. It felt like it took forever (also had some system crashes) and by the time I was done, I had completely lost all objectivity.
So, I completely changed my approach. Now, I sit down and visualize my shots, write them, out and shoot strictly from the shot list. It takes much less time both on shoot day and in the edit room, and the actors have a much better idea of what is actually going to show up on film. This method of shooting is more start and stop in terms of working through a script. Some actors like it, cause they don't have to say all of their lines at once. Some don't like it, because they feel it destroys the mood.
What can you tell us about your cast, and about the shoot as such?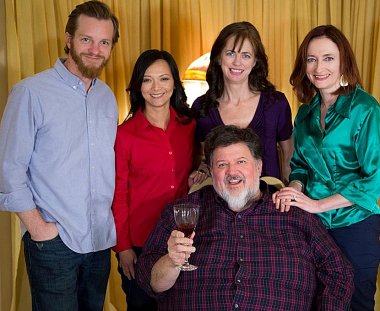 Will Bouvier, Mai Delapa, Mary Hronicek, Audrey Noone
sitting: Frank O'Donnell
At the risk of being immodest, I think I am really good at casting. The first person I asked was Frank O'Donnell (Harold), who had played my husband in a webseries. I knew he would kick it out of the park, and he did. One major problem I had in the editing room was choosing which shots of his to use, because he was always doing something interesting. By the way, Frank is a stand up comedian, and was recently inducted into the Rhode Island comedy hall of fame. Next came the character of Marcel. I needed someone who could do a French accent, so I tickled a guy I know who lived in France. He said "You should use my friend Will." My first thought was no thanks, I don't need your little drinking buddy. Then he told me he was in a movie called Black Rock. I looked it up, and was really impressed. Then I figured that he was out of my league! I figured he was at least a union actor, which I was not in the position to accommodate. It turns out, he was up for it, wasn't union, and I couldn't be happier with his performance. For the character of Laura, I didn't know any Asian actors, so I held video auditions. I was open to the character being either male or female. Mai did a great read, which is basically what you see in the film. Harold's wife (Mary Hronicek) very graciously provided the location and set design, and I asked her to play the part. I'm very happy with her performance as well.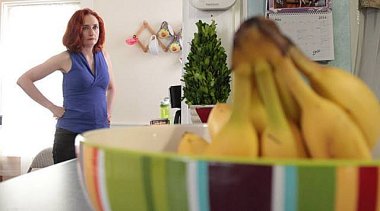 The Look - what is that one about, and what can you tell us about your character in it?
The Look is about a mom who is trying to help her son overcome his stutter. Her efforts have unintended consequences, and awkwardness ensues! She is a very involved mother, maybe a little bit too involved.
What were your inspirations for that one, and how did the project get off the ground?
I am a speech pathologist, and I have seen situations where a child/adolescent doesn't recognize the actual moments of stuttering. So before we can address the disfluency, we need to do a little work to recognize the disfluency. I put the mom in the position of trying to help her son with this, and because she is so focused on what's going on with him, she doesn't realize the signals she she is putting out to others.
Again, do talk about the shoot as such, and what can you tell us about your director Yvonne LaBarge, and your collaboration with her?
My first film was in a festival last year, and Yvonne also had a film there. Her film won the big prize there (it's called The Womanhood). If you look up that film, you'll see that she is gifted with comedy. The organizers of this festival are also a production team -- an excellent team at that. I submitted some scripts to them, The Look being one. They agreed to do it, and asked Yvonne to direct. It was such a pleasure showing up to set to act, knowing the quality of their work, and that they were taking care of all of the details. Usually on shoot day (on my projects), I am transporting equipment and setting up food, coordinating people, directing, acting, breaking down equipment and such. That day was a piece of cake. Yvonne was very prepared, and she brought more to my script than I ever could have.
That production team is called Stories By The River (http://storiesbytheriver.org/), and they just shot another one of my scripts called A Regular Haunt, which is a comedic ghost story.
Steak Knives - a few words about that one and your character?
Katrine is a first class psycho. She was terrifically fun to play. We shot that on a very cold January day.
How did you get hooked up with that project, and how did you end on the producing side as well?
John K. Fiore, the writer, approached me on Facebook about producing it. I didn't know him, and I don't know why he picked me. I knew it would feel like too much work to do everything myself, and John suggested asking Chris Esper [Chris Esper interview - click here] to direct. So I did, and together we put together a small team (DP and gaffer). Through this whole effort, John and Chris have become good buddies of mine. Both good guys, and lots of fun to joke around with.
A few words about Steak Knives' director Chris Esper [Chris Esper interview - click here] as well as the shoot as such?
Chris, at the moment, is fulfilling an internship in LA. We communicate a lot through Facebook, with all of the Steak Knives details, pre and post production. He is a wonderfully kind person, with a great sense of humor. He has a real passion for directing, and this enthusiasm permeates all of his encounters. I have used him as a sounding board for various scripts, and he always gives me great feedback. I value his opinion and our friendship.
You've recently also worked on two episodes of the webseries In the Bedroom - now what can you tell us about these, and how did you get involved with the project to begin with?
I auditioned for Seth Chitwood a couple years ago, and he cast me as his mother in The World's Worst Director, which is where I was married to Frank O'Donnell. Seth also cast me in another webseries of his. When he assembled the In the Bedroom-series, he asked me to write a script, the parameters being two people in a bedroom, 5-7 minutes. Within a couple hours of him asking, I vomited up the script they used called Out The Window, a comedy. He asked me to direct Pat and Matrice, written by Mike Messier [Mike Messier interview - click here]. Mike just told me yesterday that he requested me to direct it. I was surprised when I read the script, because it is really heavy/dark, and my main orientation is comedy. But, I figured it would be a good challenge for me, and it was.
Any other filmwork of yours you'd like to touch? And any future projects you'd like to talk about?
I have a three minute sci fi comedy coming out soon called A Warming Trend. And I have a 10 minute comedy coming out in two weeks called No Headache Tonight. I can't wait for you to see that one. It was the first one that I didn't intend to appear in, but my legs ended up making a cameo. It stars two terrific actors - Frankie Capobianco and Topher Hanson. They delivered wonderfully comedic performances, and I really want the world to see them!
If I can find a 9 foot deep pool I can shoot in, I will produce a short underwater film.
How would you describe yourself as an actress, a writer and a director?
I've pretty much already described my directing approach above. Prepared and time-efficient, with shots that serve the story. I do love comedy, both writing and acting. I think I'll make some shorts that aren't strictly comedy - a dramedy and a sweet drama are kicking around in my brain, but definitely more comedies are in the pipeline.
As an actress, I like to bring nuance and story arc and, since I have fulfilled many different roles on set, I understand the importance of team play, and serving the director's vision. I have acted in dramatic pieces, and I enjoy that as well.
As a writer, I have done mostly stream of conscious blips, letting the pen do the work rather than my mind. I realize that as I write longer pieces, it will require more thinking, rather than blurting, as I'll actually have to pay attention to structure, and fleshing out characters.
Filmmakers, writers, actresses, whoever else who inspire you?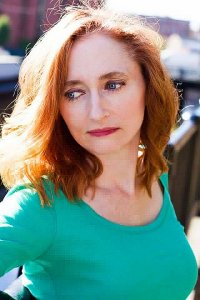 Feeling lucky ?
Want to
search
any of my partnershops yourself
for more, better results ?

The links below
will take you
just there!!!

Find Audrey Noone
at the amazons ...

amazon.com

amazon.co.uk

amazon.de
Looking for imports ?
Find Audrey Noone here ...
Something naughty ?
(Must be over 18 to go there !)

Actors: Sidney Poitier, Alan Arkin, Frances McDormand, Clive Owen, Tom Hardy, and many more.
Writer/directors: Robert Rodriguez, Shane Carruth.
Your favourite movies?
The Painted Veil, Lost In Translation, This Is Spinal Tap, A Hard Day's Night.
... and of course, films you really deplore?
Hmmmm... they don't really stick with me.
Your website, Facebook, whatever else?
https://www.facebook.com/actressaudreynoone?ref=bookmarks
Anything else you are dying to mention and I have merely forgotten to ask?
I really appreciate the work you are doing to support independent film Michael! Thank you so much!
Thanks for the interview!
Thank YOU!