Your new movie Survival Knife - in a few words, what is it about?
I grew up watching a lot of slasher movies. We had a great video store nearby that didnít care what kids under 18 rented, and they had a ton of great old horror flicks. So when Jim Towns [Jim Towns interview - click here] and I started making movies I really wanted to make a slasher flick, but I didnít want to make the same slasher flick that Iíve seen a million times. With Survival Knife we wanted to make the sequel that we never saw. Instead of having a whole new crop of victims, we decided that the sequel should follow the girl who ends up killing the killer and show what happens to someone who goes through something like that. How would that affect her psychologically? How would she get back into regular daily life after such an ordeal?
How did you get involved with the project in the first place? And to what extent can you identify with the film's serial killer motive?
I am always looking for a new project to work on. For Survival Knife there were a few factors that fell into place. I was given an unexpected month off from work, Jim had just for the most part finished the script, and Danielle Donahue [Danielle Donahue interview - click here] had a lot of free time. The second I found out about my impromptu vacation I asked Jim if he had anything in the works. He sent me Survival Knife. It was still in an unpolished state, but I had enough to start shooting while Jim put on the finishing touches.
What can you tell us about your writer/producer Jim Towns [Jim Towns interview - click here], and what was your collaboration with him before, during and after principal production like? And also do talk about previous collaborations, and how did you first meet even?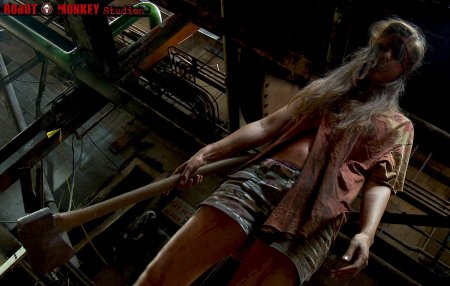 Jim and I met in elementary school. We used to play with Star Wars and G.I. Joe action figures together all the time. Then when I got my first video camera we started making movies together. We made really bad Marvel Comics movies and super cheap horror flicks. Eventually around 2000 I was able to get a nice DVCam camera which elevated the quality of our productions to something that we could distribute. We shot Prometheus Triumphant together, and then we released Stiff. After Jim moved out west we still wanted to collaborate, so he started sending me scripts that would be better shot in Pittsburgh than LA. We would talk and text a lot during pre-production bouncing ideas off of each other. He even made a few props that I was able to use. During the shoot I would send him bits that I had edited together. I would send him changes that I made during shooting, usually out of a budgetary necessity, and he could adjust the rest of the script accordingly. I continued to send him rough cuts throughout shooting and post production until we both agreed that it was the final release version.
Survival Knife does get a bit violent at times - so did you ever have the feeling you might cross a line there, and do talk about your movie's gruesome bits for a bit?
I never felt like I was going to cross any lines. As much as I love 80ís slasher movies, that wasnít the feel we were going for. I wanted it to be a bit more realistic. If the gore got too extreme, like Dead Alive or Evil Dead 2, I thought it would take away from the story and what was going on with Penny. Pennyís struggle was what was most important. However, the movie does deal with a serial killer so I definitely wanted there to be some realistic scenes of violence. We were lucky to find a few really cool guys, Tim Currence, Jordan Patton, Dylan Thomas, and Eric Henciak, who were able to give us some amazing gore effects.
What can you tell us about your directorial approach to your story at hand?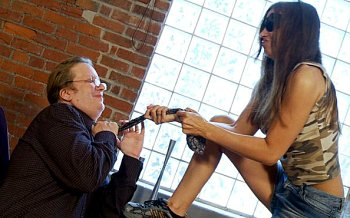 Bruce Lentz, Danielle Donahue
Often times I really enjoy giving my movies a bit of an exaggerated feel, like Raimi, early Peter Jackson, or even some of the Coen Brothers stuff. But for Survival Knife I thought that would take away from the story too much. I wanted this to really tell the story of the girl and her internal struggle. I saved the stylized look for scenes showing Pennyís state of mind. I felt the contrast gave them more impact and helped to drive her character.
Do talk about your cast, and why exactly these people?
Most of the cast are people I have worked with before. Danielle Donahue [Danielle Donahue interview - click here] worked with us on a few short films and I always wanted to have her in a feature. I used to work for Bruce Lentz at a video store in high school. He and I would always talk about making movies back then, and we had him play a bit part in Prometheus Triumphant. Heís a lot of fun and I wanted to give him a bigger role to play with. He nailed the creepy psychiatrist 100%. Lonnie Thomas was a friend of Danielleís. She knew we were looking for a few people and she brought him in to audition. He was super cool and was a lot of fun to work with. Melissa Troughtzmantz came into Prometheus Triumphant mid-shoot to fill in for an actress who disappeared. She was great. No one else would have put up with what we asked her to do. I was so impressed with her that we started dating during the shoot and we have been together ever since. I love working with her on set and try to make sure she has a part in every movie that I do. Most of the rest of the cast were friends of ours or the other actors. Everyone was very dedicated and gave tremendous effort to complete the project. I was really lucky to work with them.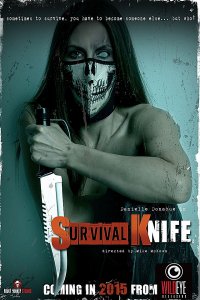 What can you tell us about the shoot as such, and the on-set atmosphere?
With every movie I make I try to keep the atmosphere pretty light no matter how heavy a subject we are shooting. I mean, I make movies because I have a blast doing it, so why not keep it fun on set. Plus, a good positive atmosphere keeps everyoneís creative juices flowing. I like to have people contribute as much as possible. If an actor or actress has a better idea on how to play a scene, I always consider it. Usually everyone on set will discuss the idea, give a few reasons why one way would work better, and we pick the best one. I never want anyone to be afraid to bring up an idea. All of these people are donating their time and energy to the project. If they want to give even more by throwing out some ideas, Iíd be foolish not to listen.
Anything you can tell us about audience and critical reception of your movie yet?
I havenít heard much feedback yet. We have a good friend in Belgium who we met online. He tracked us down after seeing Prometheus Triumphant to tell us how much he enjoyed it. Heís a great guy and I send him copies of everything we do. He really enjoyed it. The only other audience reaction I have is from a cast and crew screening I held at a local theater. I left the doors open to anyone who wanted to come in and watch. A lady and her daughter came in and told me after the show how much they loved it. That was a great moment. Itís rare for me to get feedback in person from a non-friend or family member, so that was really cool.
Any future projects you'd like to share?
I am working on a movie called Boxed that Jim wrote. There have been some casting and weather issues, so there have been some delays, but I plan on getting back into that one soon. It is part of my new favorite sub-genre Ė inept criminals. It will be in the same vein as Killer Joe or Springbreakers. A couple of people who have no business getting involved in a crime and have no brains to accomplish the crime at hand, but they try anyway. Jim and I are also working on a webseries that will have a kind of dark comic book feel to it.
What got you into filmmaking in the first place, and did you receive any formal training on the subject?
My interest in filmmaking definitely dates back to the first time I saw Star Wars. I was mesmerized. From that point on I immersed myself in all things Star Wars. I read every book I could find, and I watched every behind-the-scenes special that aired. Thatís when I really got into filmmaking. When I saw how a movie was made. I used to stage scenes with my action figures and take pictures with my Momís old Instamatic camera, which I guess would be my first attempts at cinematography. I would also do ďradio showsĒ with our old tape recorder before I had a video camera. Then in eighth grade one of our classmates asked us if we wanted to help him make a movie. I was ecstatic! Make a movie! We rented a Sony Betamovie from a video store and made Evil Dead: Another Story, which was basically him re-enacting all of his favorite scenes from Evil Dead 1 and 2. But that didnít matter. I was totally hooked at that point. I saved up money and bought my own video camera and Jim and I started making all kinds of movies on our own. I did go to film school, which really helped me with techniques, and I went to Special Effects Make-up school, which allowed us to have better effects, but overall I think the best way to learn how to make movies is to make movies. Iíve learned valuable lessons on each and every movie that Iíve made.
You of course have to talk about your previous collaborations with Survival Knife's lead Danielle Donahue [Danielle Donahue interview - click here] for a bit?
Danielle and I first worked together on a music video called Voodoo that we shot for a good friend, George Sabol. Itís loosely based on White Zombie and features some great music that George wrote. She also helped us with a short movie for the On the Lot TV show from a few years back. More recently she wrote a short film called Scorned that I shot with her and some other Survival Knife cast members. It was an entry for the ABCs of Death 2 contest. Danielleís great to work with. She throws herself into the role 100% and is up for pretty much anything. Itís always a blast working with her.
What can you tell us about your other filmwork prior to Survival Knife?
Jim and I made two movies before Survival Knife, Prometheus Triumphant and Stiff. Prometheus Triumphant is a period piece set around the turn of the last century, the 19th to the 20th, and shot to look like it was made around 1925. Considering our budget I think it turned out rather well. It started off as almost an experiment to see if we could make something shot on digital video look like old film, and it was going so well that we expanded it to a feature. Stiff was our first shoot on HD. It was a quick shoot and more of a character study. Weíve also done a bunch of shorts that we are going to put together in a collection called Spare Parts. I love doing shorts because they give me a chance to try out different techniques or ideas that I may want to use on a feature, but am not sure how they will work.
How would you describe yourself as a director?
I am very particular about things, especially the cinematography, so I always shoot my own movies. This way if the scene isnít working visually, I can adjust it on the fly and not waste time shooting something that I know I wonít use. Also, since I edit my own movies, I have the edit in my head as Iím shooting. This helps me work through scenes more efficiently and keep things fresh rather than do 80 takes of a scene to make sure I have the coverage that I need. For me itís very important to streamline the process because time is a luxury that we donít have on such a low budget. Also, by getting the coverage on a scene in minimal takes the actors and actresses arenít doing the same scene over and over again and donít lose energy as we go on. So, I go into a scene with the look in my head, and I describe the scene to the actors and actresses and just let them go from there. As we run through it a few times I can make some adjustments and in no time things are really flowing and I can grab the shots I need while we have fun with it.
Filmmakers who inspire you?
Different filmmakers inspire me for different reasons. I love directors like Robert Rodriguez who know how to do everything. I have always been a bit of a control freak so I donít like to hand jobs off to anyone. I want to direct, light, shoot, and edit everything. However, I am not musically inclined, so I am lucky to have Lucien Desar as a friend. He is always willing to lend some music to our films. I really love the Coen Brothers. I think they hands down have the best written dialogue of any filmmakers. I can just listen to audio from The Big Lebowski and enjoy it. I love early Tim Burton. His style was so amazing. Same with Sam Raimi. I really enjoy the cinematography in his films. I really admire the storytelling in Spielberg and Scorseseís films. And I especially enjoy the cinematography in Spielbergís movies since Schindlerís List when he started working with Janusz Kaminski. Clint Eastwood gives his characters such life and depth, and his complete lack of pretention is inspiring. After hearing too many stories of ďauteursĒ who have to do 80 takes of a scene, it is refreshing to hear that directors who make amazing movies will do sometimes just one take, which seems to keep the actors on their toes. No one wants to be the one who necessitates a second take! And finally David Fincher is absolutely incredible. Everything about his movies is amazing. I mean, he even made the story of Facebook interesting!
Your favourite movies?
Favorite movies, eh? Thatís a long list. But here are my absolute favorites in no particular order, except maybe close to alphabetical because I looked at my Blu-rays to compile the list. The Addams Family, Back to the Future, Beetlejuice, The Big Lebowski, Boogie Nights, The Dark Knight, Die Hard, Domino, Bowfinger, Ed Wood, The Dark Crystal, Evil Dead 2, Fight Club, The Frighteners, Ghostbusters, The Incredibles, Raiders of the Lost Ark, Jaws, Toy Story 2, The Road Warrior, The Matrix, Million Dollar Baby, The Muppet Movie, Poltergeist, Reservoir Dogs, Goodfellas, Seven, The Shawshank Redemption, Snatch, The Texas Chainsaw Massacre 2, The Thing, Planes, Trains, and Automobiles, Unbreakable, Wall-E, Wild At Heart, and Who Framed Roger Rabbit. Phew!
And of course, films you really deplore?

Feeling lucky ?
Want to
search
any of my partnershops yourself
for more, better results ?

The links below
will take you
just there!!!

Find Mike McKown
at the amazons ...

amazon.com

amazon.co.uk

amazon.de
Looking for imports ?
Find Mike McKown here ...
Something naughty ?
(Must be over 18 to go there !)

There are very few movies that I outright deplore. I just love movies and can watch just about anything. I donít enjoy the cheesier romantic comedies or overly pretentious social commentaries, but Iíll watch them if only to feel justified in my opinion of them afterwards. And there are many movies that arenít all that good as a whole, but may have some parts that I really enjoy, be it amazing cinematography or editing, or a particular sequence that always takes my breath away. But I canít think of any movie that made me angry that I watched it.
Your/your movie's website, Facebook, whatever else?
www.facebook.com/survivalknifefilm
Mike: www.facebook.com/MikeMcKownFilmmaker
Jim: www.facebook.com/jimtownsfilms / @jim_towns
Danielle: www.facebook.com/pileofperson
Anything else you're dying to mention and I have merely forgotten to ask?
San Dimas High School Football Rules!
Thanks for the interview!