Your new movie Survival Knife - in a few words, what is it about?

Survival Knife begins at the end of your conventional slasher film with the perennial lone beautiful female survivor delivering the lethal blow to the guy who's killed all her friends. From there it becomes a story about what that kind of experience does to a person. How does a normal person cope with witnessing the brutal murder of all her friends, and also the trauma of being forced to take a life herself? As she struggles with this, people she knows start being killed the same way as her friends were, and she begins to worry that something about her was radically changed by what she endured, and what she had to do.

We started shooting Survival Knife back in 2012 way before this current 'Final Girl' zeitgeist thing happened, so maybe we were a bit prescient. That said, we're happy to be here at the party and I think Survival Knife is an interesting addition to this sub-genre that's proving to be very popular right now.

What were your sources of inspiration when writing Survival Knife?

After Mike McKown [Mike McKown interview - click here] and I released our dark drama STIFF in 2010 we wanted to do something that was more straight-up horror fare, but not as derivative as most of the films coming out. I'd been wanting to take a crack at a post-modern take on the slasher subgenre for a while, so it seemed like a good fit.

Of course, every film slasher worth his salt has a weapon-of-choice that identifies them - Leatherface has his chainsaw, Jason has his machete, Axeman has his - you get it. I fought to find something unique for our guy. I used to have post-it notes with film ideas all over my wall, and one day I saw one with SURVIVAL KNIFE written on it. I don't even remember writing it. But that was the key that led to this idea of a killer called 'the Survivalist'.

We'd known Danielle Donahue (Penny) for a while and had been hoping for a chance to work with her, and this turned out to be the perfect fit. She's an incredibly intense and dedicated actress, and she gave this role everything she had - I think it's easily her best work to date. So it was a lot of random ideas and elements that happened to come together at the right time.

What can you tell us about your director Mike McKown [Mike McKown interview - click here], and what was your collaboration like? And why did you decite to not direct the movie yourself, actually?

Mike and I go back decades, all the way to grade school in Pittsburgh. We shot our first home movies together as teens and later on we co-directed two features: Prometheus Triumphant (2009) and STIFF (2010). Those were great experiences, but now we're both at a point where we each need to be running our own show. When we were prepping Survival Knife I was deep in post on my first solo feature House of Bad, so it made sense for me to just be the writer and for Mike direct the film in Pittsburgh, while I did what I could from California to help produce. Mike's a super-talented director who can operate every bit of equipment on set and in post, so it was easy to trust him to take this one all the way.

Mike shot the film over a prolonged period - a little bit at a time. He'd send me dailies and we'd talk, and I'd sometimes make little adjustments to the script based on which way things had gone. But that was most of my involvement during the shoot.

What were the main challenges when producing Survival Knife?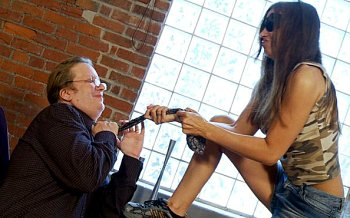 Bruce Lentz, Danielle Donahue

Doing anything on a limited budget is always a gigantic challenge. You're not able to pay a competitive rate for cast, crew or locations, so you're basically pulling in favors from everyone, which slows everything way the hell down. It took Mike over two years to shoot the film - working around everyone's (including his own) availability and availability of locations, weather, what have you. Partway through filming, our leading lady Danielle Donahue [Danielle Donahue interview - click here] suffered a serious hip injury from a fall (not connected to the shoot) and we had to delay for a long time while she healed, but she was a trooper and as soon as she was able she was right back at it, fighting and everything.

Personally, it was a big challenge to be trying to help steer a production from three thousand miles away, having never even personally met much of the cast. Luckily the technology is there now to make that possible, if not easy.

Did you have any say in the casting of Survival Knife, and why exactly these people?

Danielle [Danielle Donahue interview - click here] was the first one cast, of course - she was always Penny to me and I wrote the part with her in mind the whole time. I was 100% set on her, and if she's said no or had been unable to be involved, we probably wouldn't have made the film.

Likewise Mike and I had known Bruce (Dr. Lentz) for years, and he's made other appearances in our films, so when we needed someone to play a slightly-creepy psychiatrist he was the first one we both thought of.

Mike can probably tell you more about the rest of the casting… casting in a small town like Pittsburgh always has its challenges, as very few people there are actually working actors - but you occasionally find gems in the mix that really stand out.

Anything you can tell us about audience and critical reception of your movie yet?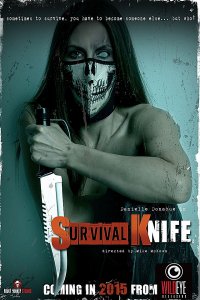 Feeling lucky ?
Want to
search
any of my partnershops yourself
for more, better results ?

The links below
will take you
just there!!!

Find Jim Towns
at the amazons ...

amazon.com

amazon.co.uk

amazon.de
Looking for imports ?
Find Jim Towns here ...
Something naughty ?
(Must be over 18 to go there !)

So far so good - I think film fans (and especially horror fans) tend to appreciate a film that offers a fresh take on tropes that have become pretty tired and commonplace, and that's what Survival Knife offers. We're really happy to have landed with Wild Eye Releasing as a distributor - Rob really knows the business of indie horror and he's great to work with. Hopefully we can continue releasing films together.

Any future projects you'd like to share?

Mike has been shooting a follow-up feature in Pittsburgh called Boxed over the last year, based on my screenplay. It's much more comedic, but also a helluva lot more grisly. There's been some re-casting on that one but hopefully it will be coming out next year (2017). Right now I'm finishing up a zombie film called State of Desolation, starring Jamie Bernadette (I Spit on Your Grave: Déjà vu) [Jamie Bernadette interview - click here] and Craig Stark (Hateful 8). That should be coming out towards the end of this year. Next up for me is a werewolf series called Wolf/Man starring Sadie Katz (Wrong Turn 6) and Kaiwi Lyman (Lost in the Pacific).

Mike and I both directed segments for the upcoming Grindsploitation anthologies as well. That should be coming out soon.

Your/your movie's website, Facebook, whatever else?

www.facebook.com/survivalknifefilm

Jim: www.facebook.com/jimtownsfilms / @jim_towns

Mike: www.facebook.com/MikeMcKownFilmmaker

Danielle: www.facebook.com/pileofperson

Anything else you're dying to tell us and I have merely forgotten to ask?

I think that covers it, Michael - thanks for the questions and looking forward to talking with you again about the next film!

Thanks for the interview!