Your new movie The Butcher - in a few words, what is it about?
My character Thaddeus Hyatt is a master chef who owns a few restaurants in LA. He has mad cow disease which he got as a child. His parents owned a restaurant they were the hit of their town in Montana. One day Thaddeus and his dad discovered their cows were sick, and rather than throwing the meat out and going bankrupt they continued to cook and feed the town ... and everyone got sick, even Thaddeus.
What were your sources of inspiration when writing The Butcher?
My inspiration was old school Texas Chainsaw Massacre and Eli Roth's Hostel. But I wanted to put a fresh twist on it so instead of Americans going to Europe (in Hostel), the foreigners that visit here LA would be killed by Americans.
The Butcher doesn't necessarily hold back when it comes to blood and guts - so do talk about the gory bits in your movie for a bit, and how were they achieved?
I thought to myself if I am going to go for horror, then the kill scenes have to show something, can't look amateur one bit, so I said let's go for it. I tried coming up with new ways to kill people.
A few words about your movie's approach to horror?
Again I wanted to do something fresh. You can borrow here and there but do new takes on themes. We had talented actors, so for the gore everyone said we had to just go in for the kills. Simple editing and I had a good makeup girl Marisol Almeida, lots of fake ham and fake blood and strawberry yogurt passed for body parts which we ate.
At least for me, The Butcher was also darkly comedic at times. Would you at all agree, and if so, what can you tell us about the movie's brand of humour?
I have a dark sense of humor, but if you're putting humor in a frightening scene you have to say why is it here? There has to be a reason you're not just throwing in jokes. Also my character has mad cow so he is off a bit (mad).
Do talk about your overall directorial approach to your story at hand!
What I wrote a year ago may not be the same place my head is at on the shoot date. Me or maybe an actor has a better idea for a kill scene, so we change it around, since I am the writer we don't have to wait for someone to give the go-ahead, I like my actors to be fresh, I do a lot of ad lib myself.
90 % of my lines was made up on the day of shooting. I knew my lines for Maria Olsen (my mom) [Maria Olsen interview - click here] and the party scene at the end, but the rest of my lines I made up. I also want my actors to sound natural (they get the idea of the scene) and then we just go for it. I do not rehearse a lot, I do not do more than 5 /6 takes (unless there is a tech problem). This isn't rocket science here. That's why you hire good actors to begin with.
You also play the lead in The Butcher - so what did you draw upon to bring your character to life, and have you written him with yourself in mind from the get-go?
The Butcher was originally a 18 minute short, I hired 2 other actors in the lead and fired them, I said if I am going to do a feature length I am going to put myself in the lead, I have one shot to do it. As an actor I want my character to have many many layers. How boring is it to play someone with no layers. I wanted Thaddeus to be fun sick and twisted, but underneath he once was a nice guy but the madness is building up on him.
What can you tell us about the rest of your key cast, and why exactly these people?
I wanted Maria Olsen [Maria Olsen interview - click here] from the get-go. She was attached to play Dr. Comfort (who slices up the meats) in my short, but then once I did the feature film I said I did not want to waste her so I made her my mom (and how great is she). The others fell into themselves - I email all my friends, first I look at reels and resumes, I then put an ad in Backstage for smaller roles. Many actors I have worked with before, i.e. Patrick O'Neal had been in 3 of my films as the lead (he plays the food critic in The Butcher).
A few words about the shoot as such, and the on-set atmosphere?
I don't like a stuffy set. I want everyone to have fun. Yes we are making horror but you need to keep the set light. We take breaks and listen to all genres of music, laugh, joke, and let it all out. The we are ready for a take
The $64 question of course, where can The Butcher be seen?
Right now The Butcher can be seen via Avail Films (download the free app), it's their channel so you can download it on Apple, Roku and Firestick.
As far as I know, you're presently lining up a rather stellar cast for the sequel to The Butcher - so anything you can tell us about The Butcher 2 yet, and who's going to be involved?
The Butcher 2 has a big horror star list, Maria Olsen [Maria Olsen interview - click here] again as my mom, and Julie Prescott and Debra Lamb [Debra Lamb interview - click here]. I just wrote a special scene for Eillen Dietz (of The Exorcist) [Eileen Dietz interview - click here], I am giving her a cameo role.
What got you into filmmaking in the first place, and did you receive any formal training on the subject?
I was always a child actor since age 8. I was in Cats on Broadway, I was in The Warriors, I was in Pearl Harbor, Training Day and Star Trek Voyager. I always wanted to direct, so I did 4 shorts and 4 features. The Butcher is my 4th Feature (my 8th film). My friends told me those were all my film school. I was not ready nor comfortable to let my other films out to the world so nothing has been released other than film premieres. The Butcher is my first film I am letting out to the public, I figured I'd start small, enter in a few festivals then little by little I was in festival after festival and winning awards. I am very lucky honored and humbled by being in the festivals, I love festivals.
How would you describe yourself as a director?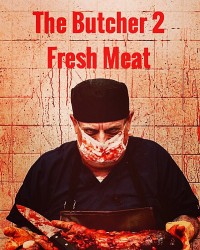 Feeling lucky ?
Want to
search
any of my partnershops yourself
for more, better results ?

The links below
will take you
just there!!!


I'm a cool director, I don't yell or scream or have fits. I expect everyone to know their lines and be a pro, but I want people to have a good time, it's a team effort. I love the works of Quentin, Eli, Robert Rodriquez, Marty Scorsese. I love to DP my own films, but with The Butcher since I'm in almost the whole movie I had a friend of mine Eric Hinwood DP for me.
Your favourite movies?
I love The Exorcist, Texas Chainsaw Massacre, the Hostel-movies everything Quentin does, I did love last year's The House that Jack Built (Matt Dillion), Hereditary and You Were Never Really Here (Joaquin).
... and of course, films you really deplore?
I don't like lots of horror because the NEW horror is the same formula, dark, noisy build-ups to jump scares. There's lots of films and franchises I hate (I wont mention names). It seems to me they are making a quick buck and no art.
Your/your movie's website, Facebook, whatever else?
On Facebook both films The Butcher and The Butcher 2: Fresh Meat have fan pages, so go to the search engine and type in the names and you will see the pages and floor us.
On Instagram it's @realbutchermovie1
Thanks for the interview!