Hot Picks

- Abi 2019
The Butcher


USA 2019
produced by
Caroline DeGrave, Michael Moutsatsos, Sam Mason, Samantha Alexx, Frankie King, James Lauver (executive) for Moosetrackproductions, Red Moon Pictures, Sacrificial Pawn Productions, Firefly Productions
directed by Michael Moutsatsos
starring Michael Moutsatsos, Maria Olsen, Sam Mason, Rocco Bovo, Noel Jason Scott, Bud John Phineas, Damien Colletti (voice), Theryn Hittle, Rose Grade, Wes Young, Patrick Jackson O'Neal, Victoria Schneider, Bruno Herrera, David McAbee, Daniel Rathaus, Max Kraus, Rafy Minario, Laura Meadows, Jacob Peacock, Caroline DeGrave, Tanner Kerrins, Alex T. Hwang, Jonas Sklett Lovik, Adam J. Carluccio, Rotem Hacker, Will Fourth, Rebecca Dumham, Michael Furlough, Zack Weir, Katy Wicker, Marcin Drelich, Chelsea Collins, Joey Comes
written by Michael Moutsatsos, songs by Jack London (II), Connie Ryan, special effects makeup by Marisol Almeida

review by
Mike Haberfelner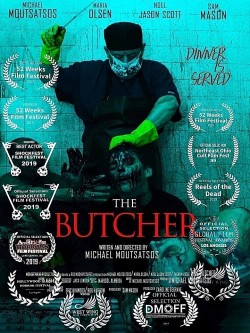 Thaddeus Hyatt (Michael Moutsatsos) runs a quartet of restaurants in Hollywood and Beverly Hills which are the talk of the town, mainly because of their choice meat. What nobody knows of course is that the meat is actually of the human variety, mostly tourists that Thaddeus and his helpers pick up on the streets to keep them captives, and to eventually brutally kill and recycle them whenever needed. However, it's not just tourists, also dealers who wrong Thaddeus or food critics who give him a bad review occasionally do the honours. And frankly, Thaddeus couldn't bother less that through feeding his meat to other humans helps spreading the mad cow disease ...
However, Thaddeus also has a gentle side, like he has been a father figure to young Lisa (Victoria Schneider) ever since the death of her parents, and since it's her 25th birthday soon, he has volunteered to be the girl's party's caterer, and does everything to make the event memorable. And Lisa's happy to return the favour - in a way she could have only picked up from her fatherly friend ...
Horror fave Maria Olsen plays Thaddeus' badly burnt mother he tends to hallucinate about.
Now The Butcher sure isn't a movie for everyone, it's cynical, it's gory, it's driven by very dark humour, and it's rather relentless in delivering its shocks - and that's exactly why hardcore horror fans are almost sure to love it: The Butcher is not a film that turns away from its more violent content, it's not a film that holds any pretensions or fishes for redeeming excuses for its brutality, and it does find humour in its dark proceedings, and it does all that in a very entertaining way, very much like a sick joke that's intended to make you laugh nevertheless and achieves just that. And Michael Moutsatsos no frills direction really adds to the overall effect, as does a solid ensemble that balances the fine line between realism, irony and over-the-top-ness to fit the film's overall feel.
Again, not for everyone, but genre fans are sure to get their money's worth out of it.