Your new movie Inheritance - in a few words, what is it about?
After the murder of their parents, Nick (Michael Kenneth Fahr) and Steve Wellington (Christopher Sarlls) are left to share their inheritance. Neither likes the idea of sharing but when the masked figure shows back up to finish what was started, everyone will learn the hard way that blood runs thicker than water.
With Inheritance being a slasher of sorts, is that a genre at all dear to you, and some of your genre favourites? And what do you think makes your film stand out of the crowd?
I do enjoy slasher films, especially the ones that have a mystery/suspense angle to them. I also love all types of horror but Iím really fascinated by the suspense of Alfred Hitchcock. Psycho is one of my favorite films. Another all-time favorite of mine is Scream. Some other horror films that I really enjoy are Halloween, I Know What You Did Last Summer, Saw, Gremlins, Friday the 13th (original version) and Black Christmas (1974 original version). I think what makes Inheritance stand out is the mixture of sub-genres. It is a slasher but itís also a murder mystery and it has some drama and suspense to it. I tried really hard to not give the killer away and make the characters completely different from one another.
(Other) sources of inspiration when writing Inheritance?
Honestly, when I write, I donít have particular films in mind that I want to model my script after. I just develop the characters and break the plot down as detailed as I can before I begin to write the script. Then I go from there, things usually change the more I write as things unfold. I do always try to make sure that itís something I would watch though. I mean if Iím bored writing it, whoís going to want to watch it?
Going through all the characters in your movie, many of the leads at least are not particularly likeable by design - so who could you identify with the most, and why?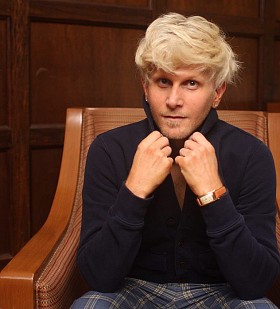 Well for me being the writer, I had to identify with all the characters (likable or not). I think a common trend is to group a character (or person for that matter) into strictly good or bad or likable/unlikable. So I hope people look more at the situation that each character is in at different times to understand why their behavior is the way it is. For me personally, I really like the sassy bitchy characters. They are more fun to write and way more fun to act. But with all the characters, I tried to give them more substance than just nice or mean. There are roughly 16 characters, so hopefully thereís a bunch that people will like. And well, if they donít at least they can probably count on a good chance the character will get killed in the story - haha! The characters that I could identify with the most are Sam (Michael E. Hambrick) and Nick and Steve. BUT my favorite character in the film is Aunt Rhonda (M. Catherine Wynkoop).
What can you tell us about Inheritance's approach to horror?
The approach was to mix a murder mystery with a horror/slasher. However, I wanted to mix up the genres and go outside the box by being as creative with the story as I could.
Do talk about your overall directorial approach to your story at hand!
My approach to directing was really to put myself in everybody's shoes. Everyone has a specific job and they are more focused on that job and not so much on the big picture. My job was to keep the big picture intact and stay true to the story as best we could. I had gone over all the scenes with Devin Ramey (cinematographer), so we were on the same page of how the scenes were going to be shot. Some things in the script worked great on paper and didnít translate as well on film so I had to come up with solutions fast on set. My actors and cinematographer helped with some of those decisions. I tried to direct the actors the way I like to be directed and really speak to them in a way that's easy to relate to. I also listened to any input they had about their characters in particular scenes. And worked with them through that process. Iíve been on sets where the director wasnít very vocal to the actors what they wanted from them. I didnít want anyone to have any confusion on Inheritance.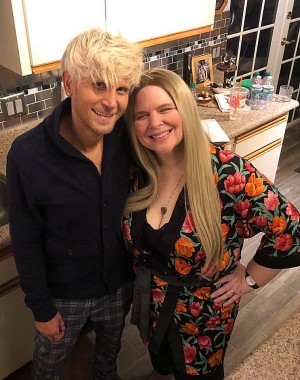 You also play the lead in Inheritance - so do talk about your character, what did you draw upon to bring him to life, and did you write him with yourself in mind from the get-go?
I play Nick Wellington (one of the two brothers) and I did write him for myself from the start. Nick will come off as being mean or tough, but really I think heís misunderstood. Heís dealing with a lot after his parents death and the situation with his brother, Steve. He knows what he wants, and above all else, heís not going to let anyone get in his way of attaining what he wants. He definitely isnít afraid to put people in their place. Thatís a good question, what did I draw on to bring him to life. Honestly, heís not based on anyone in particular and heís definitely not like myself, but if I had to take myself and put myself on amped super crazy steroids in another world, then maybe that would be Nick? Haha, I have no idea.
What can you tell us about the rest of your cast, and why exactly these people?
I can tell you that I loved my cast! Like anything, we had auditions and then cast the roles based on the auditions. When I knew I was going to be doing this film, I wanted to make sure I had the right people in the roles as well as the right people on set with me (since I was directing and acting). So I had reached out to some people that I had acted with before in other projects and asked them to audition for specific roles. The cast that I had worked with before on previous projects were Christopher Sarlls (who plays my brother Steve), Christopher Patrino (Nigel), M. Catherine Wynkoop (Aunt Rhonda), Gail Yost (Maria), and Sharla Darcus Moore (Jessica). The other actors that I got a chance to work with for the first time are Justine Renee (Laura Sanders), Charles Chudabala (Ricky), Paul Saulo (John Wellington), Amy DeMilo (Emma Wellington), Essex OíBrien (Topher), Rebecca Fiallos (Sally), Michael E. Hambrick (Sam), Rick Teliga (Kyle), DeQuan Mitchell (Fabian/man at the desk) and Monica Sos (Debbie).
A few words about the shoot as such, and the on-set atmosphere?
We filmed Inheritance for a total of 14 days. We split up the schedule into three different weeks with some days off in between. I barely slept most of those days for more than 3-4 hours. Despite being tired, the on-set atmosphere felt really creative to me. I donít know how to explain it, it was very magical. Everyone on set wanted to do a good job and wanted the film to be good. Devin Ramey (cinematographer) and Zach Rohrer (sound) did a great job behind the scenes.
The $64-question of course, where can Inheritance be seen?
We are currently doing film festivals before distribution is decided on. Right now the first public screening is in the USA in Tampa, FL on March 20th, 2021 at The Grindhouse Video Film Festival at Tampa Bay Screams. I would say the best thing to do is to like the Inheritance Facebook page @inheritancemovie21 to get up to date information regarding the film.
Anything you can tell us about audience and critical reception of Inheritance?
So far we have been accepted into 6 film festivals (worldwide) and won at 5 of them. Grindhouse Film Festival (Tampa), Prague International Monthly Film Festival (Prague), Paris Film Festival (Paris) (Best Horror), Hollywood Blood Horror Festival (Los Angeles) (Best Feature), Foreman Empire International Film Festival (Atlanta) (Best Actor, Best Score, Best Production Design, 2nd Place for Best Mystery/Crime and 3rd Place for Best Producer) and Honorable Mention at Athens International Monthly Art Film Festival (Greece). There are a lot more festival submissions I am waiting to hear the results on.
Any future projects you'd like to share?
The next project I am acting in is Window With A View, that will film later this year in Kentucky! I play Sheriff Dempsey. There may or may not be a sequel that I write soon to Inheritance. I havenít made a final decision yet.
Your/your movie's website, social media, whatever else?
My Instagram (Michael Kenneth Fahr) is mkf2411
Inheritance Facebook page is @inheritancemovie21
Anything else you're dying to mention and I have only forgotten to ask?

Feeling lucky ?
Want to
search
any of my partnershops yourself
for more, better results ?

The links below
will take you
just there!!!


Just thank you to everyone who supplied us with locations for the film. And all the crew and cast and IndieGoGo supporters! Special thanks again to Christopher Patrino and Charles Chudabala for really helping me out behind the scenes. Anyone else I didnít mention that I need to, Dustin Hubbard [Dustin Hubbard interview - click here], Evan Joseph, Luke Schwartz, Justyna Miesch, Scott Thompson, James Spradley, Matthew Festle, Daniel Dixon, Jerry Hunter, & Okeye Mitchell.
Everyone check out the teaser trailer up on https://youtu.be/hixludUsj6o (Inheritance trailer 2021) and the IMDb page https://www.imdb.com/title/tt10472094/
Thanks for the interview!
Of course, Thank you!