Your latest film is called Stars Will Perish - what can you tell us about that film?
Stars Will Perish is based on a story of an Australian writer, Brian Sands, who has already worked on several scripts with us in the past. It's about a young jealous actress who kidnapps the star of the show she is in so she can replace her.
Although we had some similar stories in the Unhappy End-series this one is much, much darker. We had a great location for shooting, like in the old Universal horror movies with Bela Lugosi [Bela Lugosi bio - click here] and Boris Karloff [Boris Karloff bio - click here]. It was much fun.
Stars Will Perish stars Maja Loom in the victim-role, something she played in quite a few of your past films. Why do you like to cast her as the woman tied up?
Maja Loom is one of the most beautiful women I've ever met. She is kind of woman very similar to the heroines of the 70's comic books and TV shows like Superman and Wonder Woman. In fact she looks like Lois Lane or Wonder Woman or a Stan Lee/Marvel-heroine. Actually I first intented to offer her the part of the bad girl in Stars Will Perish, as I think she can also play the bad girl part and I hope next time she will play such a role. But when we knew Micaela Schäfer would also be in the picture it was hard to decide who would play which part and I really had no idea. In the end, I thought Micalea would be better as bad girl and Debby better as victim in this one and I think we made the right decision.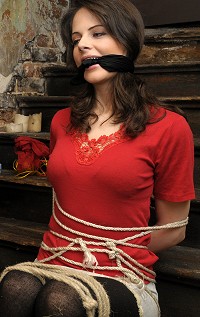 Maja Loom
Déborah is a wonderful model-actress and she has a certain knowledge about how she looks onscreen. She is very tough and very cool, totally great in horror movies and thrillers as she manages to always look great and beautiful in the most horrifying moments. She is the kind of actress you saw in many US series, especially the Aaron Spelling shows. I love Aaron Spelling. He did such an amount of wonderful programs, and he cast the most beauriful girls in Hollywood. His shows were fun, action and glamour with all those wonderful actresses like Stephanie Powers and Heather Locklear. Debby is same type of glamour girl and looks always very tough even when she is bound and gagged.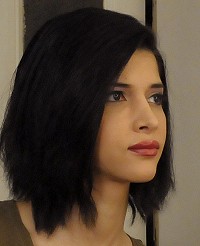 Micaela Schäfer
How did you get Micaela Schäfer to star in your films?
I knew her from TV shows of course and contacted her. We met in Berlin and talked about Last Laugh. She liked the script, and later we worked on several other projects. Micaela is one of the most beautiful faces in German TV, and she also works as a model in foreign countries. She is a very fine actress with a wonderful, clear voice.
Stars Will Perish is the first film of your Nightmare Follies-series. How does that series differ from the Unhappy End- and the 7 Nightmares Girl-series - especially since all three series are essentially about women tieing each other up and torturing each other?
Unhappy End is a series of funny thrillers with a funny unhappy ending like in the old Alfred Hitchcock Presents series. Nightmare Follies is a 60 minute program much darker than Unhappy End.
7 Nightmares Girl is a fantasy-horror series with more action and more locations and bigger cast. It's shot in different countries like the James Bond-series - so every 15 or 20 minutes or so you are in Berlin, Vienna, Los Angeles, London ... and it features fighting scenes. And the story is at first sight fantasy about witches and the Devil, but if you are a little bit aware of what is going on in politics you soon realize there is much more in the script as far as religion and politics is concerned ... but of course in the first place it's action, horror and fantasy.
Where will the Nightmare Follies-series take us next?
We have some more scripts. A dark kidnapping story is next I think.
Almost all of your films involve some sort of bondage, more often than not as a central aspect of the plot, but there is actually no sex or even nudity (but pretty girls aplenty) in your films. Will that ever change, will you ever push the envelope regarding sexual content?
The series we are shooting are little bit like the old Republic-serials [Republic history - click here] or John Willie's comic books. It's not the kind of bondage/SM like in movies like Histoire d'O ... I think nudity would ruin our stories completely. We have a certain kind of violence but we go not beyond a certain point, like in the Roger Moore James Bond movies.
You can show violence and torture, but in a nice way. Roger Moore once called it Disney violence.
As far as bondage is concerend, bondage is an integral part of thriller and horror movie history since the Perils of Pauline-days, and I just like the idea of the beautiful heroine tied up and gagged in a horrible trap and she has to find a way out like Diana Rigg in The Avengers or Linda Stirling in Tiger Woman.
Especially your last handful of films seem to be entirely populated by women, with no men even in supporting roles (the legendary Lloyd Kaufman in the 7 Nightmares Girl-series of course being an exception to the rule). Why is that?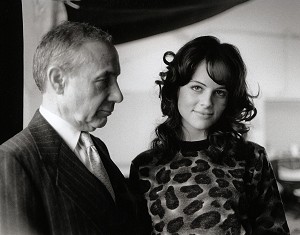 Lloyd Kaufman and Maja Loom
image copyright 2009 by Peter Brüchmann
The male actors I love all are dead or very old. My favorite actors are James Stewart, Peter Cushing, Maurice Chevalier, Cary Grant, Gene Kelly, Fred Astaire, Vincent Price. I'd love to shoot musicals or horror movies with any of them, but they are not around anymore.
Lloyd Kaufman is an excepiton, he is such a great actor, but of course in the first place he is a producer-director. I learned a lot from him, and he is one of the coolest guys in the business.
Actresses you'd love to star in one of your movies, no matter how improbable/impossible?
Actually the same problem, most actresses I'd love are gone or very old now. Maureen O'Hara, Samantha Eggar, Linda Stirling, Kay Aldrige, Lorna Gray, Diana Rigg, Lee Grant, Caroline Munro [Caroline Munro bio - click here], Carole Bouquet, Carole Andre, Grace Kelly, Ava Gardner, Glynis Barber, Brigitte Bardot, Sylvana Koscina. On the other hand, we are lucky to work with the most beautiful actresses and models from all around the world. You really can't ask for anything more. I don't think it's easy to top Maja Loom, Micaela Schäfer, and Wenke Baumgart who looks like Supergirl. Katja Bienert [Katja Bienert interview - click here] was one of the busiest and most attractive actresses in Germany also shooting in Spain, Italy, France and Hollywood productions before she started producing and management. We had the most beautiful actresses and models from German and US television in the Unhappy End series. So no idea how we could top that.
Judging from recent stills, the 7 Nightmares Girl-series is taking a turn towards action. What can you tell us about that?
Yes, in the 7 Nightmares Girl we have more action, fighting, sword and dagger scenes, tighter pacing, a bigger cast, many locations in different countries. It's a mixture of Republic [Republic history - click here] and James Bond and Hammer horror. I think it's the best we ever did so far.
With your two new series, Nightmare Follies and 7 Nightmares Girl, will there ever be new episodes of Unhappy End, and if yes, in which direction do you plan to take the series?
Yes, we will do new Unhappy End episodes around every two years, but more 60 minutes episodes instead of 30 minutes.
Any other future projects you'd like to talk about?
A movie about Rommel in Africa. And all parts are played by women.
Your website/MySpace/whatever else, and where can your films be ordered?

Feeling lucky ?
Want to
search
any of my partnershops yourself
for more, better results ?

The links below
will take you
just there!!!

Find Michael Huck
at the amazons ...

amazon.com

amazon.co.uk

amazon.de
Looking for imports ?
Find Michael Huck here ...
Something naughty ?
(Must be over 18 to go there !)

We will set up another website for the Nightmares and hopefully update our www.gatorgroup.de and the myspace site www.myspace.com/mralgator.
Everyone can reach me by email: MichaelMHuck@aol.com.
Anything else you are dying to tell us and I have just forgotten to ask?
I think we should clone Kaiser Wilhelm so he can come back to save us from Merkel and Westerwelle.
Thanks for the interview!