Understudy Delia (Micaela Schäfer) lures the star of the show she's at, Laura (Maja Loom), into her basement, ties her up, which she claims is for a test shoot, then starts to torture her - for real. Thing is, Delia wants to become the star that Laura is, wants to get the chance to prove herself in front of a film producer who's supposed to be in tonight's audience - and to that end, she had to get rid of Laura first, obviously. Laura puts on quite a fight, but ultimately, she's no match for Delia ...
Actingwise though, Delia is no match for Laura, and in front of a big audience, including the film producer, she blows her chance and is ridiculed off the stage - which gets her all worked up, and when she retunrs to her basement, she really starts to torture Laura and even promises to kill her - until Laura grabs her chance, somehow manages to free herself, and once she's got Delia at her mercy, she proves to be as much of a psycho-bitch as her opponent, kicking the living shit out of Delia and enjoying every moment of it ...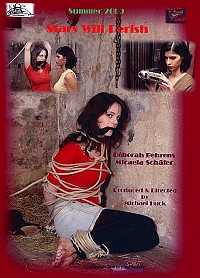 Director Michael Huck delivers another variation on his favourite subject - beautiful women tieing each other up and torturing each other -, and thanks to a well-written narrative that holds the film together, he has once again managed to make what could have been a tiring formula movie into an interesting piece of genre entertainment, of course greatly helped by his actresses Maja Loom, who looks just great in bondage, and Micaela Schäfer, who turns in a surprisingly good performance as psycho bitch.
Definitely worth checking out.
This film can be ordered directly from the director via email - MichaelMHuck@aol.com (preferred) -, phone - +49 30 / 345 1338 - or the production company's website - http://www.gator-group.de.