Your upcoming movie Morbid Stories - in a few words, what is it about, and what can you tell us about your character in it?
Morbid Stories is a series of short horror films. More Than You Can Chew is the title of the short I'm in. My character, Morgan is a young woman who is going through a difficult personal struggle. She tries not to get her boyfriend Jake involved. His love for her will not allow him to leave her when Morgan is clearly in need of help.
What did you draw upon to bring your character to life, and how much Krystal Pixie Adams can we find in Morgan? And how does one prepare for playing a vampire even?
I drew upon some real life experiences I've been through. There is a bit of Krystal Pixie Adams in my character. For one, Morgan is an artist. A painter just like me. The paintings in this short are actually some of my very own work. As far as the typical Krystal Pixie Adams roles this is very different from anything I have done. People will get to see a different side of my acting. I figured a vampire would be more normal looking than expected as to not draw any unwanted attention to themselves. Morgan is very "plain Jane" looking. Her eye's reveal that she is in fact an "old soul".
How did you get involved with the project in the first place?
Clint Kelly wrote the short More Than You Can Chew, with me in mind actually. A big Thank You goes to Dustin Hubbard [Dustin Hubbard interview - click here], who mentioned me to Clint!
What can you tell us about your segment's director Clint Kelly, and what was your collaboration like?
Clint Kelly was amazing to work with! His vision for this short was incredible and I think he executed it very well and in such a short amount of time. It was mind blowing. The cast and crew got to watch a part of the short that got edited. The entire room fell slight as we witnessed for ourselves the magic unfolding before eyes. I definitely look forward to working with Clint Kelly again!
Do talk about the shoot as such, and the on-set atmosphere?
The on set atmosphere when filming was incredible. Everyone put there all into this short. We all had that same let's make this our best performance ever-attitude. It was pure magick! Everyone from the crew, the actors and the very talented special effects team put everything into making this short what Clint had envisioned.
Any other present and future projects you'd like to talk about?
Yes! Look for me in Jekyll vs. Hyde - a Seb Godin film [Sebastien Godin interview - click here]. Though he did mention he didn't know what will happen with this film. There's also a rumour that my scene was extremely disturbing to Seb when he watched it. As for future projects, we start filming for Meet and Mate in a month or so. It's a collaboration between Dustin Hubbard and Kii Hornick. I'm very excited about it, the script is fantastic!
What got you into acting in the first place, and did you receive any formal training on the subject?
It's a bit of a story what got me into acting. This goes back to 2010. I had spent a couple of years pretty much living at the hospital. My life was the hospital and my bed. I have gastorparesis, my stomach is partially paralyzed. My GI doctor wanted me to get out and do something, so did my parents. I met this photographer, Brian Roberts, at a club in Ybor City at the G bar. He asked if he could take my photo, he liked my outfit and told me about Florida Modeling Network aka FMN. I got asked to be in a local music video, Joe Davison was directing and Bob Glazier was the monster. So Joe Davison remembered me from the music video and in 2012 recommended me to Alex Vincent, he was having a hard time finding a blonde for his film. So Alex Vincent film House Guest Massacre was my very first film. I did not have or have had any formal acting training as of yet.
What can you tell us about your filmwork prior to Morbid Stories?
Prior to Morbid Stories, my film work can be described as sleazy. The Sleaze Queen of The Sleaze Box. Very little dialogue, lots of nudity, blood and gore. It was more of reaction acting than dialogue.
Going through your filmography, one can't help but hotice that many of your movies are of the horror variety - merely coincidence, or is horror a genre especially dear to you, and why (not)?
Horror is dear to me. I had a pretty horrific childhood. Horror was my outlet, using it as a way to over come some of the horrors I've been through. I would like to do something funny at some point though.
How would you describe yourself as an actress, and some of your techniques to bring your characters to life?
I'm really easygoing as an actress. I don't complain and I'm definitely not a diva. No matter how sick I was. I use a lot of my real life experiences to channel different emotions and reactions. It's a bit therapeutic using past experiences with my acting.
Actresses (and indeed actors) who inspire you?
Definitely a lot of the talent I've worked with are very inspirational, Frank Pickarelli, Kelly Helen Thompson, the guy's from We Massacre Productions, Pete Girard and Rokki James. These very talented people have been through so much and have overcome the impossible. I am always so excited whenever I get to work with these guys!! Also Audrey Hepburn, she had an incredible hard life as a young girl, and I relate to her in that way. She is an inspiration. It is believed that she even helped the resistance in World War II. Which is incredibly brave of her.
Your favourite movies?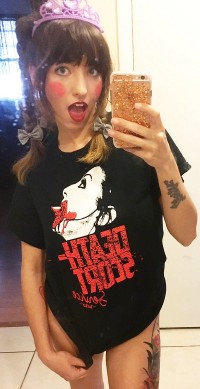 Feeling lucky ?
Want to
search
any of my partnershops yourself
for more, better results ?

The links below
will take you
just there!!!


These are a few of my favorite films, not in any particular order: Silent Hill, Pan's Labyrinth, Breakfast at Tiffany's, Funny Face, Great Expectations, 200 Pound Beauty, The Treacherous, John Miller's film Crackbaby Billionaire was absolutely amazing, Lefty Lucy, everyone was so fantastic it was entertaining all the way through, Bloodshock to me is a love story. I really love films with a great story and incredibly beautiful scenes.
... and of course, films you really deplore?
Ugh, I know a lot of people are big fans of the Dark Crystal and Labyrinth films, like that I'm just not so into. I don't know why. Also I did not care for the first Deadpool and that's because I really didn't like the third person narrative.
Your website, Facebook, whatever else?
Instagram: @pixie_vonbat
Facebook: Krystal Pixie Adams (Pixie Vonbat)
Twitter: @pixie_vonbat
Anything else you're dying to mention and I have merely forgotten to ask?
I just want to thank all of my fans, I definitely would not have made it this far without them. I also want to thank everyone I have worked with so far, the actors, directors, behind the scenes crew, special effects teams, and thank you for this interview as well. I hope to continue to be able to act and I really hope everyone enjoys the different side of my acting in the upcoming films I'm in.
Thanks for the interview!