Your new movie Amityville: Evil Never Dies - in a few words, what is it about?
The film is about the further adventures of the "cursed monkey" from The Amityville Legacy. A young couple purchase it from an antique dealer (Nightmare on Elm Street 2's Mark Patton) and bring it home. Shortly after, scary supernatural things start to happen and Michelle believes it to be the monkey. She researches the origins and learns she must destroy it to "ward off" the Evil.
What made you return to the Amityville-myth after last years The Amityville Legacy - and how are the two films connected, actually?
I wasn't 100% satisfied with the end result of The Amityville Legacy, as there were just too many hands in the pot so to speak so it all felt too diluted to me. I decided to go at it once more with a follow-up, this time with more creative control in order to really make the film I intended to the first time. It's a direct sequel, picking up right after the events of the last film.
Other sources of inspiration when writing Amityville: Evil Never Dies?
The 90s sequels served as the main inspiration, much like last time, but also the more direct formula of the modern fare like The Conjuring and Sinister also played a part in it. I wanted something more "accessible" this time, with more genuine scares.
To an extent, Amityville: Evil Never Dies does poke fun about all the objects that have been under the Amityville-curse in earlier movies about the subject - care to elaborate?
Well, that was more the geeky fan side of me trying to connect everything without overstepping the legal boundaries of those properties. Basically every Amityville film is treated as another sequel by the fans, so why not have a little fun and at least attempt to create a connection, giving the "series" more of a connecting story line? It also brings relevance to our film referencing how this "has all happened before".

What can you tell us about Amityville: Evil Never Dies' approach to horror?
While The Amityville Legacy took an artistic approach to achieving terror, I wanted Amityville: Evil Never Dies to be just the opposite: in your face. Lots of jump scares, obvious musical cues and an overall feeling of urgency throughout. I think this one is a more exciting watch for the average horror fan.
A few words about the movie's overall look and feel?
I wanted something "crisp" and mainstreaming looking so I hired my friend Guy S. White, who does cinematography for a local news station. I made the color treatment subtle, relying almost entirely on the natural look of the image we filmed so it would look as modern and sleek as possible. It has a "bigger" sound mix and the build never lets up until the very end. It feels like a true 90s style sequel.
Do talk about your key cast, and why exactly these people?
While The Amityville Legacy had a slew of my "regulars" from previous films I've done, with the new look of this film, I wanted all fresh faces as well. With the exception of Julia Farrell and a couple minor appearances, almost everyone in the cast was a newcomer. The lead Michelle Muir-Lewis is a veteran stage actress, who I first met as a customer at my store Old Skool Video. She's a terrific actress who can display a wide range of emotion and expect to see her in more projects! Ben Gothier also had never acted for me before. He had a role in a few shorts and a feature previously and I actually first got the chance to talk to him at the South Dakota theatrical premiere of The Amityville Legacy, where he showed up to show his support. He did FANTASTIC in the film and nailed every scene. Ben is a really nice guy and a lot of fun to work with, expect to see more of him too! Mark Patton we all know as "Jesse" from Nightmare on Elm Street 2, he played the Antique Dealer. Helene Udy [Helene Udy interview - click here] from My Bloody Valentine also has a part as a Prostitute. Dawna Lee Heising [Dawna Lee Heising interview - click here] plays the nosy neighbor, and The Dummy 2's Clint Beaver plays the Exterminator.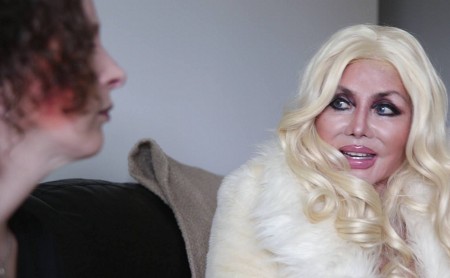 What can you tell us about the shoot as such, and the on-set atmosphere?
We shot it all over 3 weekends, with a day of pick-ups. So, it was quick like most of my productions, but everyone brought their "A" game and the shoot was a breeze and a lot of fun! We had a friend's pet dog in an important role, so that was the first time I really worked with an animal that "on hands" in a movie. Also, Mark Patton's presence added a lot of excitement in the air and I think really helped everyone take it all more serious on set.
The $64-question of course, where can your movie be seen?
Hopefully soon on DVD/Blu. I'm in talks with Wild Eye Releasing, who are also set to release The Amityville Legacy soon, so more info on that once I know it!
Anything you can tell us about audience and critical reception of Amityville: Evil Never Dies yet?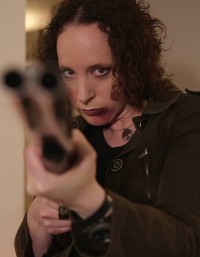 Feeling lucky ?
Want to
search
any of my partnershops yourself
for more, better results ?

The links below
will take you
just there!!!


It's had 2 reviews so far, both favorable. It hasn't screened to the public yet, but the cast and crew who have seen it all seem to be proud of their work.
Will you ever return to the Amityville-myth (from today's point of view, and however tentatively), and any (other) future projects you'd like to talk about?
No, I did what I wanted to do this time. Time to move on to bigger and bigger projects! Nemesis 5 is next. We start shooting in August, so I've been busy prepping for that every day. Sue Price returns and it'll be the final film in the series created by Albert Pyun.
Your/your movie's website, Facebook, whatever else?
Official Facebook: https://www.facebook.com/Amityville-Evil-Never-Dies-115694102279862/
Anything else you're dying to mention and I have merely forgotten to ask?
I recently directed a bunch of commercials and live videos for the band Orgy which you can check out on their official channels and check out Troma Now for several of my "classic" titles streaming!
Thanks for the interview!
Thank you as always!