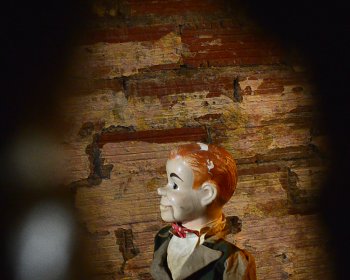 Schuylar (Craig) and Nathan (Christensen) are weirdly obsessed with the 2+ decades old slasher movie The Dummy (an actual movie, directed by Todd Jason Falcon Cook in 1995), especially since it's said to be based on true events ... that just happen to include relatives of Nathan - so the occasional video night with all their best friends (Breana Mitchell, Daniel Stier, Danielle Brookshire, Clint Beaver, Jennii Caroline) seems only naturally, even if the friends get bored out of their minds before long. Then though our lead couple hits it big when they find the actual Dummy that is said to have featured in the murders, and they obtain it (illegaly-ish) from a mysterious street peddler. And they again invite their friends who have somehow grown tired of their Dummy-nights by then ... but hey, they'll all go the extra mile nevertheless - especially if there's plenty of booze and maybe a joint or two involved. Things take a turn for the worse though when Schuylar has the splendid idea to have a seance to try and bring the Dummy back to life - as of course it works, and the Dummy ... well, he likes knives and knows where to put them ...
Now I will freely admit The Dummy isn't a film totally without its flaws: Between the opening that's pretty much a rehash of the 1995 film (and is great for everything from its S.O.V. looks to its low budget feel) and the blood-drenched finale, the whole thing feels a bit padded, as too much time is pent introducing the characters in only remotely interesting scenes ... and weirdly enough, these scenes add to the film's retro-charm, if you're into horror from the S.O.V. era. And if not, the finale is sure to pack a punch, it's way bloody and the diminuitive killer sure is creepy and is used to the best of a mere dummy's capabilities.
Good genre fun, actually!