To kick this off, why don't you introduce yourself to those of us who don't already know you?
My Name is Helene Udy... I'm an actor and a clown... I'm best known for my role a Sylvia in My Bloody Valentine (the one that gets killed in the shower) and the series regular Myra on the CBS television show Dr. Quinn, Medicine Woman. Some folks also know my role as Quark's first ever girlfriend Pel on Star Trek: Deep Space Nine.
Do talk about some of your current and future projects for a bit!
Lately I have been working a lot with a few indie horror film directors like David DeCoteau and Brian Farmer. I do have a role in an upcoming project called First House on the Hill but I'm no allowed to say much about it yet.
What got you into acting in the first place, and did you receive any formal training on the subjects?
I first got into acting after seeing a re-run of an Australian movie called Gallipoli. The end of the movie was so heart rending and when the hero got shot by oncoming bullets on-screen, I fell forward in my chair in emotional empathy with him. As I rose to right myself I noticed everyone in the theater, in that moment had all fallen forward. We had all felt this pain simultaneously. That's how brilliant this movie was. I was hooked then. The notion that one could communicate with large group of people all at once things that were important was mesmerizing to me. It was a lofty goal. My thoughts have diminished some. I'm just happy if people are enjoying themselves now. Although in grade school, the drama teacher gave me the lead role in the school play and I think I secretly caught the bug right then. It just had to have a reason to grow.
Do you still remember your first time in front of a movie or TV camera, and what was that experience like?
I was an extra on a movie with Vince van Patten in the lead. I had a super huge crush on Mr Van Patten so every day was a magical day. I annoyed the poop out of him. But one night on set, I got to run through the college as an extra screaming "Open the gates! Open the gates!" It felt very very real. I was in heaven. Acting is an opportuny to live in another world for however long the scene lasts. And that is fantastically addicting.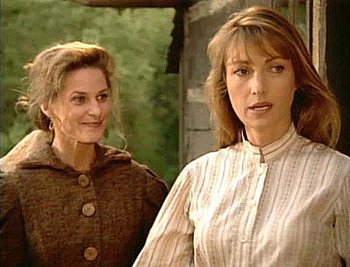 with Jane Seymour in Dr. Quinn, Medicine Woman
You have for several years been a regular on Dr. Quinn, Medicine Woman - so you obviously have to talk about that experience for a bit?
Dr. Quinn, Medicine Woman was a lucky strike for me. I was in the right place at the right time. I had spent most of my early acting years playing hookers and delinquents. Apparently all of it was leading up to this one wonderful role. Myra was a special character, she had a heart 20 times the size of mine. And a lot more courage than I could kick up on my own. I admired her deeply. It was an honor to play a character like that. I like to think she made a little bit of difference in the world of her viewers. So that is really the pinnacle right there. All I ever wanted.
Other career highlights?
Hmm... At the risk of being redundant, I'll skip this question.
Having worked both in film and television: Where are the similarities and the differences, and which do you prefer, actually?
I think overall I prefer film because I get to play a larger amount of character and live in a greater amount of worlds at the same time. A television show is a dedication. It is harder in some ways because though you no longer have to worry about the rent for a while, you have to fight to keep your character and your world relevant enough to make a contribution. Very challenging. The upside is you make some very great friends.
You have also done tons of stagework over the years, also as producer and director - so what can you tell us about that aspect of your career?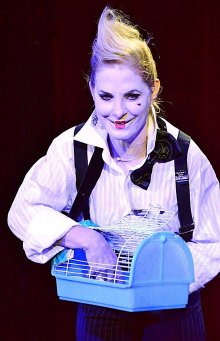 Was ist Das?
I love the stage... and I love big huge characters. Big huge characters don't often look that great on film so it's fun to play around with them on stage. I am heavily involved in the independent comedy scene here in Los Angeles and love the way clown and other forms of comedy are starting to converge. I run a variety/clown/stand up show at Three Clubs on Vine in Hollywood on the last Thursday of every month. Look us up under "Was ist das? entertainer", like the page and come see the show!!! The show is set in Berlin in 1920s, think the movie Cabaret turned on it's head and you'll know what you are in for. Among all the stage projects I have ever direted (and even won awards for) Was ist das? is my favorite thing to do right now....
Especially of late, your career seems to lean more and more towards the horror genre - any explanation for that, and is horror a genre you're at all fond of?
Horror is a challenge... but I'm a bit of a hypocrite. I am not a horror movie goer, I am a horror movie actor. I love the emotional challenge and the larger than life characters. But no, it's not anything more than that. I worry about putting it out there sometimes. But I tell myself that it's just a movie and people are responsible for their own thinking. But I worry about my contribution to madness. Crazy people doing crazy things. I'd drop all the leads I've ever done in horror for just one line on a Martin Scorcese movie. I could do a LOT with that line, I'm sure. Hope he's reading this.
Having made movies since the 1980s, how has the filmworld changed over the years?
It's easier to make a movie now, things can be a lot more experimental. There is a lot more work because video is everywhere. It's hard to get paid because of the low budgets, but as I never did this for the money. I'm pretty busy and being busy makes me happy. So I guess I'm pretty happy.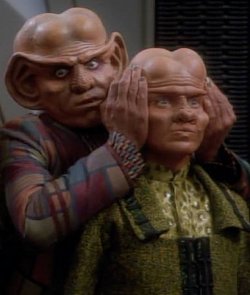 with Armin Shimerman in
How would you describe yourself as an actress, and some of your techniques to bring your characters to life?
I'm a character actress and I mostly have an edge. I like odd characters. Or as I like to refer to them "hard done by characters". I identify with both the underdog and the misunderstood, sometimes the misunderstood can appear to be very nasty poeple indeed. But I am always fascinated by context. Heroism. That is another of my favorite themes, I'd lie to play a hero. Myra was that to me (she has been my only hero so far).
Actresses (and indeed actors) who inspire you?
Ewan McGregor... big crush... Alan Cummings... Big Crush. I seem to indentfy with men by crush factor. Actors that take my breath away with the depth of their hearts. I know I'm missing a few. I dont identify much with women. Maybe I'm just jealous. But f I wasn't I'd say Nicole Kidman. I think she is underrated and throughly misunderstood, that appeals to me. I've seen her be brilliant. I think she gives a sh***. That appeals to me greatly too. Jake Gyllenhal. Brilliant. Toally overlooked and underrated. He killed me in Brokeback Mountain. I thought he stole the show.
Your favourite movies?
Mouling Rouge. Surprise! ... so many others. Nothing comes to mind right now besides that. I can get fixated. I'll kick myself once this has been published and wished I'd mentioned...
... and of course, films you really deplore?
Sharknado. Am I wrong?
Your website, Facebook, whatever else?

Feeling lucky ?
Want to
search
any of my partnershops yourself
for more, better results ?

The links below
will take you
just there!!!

Find Helene Udy
at the amazons ...

amazon.com

amazon.co.uk

amazon.de
Looking for imports ?
Find Helene Udy here ...
Something naughty ?
(Must be over 18 to go there !)

https://www.facebook.com/helene.udy (Helene Udy on Facebook)
https://www.facebook.com/wasistdasshow/ (Was ist Das? on Facebook)
Anything else you're dying to mention and I have merely forgotten to ask?
Nope!
Thanks for the interview!
Thanks for asking!!!