Your upcoming movie Headless - in a few words, what's it going to be about?
Pain. It's about pain.
Headless is one man's journey through a world that was never his own and his search for a world that is. It is the shaman's journey through the underworld, but rather than returning, he decides to stay, to become a festering spirit in human form. It is about the rejection of your very birth into a world that should never have been.

I'm kidding. It's just some guy killing people for an hour and a half. It's a slasher. It doesn't have to have a story ;)
Being a special effects artist first and foremost, how did you end up as the director of the movie, and what do you think makes you perfect for the job?
Scott Schirmer [Scott Schirmer interview - click here] and I have been working on films together since 2001, so there's a lot of trust there and I think we generally compliment each other pretty well. He realized the potential for Headless, although we had often spoken of it as something we weren't really ever going to do. One day he just came up and said, 'So, do ya wanna direct Headless? Nathan's gonna write the script.' Of course, the answer, once it was on the table, was 'Hellll yeah!'
I 've directed a film about a dollmaker wizard who steals babies and buries them in the ground to turn them into wax. Then, I directed one where a guy with a surgical fetish cuts off the vulvae of prostitutes and sews them on their faces to bring inter-dimensional creatures into our world in the worship of a strange god. Next, I directed a film about a woman who gets tortured and sliced to pieces as a sexual turn on for herself. I've seen The Exorcist about 167 times and it keeps getting funnier every single time I see it! Not to mention the fact that you're talking to a dead guy! Now what do you think? Do ya think I'm qualified?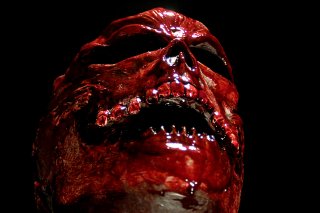 With Headless being a spin-off of sorts of the movie Found, was the Headless-sequence of that movie always intended to be expanded into a feature film, and how close do you remain to that movie's version of the story? And with Found's directorScott Schirmer [Scott Schirmer interview - click here] producing Headless, will he have any say when it comes to creative decisions?
No, Headless wasn't initially meant to be a feature. In fact, I think at that point we wouldn't have had any idea what that would be. We were just trying to make something that evoked a sense of nostalgia for the things we loved about these types of movies growing up ourselves. Which was far easier in a short, chopped format. Now, we have to make the whole thing. So rather than going back to the drawing board, I thought it would be best to stick with what we've got and go from there. Headless will remain just as you saw it in Found, minus Marty's imaginations, but where we left it in Found was not really the end. It's actually where our story begins.
As far as Scott having a say in creative decisions, I would say no. No, I don't think that's a very good idea.
Nathan Erdel, Arthur Cullipher, with Shane Beasley looming in the background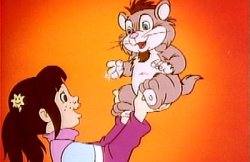 Do talk about Headless's writer Nathan Erdel for a bit, and what has your collaboration been like so far?
Nathan and I have been friends for a number of years. He was the monster lead in a very well received play I wrote with Leya Taylor, who also starred, called Bloomington After Midnight. He, along with Kara Erdel, was also a regular guest/victim on our horror host show, Atomic Age Cinema! and will continue to be when we return to that. Whenever the occasion arises, I do my best to return the favor.
We were trying to be ready to shoot in July, but Nathan was busy with his own projects. So, I thought I'd get the ball rolling. I came up with a base idea of what this could be and brought it to the group. We all had a round table where everyone contributed their ideas (yes, Scott too) of what they wanted to see along those lines. We hashed out the finer points and Nathan brewed it all together. Prepare to be amazed.
What can you tell us about your movie's intended look and feel?
It's really going to be like nothing you've ever seen before... except for these things that you might have seen before... having been described as a cross between Cannibal Holocaust, Tenebre, The Reflecting Skin, American Graffiti, Holy Mountain, Henry: Portrait of a Serial Killer, Pan's Labyrinth, regular Labyrinth and The Monkees' HEAD, with smatterings of Nekromantik, the Punky Brewster cartoon, the original Texas Chainsaw Massacre and the original Xanadu. And I think that's true.
It is an ascent into madness. Red, red madness.
Any future projects beyond Headless?
I told a friend I was doing this interview and about this question and she said 'more love stories.' I kind of snarked out a laugh and she said, 'Well, that's what you do. You make love stories.' And I realized she was right. So, more love stories.
I'm doing some f/x work on a movie that Gavin Brown is in called Above the Fruited Plains, directed by Geoff George, which is actually shooting right now. I also had a small part as a thug. After Headless, I'll be doing f/x for Leya Taylor's directorial debut, a wider audience thriller. Scott's got a secret project going on that I'll be doing some fx for and acting in a creature suit. Shane has a short film in the works and we both want to get back to some Atomic Age Cinema! stuff.
If and when all goes well with Headless, the next film I'll be directing is called Smut - it's only a porno if it turns you on.
It's a horror movie about a 3rd shift porn store clerk/janitor having to deal with a growing cult of porn ghouls in his video arcade conjuring strange, amorphous creatures made of an aether plasm that conforms to desire and what happens when he succumbs to pheromones and temptation with one of these things (Scott has been referring to the sculpt as 'pussychicken') and starts making babies. Part of the subplot has to do with videocassettes as an agent of mystery, magic, sexuality and evil. Although we see Headless on VHS in Found, I feel like it would have been shot on 16mm in 1978. So, you won't be seeing those style of video effects in Headless, but as a big VHS fan, I'm excited to be able to work with some of those effects in Smut. It's gonna be a wild, wet ride.
Having talked about Headless all that much, you of course also have to talk about Found and your work on that one for a bit!
With Found, it was clear pretty immediately that this was something that was filling a niche in the horror genre. Nothing like it really existed. I mean, it's true there's nothing new under the sun, save perspective... and this thing had a perspective! All along we were saying things to each other like 'has this not been done before?' and then we'd kinda go through our collective banks and say 'no, no I don't think so' or admit 'yes, but it's only been done really well here, so let's go for that or better as best we can'. And those are the kind of movies I always want to make.
When you begin on a project, if you're not the initiator, you're not, at least I'm not, always as attached to it. As Scott is fond of saying, you have to fall in love with it. Once you have, you feed it and it grows and it takes on a life of its own. If everyone is in love with it, it's hard for it not to be nurtured into something pretty solid. And that's how it was with Found. Our core group really cared and thusly, the rest of the crew really cared and worked their damnedest to make it into something wonderful. I'm not saying everything was peaches and cream, but I'm looking forward to that same sort of passion and commitment on Headless. And I think I'm going to get it.
What got you into the filmworld to begin with, and did you receive any formal education on the subject?
I've told the E.T. story a few times, so I'm going to tell a different one here. When I went to kindergarten, they had the set of inflatable Letter People. I loved them so much and naturally wanted some of my own. But they weren't for sale to the public, or if they were, I'm sure they weren't cheap and likely, my parents couldn't afford them. So, my grandma made stuffed versions for me. I'm pretty sure that is what cemented the idea that what I couldn't buy, I could make. There were no Clash of the Titans Medusa or Charon or Bubo figures when I was a kid. No Dark Crystal figures. No Glomer or Gollum. I had to wait forever for E.T. or Yoda. What's a kid to do? You have to make it with whatever you've got or can get a hold of. My mom helped me make a Wishman (1 glorious pilot episode) doll out of a headless ventriloquist dummy (Howdy Doody?) and pantyhose stuffed with cotton balls. Those things were even more special to me because I had to put my time and energy not just into making the thing, but into learning how to make it.
Movies, specifically horror/sci-fi/fantasy movies, were my drug of choice as a kid. Anything with monsters or creatures from outer space. Anything that invoked a sense of wonder, that I could attack with my vicious wondering. Having been such an avid fan and being fortunate enough to still be growing up in an age of advancing film technology, making monsters and making movies was just a natural path for me. Every skill I gained I began to relate to those things, or writing stories. When you're working without money, you need a different set of skills than when you're working with money. As a young man, I learned to work without money. As a slightly less young man, I'm hoping I get to learn to work with it at some point.
I attended Joe Blasco in 2001. 9 weeks of 93% things I already knew and a rocking 4 weeks of excellent advanced prosthetics, animatronics and creature building education. I had a good time, but if I were doing that today, I think I wouldn't pay for school, myself. I'd opt for spending the money on renting space, getting materials and spend a lot of time on YouTube, instructables and on fx forums. I'd probably go for the whole catalogue of Stan Winston videos, though. Those are boss.
What can you tell us about your filmwork prior to Headless (in whatever function)?
I know I'm going to end up leaving out a lot. There have been projects too numerous that have been put on the back burner, fallen by the wayside or been abandoned for whatever reason.
I started attempting to make movies in 6th grade and didn't really succeed until 10th grade when I started taking TV Production. I didn't really get serious about it though because drugs and girls. I grew up in Orlando, but it wasn't until I moved to Bloomington that I found opportunity or vice versa. At the behest of my then wife, I answered an ad in the paper for a film looking for actors. I asked the guy if he needed an fx guy and he said 'Ya know, I hadn't thought a lot about it, but yeah!' So began my relationship with Scott Schirmer [Scott Schirmer interview - click here] on his 2001 project, House of Hope. I made a few shorts with Scott after that and started putting myself out there around town. Got into a film co-op that led to further relationships and projects like Atomic Age Cinema! and the Dark Carnival Film Festival (now Diabolique International Film Festival). In 2004, I co-directed an occult film called Not Dead, but Dreaming which definitely influenced the way I've done everything since. In 2007, I wrote, directed, did s/fx for and starred in my first film which Scott was the DP on, The Adipocere Child. 2009 was Come and Bloomington After Midnight. 2010 was s/fx for Lewis (Anthony Sumner [Anthony G. Sumner interview - click here]), Crestfallen (Jeremiah Kipp [Jeremiah Kipp interview - click here]) and I directed and did fx for Roses, written by Terrence Dellinger, which was the winner of the screenplay competition at Dark Carnival. 2011, finishing up Psycho Street (Musclewolf Productions), which Lewis was a part of, some fx for segments of Closed Casket (Desmondo Azteca) and, of course, Headless, Deep Dwellers and ultimately, Found. Since then we've helped to bring together a local annual Krampus Night, by providing a contact to smuggle some Krampus into the area. We made some mutant superhero vegetables for Street Freaks: The Chest last year. Now I'm looking forward to stretching my visceral talents and putting all of my learning to the test with Headless.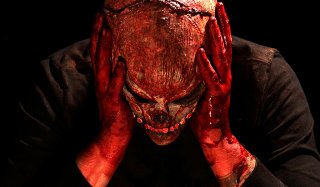 How would you describe yourself as a director, and how as a special effects artist?
As a director, I think my strengths lie in my own acting ability and sales experience. This gives me a leg up in terms of dealing with actors and getting the performances I need from them. Also, I understand what fx are supposed to look like on camera, so I know the best way to shoot it. Unfortunately, I really only seem to understand weird and horrific things. Making things seem normal or everyday is not my strong suit. Fortunately, I have help.

As a special effects artist, I will save your production money and offer a better product than many who will do less for more. I can make something gruesome out of anything and something beautiful out of nothing.
Filmmakers, special effects artists, whoever else who inspire you?
I'm a weird guy and I like my entertainment weird. David Lynch, David Cronenberg, Alejandro Jodorowsky. One of my more recent favorites has been Jimmy ScreamerClauz [Jimmy ScreamerClauz interview - click here]. I really love his Where the Dead Go to Die. Very disturbing, fateful stuff.
Storywise, the weird tales. Lovecraft, Thomas Ligotti, Bentley Little. Blood, sex, tentacles, magic and dreams. I also have a healthy education in occult literature. The werks of A.O. Spare, Phil Hine, Peter Carroll, Kenneth Grant and William S. Burroughs have all had a gigantic influence on the things I create.
As have all the weird, midnight movies, cheap sword and sandal movies, bizarro sci-fi and stop motion strangeness I devoured as a kid.
F/X Artists also have to be good at weird for me to dig on them. Stan Winston, of course. Tom Savini needs a mention. I think Steve Wang is terribly underappreciated, He is fucking ASTONISHING! And I miss seeing Screaming Mad George around. Maybe I just don't get out enough. Definitely Carlo Rambaldi, the same person who was responsible for E.T. was also responsible for bringing the first Alien to life from Giger's designs and a most satisfying tentacle sex scene in Possession. I think the person who has had the most influence though, is probably Jim Henson. Talk about bringing characters to life!
Your favourite movies ... and of course, films you really deplore?
Videodrome, Halloween III: Season of the Witch, Scarecrows, Dr. Caligari, Gremlins, Orphan, The Child, Pumpkinhead, Lost Highway, Lords of Salem, Holy Mountain, Mad Love, In the Mouth of Madness, Where the Dead Go to Die, The Haunting... the list really goes on for miles and miles. I was only listing midnight genre movies, but I love all sorts of things.
More than I hate, but I do feel hatred.
Gareth Edwards' Monsters - I hated that fucking thing.
You are not allowed to make a movie called Monsters and not have it filled with monsters. And if you are going to hold your monsters until the end, you're a dick, but ok they better be more than just giant light-up octopodes! I might have thought that was cool, but you made me swill through so much tedium to get to them, I just didn't care anymore. It committed the cardinal sin. It bored me. Yeah, yeah, humans can be monsters, too, but I didn't go to a movie called Monsters to watch a human drama. If you had called it Dull Human Drama With Some Sorta Cool Stuff At The End, I would have applauded and thought 'Wow, that filmmaker really achieved what they set out to do and it was not disappointing in any way'. Instead, Monsters, sans monsters. A loose, acidic turd irritating the bowels of cinema history. I was afraid for his Godzilla, but I think it turned out ok. Still, IT WAS NO PACIFIC RIM! THAT MOVIE KICKED SO MUCH ASS!!!
Your/your movie's website, Facebook, Kickstarter, whatever else?

Feeling lucky ?
Want to
search
any of my partnershops yourself
for more, better results ?

The links below
will take you
just there!!!

Find Arthur Cullipher
at the amazons ...

amazon.com

amazon.co.uk

amazon.de
Looking for imports ?
Find Arthur Cullipher here ...
Something naughty ?
(Must be over 18 to go there !)

Our website is forbiddenfilms.net
Friend me on FB @ facebook.com/arthurcullipher

Like Headless @ facebook.com/headlessmovie
The Kickstarter for Headless has 8 days left as of this writing so definitely go here if you want to get cool stuff! Lend a hand in making something mindblowing and GIVE US YOUR MONEY!: https://www.kickstarter.com/projects/959785738/headless-a-feature-length-horror-spectacular
Anything else you are dying to mention and I have merely forgotten to ask?
Actually, I recently finished designing my own Tarot deck. It's called The Tarot of Forbidden Media and it contains 81 pieces of some of my Other Art. I'll be receiving the sample packs from the printer this week, as a matter of fact. They should be available by the end of the year (fingers crossed), but I'll give you guys a sneak peak at a few of them [scattered across this interview]. Shhh...
Thanks for the interview!