Hot Picks

Hallowed Ground


USA 2019
produced by
Miles Doleac, Lindsay Anne Williams, Wesley O'Mary, Michael Williams, John Lawrence Doleac (executive) for Historia Films
directed by Miles Doleac
starring Lindsay Anne Williams, Sherri Eakin, Miles Doleac, Ritchie Montgomery, Jeremy Sande, Mindy Van Kuren, Scott Bolster, Joseph VanZandt, Judyth Daley, Dan Forest, Anjuli May, Michael Randall, Creek Wilson, Cotton Yancey, Wesley O'Mary, Dan Ellzey
written by Miles Doleac, music by Clifton Hyde, special makeup effects by Julie Toche, visual effects by Wesley O'Mary

review by
Mike Haberfelner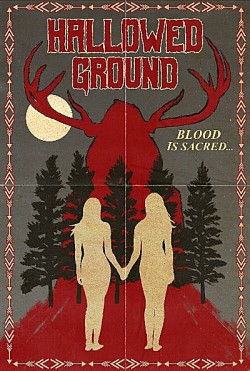 Alice (Lindsay Anne Williams) and Vera (Sherri Eakin) once have been a happy couple - but they've grown apart of late, also because Alice had an affair with a man, Thatcher (Jeremy Sande), so they have decided to go to a forest retreat to save their marriage, as their feelings are stil strong for one another. Of course, things don't go as well as planned as they have grown apart further than they originally realized, and that eventually Thatcher, who has been tracking Alice, shows up, doesn't help one bit. But things get really ugly when Alice and Vera accidently cross the property line to the neighbours - and these neighbours, led by Bill Barham (Miles Doleac), really don't like trespassers, even if the girls were on their land only for a tick. Turns out that the Barhams and the family of Nita (Mindy Van Kuren), owner of the retreat, have had a feud spanning generations, and with every trespasser, Bill thinks he has the right to sacrifice not only the trespassers themselves but also all connected to them he finds at Nita's retreat. And he's not only also the local sheriff to back up this claim but even the leader of a cult consisting of all those in power, locally. And all Nita has to protect Alice, Vera and Thatcher are her people's Native American spirits - which help a bit, but then Thatcher's dragged away by the cultists, and even if he has tried to destroy their relationship, Alice and Vera decide to save him. Alice even goes so far as to offer herself in place of Thatcher, demanding safe passage for him and Vera in return. This actually impresses Bill, and he agrees to the exchange. Vera drags a brutally tortured Thatcher to safety, but he's too far gone already and ultimately dies at the retreat. Meanwhile, Alice tries to make a getaway from the cultists when Bill tries to rape her, but is ultimately stopped and tortured. However, one of the cultists is Sandy (Ritchie Montgomery), caretaker of the retreat and with the cult only by blood relation (he's Bill's uncle), and he frees Alice and makes sure she manages to get back to the retreat. But once at the retreat, Alice and Vera really run out of options as the cultists are quick to put the place under siege ...
Basically, this is just a really cool movie. Sure, it takes a bit to kick into gear, but Iyou (like me) might actually enjoy the slowburn build-up and the fact that we get fleshed out characters in return - and once the film kicks into gear it goes full-throttle: It's violent, it's mean, it's creepy, and it's "take no prisoners" approach to things is commendable - and yet it manages to tell a proper story with twists and surprises throughout. And of course, a solid cast helps making this one as well as it does, as do the proper locations.
Basically, a film that might make you rethink your next trip to whatever retreat ...