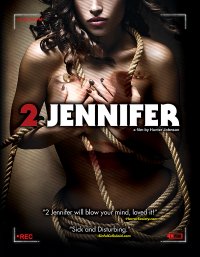 Spencer (Hunter Johnson) has become so obsessed with the shot-on-iPhone horror sensation To Jennifer that he persuades his best friend Mack (David Coupe) to produce a sequel to the movie he's going to direct. He claims the director of the original movie, James Cullen Bressack, will do the most heavy lifting production on this sequel, so all bases are covered ... except for James never returns Spencer's calls or texts and doesn't show up when they're auditioning - even if he allegedly left very specific conditions for the casting, like the actress's real name has to be Jennifer. Spencer proves to be an utter dick during auditions, which enrages Mack more than a bit, but somehow they find "their" Jennifer (Lara Jean Mummert), a woman they're both taken by ... and Spencer isn't at all happy that she's more into Mack than himself. He likes it even less that she, being friends with one of James's crew (Jody Barton) arranges for them to finally meet up with James Cullen Bressack at a party - where things come to a head as Mack only now finds out that James has never agreed for Spencer to make the sequel, let alone to produce it, and Spencers constand messaging has obviously angered him more than a bit. Ultimately, he has Spencer and Mack removed from the party rather forcefully. But Spencer has come way too far to not go through with his plans - but these plans don't involve making a movie nearly as much as they involve murder ...
Adult star Veronica Ricci and horror regulars Felissa Rose and Erin Marie Hogan are among the Jennifers Spencer and Mack audition.
Now admittedly, the iPhone-shot horror road movie To Jennifer doesn't lend itself particularly well to a sequel as it didn't leave any doors open for further story development, and the plot as such is too straight-forward to work a second time even half as well. So one has to give Hunter Johnson props for even trying ... and the result is not only quite original in its approach, it's also highly disturbing, and disturbing in the best possible way. And while the film is still mostly shot via iPhone (presumably at least), it does move away from the pure found footage approach of the earlier movie to go for something more cinematic.
Quite a cool movie, actually.