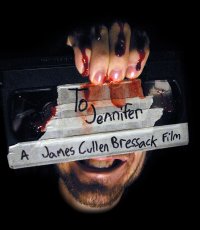 Joe (Chuck Pappas) has got a problem: He has found out that his girlfriend Jennifer (Jessica Cameron), who lives in another town hours away, is cheating on him. Now instead of just breaking up with her like any normal bloke would do, he decides to go a different route and decides to make a revenge video that will reveal her to be the bitch she really is (in his eyes at least). So he persuades his best buddy Steve (James Cullen Bressack) to come along and document the whole roadtrip to her on his eyephone, and his stoner friend Martin (Jody Barton) to give them a ride. Now while Steve goes along just to make a funny video, Martin's mind is not yet addled enough from all the drugs to not see that this is a terrible idea - and he tries everything to derail the project in Joe's best interest, by trying to get Joe laid, even if he has to bring prostitutes (Nella Jay, Kitty Doll) to do the job. After the prostitute-episode, Martin is gone without saying good-bye, but he has left Joe his car to continue the trip. The rest of the trip, Joe gets more and more irritable and unpredictable, and when he and Steve finally pass Jennifer's house and see her kiss another guy right outside on the street, Joe has a nervous breakdown. But it's not until he faces Jennifer that he shows his real face - and it's not pretty ...
To Jennifer is in equal parts road movie (though without the usual sightseeing sequences accompanying the travel-experience), psycho-thriller of the descent-into-madness-kind, and found footage film (which is why the film was entirely shot on Iphone), all sprinkled with a touch of comedy - and it's quite a fascinating experience being just that, as it's cleverly structured, does bring its found-footage nature into the narrative rather organically (even if the at times unnecessarily shaky picture does put the Iphone as an appropriate camera substitute very much into question), and the film features some carefully fleshed-out characters the audience is actually able to care about (even Joe to a point). And add to that a very competent cast, and you've got yourself a pretty good film.
Recommended, actually!