Your new movie Lost in Sleep - in a few words, what is it about, and what can you tell us about your character in it?
In short, the film follows a man who finds himself trapped in a nightmarish landscape being hunted by an unknown entity. The film follows my character (ĎThe Dreamerí) through these transitions to different locations in this dreamlike state, in which we see his psychological state break down as he is mercilessly pursued by an unseen presence that he is desperate to escape.
Very little is known or explained about the character to the audience through the filmís entirety. He is a disturbed individual whose sanity is on the brink of collapse as he desperately attempts to navigate this dark, dreamlike world he is trapped in. The character demonstrates numerous behaviours seen from those that suffer sleep paralysis. Hints of these behaviours are shown through the characterís lack of dialogue, frantic eye movement, heavy irrational breathing, profuse sweating and reaction to ďsupposedĒ hallucinations.
What did you draw upon to bring your character to life, and how much William Marshall can we find in him?
Since the role relied heavily of facial expression and physicality to communicate the character's emotions and thoughts to the audience, I primarily had to utilise and isolate tension in my muscles to convey the required emotional state and body language required. Usually I break down the script into segments and outline a specific super objective that my character wishes to achieve by the filmís end. In these segments, the character is set a number of smaller objectives to be completed in order to remain on track to achieving their ultimate goal. For instance, the super objective I outlined for my character was to escape the dream state unharmed. Once the objectives are set and Iíve outlined the emotional journey the character faces, it makes it easier to put these methods into practice on set and achieve the desired performance on camera.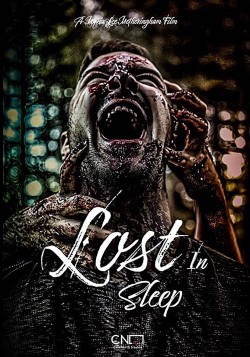 I found that I brought a lot of my own natural curiosity into the role. The character faces an unknown force in an unknown world, so it feels only right to explore that instinct of curiosity by showing that the character wants to understand the peril he is in. By doing this, through the use of Jamie Walkerís superb camerawork, Maria Lee Metheringhamís [Maria Lee Metheringham interview - click here] creative vision and my performance, we are able to create something that provokes the same curiosity in the audience watching. This is coupled together with the concept of unseen horror and fractured storytelling, which really help the filmís narrative progress and allows a strong emotional connection between the character and audience.
In Lost in Sleep, you have no dialogue and with every scene it's at best doubtful how "real" it is - so in which way has this influenced your performance?
With the lack of spoken dialogue I of course had to rely on facial expression, physicality and body language to convey my performance of the character. The difficulty in that was finding the right levels of emotion and how heightened my movements and expressions were on camera. I wanted to remain as naturalistic as possible, but given the nature of the film there was some leeway on how exaggerated the character could be in this dreamlike world. Thankfully Mariaís style of direction was very reassuring, as she clearly communicated what she wanted scene by scene and provided feedback if it was required between takes. At the same time, Maria allowed for me to experiment and try different things between varying takes and it allowed me to be relaxed with my levels of performance.
How did you get involved with the project in the first place, and to what extent could you identify with the film's approach to horror?
I got involved on the project simply by finding the CineNorth Studios Facebook page and liking it. I then found their latest casting call for an actor based around Sheffield, so I followed the link to their
website and realised it was Mariaís production company. I sent email expressing my interest in the casting and future projects, not long after I had an email back asking if I was interested. I looked at the trailers for the previous films Maria had recently directed and confirmed my interest and before long I had the script and shooting schedule.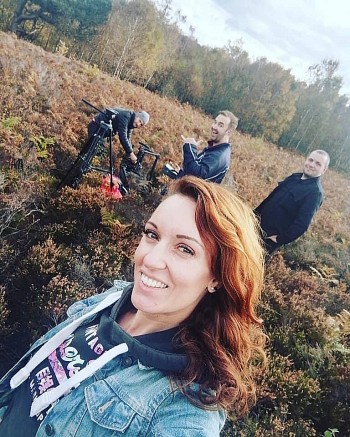 on set of Lost in Sleep
with Maria Lee Metheringham, Jamie Walker and Jamie Curran
As for the approach to the horror genre, this was something completely new to me in terms of performance. So after reading the script and picking Mariaís brain on the filmís themes I was eager to get started on production. It provided a very unique experience and a challenge that really tested me as a character actor.
Do talk about Lost in Sleep's director Maria Lee Metheringham [Maria Lee Metheringham interview - click here], and what was your collaboration like?
Before working with Maria as a director on Lost in Sleep, I first met her a couple years prior on the set of Mychoís feature film Mask of Thorn, directed by MJ Dixon. We worked together closely during that shoot and I got to see how committed she is to her performances. Maria is a very talented woman both in frontof and behind the camera, she is approachable, relaxed and full of energy, while at the same time she is professional, well mannered and just a general joy to work with.
As a director, she outlines her expectations and desires required of your performance and that of her crew. She fills you with confidence and it is clear when you work with her that she has a vast wealth of industry experience. Collaborating with her was a chance to learn from her and from Jamie on a completely different style of project that I hadnít worked on before. Everyone brought a great enthusiasm and energy to the set, we all fed off that energy and it allowed us all to be relaxed and well focused on set.
A few words about the shoot as such, and the on-set atmosphere?
As I said previously, the whole atmosphere on set was relaxed and buzzing with enthusiasm. To be honest I think we were all just happy to be out shooting a project, given that most of time people were
confined to their homes for long periods of time. It was a really enjoyable experience, we all got to know about each otherís past experiences, recollect on previous projects and talk about on future aspirations. To have filmed in such a picturesque location (Wyming Brook Nature Reserve, Sheffield), alongside working with an minimal cast and crew just allowed a real camaraderie to blossom. I certainly hope to work with Maria and Jamie again on future endeavours, they were an absolute pleasure to work with on this film.
Any future projects you'd like to share?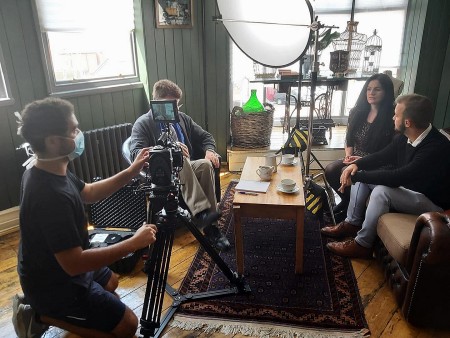 on set of The Haunted Couple
with Lucy Marshall, Jon-Paul Gates, Jonty Dawson
There are a few, but I certainly wouldnít complain if more came along. Iíll give you a short run down of some of the most exciting projects.
Case Files (2021): Directed by Damien Kage and produced by Tricell Films. This is a TV series produced in Nottingham, that follows multiple characterís storylines after a deadly virus is released causing a devastating epidemic throughout the city. You follow the survivors and the Elite Group Investigation agents as they aim to escape the city and find the source of the viral syndicate. I play the role of Agent Alex Scott, who proceeds to save his partner and works with other agents to contain the epidemic, whilst searching for a sinister entity that is on a rampage across the city. The production is nearing the final stages of post production and should be aiming for a late 2021 release.
The Haunted Couple (2020) and Nest of Vampires (2021): Directed by Chris Sanders and produced by Black Coppice Films. My two main projects this year and what a joy it was to work with Chris and his team. Nest of Vampires follows Kit Valentine on his journey to save his daughter from a sinister criminal syndicate controlled by vampires. Think Taken crossed with From Dusk till Dawn. The film is going to be amazing and has number of high profile attached to it. I urge everyone to do their research into this film because itís going places and Chrisí hard work and ambition will be the key to that success.
The Haunted Couple follows a husband and wife attending therapy sessions after they are involved in a horrific accident. But, as the session continues the husband begins to drift into the world of the supernatural. I am certainly excited about this one, as this was perhaps one of the most challenging roles I have ever had to portray. All will become clear as to why when the film is released. I worked with an immensely talented team of professionals both in the cast and crew.
I had the pleasure to work with Jon-Paul Gates in both films, he is a delight, a comical character and just great fun to be around. Other talents, such as Lucy Marshall and Amelie Leroy, were superb. I cannot tell you how amazing their performances were and itíll be a pleasure to work with them again in the future. Nest of Vampires is aiming for a March 1st 2021 release, there is still no confirmed release date for The Haunted Couple as of yet.
Slasher House 3 (2021) and Wrath of Thorn (2022): Directed by MJ Dixon [MJ Dixon interview - click here], produced by Anna Dixon of Mycho Entertainment. I couldnít leave out my two favourite people to work with could I? Thatís right everyoneÖIím back for my sixth and seventh outings in the Mycho Horror Universe! Iím always thrilled when they ask me to return for new projects and I can never say no to them. I cannot say much about these upcoming productions, for what information is available, I would urge people to check on the Mycho website, social media pages and the filmsí IMDb pages. All I can say is I canít wait to work with the Mycho team and a whole host of familiar faces once again. These filmís are going to be special, not to mention what they have in the pipeline!
For me, I feel really privileged to be part of two of the Slasher House films, let alone being involved in every instalment of the Thorn-trilogy. I feel a special connection with those films, as for me thatís where my friendship with MJ, Anna and my connection to the Mychoverse all started.
Since out last interview [click here], quite a bit of water has flown down the river - so what can you tell us about your journey as an actor since, and some career highlights?
Itís mad to think our last interview was six years ago, certainly a lot has happened since then. Since that time, I graduated from Vision West Nottinghamshire College and Derby University with my Bachelors Degree in Applied Studies (Theatre). I continued to be cast in roles on a number of short films, feature films and made-for-television series, along with a number of theatrical productions being performed in the counties of Nottinghamshire and Derbyshire. One of my biggest highlights was appearing on the History and Yesterday channels on the production of War Above The Trenches, where I appeared as one of the main cast.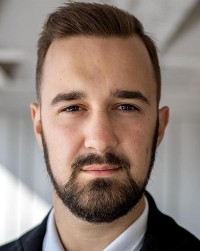 Feeling lucky ?
Want to
search
any of my partnershops yourself
for more, better results ?

The links below
will take you
just there!!!


After taking a year out of acting to focus on work and spending time with family, I feel my career is making a bit of a resurgence and that Iím starting to make good head way in becoming a more established industry professional. My hope is that the world and the arts will begin to recover once we begin to overcome the current epidemic and that more opportunities will be coming my way. Iím looking forward to seeing what the future holds for me.
Your website, social media, whatever else?
IMDb: https://www.imdb.com/name/nm5668523/
Instagram: will.yes.iam.marshall
Spotlight pin: 5093-0162-0856
Anything else you're dying to mention and I have merely forgotten to ask?
Just a quick mention of that I am working on a number of productions with Yorkshire-based production companies Runestone Pictures and DiCast Productions. Details on these projects can be found on their relevant social media pages. These projects include Macbeth (2020), So Haunted (2021), Vampyre (2021) and Locals (2022). These productions are headed by Diana Brooks and her amazing teams, I am very excited to get back working on these projects.
Thanks for the interview!
Thank you for interviewing me again Michael, itís a pleasure as always!