Your upcoming movie Silent Retreat - in a few words, what is it about?
Logline: A creature feature. In this quiet horror film, Janey is sent to a silent retreat in the middle of the woods for rehabilitation, only to discover that the men who run it are after more than her voice, and arenít afraid to show her what lurks beyond the trees...
How did the project come into being? And what can you tell us about your writer (and frequent partner-in-crime) Corey Brown, and what was your collaboration like?
Corey Brown and I met at York University where we both studied Film Production together. Since we graduated, we have worked on every project together, him as the writer and myself as the director / producer. Side by side, we have built our careers and created a partnership that works really well. Itís nice to be able to work with the same writer. We have a groove and we know each otherís style. We both have the same sensibility when coming up with a story with themes that matter to both of us.
As far as I know, Silent Retreat is partly shot as a silent film. Would you like to elaborate?
I like to describe Silent Retreat as a quiet film. When Iíve told people itís a mostly silent film, they think miming with subtitled cards. Itís not that at all. It is set at a silent meditation retreat, so there is very little dialogue. The characters observe, react and explore without speaking. So, itís not a silent film, itís just a quiet film.
How would you describe your overall directorial approach to your subject at hand?
I was involved in this project from the very beginning. I attended a silent meditation retreat myself in December 2011. It was there for 10 days that spanned over Christmas, and I came home on New Yearís Day. There, we stayed silent for 10 days, no eye contact, no gestures, no reading, writing, music, internet, phone. Just meditation, eating and sleeping. Of course Corey, my writing partner, says to me ďThink of a thriller while youíre there.Ē So at times, instead of meditating, I was thinking of movie ideas and interesting moments. When I came home, I told Corey about my experience, and we started brainstorming.
In February, we were starting to go stir crazy and we decided, weíre going to shoot this movie. We can do it all in one location and on a low budget. So I started looking for locations and Corey started writing.
As for directing, I started preparing more than two months before production. I drew our floorplans and planned every shot angle and movement to cover the scenes. And only after that, did I storyboard and choose the shot sizes. I went through the script and broke it down into beats so I would be prepared to talk to the actors about each scene.
What I found working without a lot of dialogue, that I didnít find much room to talk about motivation and subtext behind lines and words. A lot of the time, it was reminding the actors where they just came from and what they are trying to accomplish in the scene. Many scenes were very short with only one specific action. I also used the shot sizes and camera movement to tell the story.
Could you talk about Silent Retreat's approach to horror for a bit (as in atmosphere vs excessive violence, restraint vs all-out gore and the like)?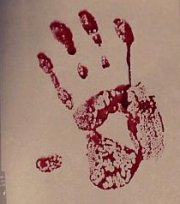 Silent Retreat definitely delivers the elements of a horror film in terms of gore, eerie atmosphere, a creature lurking in the woods, danger and suspense. While there is violence, I wouldnít suggest that it is excessive. I feel that every horror element, whether it be the special effects creature, the gore or the violence, is crucial to the story. The story is where it all starts. We wanted to make sure that our movie said something and had a strong theme. Silent Retreat is about women standing up, having their voices heard for what they believe in and not being silenced. In the charcterís fight to stop being repressed and held down, they fight back against the creature and the evil doctor. This is where the violence and gore comes in. I would define excessive or all-out gore and violence as gore for the sake of gore or violence for the sake of violence. But because every moment is justified by the story, I think we deliver just the right amount for a horror audience to enjoy.
What can you tell us about your movie's key cast, and what made these people perfect for their roles?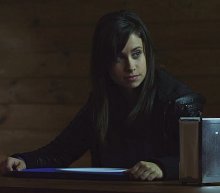 Chelsea Jenish
Chelsea Jenish plays our lead character Janey. Sheís a young actress, somewhat new to the scene, but we saw the talent in her first audition. She really moved me with the monologue and I forgot that there were parts of the monologue that I wanted re-written. She really gave it her all and gave a great performance of a Janey who begins as a subdued, obedient girl to a woman who will not give up, and stand up and fight for her life.
Robert Nolan [Robert Nolan interview - click here] was such a great find to play our doctor. He is a veteran in the industry and we were very lucky to have him as part of our cast. As the villain of the movie, we needed a strong actor like Robert to play the character with the subtle but varying methods of control over these women. And, without giving away the climax, it was so much fun watching Robert really get into the physicality and stunts required for the role.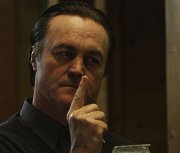 Robert Nolan
Sofia Banzhaf brought such an energy not only to her performance to but to the set. Corey and I had a general idea of who the character was, but as soon as we saw Sofiaís audition, there was no question in our mind that no one could play Alexis like her.
What can you tell us about the actual shoot and the on-set atmosphere?
We shot on location at Kettleby Valley Camp, where we were graciously hosted for our 13 day shoot. The cast and crew stayed overnight at the camp while we shot long hours, worked very hard and had a lot of fun!
It was November when we shot, so it was quite cold and the beginning of our shoot actually crossed over with the big hurricane that hit North America. Between sun, rain, snow and hail and a budget that was too small to allow for jackets as a part of the actorís wardrobe, our hardcore cast and crew made this movie look amazing.
Even though it was a tough shoot in terms of shooting a lot of pages per day, plus special effects, choreography, sometimes large locations for lighting and set dec, our crew smiled through all of it. This really was the most fantastic crew I have ever worked with. We didnít sleep much, and pretty much everyone got sick at one point, including myself (directed with bronchitis and fever for the second week), we all had a blast making this film come to life. It was so great working with a crew that had a great attitude. Everyone was more concerned with getting all the shots and telling a great story than getting rest.
We put together a cast and crew that had a passion for filmmaking. Everyone was there because they love the art and wanted to make a good movie. I believe that kind of energy shows up on screen.
Any idea when and where the film will be released onto the general public yet?
My aim is to finish the film by July 2013. We will acquire a domestic distributor and a international sales agent, as well as send it to film festivals. Iím hoping that it will start screening in festivals starting September 2013.
Just like Silent Retreat, your first feature film Clean Break was a horror movie. So what can you tell us about Clean Break, and is horror a genre at all dear to you, and why (not)?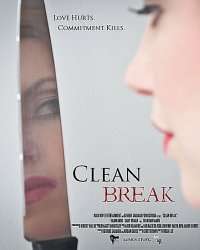 Clean Break, my first feature film, is a thriller. It was also written by Corey Brown. He is actually the genre fan. For me, a good film is about a good story and Corey always manages to write a compelling story within a genre. To be honest, I never watched horror films because they scare me! But they are so much fun to make, Iím really starting to find a possible niche for myself. But while these genre pieces are super fun to make, I also donít want to be pigeon-holed. I have other stories and scripts that are already written that are comedies, crime thrillers and a multi-character drama. My goal is to make a melodramatic musical love story. But for now, while working my way up the budget ladder, horrors are a great way to start a filmmaking career on a lower budget, and did I mention they are really fun to make?
Let's go all the way back to the beginnings of your career: What got you into making movies in the first place, and what can you tell us about your education on the subject?
My parents took me to Universal Studios when I was 10 and I saw how movies were made. I was more interested in the exhibits that taught green screen and sound foley than the rides! From that moment, I knew I wanted a career in the media arts. I took a video class for 2 years in high school and eventually earned my Bachelor of Fine Arts in Film and Video Production from York University. I also did a one year exchange program to England for Media Production at the University of Northumbria. When I graduated, I went to LA for a year and worked on some film sets there. But I ended up coming back to Toronto to make my own films. Since then, I have directed/produced at least one film a year. I have shot many short films that were funded by Bravo!FACT, the National Film Board of Canada, Corus Entertainment and the CFTPA. I shot my first feature Clean Break last year and just finished production on my second feature Silent Retreat.
Before Silent Retreat and Clean Break, you have made quite a few shorts, TV programs and the like. Would you like to talk about any of those for a bit? And what prompted you to take the leap and go into making feature films?
My goal has always been to make feature films. The shorts were a good way to practice story-telling and the craft of directing. As a director, Iím lucky if I get to direct on set for a few days, once a year!
My last two short films Marv Freetellís Wedding Day and Searching For Wonder were funded by Bravo!FACT and aired here in Canada.
I have worked for Kids CBC and Fraud Squad as a director in TV. But my main passion is feature films and now that Iíve started making those, I think I will stay there.
What can you tell us about your production company A Film Monkey Production?
A Film Monkey Production is my own production company that has been around for about 7 years. I have made all my films through this company and I am beginning to create a brand. Film Monkey films are high quality films that tell compelling stories that touch, move and inspire audiences. While we donít stick to one genre, we make sure that every film has an important element that our audience can connect to. And as a brand within the industry, I want Film Monkey to be a company that has a good reputation that brings together great casts and crews and always runs a fun production to work on.
Any future projects you'd like to share?
Corey and I are developing several other feature projects:
Driving Mr. Edwards, a neo-noir thriller.
Buying Time, a multi-character drama.
Ministry of Parenting Ė a satirical comedy.
Lost Souls Ė a neo-noir thriller.
How would you describe yourself as a director?
I would describe myself to be an organized director. I like to prepare with a lot of paperwork, so when I get on set, I have a plan. The plan can always change (and always does), but at least I have somewhere to start. I like to go through every single shot with my DOP beforehand so we are on the same page. I like to have rehearsals with my actors to get to know each otherís style and start a method of communication.
This all proved to be very important when I was so sick and passing out in the middle of our 15 hour overnight shoots! When my mind was too tired to think, I could still direct with all the notes I had made beforehand.
Filmmakers who inspire you?

Feeling lucky ?
Want to
search
any of my partnershops yourself
for more, better results ?

The links below
will take you
just there!!!

Find Tricia Lee
at the amazons ...

amazon.com

amazon.co.uk

amazon.de
Looking for imports ?
Find Tricia Lee here ...
Something naughty ?
(Must be over 18 to go there !)

I love Baz Luhrmann, he is one of my favourite directors. I love the big melodramatic films he makes. Thatís one thing I love about my dip into thriller and horror territory, is that I get to be melodramatic and operatic. Itís lots of fun!
And also, those independent filmmakers who just go out there and do it. With a camera, a couple of bucks and their momís homecooking.
Your favourite movies?
Requiem For A Dream, Moulin Rouge, Battle Royale, In America, Memento, Up In The Air.
... and of course, films you really deplore?
Films that are exploitative. Films that are excessive just for the sake of it, whether it be gore, violence, sex or all three together.
Your/your movie's website, Facebook, whatever else?
www.facebook.com/SilentRetreat
Anything else you are dying to mention and I have merely forgotten to ask?
Thank you for the interview.
No, thank you for the interview!