Your upcoming film Sick - Survive the Night - in a few words, what is it about, and what can you tell us about your character in it?
Sick - Survive the Night (horror) is a feature film by director Ryan M. Andrews (script co-written with Chris Cull) [Ryan M.Andrews interview - click here]. It begins in a world of turmoil. Two years after the infection began, billions have died, Governments have collapsed and the human race is on the brink of extinction. The human population has taken refuge in isolated enclaves as civilization struggles for existence and the plague continues to spread. I play McKay Jacobs, a civilized, thoughtful man who has reluctantly accepted his role of defender of one such outpost. My abrasive partner is Seph (Richard Roy Sutton), an impulsive man who both gets us into and out of a lot of trouble. Supplies and medicine are scarce and we make dangerous excursions into the cities to secure them with our small but brave ragtag team (Sandra DaCosta [Sandra DaCosta interview - click here], Christopher Thompson, Devin Upham, Cengiz H. Fehmi, Sabrina Tom, Kneel Green)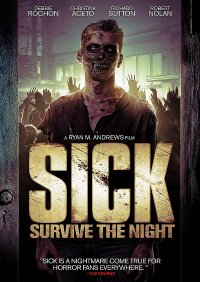 It is on one of these desperate sojourns that disaster strikes. But we do have allies. Scientists continue to work on a cure. Lead scientist Dr. Fehmi (Debbie Rochon) works closely with key scientist Dr. Leigh Rozetta (Christina Aceto), a young, maverick scientist who's been living in a secret underground Government facility since the outbreak began. After constant failed attempts to find a cure, Leigh sneaks away to return to the house of her parents (Astrida Auza, Thomas Gough). We meet up with her but through a series of disasters we are forced to take refuge in a house as night falls and zombies emerge to rule the darkness. There is only one question: can we survive the night?
Now I'm pretty sure you've never been in an actual zombie attack or even a comparable situation - so as an actor, how do you prepare for a role like yours, where do you draw inspiration from?
I ground my acting game in the Guideposts of casting director and acting coach Michael Shurlieff (Audition). In essence, it is you in the circumstances of the story. Sure, zombies don't exist (or do they?) but terrors are everywhere and every human has experienced such moments as babies, children and adults. So you draw from such experiences in your own life and imagine that all the facts of the story are real and happening to you in that moment.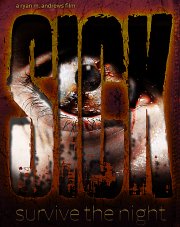 If you make the character relationships real to the point where you believe they are so and that zombies are really about to attack and rend you limb from bloody limb - once your mind accepts that as true, your body, mind and emotions respond as though it is. It is the power of imagination and investing all of yourself into believing that this is not just words on paper, or a story told - but a living breathing world of blood, lust, fire and death with you as the target. More than this character development is the meaning of what we are doing the moment, where we've come from, our hopes and dreams, our actions to achieve them and reactions when we do or don't and the inevitable clash of one person with another person, morals and values and the things, forces and beings inhabiting this world of fine writing called an excellent story and script.
The flipside to my last question of course: How much fun was it to run around in the wild and shoot zombies?
Well, now we're talking! Ryan gave us excellent preparation by taking us out for weapons training early in pre-production. So we had the pleasure and privilege of being trained by a professional weapons handler (Jamie Sled). So I was able to fire a real handgun and shotgun out on a shooting range. It is an amazing experience to fire a real weapon and gives you a sense of power, focus and fascination - firing a weapon is a zen-like moment. Hard to put into words. But this experience makes the performance authentic and not modeled on imagination alone (hard experiential fact puts the shine on the diamond of your mind).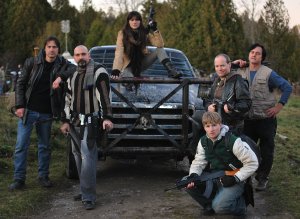 But shooting zombies, yes (I digressed) - the zombie costume and make-up was amazingly realistic (Key MU: Ashley Rocha, Key SVFX MU: Melis Bayraktar, Costume: Marlyn Jeronimo). So this adds to the reality of all those swarming zombies. The actors cast by Ryan were also really into their roles, so much that I feared for my life at times. You know, when Ryan calls "Cut!" sometimes you don't know if that is the end of the scene or if it is a signal to the zombies for the terminal teeth-slash! Always stay on the good side of your director on a zombie set! So kudos to the passion of the zombie actors.
What can you tell us about your director Ryan M.Andrews [Ryan M.Andrews interview - click here], and what was your collaboration on Sick - Survive the Night like?
I worked with Ryan on a previous movie short (The Devil Walks Among You). Doing a feature is at least ten times the work and complexity. What I really admired was Ryan's careful pre-production preparation with both us as actors in conversations about our roles, rehearsals and above all in ensuring we had a stellar script. He was open to input on both character and script and this is a rare treat for any actor. Ryan also assembled (with Producer Cengiz H. Fehmi) a stellar crew, one of the finest I've ever seen in indie film. If you haven't had experience on bad sets (most actors have), it is hard to appreciate the level of high professionalism that was brought to bear in the creation of this movie. Every movie has hiccups and bumps (some have disasters) - it is how you handle these unexpected events when they occur. Sick - Survive the Night had such moments (the man in the field getting out of his pickup and threatening to go get his real shotgun springs to mind).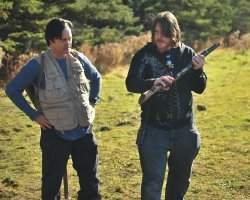 Ryan M. Andrews directing Robert Nolan
The other very valuable aspect of working with Ryan was his excellent creative collaboration with Cinematographer Michael Jari Davidson and par excellente Soundman Adam Clark. I've worked with Michael previously on several projects and his zeal, high standards, creative imagination and love for the work are outstanding. So seeing the vision of Cull and Andrews married to the artful painting of MJD was inspiring. Adam Clark is also stellar on sound and having him onboard means clean professional sound that editors love. Producer Cengiz H. Fehmi has to be noted as bringing a truly great grounded presence to the organization and progress of the shoot. As he is new to movie production, he doesn't know how good he is yet (or does he?).
A few words about the actual shoot, and the on-set atmosphere?
A very positive atmosphere all-round. A truly harmonious and hard-working crew in sometimes difficult locations and a cast that gave it's best to the effort. We shot outdoors and had good luck with weather. The shortening days of late fall puts time pressure on everyone doing exteriors. What was remarkable about this production is that every problem was met and overcome and the solutions often offered added value to the production. For example, one outdoor scene was not completed due to falling light - but the next day a minor script revision moved some of the action indoors and created a great atmospheric moment while adding some nuances to the characters within the scene - and this would not have happened except for the 'problem' (opportunity in disguise?).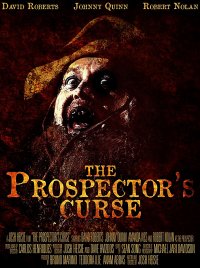 With the short The Prospector's Curse, you pretty much switch sides: While you played a zombie hunter in Sick - Survive the Night, you play one of the undead in this one. Please do shed a bit more light on the film and your character!
The Prospector's Curse (written and directed by Josh Heisie [Josh Heisie interview - click here]) is a wonderful playful horror short shot just prior to Sick - Survive the Night. It has the magic wit of Army of Darkness. I play the Prospector, a man who has toiled for gold all his life to no avail only to hit it big with gold nuggets 'as big as your fist'. He rushes off to bring glad tidings to his poor widowed sister and her disabled boy only to fall off a cliff. There he is encountered by two fleeing rascals who promise to deliver his gold and bury him on Christian ground - but then they bury him in a shallow grave and steal his gold. But death cannot stop the revenge of the Prospector!
The post-life Prospector is a horrifying apparition (Mask by Carlos Henriques of The Butcher Shop) who haunts their sorry asses. Hey, a promise is a promise! Fine casting too (Dave Roberts as the jealous lover, Johnny Quinn as the Con-man, Amanda Ives as the coquettish damsel). Cinematographer Michael Jari Davidson once again on this quality production.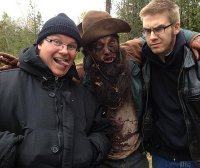 Michael Davidson, Robert Nolan, Josh Heisie
To mirror an earlier question: I'm almost sure you've never been dead/undead - so is there any technique that can prepare you for a role like this?
Actually I've died many times - and I actually played a dead man who's after-life task was to contact the newly dead and carry them over to the other side. So I kind of feel the vibes of the afterlife. Getting there is the hard part. But actually, playing dead is very difficult. Dead people don't move or breathe (or do they?). So, in a long scene, holding your breath (especially in cold outdoor air where your breath is a stream of visible mist) is difficult. Timing is everything. Still working on this technique! But that is the dying and dead part. The afterlife is something else. Imagination once again is the key. What if... you really were dead? What constrains you? How would it be to inhabit a rotting corpse? How would you move, feel, act, speak? These are all questions for the actor's imagination. There are many solutions.
How did you get involved with The Prospector's Curse in the first place, and what can you tell us about the film's director Josh Heisie [Josh Heisie interview - click here]?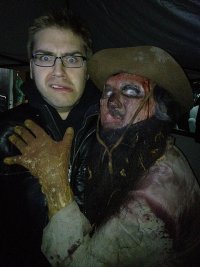 Josh Heisie, Robert Nolan
I was suggested for the role by Michael Jari Davidson, whom I've worked with several times. I spoke with and met Josh Heisie who had seen some of my previous work. I loved the script (like, really loved it. That's what made me want to do the movie so much). Josh, as writer, has a great sense of story-style, magic and - the hardest thing to do - subtle humour. When I think of his writing, I think of Spielberg movies: wonderful story-telling with imagination, awe, charm and very entertaining. As director, Josh did wonderful casting - especially in the townspeople, getting a variety of people who truly looked the roles. Josh is also very open to creative ideas and yet has the ability to make decisions that work for the whole film and not just the one scene under discussion.
Its macabre content aside, The Prospector's Curse is also somehow rooted in the Western-genre - something you can at all relate to?
Yes, I've done one western short, Creedence, which I loved doing and which turned out very well but was never entered into festivals. Sad, but these things happen. Anyway, I got hung in that one (so dead again!). I would love to do more westerns. The Prospector's Curse was unique in being a horror western, I suppose. And a period piece. Great to be in another time and place. It also explores the superstitions and prejudices of the time in a very entertaining way.
In all honesty, what was more fun, shooting zombies or being a zombie?
I'd have to say shooting zombies is much more fun. It's like being able to face your deepest fear right in the face and take back control, look it in the eye, don't back down and take it out. What beats that?
The $64-question of course: Any idea when and where these films will be released, tentatively?
Sick - Survive the Night is in post-production right now and moving ahead smoothly. Looking like it may be ready for a Fall, 2012 release. It is being edited by one very fine editor, Navin Ramaswaran, so it is in very good professional hands. The Prospector's Curse is also in post. Hopefully it will be ready for release by Spring 2012. You can join the Facebook Fan pages for both films to get the latest news.
Any future projects you'd like to talk about?
Yes. The feature film Worm (Fatal Pictures) is in early pre-production. It is based on the horror short Worm which is continuing to receive critical acclaim (over 80 reviews so far) as it ends its festival circuit tour. Written by Richard Powell [Richard Powell interview - click here] and produced by Zach Green [Zach Green interview - click here]. Fatal Pictures also produced the horror short Familiar, which has its World Premiere Screening on March 2, 2012 at the Projection Booth Theatre in Toronto and the night is sponsored by Fangoria Magazine. Familiar was reviewed by Fangoria Magazine as "...a chilling, carefully controlled mini-masterpiece...") and recently previewed in Fangoria Magazine #305 (August 2011). (By the way there is a preview of Sick in Fangoria #310 [Feb., 2012].)
Also cast in the feature Human Pieces by Director Ryan Ellis. It looks like it will go to camera by mid-2012. It is a thrill-ride with similarities to Bourne Identity and James Bond. I play the devious doctor villain who must be stopped at any cost. From a screenplay by Roy French who has a published series of action-thriller books out (The Raven).
I'm in talks about three other feature films - but nothing is certain until you are on set on day one!
Also, I'm involved in a web series called Out of Time by director Rodney Smith shooting soon.
I also just got a role in Casablanca Ranch playing Victor Laslo. Adapted from the movie, Casablanca, it is a light humorous dinner-theatre production. Looking forward to getting out on stage again and doing some comedy.
Your website, Facebook, whatever else?
Robert Nolan

Feeling lucky ?
Want to
search
any of my partnershops yourself
for more, better results ?

The links below
will take you
just there!!!

Find Robert Nolan
at the amazons ...

amazon.com

amazon.co.uk

amazon.de
Looking for imports ?
Find Robert Nolan here ...
Something naughty ?
(Must be over 18 to go there !)

Agent - Hines Management (Teri Ritter - 416-463-8773)
* Official Website: http://robertnolan.info/
* IMDB - http://www.imdb.com/name/nm0634349/
* Twitter - http://twitter.com/robertnolan
* Facebook - https://www.facebook.com/robert.nolan3
* LinkedIn - http://ca.linkedin.com/in/actorrobertnolan
Anything else you are dying to mention and I have merely forgotten to ask?
Yes. For anyone with a dream out there. Having a dream and realizing it is possible. The key is to do your best each and every time. If you give 100%, you get a little more capability when you do your next role. But if you cheat and give it 99%, you lose a little bit. I wasn't able to get much formal acting training but I decided to really go for it and do everything I possibly could to get that experience on-the-job. So I applied for everything even remotely possible. Then one day, after many nothings, I got one thing. When you get that, it's like a little bit of proof that you can do it!
So, if you really give it your best and learn as you go, you can make that dream come true. The hardest time is in the beginning when you have no-one but you to believe in you and nothing to prove you can do it. So persist. Give it your best. That is the only measure of success you should judge yourself by. It's who you become, not what you've done in life that counts (end preaching here!).
Thanks for the interview!
Thanks Michael, for giving me this great opportunity to do this interview with you. All the best.