Your film Raymond Did It - in a few words, what is it about?
Raymond Did It is basically about a guy who is wrongfully blamed for his brotherís death, and returns years later to get revenge.
Essentially, Raymond Did It is a slasher movie. A genre at all dear to you, and your genre favourites?
Oh, I love slasher films. When I was a kid I lived in a little town in Wisconsin with virtually no recreational activities apart from the mom and pop video store, which happened to have an amazing cult films section. My older brother and I rented everything we could get our hands on. From Halloween to April Foolís Day to Sleepaway Camp to Friday the 13th.
Iíd be very hard pressed to pick a favorite, and I could really sit here all day listing examples of good ones. However I will say that Halloween was certainly a heavy influence on Raymond Did It, as was Prom Night. As far as modern slasher films, I think Adam Greenís Hatchet-series is about the best thing out there currently.
(Other) inspirations when writing Raymond Did It?
Oddly enough, one of my bigger influences was Marvelís Ultimate Comics-line. I was very inspired by the way they took these familiar characters and stories and presented them in a unique and different way. When I was making Raymond Did It, I really wanted to take ideas presented in early slasher films and take that sort of approach. Things like the killerís relationship to their mother, the killer adopting a mask, that sort of thing. Raymond Did It is an origin story in many respects. Raymond Rourke doesnít really become a slasher until the last act of the film. Everything leading up to that, including even the initial kills, are components to his origin.
Raymond Did It doesn't exactly hold back when it comes to violence and gore. Could you talk about the gore scenes in your film for a bit, and was there actually a line you refused to cross?
Iím a huge fan of gore and violence. Particularly over-the-top gore and violence. I think you can hit a wide variety of emotional beats with the presentation of those elements, and that was our aim with Raymond Did It. Some of the kills have a dark sense of humor about them. Others are simple and brutal. Iím certainly not shy about using the more violent elements of storytelling as a language.
Having said that, there really werenít any lines we wouldnít cross, not necessarily because we were setting out to shock people or make them say, ďwow, thatís SO fucked up!Ē More because I just donít tend to think in those terms about storytelling. Iím aware there are people who wonít appreciate certain elements of that kind of work. I would encourage them not to watch it.
A few words about your cast and crew?
Raymond Did It was my first feature film, and I was very blessed to be dating out of my league in many respects. Our crew was phenomenal. Most of the grips, boom operators and production assistants were students at the Rock Valley College Mass Communication Department, and I would encourage any indie filmmaker to hire from that place. Itís truly a remarkable program and every year they crank out talented, dedicated, skilled graduates. Iím blessed to have it right in my backyard.
Robert Williams, our editor was an alumnus of that program. The guy is incredibly talented and insightful. Tim Stotz, our Director of Photography and After Effects guru, has been working in Rockford area media for several years and really captured the late 70ís/early 80ís look I wanted for the film.
As far as cast is concerned, I was frankly stunned at the talent we were able to get on board. Lindsay Felton has been acting practically her whole life. Just getting to work with her and see her experience brought to the table made me a better director. Elissa Dowling [Elissa Dowling interview - click here] has been around the indie horror scene for a few years now, and I think it shows in her work. Jessica Palette was so fun and gutsy and committed, in a pretty emotionally taxing role, and she never complained. She spends half the movie crying or screaming and she brought her A game every second she was on set. Ty and Steven were utterly professional, but totally able to keep the set fun and light-hearted, which I think is important when you are shooting darker material. Iíve often said, if you want to have a really good time and crack lots of jokes, work on a horror film.
Then of course thereís Kyle Hoskins [Kyle Hoskins interview - click here]. This guy just dove into his role as Raymond. He did a ton of research on the developmentally delayed, he worked his butt off, and we put him in some difficult situations both emotionally and physically. He took it all like a champ.
Linda Cieslik, who plays Mrs. Rourke was golden. There is a definite shift in her character throughout the story and a lesser actress could have fumbled that and made it very flat. She took it beyond the script, beyond my idea of what I wanted. She was amazing.
So, yeah, I was pretty lucky.
As far as I know, Raymond Did It was your feature film debut, but you have made tons of shorts before it. What made you decide to take the jump and make a feature, and how did directing Raymond Did It differ from directing shorts?
I made tons of shorts before Raymond Did It. I still make tons of shorts. I try to make at least one short film a month, to keep me on my toes, try new things and to just have fun. Iím fortunate enough to live in a community where my friends and I can be sitting around and someone will say ďDude, we all have today off. Letís go shoot a short.Ē That happens a little less frequently now because everyone is a little more busy these days, but we still have occasion to make a spontaneous short from time to time.
I decided to make the jump to feature film because I had just been evicted from my apartment, laid off from my job and left by my girlfriend. I figured I could either cry into my beer about my life turning into a country song, or I could make a massive change. I elected to make a massive change. I think the challenge and the focus of trying to put together a feature helped pull me out of a very bad place in my life. The decision may not have been the most rational at the time, but it all seems to have worked out okay.
From a directing perspective, it wasnít really all that different from making shorts, with the exception of things being on a bigger scale, and needing to take more time on each shot. You have the luxury of rushing a bit on shorts sometimes. Less is at stake. With a feature, you have to buckle down and be a bit more careful. The other side of that coin is that with being a low-budget feature, we didnít have oodles of time, so there was a balance that had to be struck. We had to learn to punch our weight in terms of what kind of shots we planned, because we knew time was going to be a factor.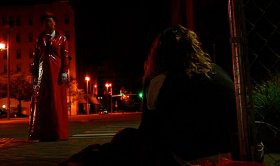 Legacy of the Masque
Presently you are working on the post production of your superhero webseries Legacy of the Masque, right? In a nutshell, what's that one about?
Legacy of the Masque is about a wealthy young woman who discovers that her grandmother was a superhero in the 1940ís. This acts as something of a wake-up call to her and leads her to take up her grandmotherís mantle as a crimefighter.
Why a superhero series, and how would you describe your approach to the genre?
I love superheroes. Comic books, particularly superhero comics, are my first love. Iím always looking to expand into comics, and have even self-published a few titles.
As far as my approach to the genre, I am a child of the post-deconstruction era of comics. I read Watchmen and Dark Knight Returns when I was like eight years old. In my mind superheroes are the myths and legends of America. In a way they are kind of the American pantheon, but I also feel that the things that make gods and myths interesting and compelling are their very human flaws. So, I try to approach it with an eye on the epic tale, but without losing sight of those very human qualities that make the characters interesting. Superman is nowhere near as interesting as Batman, for example, because Superman is invulnerable and inhuman. Batman is really a scared little boy weeping and kneeling in the blood of his parents. Heís human. Heís flawed. Heís interesting.
Traditionally, superhero films are rather special effects heavy. How much of a challenge is it to make such a film on a comparatively low budget?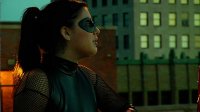 Legacy of the Masque
Itís a massive challenge. Iím doing the majority of the effects work myself, and Iím a pretty busy guy, so the process is very time consuming. But hopefully the end result will prove to be worth the wait.
I will say that having good planning and getting good reference material in the field is essential, and without my talented cast and crew, that wouldnít have happened.
A few words about your main cast?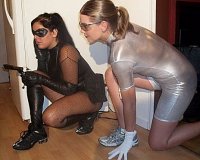 Legacy of the Masque
We have such a massive cast attached to Legacy of the Masque, it would be folly to try to sum up their awesome in a few words.
Our lead is Sierra Holmes, who brings Diana Bowman/ The Masque to life. The character goes through a complex arc throughout the web series and it was so amazing to watch Sierra do the emotional (and on occasion, physical) acrobatics that the role demanded.
We got Tim Stotz out in front of the camera to play Andy Bryant/Captain Future, an old superhero from the 1940ís who acts as a mentor/father figure for the Masque.
Our list of guest stars for season one is incredible and packed to the brim with talent. Among them (because I know Iíll wind up forgetting someone) are Holland Zander, Lewis L. Harris III, Alex Rodriguez, Elise Schultz, Kitsie Duncan, Deann Baker [Deann Baker interview - click here], Tyler Klunick, Ty Yaeger [Ty Yaeger interview - click here], Janet Striedl, Jolene M. Aldus, Aley Kreinz, Stephen Santiago, Joe DíAngelo, Jeff Scaduto, Matthew Roeling, Jade Ford, and just so many other talented actors. Our cup certainly runneth over.
The $64-question of course: When and where will Legacy of the Masque be released?
Summer 2012. I have a few potential distribution partners lined up, but Itís a little too early to announce anything yet. However, we will be posting news and updates regularly on www.aegisstudios.com and on the facebook page at http://www.facebook.com/whoisthemasque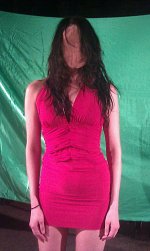 Asunder
Would you like to talk about your upcoming short Asunder for a bit?
Asunder was the result of a nightmare. Itís pretty much the story of a man who looks outside his marriage for a good time and finds something utterly horrible.
In many ways Asunder is about exploring the ideas of infidelity, pain and regret in a visual, visceral way. I was heavily inspired by the Hellraiser-films and the work that Phil Brucato did on the role-playing game Mage: The Ascension, particularly the evil cult called the Nephandi, which are sort of semi-Lovecraftian worshippers of chaos and entropy.
Lewis L. Harris III and Aley Kreinz play the main roles in Asunder, and they are AMAZING. The story doesnít have a whole lot of dialogue, so their performances really live in body language and facial expressions. They both did such a great job with such challenging material. I canít wait to show everyone.
Asunder will be released on DVD, along with a few of my other short films, on May 7th. It will be available at http://www.aegisstudios.com/store.
You are also in pre-production of, of all things, a romantic comedy called Dry Spell, right? In a few words, what is that one about?
Dry Spell is about a woman who is going through a divorce and preparing to enter the dating world. One night she discovers that her ability to become aroused has left her. In short, sheís dried up. Believing that this is caused by guilt about moving on before her ex-husband has, she embarks on a quest to get him laid.
To put it bluntly, why a romantic comedy?
There are so many reasons. I love almost every genre of storytelling and I want to play around in as many as I can. I worked on the script for Dry Spell with Kyle Hoskins [Kyle Hoskins interview - click here], and I know there was a lot of personal stuff from his divorce that came into play in the screenwriting process. Artistically its partially about healing, and as they say, laughter is the best medicine.
My first short films were romantic comedies as well, so in a weird way itís a return to form for me more than a departure.
And of course, the primary reason: Because it's about sex and relationships, and sex and relationships are funny. Hysterical when you think about it. People do really stupid, hilarious things when mating, love and sex are involved. I wanna point at that and laugh a bit.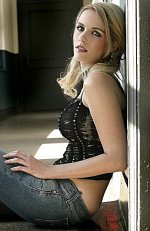 Suzi Lorraine (photography by Louis Pereyra)
The little that I could find out about Dry Spell beforehands was that it is going to star popular scream queen Suzi Lorraine [Suzi Lorraine interview - click here]. Why her, how did you get her, and what can you tell us about the rest of your cast?
I met Suzi online via Facebook and we talked off and on. She seemed to dig Raymond Did It quite a bit, so I invited her out to the New York screening. We had the opportunity to hang out at the after party and I immediately recognized what a vibrant, fun, funny, lighthearted person she is. Suzi is perfect for a female lead in a romantic comedy. Sheís got one of the most expressive faces Iíve ever seen and sheís not afraid to look silly to get a laugh. Those skills are gonna come in quite handy on Dry Spell. Also, did I mention sheís incredibly beautiful?
As far as how we got her, I asked with my hat in hand, fully expecting her to say no. I was pleasantly surprised that she didnít. I still have to pinch myself when I think about it.
As far as the rest of the cast, we should be making more announcements fairly soon.
Any future projects not yet touched upon you would like to talk about?
We always have a ton of things cooking at Plastic Age Productions. Aside from the Asunder DVD coming on May 7th, we have a feature film, Poetic, making its world premiere in Rockford, Illinois on June 30th, 2012.
Poetic is an intense, sexy, character driven psychological horror film, that centers on a world full of deceit, passion, and revenge. One couple finds themselves caught in the middle of this when they are kidnapped by ďCowboyĒ, a mysterious and merciless renegade killer who takes karma in to his own hands. Now prisoners in their own home, the couple is turned against one another and forced to relive their dirty little secrets. Their domestic quarrel turns into a nightmare they might never awaken from.
Sounds fun, right?
Poetic was written and directed by Matthew Cichella [Matthew Cichella interview - click here], I acted as an executive producer and editor, and it stars Raymond Did Itís Ty Yaeger [Ty Yaeger interview - click here].
For your readers in the Midwest, tickets to the Poetic world premiere are available at https://www.brownpapertickets.com/event/234529
Everything else that is currently in the works is at too early a stage for me to go shooting my mouth off about (Iíve learned that lesson the hard way in the past), but suffice it to say, we will be making several large announcements this year.
What got you into filmmaking in the first place, and did you receive any formal education on the subject?
I was studying journalism at Rock Valley College and I did a piece on the Mass Communication department, which is one of the finest tech programs for digital media production in the state. As soon as I saw that I could have access to everything I would need to make a movie, I switched my focus and underwent the program. Been making movies ever since.
As mentioned above, you have made a ton of shorts before Raymond Did It - want to talk about any of those?
Iím particularly fond of our annual zombie films. Every year we get together and shoot a zombie film with no money, just for kicks. Sometimes they are very serious, sometimes they are very silly, but the whole idea is to have fun with our friends for one day, getting bloody.
Iíve always loved zombie films. George Romero is one of my heroes. I tend to be very much a traditionalist when it comes to zombies, so mine are always the shambling, bite you and your turn, shoot em in the head kind of zombies.
However, the collaborative, ďjust for kicksĒ-nature of the annual zombie film has led to some pretty cool collaborations and a few new ideas. Tim Stotz wrote this past yearís film City Without Walls in which the zombies talk about philosophy and examine their new existence. Itís funny in a highbrow, English major sort of way. I love the idea of mixing things up and playing. Iím sure as the tradition continues we will keep doing new and crazy things. Maybe next year will be a musicalÖ
I did a trio of romantic comedies that Iíve come to call the Couch Trilogy as they all focus very heavily on dialogue taking place on a couch. They are clearly student films, but I have a special fondness for them in my heart. Making those silly little movies took my love of film and turned it into a love of filmmaking.
More recently I was very lucky to be able to adapt the short story Taxidermy - http://www.necrologyshorts.com/taxidermy - written by my lovely wife, Sarah Scharnweber, into a short film. When I read it, it reminded me very much of an episode of Tales from the Crypt, so when she gave me permission to adapt it, I was jazzed. Taxidermy will be on the Asunder DVD and stars Matthew Roeling, Tina Renee Grace, Jolene M. Aldus and J.R. Riley.
A few words about your company Plastic Age Productions?
Plasitc Age Productions is a film production company I started, which focuses mainly on feature film production, but also acts as a work for hire service to other filmmakers. We make our own movies, but we subsidize that by helping other people make their movies at affordable rates. We offer postproduction services, script doctoring, personnel services, and pretty much act as hired guns to help out other indie filmmakers.
Directors who inspire you?
John Carpenter for sure. Everything that man has done is brilliant - yes, even Ghosts of Mars. George Romero, Adam Green, Luc Besson (find me someone who makes better films from a visual standpoint. I dare you!), Gregg Araki, Kevin SmithÖThere are just so many.
Your favourite movies?
Man Bites Dog, Angel-A, Subway, Hatchet I & II, Halloween, Bubba Ho-Tep, Clerks, Red State, They Live, Big Trouble in Little China, Serenity, all the Marvel-superhero films that are actually made by Marvel, What Dreams May Come, Gator Bait, I Spit on Your Grave, Superman I & II, Nerdcore Rising, American History X, The Tigger Movie (I cried like a little girl at that one), all the Muppet-movies, The Dark Crystal, LabyrinthÖ
I could do this all day. Letís just say I have eclectic tastes.
... and of course, films you really deplore?

Feeling lucky ?
Want to
search
any of my partnershops yourself
for more, better results ?

The links below
will take you
just there!!!

Find Travis Legge
at the amazons ...

amazon.com

amazon.co.uk

amazon.de
Looking for imports ?
Find Travis Legge here ...
Something naughty ?
(Must be over 18 to go there !)

Anything David Lynch made after 1989. Every Batman-movie made to date. I truly hope one day someone makes a good Batman film. So far, they are varying levels of insulting jokes.
Your/your movies' websites, Facebooks, whatever else?
http://www.aegisstudios.com/film
http://www.facebook.com/travislegge
http://twitter.com/travislegge
Anything else you are dying to mention and I have merely forgotten to ask?
I am a huge fan of tabletop roleplaying games. We currently publish a horror/urban fantasy role-playing game called Contagion, which centers on a secret war between the forces of Heaven and Hell, taking place in the modern world. I encourage everyone to check it out at http://rpg.drivethrustuff.com/index.php?manufacturers_id=338
On that note, I would also like to announce that we are developing a Legacy of the Masque roleplaying game, in which players can take on the role of a superhero or supervillain. More news about that game will be released in the coming weeks at http://www.aegisstudios.com.
Thanks for the interview!
Thank YOU!