In 1992, you have created the adult comicbook character Demi the Demoness [Demi the Demoness-interview - click here]. Could you give us the lowdown on her?
Demi started as a sketch I did when I was building samples to send to comic companies to get work. At the time I had pages of art with male superheroes, but no females. As I worked on the sketch, it just sort of evolved into being a demoness. She looked cute instead of dangerous though. That led to me doing a page of comic art with the clueless Demi being attacked by the dreaded Semanenemy. A publisher saw that, and asked if I could do a whole book of this Demi character, and the rest is history…
Only recently (as in 2008), Demi the Demoness has been turned into a live action movie, directed by Steve Steele and co-scripted by you. Your thoughts on the film, and do you think it does justice to the comics?
It really came out better than I ever thought it would! The great thing about Demi is that the whole series doesn't take itself too seriously and is kinda campy, so it translated very well into a live-action campy movie The costuming was very difficult though! It has great production values and a super behind the scenes featurette that really shows what it was like during the shoot.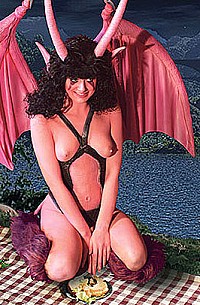 Ellie Idol as Demi the Demoness
What do you think about the choice of Ellie Idol as Demi, and were you at all involved in the film's casting process?
I was deeply involved in the casting of Ellie. The director sent me a funny video of her along with about 50 other pornstars and very early on I thought she would be perfect for the part.
It was tricky to get her to LA for the shoot, but it was worth it in the end! As a cosplayer, and anime fan she totally knew how to play a cute, sexy cartoon character like Demi! She was everything I could have hoped for.
How did the project come into being in the first place?
Steve Steele (the Director) met up with Carnal Comics at San Diego Comic Con in 2007 (thanks to Sinn Sage who plays Vampirooni) and we started talking about it. The more we talked the more viable it seemed and so we did the shoot in LA in February 2008.
What everyone would like to know of course: Where can you buy the film?
Go to www.DemiDemonessMovie.com. You can buy the DVD or download it.
Would you be interested in doing a sequel to the Demi the Demoness Movie, and since (according to my information) Ellie Idol has now retired from adult filmmaking, who should replace her in your opinion?
I would love to see a sequel, but first we have to make a profit on the first one. Same troubles the Big Studios have making sequels – it has to make a good profit.

Ellie has retired, so unless she comes back in the game, we'll have to find another actress to play Demi. How many people have played Batman or Superman. It can be done – we've actually talked about who that might be, but I can't say.
Let's go back to the Demi the Demoness comics for a bit:Your main inspirations (if any) for the character?
I'm a big fan of the silly comics DC used publish back in the 1960s: Inferior 5, Metal Men, Jerry Lewis Comics, Metamorpho. You can see the way they approached the characters and stories in some of the Demi stuff I draw and write. Also things like Josie & the Pussycats, Alice in Wonderland, Manga and the old Mad Magazine parodies of the 1950s.
As I see it, the Demi comics are a blend of fantasy, adventure, kinky costumes and sex. What's your favourite aspect of the comics?
For me it, the character interactions, wild stories and drawing sexy girls!
As far as I know, Demi the Demoness is the longest-serving adult comics character ever. How would you explain her enduring popularity?
Just being focused on developing Demi like a laser beam – never giving up! Early on I came to the conclusion that many of the best known cartoonists were known for a specific character. Will Eisner had The Spirit, Charles Schultz had Charile Brown, Chester Gould had Dick Tracy. So I worked on Demi with that same approach in mind. My goal was to make Demi famous, rather than me. I wanted people to collect Demi stuff, rather than SS Crompton stuff. So I ended up doing a lot of Demi stuff over a long period of time. Thus her longevity.
If asked, would you consider doing a family-friendly version of Demi the Demoness?
I have! We did 2 issues of Pantheon, a totally PG version of Demi.
What are your plans for the Demi-series in the future?
More crossovers and numerous issues are constantly in the works. Look for Sex Squad #3 coming soon. We just came out with the Crimson Gash/Demi crossover in July.
Besides being Demi's creator, you are also the publisher of Carnal Comics. What can you tell us about this company's history?
That's a very long story! But the short answer is that I am the 3rd publisher of Carnal. The first one, Todd Loren was murdered in 1992 and it was never solved. I took over the publishing reigns from the 2nd publisher Jay Allen Sanford in 2001. If you really want to know about that, I'd strongly recommend Carnal Comics: The Inside Story, a 56 page book that covers the whole strange history of Carnal and the many porn stars we did comics on. You can even get it at Amazon.
The company's website?
Carnal Comics has brought many a real-life porn star to the comicbooks. What can you tell us about this project of yours?
We've published about 100 pornstar bio comics. It's the true story of how they got in the porn biz and what it's like, told in the girls own words. The next one due out is Aurora Snow!
Apart from Demi and pornstars, some other books/series Carnal Comics has been publishing?
One of our other series that sells well is from Italian creator Enrico Teodorani. His Djustine series, about an x-rated supernatural female gunslinger is pretty popular. We are just about to publish an all-new collection of his work called Slasher Girlz. It's sexy, gory stuff!
Any future projects you'd like to talk about?
I've just started work on a novel that takes place in Demi's universe, but I shouldn't say anything more about that yet…
Your favourite adult comics (apart from Demi and Carnal releases)?
Bondage Faires, The Girl, Elizabeth Bathory & Young Witches, most from Eros Comix.
Your favourite non-adult comics?
Do they still make those? LOL! I love Brave & Bold & Superman/Batman
Have you ever thought about doing non-adult comics?
I actual have done a bunch – but honestly, its much more fun telling your own stories. I figured that one out years ago. Though I'd LOVE to bring back the Inferior 5 or work on Metamorpho!

Feeling lucky ?
Want to search for books by
SS Crompton
yourself ?
The links below
will take you
just there !!!


Comicbook creators who have influenced you?
Will Eisner, Bill Elder, Moebius, Sterenko & Joe Sinnot. Among many many others
Since this is primarily a film site, your favourite films (both adult and not adult)?
All the stuff that everyone likes, Star Wars, Hellboy, Lord of the Rings, Back to the Future... Let me think of some weird stuff… Rio Bravo, 2 Mules for Sister Sarah, 1776 the Musical, Pirates of Penzance! Rocky Horror Picture Show is probably my favorite film of all time.
Anything else I have forgotten to ask and you are just dying to share with us?
If anyone out there wants advice on comics, publishing or even how hard it is to actually get your idea made as a movie, drop me an e-mail at sscrompton@cox.net - I'm pretty good at answering e-mails. Just remember I can't make your movie, (I got my own) so don't bother pitching them to me.
Thanks for the interview.