Your new comic is called Aurora Snow: True Stories of Adult Film Stars. In a few words, what is it about (apart from the obvious)?
It's a cool way for Aurora to tell her story in words and pictures about how she got to be a porn star and what it is like being one.
We also added her fantasy about what else she might have done with the Red Riding Hood fairy tale.
How big a creative input did Aurora Snow herself have in the project [Aurora Snow interview - click here]?
Lots actually – Aurora suggested the cover for example and most every sentence in the book is a quote from exclusive interviews that Aurora's co-writer, Jamie Gardner had with Aurora. She also had input on which artists we used for the book from our regular stable of artists. Oh – and she sent us many of the photos that we used either as reference or in the actual book.
What was your collaboration with Aurora Snow like?
It was great! She gave us access to interview her and follow-up, let us have some hard to find photos, and she came to San Diego to promote the book before it even came out! Plus, she's not a diva, she's just really nice.
Some facts about Aurora's life/career depicted in the comicbook you found particularly amazing/interesting?
For me the wildest thing is that she went to a hypnotist to get ready for her first anal sex scene! And really just the fact that she is just such a regular girl. If you meet her in a grocery store, you would never know what she does for a living. It's almost like a secret identity à la Clark Kent/Superman.
What can you tell us about the artists who worked on the project?
There were probably half a dozen artists that worked on this book (including me). I think Gus Norman was a great choice to draw Aurora, he really captured her cuteness. Philo, and Peter Penn from Eros Comix did some, along with several others. It's a nice mix!
You are probably best known as the creator/artist/writer of Demi the Demoness. How does your artistic approach to a real life person like Aurora Snow differ from an entirely fictional creature like Demi?
Really these biography books are a lot harder to do than my Demi comic – I don't have to get Demi's approval or use a whole lot of reference to draw her or her friends. With the bio books, you have to try and find out where stuff happened and what the people (like adult film directors) looked like, even what color the porn stars hair was 4 years ago – It can be tough to do some times!
Your approach to Aurora's bio seems to be very light-hearted, even ironic at times. How did that come about?
We really wanted the book to reflect not just Aurora's story, but her personality, so we came up with the idea of a sort of scrapbook/diary approach. Aurora had a bunch of diary entries she had written for her website a few years ago and we were able to use some of that along with the interview, so I think her personality just comes shining through once you start to read it. We tried to make the art feel the same way.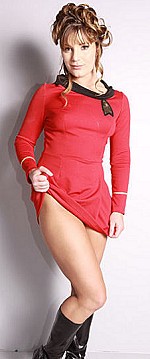 This Ain't Star Trek
Why did you choose Aurora Snow as the subject of your new comic?
My goal with the porn bio comics was to really try to do porn stars that were either very well known or had a great connection to comic/sci-fi fans and Aurora had all those qualities. She played Jan in the big hit Not the Bradys, she was in This Ain't Star Trek, her quacking sound was used on Howard Stern for years and she understood how comics are a great way to reach out to new fans.
Aurora Snow films you would recommend?
Gangbang Audition 7, Not The Bradys 1 & 2, Aurora Snow's Perverted Tales (she also directed that one).
A few words about the cover that shows a very feline Aurora Snow?
Aurora LOVES cats and she wanted to be a cat on the cover, so Barry Barnes did this great piece with Aurora as a cat.
Where can the comic be obtained?
It's in a bunch of comic shops all over the US.
Online you can order it here: https://demicomix.com/oscommerce.
Or even on AMAZON! Here: http://www.amazon.com/shops/carnalcomics (about half way down the page).
Carnal Comics has released quite a few books in their True Stories of Adult Film Stars-series. What can you tell us about the previous issues, and what are your personal favourites?
Well there are about 100 of them so far, including Jenna Jameson, Felecia, Jill Kelly, Christi Lake, Hyapatia Lee, Marilyn Star and many others.

Feeling lucky ?
Want to search for books by
SS Crompton
yourself ?
The links below
will take you
just there !!!


In what way (if in any) does the Aurora Snow-issue differ from earlier releases in the series?
Well actually its longer (since it's 40 pages) It has a unique mix of art, photos and digital effects which couldn't really be done in the older books and I think it reflects Aurora's personality very well. It's a more personal book in many ways.
Is anyone lined up yet for future issues of True Stories of Adult Film Stars?
We are talking about updating some of the older books, like Kylie Ireland or Brittany O'Connell for example. Who knows who we'll do next?
Any other future projects you'd like to talk about?
Right now we are trying to get Demi & the Sex Squad Special #1 out soon and we are working on a PREQUEL comic to the Demi the Demoness Movie (Demi & the Nazi Mystics).
Anything else you are dying to mention and I have just forgotten to ask?
Check out the Demi the Demoness live action movie! Free trailer here: http://www.demidemonessmovie.com/DemiDemonessMovieNews.html
Thanks for the interview!