Your company Midnight Prestige - how did it come into being, and what's the philosophy behind it?
I know Chris [Chris Gierowski interview - click here] already provided the literal account of naming the group, but basically we have been working together on each other's projects since college. There was never a name or anything back then. We went to a very small, "do it yourself" kind of film program at a university that most people go to to be engineers or pharmacists. So there weren't exactly a lot of resources at our disposal, so we came to rely on each other every time we had projects to do for class. It was great to have that, since it's hard enough as it is to make a movie, let alone make one in just the span of a semester while also balancing a full course load. Now, it's a good way to keep in touch with each other that feels a lot more real and productive than occasionally liking each other's Facebook statuses or something like that. We've also all grown more as storytellers, so the branding of sorts is a way to try and reach a wider audience. And that I guess is what led us to this interview in the first place.
What kind of talent does each of you bring to the table? And where do you see your own strengths and shortcomings?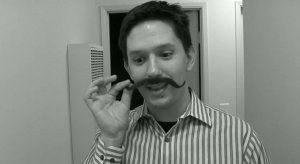 Murder in my Hallway
I'm trying not to repeat too much of what the other guys may have already said. But I would like to add that I think we all succeed at doing a lot with very little. That comes from the aforementioned "do it yourself" training we went through in school. As for shortcomings, I don't really feel like any of us have completely honed our craft yet to the extent that we would like. But that's what makes continuing to work together great. We keep pushing ourselves and each other to be better, while also having a lot of fun. Hopefully it continues to pay off in the future!
So what can you tell us about your typical Midnight Prestige-shoot, and what's the collaboration between the lot of you usually like?
Much like the Vin Diesel-less second chapter of the popular franchise, I would say that our typical shoots are "2 Fast" and "2 Furious". We have a blast, there is a lot of improvisation and winging it going on since we're usually working with a pretty short window of time. Chris [Chris Gierowski interview - click here] and Steve [Stephen Snowden interview - click here] usually bring a lot of great energy, while Nate and I are perhaps the more laid back and calculated ones, even though Nate is obviously skilled at playing the guy who freaks out all the time. I like to shoot, so I tend to have my hands a little more full with that. And I enjoy the looseness of our shoots and trying to keep it looking interesting on the fly. Basically we all kind of pick each other up in one way or another.
Any on-set anecdotes you'd like to share?
On Sadie Jane I was kind of proud of myself for coming up with a very low cost, low tech solution to add some supplemental lighting to the bathroom that was supposed to only be lit by candles. I gaff taped a bunch of orange holiday lights to two pieces of white styrofoam board and we squeezed one in by the sink and hid another on top of the shower door. The lights bounce off the reflective surface of the white board nicely for a decent soft source. I recommend that everyone rip it off sometime so I can feel like I did something good that helped out other people who have no budget or professional lighting team at their disposal.
Another favorite was during February 4th. There's a moment where everything is starting to escalate and go haywire and all of a sudden a loud pounding sound can be heard. It was coming from the neighbors in the apartment below, who were banging on their ceiling because we were being too loud. You can actually notice us pause for a brief moment, and then we just went with it because it was a very long uninterrupted take and it fit the story and totally worked! It was a nice bit of free sound design.
Do talk about the company's films you've worked on as such for a bit?
More? Ok, I'm not sure what else to add that I didn't already say… so I'll say something quick about the evolution of technology and how it continues to make our projects possible. Even as we graduated from college (not that long ago), HD video was very much in its infancy, now it's something we all have on our phones. The equipment we learned on in school became outdated the second they handed us our diplomas. An expensive video camera that we were all excited to shoot on back then is now surpassed by the movie mode on my DSLR. It's pretty astonishing what can be done and everything will keep evolving. So there's never going to be a point where anyone stops learning. I think this really frees people up as filmmakers now and we'll all continue to benefit from it. If we were friends 30 years ago, unless someone owned a Super 8 camera and some sound equipment, we'd be screwed and never able to make these movies with each other.
Any future projects you'd like to share?
Well, since no one seems to be asking us to write Ghostbusters 3 (yet), we're going to plug away at this collaborative script that's tentatively titled The Monsters. We're basically each writing a few scenes, continuing where the last person left off, and then passing it on. I am convinced that the first draft will be an absolute train wreck! But it will hopefully be a fun train wreck. So far, the challenge of going in where the last person left off and trying to one up what he just did with the story and twist and turn it in different directions has been at the very least a good writing exercise. Who knows if we'll ever have the time and money to get together and make it, but for now it's something fun to keep us working together.
In October, the four of us will all be in the same place once again for a week, which means another movie will be made! I think it'll be our best one yet.
There's also a short film outside of the Midnight Prestige "umbrella" that Nate and I are involved with. He's the lead actor in it and I was the cinematographer. We just wrapped shooting and it will hopefully be cut together soon. I can't say too much, but it's basically a comedy that delves equally into the zombie-Christmas-hating your job genres. Though they weren't out here to work on it, I'm sure Chris and Steve will both approve and I thank them for their support in advance.
When it comes to making movies, you have done pretty much everything, writing, directing, producing, acting, editing - so which do you enjoy the most, and what could you do without?
The cinematography/camera operating aspect of it is definitely my favorite at the moment. Though I don't always have the time or resources to make everything look as polished as it maybe could, I enjoy the challenge of accomplishing something with what little we have. I like to think that eventually it'll make it that much easier and I'll be far more prepared when I do find myself in a larger budget project situation.
Writing and directing is enjoyable for me as well, though with Midnight Prestige we kind of all do a little bit of each. The good thing about that is that if I'm not really having any story ideas at the time (like with Sadie Jane), one of the other guys (in that case, Nate) can usually get things going and then it'll kick me into gear to follow along, trying to add whatever I can to expand their ideas and tell the story - through the visuals or dialogue, or whatever. I think this applies to all of us in our own way.
We all kind of forced ourselves to be actors for each other back in school, because once again, we didn't have much at our disposal! The theater department was kind of small at our school as well, and they'd always be busy doing plays. Toledo, Ohio isn't exactly the hotbed of aspiring actors that Los Angeles is. We couldn't just throw a stone and hit someone who wanted to act in our movies, so they would usually just cast me and then throw stones at me anyway, just to test my reflexes and because it helps get me into character.
I could do without editing though, I find it tedious and I don't really have the patience. I'm too active, which is why I'm more into the actual shooting process. The other 3 guys are all better editors than me anyway.
You of course also have to talk about Schlock Shock Radio for a bit, and what's your role in that project?
That's Steve's brain child, though we all have fun being a part of it. For me, it's as simple as Steve sending me a script and telling me which character to play and kind of what type of voice he's looking for. I'm never sure if what I'm saying sounds good and I have no formal voice training at all. Most of what I record and send to Steve is my first take after a basic read through of the script. I know how that might sound, but I think it works - it gives things a more natural, spontaneous vibe and I'd like to think that back in the days of the radio dramas we're paying homage to, they'd often have to work on the fly and go with whatever script they were given.
Your output never seems to stray too far from the horror genre - pure coincidence, or is this a genre you're at all fond of, and why (not)?
I am the one in the group that was never typically that big of a horror aficionado, which is part of why they all think I'm the pretentious one. That's where their ideas tend to generate and I usually just go with it. Maybe I'm just being outvoted without realizing it? One of these days I'll convince them to make a black and white French New Wave homage or something just to even things back out.
However, my appreciation has grown over the years for horror thanks to these guys. It's also a genre very much with its roots in the kind of low budget, do it yourself world that we inhabit. I think when you have a small cast and maybe just one or two locations, story ideas tend to gravitate towards things in the horror and psychological thriller realm. Plus, they're just fun to make!
How would you describe yourself as a director/writer/actor?
Like Orson Welles, but much skinnier and with none of the talent.
Filmmakers who inspire you?
Paul Thomas Anderson is my favorite. I've also been inspired by the Coen Brothers, Edgar Wright, Scorsese, Kubrick, David Lynch. I know we've all mentioned David Lynch at this point, but it's with good reason.
In college, I was really into studying the French New Wave (there's one guy in every film program… I was that guy) and always found myself inspired by those filmmakers. Not necessarily in terms of content, but they were really the pioneers of the whole "do it yourself" thing and making something fast and fresh with what little resources you have. So I think that spirit is very much there with me and the rest of the group in what we do, even if they think I'm pretentious for saying that.
Your favourite movies?
Eternal Sunshine of the Spotless Mind, There Will Be Blood, The Graduate, Rushmore, The 400 Blows, Raising Arizona, Blue Velvet, Paris Texas, Back to the Future. I could go on for days but I won't.
... and of course, films you really deplore?

Feeling lucky ?
Want to
search
any of my partnershops yourself
for more, better results ?

The links below
will take you
just there!!!

Find Scott Gleine
at the amazons ...

amazon.com

amazon.co.uk

amazon.de
Looking for imports ?
Find Scott Gleine here ...
Something naughty ?
(Must be over 18 to go there !)

It's harder to deplore films once you've tried making one and know how much effort and hard work really goes into it. But I'd say that anytime there's some kind of hack-y studio movie that's just a cliché recycled story over and over again and you can tell nobody really gave a shit and was just there to get their paycheck, those are the films that are worth deploring because there's no heart in them.
Your/your company's website, Facebook, whatever else?
I defer to Chris on this one [Chris Gierowski interview - click here], because it's late and I literally can't remember where he put everything right now.
Anything else you are dying to mention and I have merely forgotten to ask?
Just to say thank you for your support.
Thanks for the interview!