Your new movie Art of the Dead - in a few words, what is it about?
A family buys seven animal paintings that unknowingly represent the seven deadly sins. The paintings start to corrupt and transform all the members of the household. Now, it's up to an ex-Priest to save everyone from Dorian Wilde's evil works of art before lust, greed, pride, envy, sloth, gluttony, and wrath destroys them all!
Art of the Dead is based on a story by your producers Sonny and Michael Mahal - so how detailed was that story, how much creatife freedom did you have while developing the script?
So, I worked with Michael and Sonny Mahal on Bus Party to Hell where they had a basic idea about a party bus that breaks down in the desert and a cult attacks them. That was about it and they let me run with the concept and do the rest. With Art of the Dead, we went back and forth a bunch trying to come up with a new idea. Finally, they suggested a story about an art collector that buys some paintings that start to kill his family and they thought a Priest should be involved at some point. Besides that, I had free rein. So, I came up with seven paintings that represent the seven deadly sins and which animal would represent each sin. Once I had that, a lot of the story fell into place. Figuring out which room each painting would hang came pretty easily once I broke down the characters and their stories. Lust had to hang in the bedroom. Greed in the private office. Gluttony in the kitchen. Sloth in the children's playroom. Pride in the fancy living room. The script then came together surprisingly fast.
With Art of the Dead being based on Christianity's Seven Deadly Sins, so did you at all do any special research on that aspect of the film's story? And honestly, of these seven sins, which could you fall prey to the easiest?
Well, I did do research on-line and discovered the idea of the animals that represent each sin. That got me excited because if a rich man were to buy these paintings and hang them in his house with his young children, wife, and teenage son and daughter, the paintings had to look nice. If they looked like evil paintings, it wouldn't make sense. When I discovered the animals and how lust is represented by a goat, a peacock is Pride, a pig is Gluttony, toads are Greed, Envy is a snake, Sloth is snails, and a lion represents Wrath, that worked perfectly with my premise. Attractive paintings with an undercurrent of evil in them that has been undiscovered. I also rewatched Se7en to get all the literature references and then read more about those books as well.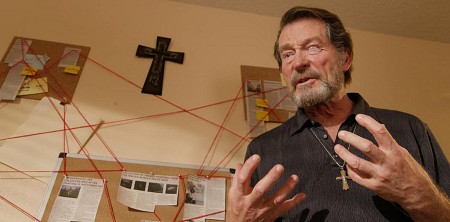 In regards to which sin I would fall prey to, I believe all humans possess all these sins at one point or another. It's part of being human which is why a story like this is so universal. Since I'm a bit overweight, Gluttony is already an issue. Even though I work hard, I still have my lazy days so that checks off Sloth. Being in the film business and working on small budgets with limit schedules, you always want more so I'm guilty of Envy or would you call that Greed? And since I possess working genitals, Lust is eternal.
(Other) sources of inspiration when writing Art of the Dead?
As soon as the Mahals suggested paintings, I went immediately to one of my favorite television shows from the 70's, Rod Serling's Night Gallery. And as luck would have it, two weeks before production began there was a Night Gallery exhibit in Burbank with a great panel of directors who worked on the original series. That was awesome and I was able to buy some duplicates of some of the paintings from the show. The very first episode, The Cemetery starring Roddy McDowall and Ossie Davis is one of my favorite and I even put the duplicate painting from that episode in the background of one scene in Art of the Dead. Unfortunately, the scene got cut from the movie. The other big reference is very blatant in the film. In my script, these paintings were created in 1890 by an artist named Dorian Wilde. It just so happens that Oscar Wilde wrote Portrait Of Dorian Gray in 1890. Upon doing some more research into that time frame, I discovered that Van Gogh cut off his ear in 1888 and Jack The Ripper was committing horrible murders around the same time. It was the perfect period for the paintings in my story to have been created and I reference these events in the film. A few producers came on board because they really liked the "smartness" of the story. That appealed to them more than the horror elements. But then there are others who love the goat creature getting it on with Gina (Jessica Morris) who plays the hot stepmom. That was my tip of the hat to Rosemary's Baby.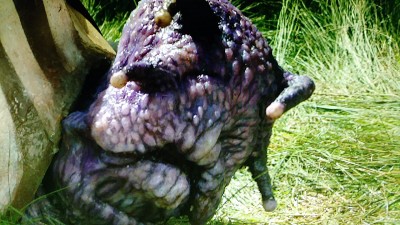 Do talk about your movie's approach to horror!
The movie is designed like a very colorful jigsaw puzzle in many ways. Since this was all about art, I felt the film needed bright colors. It's about staring into beautiful landscapes and getting sucked into the abyss. So, it's not a dark film at all. Much of the horror happens in broad daylight with clean environments. There's a lot that is in your face but at the same time, I try to leave some of the most gruesome, graphic moments to the audience's imagination. That's the balance with a horror film. Showing enough but not too much. But I knew going in this was going to be an R-rated film. Luckily the producers were all for that so I didn't have to censor myself. I went as far as I wanted to. It might be too much for some who are used to these PG-13 ghost stories but if you're a true horror fan that grew up in the 70's or 80's, you'll get what you came for.
From giant snails to a man-sized goat, Art of the Dead features some really nice creatures - so what can you tell us about the monsters in your movie, and how were they achieved?
I am delighted to say that all of the major effects and creatures were created practically by Vincent Guastini and his f/x shop. He went all out for this one. And Clint Carney, who created all of our original paintings, also did our handful of CGI as well so he could manipulate his own artwork, which he did brilliantly. For the creatures, we had people (Andy Brown) in a full goat suit with animatronics in the head to get it to move and drool and stick its tongue down poor Alex Rinehart's throat. Our cool snail was an old-fashioned Jim Henson Dark Crystal type of hand puppet. And the giant snail shells were built as well. The Pig Creature was another brave and gung-ho actor in the suit in the freezing mud. Our huge snakes were achieved by using real huge snakes! We also had real snails and real toads.
All the actors that begin to transforms were fitted with make-up, contact lens and latex appliances.
Coming up with how to create all these effect gags practical on-set was one of the biggest joys in making Art of the Dead. If you buy the DVD and listen to the commentary, more of these secrets are revealed. I'm especially proud of the underwater POV from the Greed painting in the third act of the film. It looks like an optical effect but it was all achieved live on-set and in camera.
A few words about your overall directorial approach to your story at hand?
I like making fluid movies where the camera is usually moving with the action. We had big beautiful locations and I made the most of them with my fantastic DP, Michael Su. We wanted this to have the opposite look of our last collaboration on Bus Party to Hell. Everything was planned and organized. I wanted colors everywhere and came up with the idea of projecting the actually paintings on the actor's faces live while we were shooting. Argento's work, especially The Stendhal Syndrome, was influential here. There is also a lot of steadicam work where we fly around the house. Drones were used throughout as well. I wanted this film to have scope and a very polished look. One reviewer said that the whole movie is lit like a painting and that's exactly what we were going for. Every camera set-up is like a still photo. Art of the Dead is a dark, disturbing story so I wanted to do the exact opposite of that visually. It becomes a funhouse of terror by the end.
What can you tell us about your key cast, and why exactly these people?
Well, casting was the key. Before I even wrote the script, I told the producers that I needed very strong actors to pull off the story I was going to write. We needed people who could slowly change throughout the arc of the film. Almost everyone metamorphoses one way or another. We did two casting sessions. One in Vegas and one in LA. The Mahals supervised the Vegas day and I was in charge of the LA casting along with Esther Goodstein and Nicholas George. I knew from the beginning I wanted Robert Donavan [Robert Donavan interview - click here] to play Father Mendale. I have worked with Robert in almost every movie I've made and he was perfect for the role. Unfortunately, his first audition wasn't great and it took some pursuing to convince the Mahals to let him do it. I had recently worked with both Lukas Hassel [Lukas Hassel interview - click here] and Alex Rinehart on The Black Room. Lukas loved the role of Dylan Wilson and luckily the Mahals loved him. Alex came and auditioned and nailed the role of Kim. Jessica Morris had been in a few films I had written over the years but I had never directed her. I wanted her for Gina Wilson and she was perfect. Zach Chzy was an actor who auditioned in Vegas so I only saw his audition tape. This was really his first film but he really came up to the challenge and had great chemistry with Alex. Danny Telsa, who plays Dorian Wilde, was another Vegas actor. I had an actor who I had worked with on Pretty Cool 2 audition in LA, and I thought he was going to play the role but when I saw what Danny did on tape, I had to go with Danny and he had a ball with it. Sarah French, who plays Heidi the prostitute later in the film, originally auditioned for the role of Gina, the wife. I've known Sarah for years and it was nice to finally get a chance to work with her. We needed someone fearless to pull off what Heidi goes through in the movie and Sarah most certainly was. People actually have cheered for her in the movie.
The biggest new discovery was Cynthia Aileen Strahan. She was the last person to audition in LA and came in for the role of "Kim". She was good but looked so young that I wanted to see what she could do as Donna Wilson, the 18 year old high-school daughter. She gave a cold reading and blew us all away. Cynthia's performance is amazing to watch in the movie. The arc from where her character begins and how it ends is quite something to behold.
Do talk about the shoot as such, and the on-set atmosphere?
Although it was planned and rehearsed, it was still a tough shoot. There is so much going on in the film and so many make-up and practical effects that we were always racing to finish each day. There were long days but the attitude of the entire cast and crew was wonderful. Everyone wanted to make this the best movie they could and gave it their all. The footage was so amazing that it kept everyone's enthusiasm up. I'm sure at points the producers were nervous about the budget but they remained supportive throughout and found more time and money when we needed it. We didn't take any short-cuts on this one and I think it shows in the final result. This is a horror film that has all the things you're supposed to avoid when making a low-budget movie. We had children actors, lots of blood and effects, live animals with trainers, outdoor chases with crazy weather issues, real fire stunts, crowds of people, and multiple locations. But in the end, it was all worth it.
Anything you can tell us about audience and critical reception of your movie?
Well, hopefully it's just starting but so far, so good. We had one cast and crew screening in the beginning of the year but we didn't go the festival route. So the ITN release on October 1st, 2019 was really the first chance for the public to see it. As of this writing, we have gotten 15 reviews and all have been positive to extremely positive. What I'm most excited about is that everyone seems to like it for different reasons. Some like the humor and satirical elements, some are loving the gore and sexuality, others find it quite disturbing and a few are picking up on the deeper psychological elements of the story. So for me, that means we're hitting a wide variety of horror fans. That's hard to do but it's working. However, it's so difficult for an original, independent horror film to get noticed nowadays without a major distributor and decent advertising campaign behind it. How does one create buzz from nothing? It has to be word-of-mouth but the only way to achieve that is by people watching the movie and telling others to do the same. A filmmaker can only do so much to spread the word of his own film but I'm trying.
Any future projects you'd like to share?
Yes! There's a cool sci-fi horror thriller coming out in December that I co-wrote entitled Automation starring Elissa Dowling [Elissa Dowling interview - click here], Sadie Katz, Sarah French and Parry Shen. It was the directing debut of a good friend of mine, Garo Setian, produced by Esther Goodstein and others and Epic's horror label Dread will be releasing it. It is currently playing a bunch of film festivals and has already
won some awards. In fact, I won a Best Horror Screenplay award for it. I also just wrote a really cool werewolf movie entitled Rougarou: Legend Of The Wolf for Vegas first-time filmmaker Eric Mathis. He's trying to find the funding now and I may come on as a producer as well. I've always wanted to write a kick-ass werewolf story and this is an original one with a kind of Agatha Christie mystery element to it. Lots of twists and surprises. I have a supernatural television series that I created that I'm hoping gets picked up and produced soon. It could be a fun series and open up different doors in this business. I actually have four different potential television shows about to be pitched around town.
And then I have a pet feature project that I wrote and would love to direct entitled Horror Fest. It was a finalist at last year's LA Shriekfest. It's something I should be making right now but it's all about finding the funding.
In non-horror news, I also have a Christmas romantic comedy I wrote coming out this Christmas called Picture Perfect Royal Christmas and I'm currently writing a family film about a girl, her grandfather and a dolphin that supposed to shoot in December in the Bahamas. Also a sexy fantasy thriller I co-wrote called Ring Of Desire is supposed to go into production next February. So, lots of irons in the fire. And the amazing thing is that despite all of this activity, I'm still looking for decent representation so if any agents or managers out there wish to talk, I'm available.
Your/your movie's website, Facebook, whatever else?

Feeling lucky ?
Want to
search
any of my partnershops yourself
for more, better results ?

The links below
will take you
just there!!!


Well, Art of the Dead has a facebook page. So do I, Rolfe Kanefsky. And you can find out more about my past projects at www.rolfekanefsky.com or IMDb.
Anything else you're dying to mention and I have merely forgotten to ask?
Sure. Gotta plug the great Blu-ray release of my first comedy horror flick There's Nothing Out There that Vinegar Syndrome released earlier this year. It's a film that seems to have gotten better with age and it is jam-packed with special features and commentary tracks. I think there's over 12 hours of bonus material on this sucker including my 2nd feature-length high school production of my original murder-mystery comedy called Murder in Winter. And I'm also interviewed on a cool-looking new documentary called Direct to Video that premiers on The Monster Channel on Saturday, October 12th, 2019. Check it out if you can.
Thanks for the interview!