Your new movie Art of the Dead - in a few words, what is it about, and what can you tell us about your character in it?
Art of the Dead tells the story of seven paintings, each depicting one of the 7 Deadly Sins. Who ever comes into contact with one of paintings takes on the sin the painting depicts. My character, Father Gregory Mendale, came into contact with the Envy,painting as a young priest. The painting causes him to see images of himself kissing a pretty girl, with a woman and child, and behind the wheel of a racy sports car. To rid himself of these images, he pokes out his eye with his crucifix. Now, as an older man, his mission is to destroy the paintings before they can hurt anyone else.
What did you draw upon to bring your character to life, and how much Robert Donavan can we actually find in Father Mendale?
Every actor brings him or herself into the characters they portray. In my case, I could relate to Father Mendale's compassion and desire to help. The director, Rolfe Kanefsky [Rolfe Kanefsky interview - click here], told me early on about Mendale's bad eye. I grew my hair and my beard, and along with the scar that accompanied the damaged eye, made for the look that made me feel like the character. Answering the basic questions regarding the character, his possessions, his dwelling, his ideals, his fears, and his relationships all gave me insight into the character and how he would react to the people and situations he was exposed to. And he likes pizza. Sausage, mushrooms, and black olives.
Quite honestly, in your private life, which deadly sin do you fall prey to the easiest?
The sins I fall prey to have evolved. As a younger man, it was lust. In middle age, it was gluttony. Now, as an older man, it is sloth. The perfect night for me would be to be in bed with a woman, eating tacos, and then taking a nap.
How did you get involved with the project in the first place?
Rolfe Kanefsky and I go way back to 1996, when we first worked together for Alain Siritzky. I knew about the project as he was writing it, and auditioned for the part. The audition did not go well, and Esther Goodstein and Andrew Brown, both in the production department, gave me a second chance to put the audition on tape. The producers liked it, and I got the part.
What can you tell us about Art of the Dead's director Rolfe Kanefsky [Rolfe Kanefsky interview - click here], and what was your collaboration like? And since you two have worked on quite a few movies together by now, do talk about your previous films for a bit as well, and how have the two of you first met even?
As I mentioned, Rolfe and I go back to 1996, when we worked for Alain Siritzky on The Click films. We hit it off immediately, admiring each other's sense of humor and creativity. He lays out what he sees in the character, I mull it over for a couple of days, and come back with my suggestions for the character's look and emotional states. I am grateful and gratified that he has given me free rein with the development of the characters I have portrayed, and he is happy with the results and how they connect to the story. My favorite characters are Agent 0014, who is twice the man as James Bond, in Yesterday, Today is Tomorrow. Then there is Willy the Wonder Man, the whacked out magician who considers himself a ladies' man, in One in the Gun, Oscar, the pervert electrician in The Black Room, and finally, Father Mendale in Art of the Dead.
Do talk about the shoot as such, and the on-set atmosphere?
Making Art of the Dead was a terrific experience for me. We shot in Las Vegas for most of the shoot, and then went up to the town of Pioche for the exterior shots. Pioche is one of those towns one would not likely visit if not for the movie business. The experience of being on location was great and added so much realism to the shoot. I spent a month in Las Vegas, even though I shot for only eight days. It was decided that it would be more convenient to stay in town for the two week that I was not needed, and so I settled into the real nice house where seven of us stayed. I found a terrific gym in which I could work out, some restaurants nearby, and spent a little time on The Strip. I got to see the comedy club my friend Brad Garrett owns, and a night of dinner and gambling, hosted by our producers, Michael and Sonny Mahal. I even got to take in a baseball game played by the Mets AAA Minor League team. That night, dinner was hot dogs, peanuts, and a beer. I love stadium food. The atmosphere on set was great. The crew really got things done for some very complicated scenes. Our sound man, Josh Gerson, worked miracles with his skills, and production averted crisis and overcame the obstacles that crop up while shooting. The cast was wonderful to work with and to be around. And the food was damned good. You can't work on an empty stomach.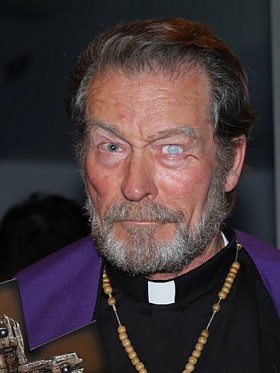 Any future projects you'd like to share?
After Art of the Dead I took some time to attend an excellent acting class, taught by Kimberly Jentzen. I then shot another Mahal Brothers production, Attack of the Unknown, directed by Brandon Slagle [Brandon Slagle interview - click here]. It is an alien invasion movie with Richard Grieco in the lead role. I spent the month of August shooting Corn in rural Illinois. The director, Robin Christian, is a friend of Rolfe Kanefsky, and after seeing the work I did for Rolfe, cast me as the lead villain in this film. I portray a taxidermist who organizes an annual competition where we kill and stuff people. Fun for the whole family... If you are the Addams Family.
What got you into acting in the first place, and did you receive any formal training on the subject?
After my aspirations to play Major League baseball did not work out, I saw a commercial on TV for Mel Blanc's School for Voices. I have been good with accents since I was a boy, and that sounded like it would be right up my alley. They convinced me to pursue film acting instead, so I took their advice. I studied with the iconic character actress Lurene Tuttle, and later with the wonderful Harvey Lembeck. With Harvey I worked with fantastic talent like Maggie Roswell of The Simpsons, Jeff Richmond of Wings, and the incredible Robin Williams. I also studied with James Best, and currently with Kimberly Jentzen. I stress education and training to all who want a career as an actor. Learn theory and technique, and then practice what you learn on stage or in front of a camera. Never stop polishing the talent that you have.
What can you tell us about your filmwork prior to Art of the Dead?
Currently I have appeared in over 60 motion pictures. Most recently, you can see me in Sunset Society and The Black Room, both directed by Rolfe Kanefsky, and Killer Kate!, directed by Elliot Feld, and starring his very talented wife, Alexandra. For Killer Kate!, I was suggested for the part by the remarkable Tiffany Shepis-Tretta [Tiffany Shepis interview - click here]. It was particularly gratifying for me to make good on Tiffany's recommendation. Attack of the Unknown, directed by Brandon Slagle [Brandon Slagle interview - click here], and Corn, directed by Robin Christian, should be out sometime in 2020. And now, of course Art of the Dead is available through Amazon V.O.D. and Walmart.
How would you describe yourself as an actor, and some of your techniques to bring your characters to life?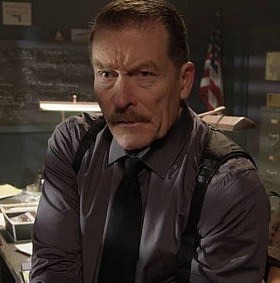 I have described myself as a character actor in a leading man's body. Now that I am no longer a young man, I would say I am a character actor in an old guy's body. One of the techniques I use to develop a character I learned from director and cinematographer, Brad Rushing. Develop a back story for the guy. Where he comes from, who hurt him, who he loves and/or lost, what secret does he keep to himself. I now use what I have learned from Kimberly Jentzen, called the Five Ownerships, and the Eight Inquiries. The characters possessions, relationships, ideals, abilities and strengths, and his wounds. Then there is the character's name, the time and place, where does he live, his vocation, is he married, single or divorced, who is his most important relationship, what does he have, own, or want to own, and finally, what is he protecting. These techniques give me a good foundation for the character and determine how he reacts to the circumstances he has to face in the script.
Actors (and indeed actresses) who inspire you?
Actresses that inspire me are Carole Lombard, Bette Davis, Meryl Streep, and Kate Blanchett. I also think that Jennifer Lawrence really has something going for her. The actors would be Gary Cooper, John Wayne [John Wayne in the 1930s - click here], Gene Hackman, George C. Scott, Gary Oldman, and Denzel Washington.
Your favourite movies?
My favorite movies would be Citizen Kane, The Quiet Man, Doctor Zhivago, Lawrence of Arabia, Young Frankenstein, Star Wars, and Raiders of the Lost Ark.
... and of course, films you really deplore?
As for films I deplore, I will plead the 5th Amendment here. If I can't say anything nice about a film, I will say nothing at all. No matter how bad a film may be, there is usually something interesting about it. It might not be much, but there is a nugget of something there. I have been in some films that are not well received, but I learned something from all of them.
Your/your movie's website, Facebook, whatever else?

Feeling lucky ?
Want to
search
any of my partnershops yourself
for more, better results ?

The links below
will take you
just there!!!


You can find me on Facebook, although I only accept friend requests from people I have met personally, or come recommended by someone I know well. I have a YouTube page where you can find clips of some of my recent work.
Anything else you're dying to mention and I have merely forgotten to ask?
As for mentioning anything else, I am a pretty private person. I believe personal information is not for public consumption and has nothing to do with the work I put up on the screen. I accept that there are people out there who are not moved by my work, and have stated that they don't know why I am in any films at all. That's life. I am grateful to the people who like what I do, and have been very kind in their praise. I am not great, but I constantly strive to be the best that I can be, and to earn people's respect and support. I appreciate you taking the time to chat with me, and for your kind comments regarding my work. And to all I say, go out and get Art of the Dead.
Thanks for the interview!