Your film The Midnight Disease - in a few words, what is it about?
On the surface, it is about this writer, Jack Jones, who's had one successful book published and now he's plagued by horrible writer's block. It isn't until someone mysteriously leaves a jar of blood on his doorstep—inviting the presence of a blood-guzzling nymph into his life—that he finds help writing his book, though things begin to spiral out of control for poor Jack rather quickly. On a deeper level, the film is about an artist's drive to create, and the obstacles artists face in trying to do so.
Being a writer first and foremost, how much of yourself can be found in your lead character, and how do you deal with the titular "midnight disease" aka writer's block?
Lawrence Griffin, the actor who plays Jack, asked several questions throughout the shoot about Jack's personality and character traits. Often, I realized I was describing myself to Lawrence in explaining Jack's character. So, to answer the question, I think a lot of me can be seen in Jack. Even some of the clothes Jack wears came straight out of my closet. Of course, Lawrence—who is a fantastic character actor—brought a lot of himself to the role as well.
In my eyes, The Midnight Disease has all the ingredients of a traditional macabre short story, including the twist ending. A literary genre you can at all relate to?
Oh, certainly. I love reading horror literature, novels and short stories, and I have penned the screenplays to several other films in the genre, including Sv Bell's Crawler and Rise of the Ghosts [Sv Bell interview - click here]. It's my favorite genre. Though, of course, there are also comedic elements in The Midnight Disease, which I thought were important to include. I don't think the film would have worked as well if it was played dead straight.
(Other) sources of inspiration when writing The Midnight Disease?
As you've wisely noted in your review of the film, The Midnight Disease comes from the same well as movies such as Little Shop of Horrors. Instead of a giant plant, our film has an alluring young woman feeding off the blood of the living and helping to assist our protagonist's career. I think I'd take an alluring young woman over a man-eating plant any day!
As mentioned above, you have so far been known mainly as a writer. What inspired you to usurp the director's chair for The Midnight Disease, and how did the project get off the ground in the first place?
I had always wanted to direct a film. After a career writing screenplays for other filmmakers, I knew it would only be a matter of time before I succumb to my desire and actually moved forward with directing my own movie. Producer Ryan Fowler also co-directed the film with me. We started Magothy Entertainment together back in 2007 and have worked together on myriad other projects, so I knew we would complement each other's styles. Though we have different approaches to filmmaking, my weaknesses were his strengths, and vice versa. Ryan is very mechanically inclined, very gear oriented and familiar with the equipment, what it can and cannot do, while I was better attuned to working with the actors and fleshing out details of the script.
How would you describe your directorial approach to your story?
As I've mentioned, I didn't think the film would work as a straight and serious horror film. It's too out there, too hokey. So from the beginning, Ryan and I knew we wanted to infuse it with some comedic elements, yet still keep an overall dark atmosphere to the film. While on set, Ryan would typically watch the monitor while I stood off-camera watching the scenes. The schedule for shooting was very rushed—although we ultimately went way over schedule—which left almost no time for preproduction rehearsals with the actors. Each actor came to set with the utmost professionalism, knew their lines, and they were wonderful. I would make minor changes to dialogue or blocking after watching them work through a scene a few times, but I'm also not a stickler for having actors recite lines verbatim. I was happy to let them exercise their talents and make the roles their own.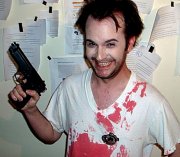 Lawrence R.Griffin
A few words about your lead Lawrence R.Griffin, how did you find him, and what made him perfect for the role?
Lawrence came to us on the tail end of a two-day audition. We held open auditions and had quite a few people show up and read for the role. When Lawrence came in, we all kind of just looked around at each other—it was myself, Ryan, our DP Darin Malfi, and costume designer Marsha Fowler in the room at the time, I believe. He had the look, and we all recognized it instantly. This was only reinforced when he read for the part. He was perfect. Lawrence has a brilliantly off-kilter appeal, and we all knew right away that he would bring the perfect mixture of comedic timing to an otherwise sociopathic character.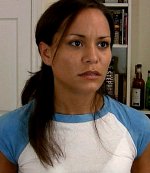 Mia Chiarella
What can you tell us about the rest of your cast and crew?
Mia Chiarella plays Michelle, Jack's love interest and neighbor. She had a great audition, but this was also the hardest role to cast, because we had two very talent actresses vying for the part. Katie Foster also auditioned and was wonderful, so we knew we wanted them both, but we were on the fence as to which actress would play Michelle, and which actress would play Jack's blood-guzzling Muse. Ultimately, we decided that Mia looked like she belonged better with Jack. I think Katie was too tall to play Michelle, and she had great skin tone for our makeup people to work with, as she slowly gets healthier-looking throughout the film.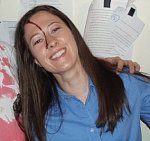 Ann Pratten
Ann Pratten, who plays Detective Penny Lane, was wonderful in a role that really pushed boundaries for her, I think. She was taught how to hold a gun, search a house, and had some rather official police-type lines to deliver, which she did wonderfully. She added a cool, unassuming femininity to the role.
I was really impressed with Carleen R. Troy when she came to audition. Completely professional, and the sweetest gal you'd ever want to meet. She auditioned and was subsequently cast as one of the prostitutes Jack murders. She played the role expertly, though I regret not having a big enough part for her.
The scene with Rico, played by Greg Williams, was written following Greg's audition. Greg read for the role of Jack, but he wasn't a good fit for the part; however, I was blown away by his energy and comedic timing, so I cast him then wrote the part for him. It's a small scene, but probably my favorite in the whole film.
My crew was great—Darin Malfi, our DP; J. Mooy, who plays Jack's friend Billy and who is also co-producer on the film; Matthew T. Smith, our script supervisor, who was a tremendous help on set; everyone was great.
With The Midnight Disease about to be released - will you ever direct another movie, and any other future projects of yours?
I would love to, and am currently hunting around for the next project. I'd like to try my hand at directing someone else's screenplay this time around, so I'm keeping my eye open for projects that appeal to me.
Let's go back to the beginnings of your career: What got you into writing movies in the first place?
I always wanted to be a filmmaker, but back then I had no contacts and very little understanding of how films were made. The whole process seemed overwhelming to me. So instead, I opted to pen scripts for other filmmakers, such as Sv Bell [Sv Bell interview - click here], Jason Stephenson [Jason Stephenson interview - click here], and Melantha Blackthorne, and had some success at it. When it came time to make my own film, I leaned on those folks for advice.
You have (co-)scripted most of Canadian genre director Sv Bell's movies. What can you tell us about Mr Bell, how did you two hook up in the first place, and could you talk about the individual films you wrote for him for a bit?
Bell is a wonderful guy, and I've enjoyed working with him for all these years. When I first started writing screenplays, I scoured the internet for filmmakers I could contact, and Bell was one of them. I believe he had shot a few shorts and music videos at the time. I introduced myself, but since I had no credits to my name, I figured the only way I could impress this guy would be to show him exactly what I could do. I told him I'd write a script for him based on his own storyline completely for free. He agreed, and that movie was our first collaboration, Purple Glow.
For a while, Bell was shooting a film a year, and he knew I was reliable, fast, and produced the type of work that he liked, so he hired me to pen a few more scripts for him—She-Demons of the Black Sun, Rise of the Ghosts, and Crawler followed.
I really enjoyed Crawler. I had fun writing it, a sort of mash-up of Stephen King's Christine, Theodore Sturgeon's Killdozer, and John Carpenter's The Thing. I also love how people gape at the absurd-sounding plot: a bulldozer that's really an alien that turns people into zombies while laying eggs! How can you beat that?
But I think the scene that gets the most reaction is in She-Demons of the Black Sun, where the female protagonist summons demons to help her enact revenge on her rapists. She ties one of the rapists up and, utilizing demonic powers, transforms her arm into an enormous phallus. A vertical slit opens up on the rapist's chest and… well, let's just say it takes "an eye for an eye" to a whole new level.
You have also co-scripted Jason Stephenson's Doomed to Consume [Jason Stephenson interview - click here] - what can you tell us about that one?
Although I can't remember exactly, I believe I met Jason in much the same way I met Bell. I had written a script for a short film called The Locksmith that Jason eventually shot. After that, he wanted to tackle a full-length project and had an idea for a zombie film. I believe he sent me a few pages of what he'd written, which at the time was titled Infected. I fleshed out the characters and wrote the screenplay based on what Jason wanted. It became Doomed to Consume, a rather enjoyable zombie picture.
Of late, you have contributed to quite a few horror anthology movies. Want to talk about any of those?
Indeed, I've contributed to so many that I can't remember them all, it seems! The ones that stick out are Terror Overload, where I wrote the wraparound segment with the truck driver and the girl. It's the storyline that acts as the backbone for the anthology. I also wrote the Inbred and Undead segment for Melantha Blackthorne's Graveyard Picture Show. I've recently seen my standalone segment, though not the whole movie. In fact, I was never sure if the whole movie had ever officially been released.
Almost all of your films are of the horror variety in some way or another. A favourite genre of yours?
Yes, it is, although I love good dramas and comedies, too. I'm not adverse to writing and shooting in those other genres, though it seems lower budgeted horror films are more accepted by audiences than low budget comedies. Woody Allen is one of my favorite filmmakers, as are the Coen Brothers, and I would love to tackle projects similar to those styles of films someday.
Writers and directors who inspire you?

Feeling lucky ?
Want to
search
any of my partnershops yourself
for more, better results ?

The links below
will take you
just there!!!

Find Robbie Ribspreader
at the amazons ...

amazon.com

amazon.co.uk

amazon.de
Looking for imports ?
Find Robbie Ribspreader here ...
Something naughty ?
(Must be over 18 to go there !)

At the top of my list would be Woody Allen, Joel and Ethan Coen, and Steven Spielberg.
Your favourite movies?
Raiders of the Lost Ark, Back to the Future, Gremlins, Star Wars, The Silence of the Lambs.
... and of course, films you really deplore?
Any film that carries all its merit on gore for gore's sake. I like conflicted, well-developed characters and storylines that don't necessarily have to be brilliant as long as they're creative and entertaining.
Your website, Facebook, whatever else?
Both Magothy Entertainment and The Midnight Disease have their own Facebook page, so I'll invite any and all to join. Our website is www.magothyent.com and my email is ribspreader@gmail.com for anyone who would like to get in touch with me, or perhaps submit a screenplay.
Anything else you are dying to mention and I have merely forgotten to ask?
Just to reiterate that The Midnight Disease will be available on DVD from Midnight Releasing/Brain Damage Films on April 3.
Thanks for the interview!
My pleasure! Thank you!