Your In Fear of-episode Dementophobia: Fear of Insanity - in a few words, what is it about, and what can you tell us about your character in it?
It's about the fear of going insane. A daily fear of mine. I feel like I'm in constant danger of slipping down the crazy hole. But so far so good. (laughs). My character is pretty close to me in real life. She's a B-movie actress that has done some nudity in her past and is trying to get away from being pigeon holed as a sex pot.
To what extent could you identify with your character, the fading star, and what did you draw upon to bring her to life?
I didn't really see the character, Samantha, as a "fading star" per se, she's just an actress trying to reinvent herself and control the media's view of her. I think the worst thing any performer can do is get stuck in a rut concerning how they view and present themselves. There's nothing worse than a woman in her 40's trying to hold onto her days of playing the ingenue. And why would you want to? There are so many more meaty roles for a seasoned actress. There comes a day when you just have to face the fact that, no, you're not right for a 'college girl ' role and you don't want to sit in an audition room filled with a bunch of 21 year olds with fake boobs any more.
I have had the same questions asked in interviews hundreds of times. It's like, really dude, you couldn't have just googled that answer? So that's what I drew upon to help me with the press junket scene.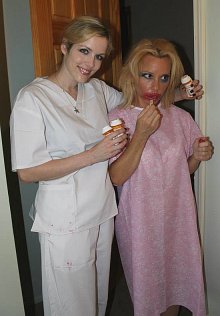 with Suzi Lorraine
Dementophobia - is that a fear you can at all relate to, and what are you afraid of in your personal life?
I have a relative who is a bitter woman in her late 60's, without a man, living in a walk up apartment, just getting by financially. Never having reached any great success in life. Turning into HER is my biggest fear. But I can relate to Dementophobia, because when I think of that fear, the scariest part is that I wouldn't actually know I went crazy, I'd just BE crazy. Cue shock therapy and ice baths! Do they still do that stuff?
How did you get hooked up with the project in the first place, and were you at all aware of the series prior to your involvement?
One of my favorite people in the film industry is Suzi Lorraine [Suzi Lorraine interview - click here]. I got her involved in the film I co-wrote and starred in last year, Scavenger Killers (which is being released July 1st... shameless plug). I wanted her in my film because she's a wonderful human being, a very well known actress, and adds value to any movie she's in. Over the years we had been in multiple projects together, but never on set at the same time. I knew her from screenings and premieres etc. In Scavenger Killers we finally got to act opposite each other and it was blissful! We have an amazing comic rapport and on the flip side of the coin, dramatic. You can't have comedy without tragedy, after all. She then introduced me to Scott (Perry [Scott W. Perry interview - click here], the creator of the In Fear of-series). Suzi not only acts in multiple episodes but served as a producer too. I knew about the series because Suzi had told me about it, then I met Scott at a film festival last year. Suzi and I have worked on numerous projects since Scavenger Killers, including 2 working trips to Canada, co starring in my other co-written film Captured Hearts (in which I wrote the role of Candy specifically for her), a road rally pilot, a romantic comedy, and so many fun and yummy dinners and parties and events. I just got her name tattooed on my left boob (kidding... maybe...).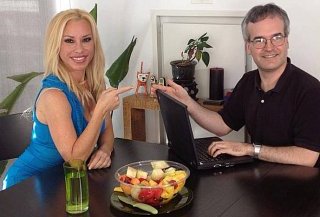 with Michael Gingold
What can you tell us about Dementophobia: Fear of Insanity's brand of comedy, and do you consider yourself a humourous person in real life?
The thing about my episode of In Fear of is that it wasn't written as a comedy piece but written as a script with humorous situations that we could easily interject comedy into in an organic way. So much of it was improvised. I would rather have a script with rock solid bones that can be built on then one that has all the comedy laid out. Scott's script couldn't have been written any better for me, a stand up comic, to come to set and just let the funny rip. Suzi was a great straight-man and all the actors playing interviewers nailed it. It was a very giving cast. Pleasure to work with!
Do talk about your director Scott W. Perry [Scott W. Perry interview - click here] for a bit, and what was your collaboration like?
Scott was very chill and casual about the whole thing. He never panicked or got stressed out on set. He was VERY open to collaborative input and even gave me the chance to write my own script (which was shelved because it would have been too expensive to shoot - thankfully, because Scott's was SO perfect). He also made me feel very comfortable letting my crazy flag fly. I just let the improvs rip and he kept up brilliantly. He has also achieved a huge success with two seasons of In Fear of in the can and hitting the festival circuits.
What can you tell us about the shoot as such, and the on-set atmosphere?
The set was very creative. Scott has a talent of putting together the right people that all seem to have similar dispositions making it a very easy breezy set. Everything just clicked. I felt very safe and that made it very easy for me to be completely free in my acting.
Any future projects you'd like to share?
I always have a ton of things in the works but I don't like to talk about anything until it's in the can! But I always update my website www.rachaelrobbins.com and my Facebook page with the goings on in my life. My film Bleeding Hearts did get distributions and we're awaiting it's realse date. So that's the next exciting thing coming down the pike.
What got you into acting in the first place, and did you receive any education on the subject?
I got into acting because I didn't really know what else to do with my life. I had been working with Playboy and modeling, so it seemed like the next logical step. I trained at Hunter College, with acting coach Angela Pietropinto, at UCB in NY and The Groundlings in LA.
Can you still remember your first time in front of a movie camera, and what was that feeling like?
The first time in front of a camera was for Playboy and it felt naked and wet. We were being hosed down by a fire hose. It was a fireman themed shoot.
What can you tell us about your filmwork prior to Dementophobia: Fear of Insanity?
IMDb can tell you all you need to know. If you have any other questions feel free to ask!
So what got you into writing to begin with, and do talk about your approach to writing a bit?
Writing is not something that I'm naturally inclined to but something I happen to be good at. I work best with a writing partner. My experiences of writing with (fellow actress) Erika Smith have been my best. We work seamlessly together. We just co-wrote a cabaret show for her to star in at The Metropolitan Room in NYC that I directed - it was a huge success. We are currently shopping around a comedy we wrote.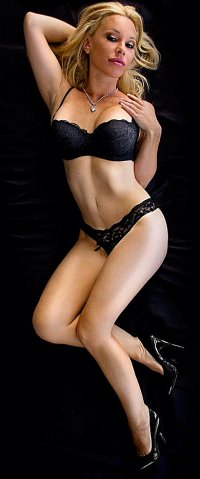 Feeling lucky ?
Want to
search
any of my partnershops yourself
for more, better results ?

The links below
will take you
just there!!!

Find Rachael Robbins
at the amazons ...

amazon.com

amazon.co.uk

amazon.de
Looking for imports ?
Find Rachael Robbins here ...
Something naughty ?
(Must be over 18 to go there !)

As far as I know, you have only very recently directed your first stageshow - so what can you tell us about that one, and how does stagework compare to filmwork?
Directing was not what I thought it was going to be at all. I thought it was going to be so much less stressful because I wasn't performing, but it was MORE stressful. I was sending actors out there to the lions and hoping that I made all the right decisions. I was like a stage mom. I couldn't even sit down! Luckily everything went over like wildfire and we got asked to come back and do the show next month too. Stage is different from film because you get one chance to get it right, and you know instantly if it's a success or not.
How would you describe yourself as an actress, and some of your techniques to bring your characters to life?
I am primarily a comedic actress. That's my comfort zone. But I'm happy to work in any medium. I have spent most of my career as the bombshell but I'm excited for the next phase in my career, which is coming down the pike, and that's the character actress, the MILF, the cougar, the Jennifer Coolidge roles. Right now I'm kind of in between those two phases, so I'm just taking this time to cruise and enjoy whatever life brings.
Actresses, writers, filmmakers, whoever else who inspire you?
Too many to mention, but definitely Christopher Guest, Rob Zombie, Jennifer Coolidge, and anyone who has the balls to fight to make their vision a reality and sacrifice everything in their life to get there.
Your favourite movies?
Also too many to mention! You'd have to give me a category or an era. I LOVE movies!!
... and of course, films you really deplore?
I really hate big block buster summer movies and rom-coms, but I wouldn't turn one down if they came a knocking!
Thanks for the interview!