Your TV-series Wisp - in a few words, what is it about?
At it's heart, Wisp is a crime thriller about an unsolved serial killing spree in Erie, PA. An investigation that gets complicated by a copy-cat, and an uncooperative police commissioner.
Serial killer films and TV-series are pretty much a dime a dozen - so what do you think makes yours special?
From the beginning, Adam and I set out to tackle a very familiar genre in a different way. Unlike most 'serial killer' stories, Wisp is not a gore fest that focuses on the killings. And unlike most 'cop shows', we leave most of the procedural stuff to the imagination. We wanted Wisp to be about the people affected. Those left in the aftermath when something like this happens in a small community. It's not just about the cops and the killer, it's about the cop's wife, and the victim's sister, and what that kind of pressure can make someone do.
And Wisp is shot in 3D. We don't talk a lot about it, outside of the '3D World', but Wisp might be the only series of its kind being shot in Real 3D. The future Blu-Ray release will have the 3D versions on it.
What were your inspirations when creating Wisp, and what got the project off the ground?
I've always been a fan of Hitchcock, and the film noir gum shoe detective serials. Adam's sensibility always tends to be a bit over the top, in a graphic novel sort of way. There's elements of all of that in Wisp. The show has been compared to The Following, Motive and Criminal Minds - which are all shows I watch. I didn't want Wisp to feel like a parody, so I took inspiration from all those shows to keep the look and feel still very modern.
Adam and I had Wisp in development as a feature film. We had the principal cast in place, and were in the process of raising the money to begin filming. In the meantime, I had produced a reality TV show for I am TV, a regional cable TV network. They were looking for another series, and we were looking to move forward with Wisp, so I am TV CEO Scott E. Jones offered to finance it, if we could turn it into a series. So Adam and I re-conceived the story for television.
What can you tell us about your writer Adam Moore, and what was your collaboration like?
I first started working with Adam in 2011 on my last feature Blood of Ohma. I only had the story, in outline form and had hired another writer to turn it into a shooting script. I knew the basic elements I was going to need, and started pre-production but as the production date got closer and closer, the script I had hired came in un-shootable. I had read Adam's novel and knew him on Facebook, so I asked him to help. In a few weeks, he turned in the script for Blood of Ohma, which is more or less what I shot. And we've been working together since.
Our collaboration is probably unconventional, but I don't really have anything to compare it to. We talk a lot. Hash out ideas, think out loud, and then he sends me shooting scripts. Adam knows indie film. He's shot a few. So he understands the restraints of the budget, and the practicality of shooting. We work together thru the whole process. I send him rough cuts of scenes, we'll make adjustments, fix problems. And meanwhile, we're hashing out the next three or four projects. Ideas, concepts, characters.
According to my information, Wisp is your first TV-series - so how does directing a TV-series compare to directing a movie, and how would you describe your directorial approach to your story at hand?
Directing for TV is a world of difference. The actual filming is very much the same. But on television, you get the time to really develop character and story. The first season of Wisp takes 7 hours to tell. We're at hour 3 right now. So if something isn't working, or if a character or story starts developing in a way you didn't expect, you have the opportunity to take an episode or two and make an adjustment. Both of these things happened on Wisp.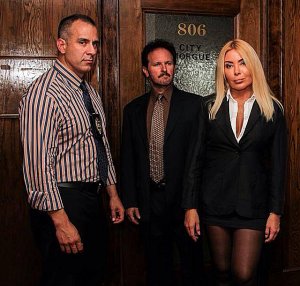 John Baran, Larry Laverty, Deborah Funes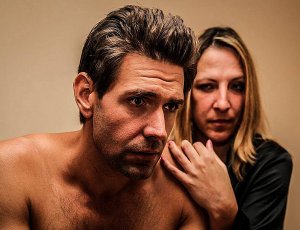 John J. Thomassen, Marie Madison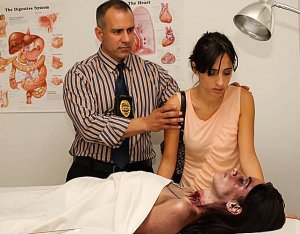 John Baran, Paula Marcenaro Solinger
Another advantage, is the feedback on TV is immediate. It can take 6 months to a year for an indie film to be watchable by the general public. And then you have to rely on people buying the DVD, downloading it, hope that reviewers will watch it. But on TV, it's free for most people, and I am TV simulcasts on the web, so if the show airs at 10pm, by 10:30 we're hearing about it. What was good, what was bad. That kind of instant feedback is invaluable.
What can you tell us about your key cast, and why exactly these people?
The simple answer is, I got lucky. I was looking specifically for TV experience, and improv skill, and I got a pretty good mix of both.
Larry Laverty is a long time friend, and the character of "Frost" was written with him specifically in mind.
I originally wanted Paula Solinger [Paula Marcenaro Solinger interview - click here] for Frost's wife "Katherine", then I saw her in Jim Devault's Blood Reunion and she blew me away. So, I offered her the part of 'the twins' instead. She got really busy really fast after that movie, so I got lucky to catch her in between projects.
Rod Hermansen was on hiatus from Dallas.
John Thomassen [John J Thomassen interview - click here] was on hold from a big Hollywood movie, so I got him for a week, pretty much only because he wanted to do it.
I had John Baran on hold for a different part in the second act, but the actor who was playing "John Kelly" dropped out a week before filming. John was coming in for a big cast party promotion, so I asked him to stay a week to film "John Kelly". Again, I just got lucky.
The hardest part to cast was The Commissioner. She was written with a specific look and a personality that is bordering on a cartoon character. I talked to a few actresses about The Commissioner, but I felt like Deb Funes really 'got' her. And Deb is fearless in front of the camera. She was not afraid to let her character be over the top, and the type of character the audience loves to hate. And people REALLY hate Commissioner Gray. Deb owns it.
Do talk about the actual shoot for a bit, and the on-set atmosphere?
Managing a big ensemble cast is difficult on an indie budget. Just the logistics of getting everyone where they need to be on time. Our executive producer Scott E. Jones does a great job of handling that stuff to enable me to focus on filming the performances. Completing something of this size requires a lot of collaboration, so as the director, I try and find the best people I can afford, and then give them the time and resources to do their best work. We rehearse and block scenes before we shoot them, we take the time to talk out the characters, what happened before, and what's going to happen next. At the same time, someone is prepping our next set, and Jaimie Foster is prepping the FX, and someone is organizing meals, and keeping everyone on schedule. There's a lot of moving parts that all have to come together. Over a two week shoot, it becomes a very family style atmosphere.
The $64-question of course: Where can the series be seen?
I am TV can be found on Time Warner Cable Channel 180 in Erie County. For everyone else, the show can be watched at www.IAMTheWISP.com where there's an episode guide, and full length episodes to watch.
With Wisp's act one finished now, can you give away any of the series' future developments? And when are there going to be more episodes?
Without spoiling anything, I can tell you that not all the characters make it to the end, and 'The WISP' may not be who you think it is. We will have at least one big addition to the cast and one big guest star.
Filming is scheduled for the first part of March for Act Two, which will conclude season 1 of the show. It will begin airing in the spring.
Any future projects besides/beyond Wisp?
I do have a few things on my mind, and a few interesting ideas Adam is working on, but I haven't decided exactly what's next.
What got you into filmmaking in the first place, and did you receive any formal training on the subject?
I think the same thing that drives most indie filmmakers. I always loved film and television. Fascinated by the medium. My father was always a 'tech' guy, and experimented himself with 8mm film and then video recording and editing. So I always had that stuff around to tinker with. I spent a few years at an advertising agency until 2005 when I felt creatively burned out, and decided to make a movie to do something different.
What can you tell us about your filmwork prior to Wisp?
My first film was Fury, 2005. It's a horror/revenge fantasy. I didn't really know what I was doing, but for some friends and fans, it's still their favorite. It's the only movie I've made that people ask for a sequel to.
In 2007 I made Virgin Pockets. This film happened, because I was hired to shoot Jason Hull's Chasing Darkness that summer, but it was only filming on weekends. So, I wanted something small I could film during the week. I used the same camera set-up and a lot of the same cast and crew. At the time it felt very 'thrown together', but it struck a chord with billiards fans, and ended up paying for my next two movies.
2008 was House of Bedlam. It's a creepy, sort of screwed up horror movie about ghost prostitutes. It was the first film I shot in high definition, and the first film I worked with Larry Laverty on.
My last film was Blood of Ohma in 2011. I wanted to shoot a film in 3D, and I wanted it to be an update on the classic monster movie from the 50's.
How would you describe yourself as a director?
I'm collaborative. I think I'm easy going. I've never taken an actress hostage. (It happens.) I've found a measure of success in indie film, because I have a reputation of finishing projects, getting things done. It's sadly common in 'indie' that films never get released. Lots of work from actors, crew and technicians never gets seen – which for a lot of us is the reason for working on lower budget projects to begin with. For the chance to work, and be seen. My cast list looks like a 'who's who' of indie film, because while I can't promise a lot of money, I can guarantee this thing won't get buried in crowd funding or sent to the 'in distribution' void.
Filmmakers who inspire you?
David Fincher – he's an innovator of using new technology to tell stories.
Jason Hull – Krampus: The Chrismas Devil is making a lot of waves in 'indie'. Everything he does is better than his last thing [Jason Hull interview - click here].
Sv Bell – from Black Flag Pictures. Sv is the real thing. A great grass roots filmmaker and he's innovating online distribution.
Jim Devault – Jim makes movies that look way beyond their budget, and he gets them to market fast. I don't know how he does any of it.
Your favourite movies?
Of all time, Fight Club. Then I get really nit picky by genre, etc. etc. I'm really about story. I'll forgive a lot of execution if the story gets me. I still think Jaws is among the best movies ever made. I think Avengers was awesome. Lars and The Real Girl is one of my favorites, so is Memento. I'm in the minority of those who think the re-make of Texas Chainsaw Massacre is better than the original. I'm sort of all over the map.
... and of course, films you really deplore?

Feeling lucky ?
Want to
search
any of my partnershops yourself
for more, better results ?

The links below
will take you
just there!!!

Find Paul Gorman
at the amazons ...

amazon.com

amazon.co.uk

amazon.de
Looking for imports ?
Find Paul Gorman here ...
Something naughty ?
(Must be over 18 to go there !)

The only films I really deplore are the direct to video rip-offs. You know what I'm talking about. The one's with a similar name and 1/1000th of the budget that get dumped on the consumer with the hope of coat-tailing on the frenzy of whatever is popular in Hollywood right now.
Your/your series' website, Facebook, whatever else?
My Facebook is at www.facebook.com/gmdfilms
The official Wisp site is at www.IAMTheWISP.com
and the Facebook is www.facebook.com/iamtvwisp
Anything else you are dying to mention and I have merely forgotten to ask?
LOL. No. In fact, feel free to edit this down as much as you see fit.
Thanks for the interview!
Thanks for asking, and for watching the show. I really appreciate it.