Your new movie Krampus: The Christmas Devil - in a few words, what is it about?
It's obviously based on the mythological creature, Krampus, but the story revolves around a police officer, Jeremy, who was abducted by Krampus as a child but managed to escape his deadly fate. Jeremy grows up and leads a task force to find missing children, only to stumble upon the monster again 30 years later. Unbeknownst to him, though, Krampus is set to capture Jeremy's daughter. There's a lot of twists to the plot, and then we throw in Bill Oberst, Jr's character, Brian Hatt, who is a newly released prisoner hell-bent on revenge to the one that put him away (Jeremy). It's a fun action-thriller-horror film!
Basic question of course: Why the Krampus, what fascinated you enough about this piece of Alpine folklore to make a movie about it? And how much research did you do on the creature itself?
I was lucky enough to have someone introduce me to Krampus while I was writing my second film, The Four. Sadly, he's not all that well-known in the states (although I'm hoping to change that). What I found unreal was that Krampus had not been made into a film yet! So, with that, I scoured the internet for pictures, stories, ANYTHING about him. I bought a few books to help with our storyline, too. As much as could be done to learn about his "history". I did what I could, but I also had my producers, AJ Leslie and Darin Foltz finding out tidbits as we went along, which helped form our version of the creature.
Other sources of inspiration when writing Krampus: The Christmas Devil?
It was (producer) AJ Leslie that was my inspiration, ha ha... He lit a fire under me to get me moving on the writing, as I was being slow about finishing it, haha. I'm a big fan of Carpenter's Halloweeen, so I think you'll see homage to him in the film. I like Rob Zombie's work, too, and I try to write around his "style", but I know it doesn't resemble anything he's done... I guess I'm a better "thriller" writer than a "horror" writer...
How would you describe your directorial approach to your subject at hand?
This was my first film NOT being in front of the camera, too, so it was a great, but completely different approach. I was lucky before (with my other two films) having DP's that pretty knew where I wanted to go with a specific direction, so I got off easy. This time, I had to shift gears and actually direct more than I maybe had to in the past. It was nice, and as with anything, was a learning experience. I was lucky to have a very creative cast and crew, so although I knew what I wanted, they had the talent to take it to the next level. I also had producer Darin Foltz standing behind me all the time, so while I was maybe dialing in the shot, setting up the camera or whatnot, I always knew that he, as well as AJ Leslie, were there double checking for continuity, etc. As far as directing Krampus (the monster), I always had him envisioned as being slow and labored. He's tired, and in our version, he does what he does because he "has to". We actually make Santa Claus more of the bad guy and you sort of get a sense of sadness for Krampus. Brad Weaver, who played the creature, is pretty easy-going, so once again, I get off easy in the director's chair. Haha.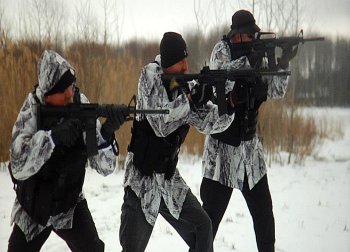 Krampus: The Christmas Devil does feature quite a few elaborate action scenes - what can you tell us about staging those?
First off, we were lucky in our locations. We were able to go to gun ranges and shoot live ammunition as there wasn't anyone at the ranges, we were at in the winter. The fight scene in the bar (Edinboro Hotel in Edinboro, PA) was at a bar that was willing to close down for us to film there, so first and foremost, having that kind of cooperation on the budget that we have is awesome! As far as staging the fight scenes, it's a collaboration with myself and the actors in that particular scene. I'm no fight choreographer, so I figure the more that can chime in the merrier. With the fight scene (in the bar), we all sat down and worked it out how it was going to go. Then there's the process of doing the scene over and over again/different angles, etc. That then requires lights to be moved, which I found to be a pain. I'm hiring a light guy next movie-this was the one thing that I learned on the set of Krampus: The Christmas Devil. Haha.
For all the gorehounds among my readers, do talk about the violence in your movie for a bit!
Well, there's a lot of killings... we cut out the heart of Jay Dobyn's character... smash in the face of Jeremy Sidun's character. Throw children in frozen lakes. Playboy model Angelina Leigh is nude... so you can see, this is a family picture. Haha. It was fun... we did all of the blood on set. There is nothing digital going on with that, and our muzzle flashes on the guns were mostly all real. I like seeing that the bigger horror pictures are going back to the old school way of blood, and we followed suit with that on this!
What can you tell us about your movie's Krampus-design, and did you have any creative input regarding that?
I did to some degree. The original design by Dusty Austin at Rottwieler Productions was more of a devil-ish goat head design. I still thought it looked awesome. But for whatever reason, the mold or whatever broke... wouldn't take, so he went back to the drawing board. It was then that I had more of an input on it, and I wanted him to be more of a "classic" look, but I also let Dusty run with it a bit, and what you see (mask wise) is mostly his creation. With the clothing, I knew exactly what I wanted, and Dusty and his team were able to deliver. He did a nice job on a classic take with the monster mask, though!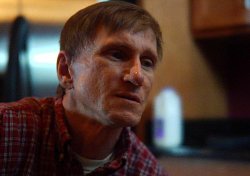 Bill Oberst jr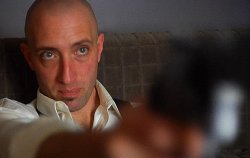 A.J. Leslie
Do talk about your key cast for a bit, and why exactly these people?
Well, it was a total fluke to get some of the "brought in" talent that we had gotten. During The Four, I stumbled across my now manager, Matt Chassin. When I was casting for Krampus: The Christmas Devil, I was explaining to him a couple of the roles that I needed to fill, and I had known at this time that we were going to use some "professionals", so I was open to any and all advice. Matt had mentioned Bill Oberst jr to me when I was filling the role of Brian Hatt. I knew "of" Bill, but not the extensive list of films he has done. We were lucky to get him, and it's been a lot of fun watching his career explode since he was on set with us (almost) a year ago.
With Rich Goteri and Mike Mili, it was the same, but they both really liked the script and wanted to be a part of it. They were a blessing to (also) have around. All three of those guys made our local talent just that much better. Everyone, including myself, learned quite a bit by having them around. Even for the short time they were around, I think that they (and myself) call each other family.
I also need to mention AJ Leslie, who had a huge role in this film (not including the production side of it). AJ is "local" talent, and in all realism, I needed local talent to be my main actor, as its our only way to keep the budget lower. AJ and I worked on both of my prior films, so I knew that he would be willing to give 110%, and he had been asking me for something a little bigger, rolewise. He and I are both not camera shy (or shy in general), so he's fairly easy to direct in that I can project myself into him and his character and know what we need for the scene. As an aside, Jeremy's house in the film is actually AJ's house...
What can you tell us about the shoot as such, and the on-set atmosphere?
I prefer a creative, low stress, fun environment, and for the most part we got that. There are times that I may have been short tempered, but some of our days were 18 hour days, and a couple of them were in a row. Everyone knows me personally, and a nasty temperament is not my norm, but I'm sure it happens. I encourage conversation amongst everyone as far as what we all need to do to make the scene better. I tell everyone from day one that if they have an idea, to speak up! You learn quickly, however, who are the creative ones and who to listen to!
The actual shoot itself was awesome. We had great locations! For instance, the "cave scene" is actually the downstairs to a bar (Fat Willies) that we go to. I never knew it was there until Darin Foltz took me downstairs and showed me. Krampus was originally going to be living in an abandoned hunting cabin, but when we found this, I about fell over dead! Also, we had the winter we needed for a Christmas horror film!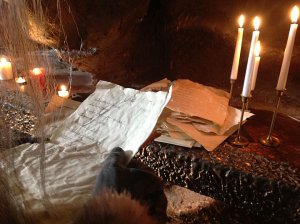 the Krampus and his naughty list ...
The $64-question of course: When and where will your movie be released onto the general public?
It has already shown at a few festivals, and won a couple of awards, but the "official" release is November 2nd in Erie, PA at 8pm at the Erie Playhouse. After that date, I will be selling them off of our website http://www.krampusfilm.com/ until we have distribution (which we are currently in negotiations with a couple of companies).
Any future projects beyond Krampus: The Christmas Devil?
I have about 10 pages written for Krampus 2, but honestly I'm enjoying a little time off! There's an old comedy script I wrote in 2008 which has been revisited, and a couple of other horror ideas. Nothing will be discussed until some time next year. I think everyone needs a small break mentally and financially!
What got you into filmmaking in the first place, and did you receive and formal training on the subject?
I've always been creative, have been a musician in bands most of my life, so I feel that there's a part of my brain that needs "expression", so being away from bands and that creative component a while, I needed to express. I worked with another local filmmaker and was inspired to begin this crazy filmmaking ride. As far as training, nothing "formal," but I have done some online courses, and have bought a lot of books on directing and screenplay writing. If you don't try and better yourself and your craft, then everything you do will be stagnant and predictable. I don't want that with my films, I WANT people to come to me and see my progression. The few people that have actually seen Krampus: The Christmas Devil and have seen Chasing Darkness and The Four can see the progression easily, as can I. I see that with a lot of indie filmmakers in that they don't continue to progress and learn. If you're in a band, you still need to practice. Eric Clapton and Eddie Van Halen still practice and learn. Why should I be any different? With that being said, I wish I had the time and money to do formal training, but at this stage in my life, that's probably not going to happen, so I do what I can with the budget and time I have allotted. But, I'm making an effort to improve my art.
Do talk about your debut feature Chasing Darkness for a bit, and lessons learned from that one?
Chasing Darkness is a vampire meets Italian mafia film. It was my first. First screenplay, first directing, first behind the camera, etc. I learned a lot about what will work on screen and what won't, in that what seemed obvious to me (on paper) didn't translate well on screen. I learned that I tend to write "too much". I learned that finishing a movie is a hell of a lot harder (and expensive) than starting one! Chasing Darkness was a big cast, big make up, tons of locations... it was an experience to say the least! It was filmed over like 5 months, too,...
A few words about The Four?
Haha... The Four - I tried to do the opposite of everything I wanted to change from Chasing Darkness. I can tell you that the opposite of everything wrong isn't always right. ha ha We filmed The Four in a week or so. In and out it was done with add-in shots in 10 days. Where Chasing Darkness was a script of like 98 pages, which translated to an hour and 45 of film, The Four was like 60 pages, which was a stretch to get it to the time that we did to make it a "feature". We had a smaller, more professional cast, with less locations, which worked fine. There was also a time lapse from Chasing Darkness to The Four, so I think you can see some progression in my style, moreso with writing than with Chasing Darkness. There's still always things I would change, but you just come to a point where you have to make a mental note of what needs adjusted for the next time. If you are the producer of your own indie film, you do not have the luxury of making the same mistake twice from film to film! All in all, The Four is a great film... it's more noticeable as a viewer that I made an attempt to learn, whereas with Chasing Darkness, I just bought a camera and went to town. But with that being said, i think Chasing Darkness is a good first film on the budget we had, and we had great reviews with Chasing Darkness, too!
Any other films of yours you'd like to talk about?
We had a short (5 minute) comedy that was shown at Cannes Short Film Fest called Pole Positions in 2008. I may include it on our cut of Krampus: The Christmas Devil. It's always a gut buster. It's up on YouTube on the snowdogstudio YouTube channel.
Your movies all seem to be firmly rooted in horror - a genre especially dear to you, and why (not)?
I've been a horror fan since I was a kid. I always liked fear, and the expressions that it can evoke from an audience. I used to watch horror movies with my grandmother every weekend I stayed at their house. She was a horror fan, too, haha. I'd like to say that she was my inspiration. Horror and comedy I think are the two hardest things to "get right". I watched Devil's Rejects, and literally felt "wrong" after watching it. I felt sick. I took a breath and hit play again, haha... For me, I guess, as odd as that is, it's kind of a cool feeling. That something can evoke that from an audience. With that being said, although we are "horror," there is a very strong "action-thriller" element going on in all of my films...
How would you describe yourself as a director?
Laid back and fun loving, open to suggestions, too. Not "my way or the highway." I also like long walks on the beach. Haha.
Filmmakers who inspire you?
Mel Gibson, Quentin Tarantino, Clint Eastwood, John Carpenter, Sam Raimi, Robert Rodriguez, and Rob Zombie... I really like Rob as a horror filmmaker. It's fun to listen to his commentaries, as he isn't much different than we are.
Your favourite movies?
I'll be genre specific, otherwise, this will last forever. Comedy: Fletch, Fletch Lives, Caddyshack, Step Brothers, Anchorman; Horror: Devil's Rejects, Exorcist, Halloween (Carpenter's), Evil Dead; Action: Die Hard, Scarface; Drama: Braveheart, Godfather, Last of the Mohicans, Pulp Fiction (really, any Quentin film). I have a pretty broad base... honestly, if I listed them all here, you'd run out of web space! haha.
... and of course, films you really deplored?

Feeling lucky ?
Want to
search
any of my partnershops yourself
for more, better results ?

The links below
will take you
just there!!!

Find Jason Hull
at the amazons ...

amazon.com

amazon.co.uk

amazon.de
Looking for imports ?
Find Jason Hull here ...
Something naughty ?
(Must be over 18 to go there !)

You know, I cant really think of anything specific, but there is an art to "ending" a movie. Go back and watch how Spellbinder (1988?) ended. I really hate these happy-go-lucky endings that the major studios think needs to happen. Carpenter's Halloween is another example as to how to end a damn movie. I'm also not a fan of movies ending with "4", "5", "6" etc... I can see 2 or 3 to help finish a story, but ugh... do we really need Paranormal Activity 9?
Your/your movie's website, Facebook, whatever else?
http://www.krampusfilm.com/ and www.facebook.com/krampusdevil. The movies are available for order there, although I'm sure I'll have to figure out shipping if we are sending them overseas.
Anything else you are dying to mention and I have merely forgotten to ask?
Not off-hand. A big thank you to yourself, and my cast and crew for making this happen!
Thanks for the interview!