Your upcoming movie Scary Little Fuckers (A Christmas Movie) - in a few words, what is it about? And how did the project fall together in the first place?
I had recently completed my last film, Right There, and I was looking for my next project. Lenny Schwartz was a very well known and successful playwright and screenwriter and I had heard wonderful things about him. In late 2013 I simply reached out to him asking if he would ever like to collaborate on a project. Over the next several months we kicked ideas back and forth, and then one day Iím sitting across from him over coffee and he gets this wild look on his face and then briefs me on a short script that he wrote several years ago, titled ĎScary Little Fuckersí. He told me it was originally written with Richard Griffin in mind for the director [Richard Griffin interview - click here]. I read it and instantly knew that this was a film I wanted to do. A few phone calls later, and I had learned that Richard gave his blessing for me to direct it. At the time I knew that producing this film was going to be a very ambitious endeavor, so I immediately reached out to the original intended director, Richard Griffin, and asked him if heíd be interested in coming on board as one of my producers. He did, and was instrumental in practically every aspect of getting the film made. (SorryÖthat was more then a few words.)
What can you tell us about your writer Lenny Schwartz, and what was your collaboration like?
This is a loaded question. Lenny is one of the most brilliant and gifted writers I have ever met. Our collaboration on this has been a pleasure. As I just mentioned the script was done and ready to go. However, Lenny is a very accomplished playwright and screenwriter so it was very important to me to make sure that this film encapsulates all of those special Lenny qualities. I immersed myself by reading many more of his scripts, watching some recent films that he wrote, and attending many of his plays. Even though Lenny wasnít directly involved in the production of this film, I wanted everything to be transparent with the status of the production with him. He was included during the casting process, rehearsals, and was instrumental in helping us find our main location. Iíve treasured each and every moment that Lenny and I have spent together on this project.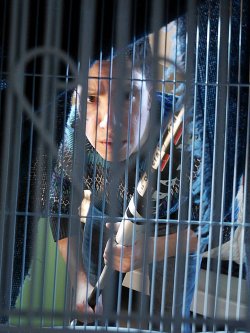 Josh Fontaine
The Fookahs themselves, what can you tell us about them, and how are they achieved, special effects-wise?
The Fookahs were definitely the most challenging aspect of our pre-production. We are extremely fortunate to have Margaret Wolf on our crew who not only was our special effects makeup artist, but also the designer and architect of the Fookas. Iím so happy with what she was able to achieve on our limited budget. The design of them is quite simple, but absolutely perfect for what we needed them to do for our film. We created about a dozen puppets in total and each one has a unique look and personality.
What can you tell us about your movie's approach to horror?
I would not classify Scary Little Fuckers (A Christmas Movie) as a horror film. It has horror elements, but we are not hiding the fact that this is a comedy that is poking fun at the horror genre. That said, we are not out there to truly scare or gross out our audience. In all honestly, Iím not even a huge fan of horror. Yes, I do have an appreciation for the classics, but the horror I have always been attracted to is either the type that doesnít take itself too seriously or is more of a psychological horror (Rosemaryís Baby or House of the Devil).
What can you tell us about Scary Little Fuckers (A Christmas Movie)'s key cast, and why exactly these people?
Casting this film was definitely a pure joy for me. Scary Little Fuckers (A Christmas Movie) is essentially a comedy, so having an ensemble of actors who play off each other and implement impeccable comedic timing was key. Our main cast, Rich Tretheway, Josh Fontaine, and Anna Rizzo were amazing. They are like the three stooges of horror/comedy in this film. Rich Tretheway was a no-brainer when we witnessed him audition for the role of Saul, a functioning alcoholic and father of fifteen year old, Kyle. Josh Fontaine stepped into the role of Kyle when the original actor had to back out due to a scheduling conflict. I didnít know Josh too well when we got started and I admit I was a little nervous about what he was going to bring to the character. But during our first audition, I knew that he was absolutely perfect for the role. Our third stooge was Anna Rizzo. When we held our audition, there must have been about 20 actresses that came out to try to land that role. Most of them were very good, a handful of them would have landed the role, but then Anna Rizzo walked into the room and read for the role of Peggy and we were blown away. The role of Peggy was written as an 80ís Atari-era hormonal teenager, and girlfriend of Kyle. Anna Rizzo brought an emasculating quality to her role that we knew was going to be great.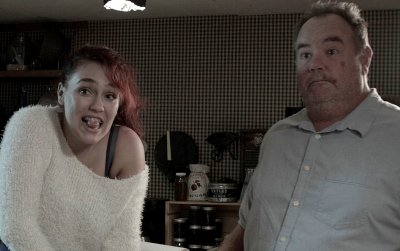 Anna Rizzo, Rich Tretheway
Do talk about the shoot as such, and the on-set atmosphere!
The amosphere on the set was the best of both worlds. It was fun and casual. Most of the crew had all worked together before so there was great camaraderie on the set, and when we had to get down to business we all put our game faces on and tackled each scene efficiently and professionally.
The $64-question of course, when and where will the film be released onto the general public?
Sometime this fall or early winter there will be a public screening. All the details are yet to be determined. The main thing we need to figure out is how to properly screen it but in a way that wonít alienate us from certain film festivals which target films that will premier with them. Rolling out the film in general has its challenges. Due to the title alone, a lot of mainstream outlets wonít be receptive to our film. Targeting film festivals and conventions such as Fantastic Fest, Rock and Shock, Film4 Frightfest, and Boston Comic Con are most likely the type of avenue we will go with.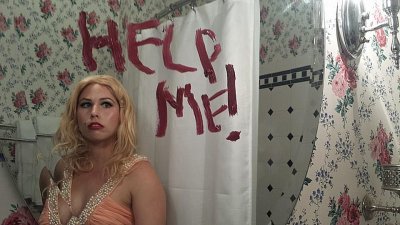 I Am Monroe
Any future projects you'd like to share?
The 2nd half of 2015 is going to be a eventful stretch. Along with Scary Little Fuckers (A Christmas Movie) being finished soon, I also produced and directed another short film, Next/Door written by Brian Pickard which is also in post production and should be completed around the same time. Itís a dark erotic drama about a treacherous and toxic love triangle between a few apartment dwellers. The film stars three of my favorite local actors, David Kopcych, Lindsey Elizabeth Cork [Lindsey Elisabeth Cork interview - click here] and Gio Castellano. I am also excited about a feature I had the pleasure of co-directing with co-director/writer/producer Jocelyn Padilla [Jocelyn Padilla interview - click here], I Am Monroe, which should also be completed this fall. After these releases Iím planning on taking a short break from production, but only because Iím gathering my strength to tackle my first produced feature film, Higher Methods written by Lenny Schwartz. Weíre in the very early stages of pre-production. Mostly fundraising and creating a business plan for it.
What got you into filmmaking in the first place, and did you receive any formal training on the subject?
I think filmmaking has always been a part of me even when I was a kid. Home movies were a big part of my life growing up. My family owned one of those 35mm home movie cameras and we took it everywhere. I loved documenting family vacations with it. Later on in my early teens my family bought this huge Panasonic VHS camcorder that I pretty much wore out over the next 10 years filming random life events. At the time I didnít know that this was an early education on filmmaking, and it wasnít until I got to high school that I realized I thought of it as a potential career path. I had a great media teacher (Liz Thibodeau) in my senior year in High School who really championed me to seek out a college that had a strong communications program. I ended up attending Boston University and graduated with a degree in Television Broadcast Production.
What can you tell us about your filmwork prior to Scary Little Fuckers (A Christmas Movie)?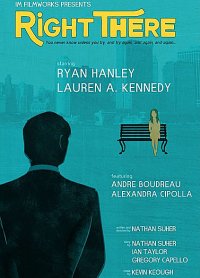 Since 1999 Iíve been working in some capacity in film/media production. I lived in LA from 2000-2003 and during that time I had many experiences working on large scale productions (Fear Factor, The Bachelorette, Tail-Daters and The Incurable Collector). Working on these types of shows wasnít always a fun experience, but I was gaining valuable knowledge about set life, and paid particular attention to what the director and producers were always doing. When I moved back to New England I was soon married and decided to put the production stuff aside for a few years to live a ďnormalĒ life. I had a 9 to 5 job and the stability was a rather nice change of pace. However, deep inside it wasnít feeding the right side of my brain. When the economy tanked I lost my cushy job and was forced to re-evaluate my career. I began by launching a couple production companies. Wedding Reels Video was a wedding and event videography company. Reels Media is the corporate/commercial industry video branch. And my favorite IM Filmworks was later launched for narrative filmmaking projects. Juggling all three of these entities has at times been difficult, but it was necessary so that I could market each one to its target audience. Come this fall IM Filmworks will have completed production on a dozen short films since 2008. Itís all very exciting to see the company grow and take on larger productions every year.
How would you describe yourself as a director?
I approach directing as a learning experience. Every time I step onto a set itís with different people and I really emphasize to everyone that even though Iím in charge, I value constructive criticism and encourage them to think creatively and to share their knowledge and experiences with me so that we can both learn from each other. I really encourage my sets to be a real collaborative setting.
Filmmakers who inspire you?
Iím in awe of filmmakers who take a simple idea and turn it into an extremely compelling story, especially ones who are able to pull off such a feat on a shoestring budget. Filmmakers like Woody Allen, Edward Burns (Nice Guy Johnny), Ramin Bahrani (Goodbye Solo), Jim Jarmusch (Down By Law) and Kelly Reichardt (Wendy and Lucy) are my current heroes of this industry. On the other side of the coin, I have an appreciation for those real visionary directors I mentioned earlier such as David Fincher, Stanley Kubrick, Alfred Hitchcock, Tarsem Singh, Orson Wells, and especially Fritz Lang.
Your favourite movies?
My favorite movies are quite diverse. Storytelling is the most important thing for me. Wether the film is well acted, well directed, well written is secondary to me. If the story sucks me in and I lose myself for 90 to 120 minutes then it has done its job. Iím also a big fan of movies that really put thought into the overall atmosphere. That said my favorite films off the top of my head are Jaws, Citizen Kane, Rear Window, The Natural, Dark City, Alien, Sideways, Amelie, Down By Law, Manhattan, and Midnight Run.
... and of course, films you really deplore?
I donít hate on many films because I feel that the quality of a film is truly subjective. When I think about films that didnít make an impact on me itís usually because my expectations were too high. Iíve taught myself to avoid a lot chatter that surrounds filmsÖ especially negative chatter because I want to approach a film with a clean slate.
Your/your movie's website, Facebook, whatever else?

Feeling lucky ?
Want to
search
any of my partnershops yourself
for more, better results ?

The links below
will take you
just there!!!

Find Nathan Suher
at the amazons ...

amazon.com

amazon.co.uk

amazon.de
Looking for imports ?
Find Nathan Suher here ...
Something naughty ?
(Must be over 18 to go there !)

Scary Little Fuckers (A Christmas Movie) official website: www.scarylittlemovie.com
Official Facebook: www.facebook.com/scarylittlemovie
Official IMDb: http://www.imdb.com/title/tt3540704
Trailer available at: https://www.youtube.com/watch?v=_XIP8ozMv0w
IM Filmworks official website: www.imfilmworks.com
Official Facebook: www.facebook.com/imfilmworks
Official Twitter: www.twitter.com/im_filmworks
Anything else you are dying to mention and I have merely forgotten to ask?
There are a couple other things that Iím involved in that Iíd love to give a shutout to . Iím currently acting in a short film produced by Providence Lyceum titled Device. I play the Head of Security at an evil corporation. Iíve also just recently finished editing a short film for Scene Around Film Company (directed by Stasia OíBrien) titled School Reunion. As you can see I have many pans in the fire.
Thanks for the interview!