Your upcoming movie Exorcist Chronicles - in a few words, what is it about, and what can you tell us about your character?
Well itís about possessions that are happening all over the world and the Church and a scientific body put together a priest called Father Jan and an epidemiologist called Daryl Lux to investigate. My character is following them and recording everything they are doing.
How did you prepare for your role in Exorcist Chronicles, and what did you draw upon to bring your character to life?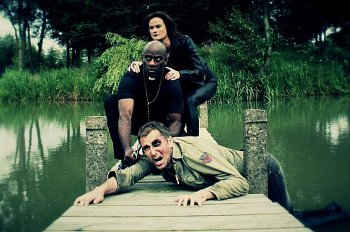 with Liz Mente-Bishop and Rudy Barrow
Well preparation-wise I didnít have to do a great deal, I am already interested in the sort of things my character researches, paranormal, supernatural, UFOs, Demons, ancient gods. So it was purely a matter of just looking through my own collection and keeping it all fresh in my mind. It wasnít easy bringing the character to life but once I got stuck in, it sort of rolled on its own.
With Exorcist Chronicles being about possession, exorcism and the paranormal as such - what's your personal take on the subject?
Well I am very open-minded and very interested in the unusual and otherworldly, Iíve not personally seen any real-life possessed people yet though. I have experienced a few spooky happenings though.
How did you get hooked up with the project in the first place?
Well I was aware of the work of Philip Gardiner [Philip Gardiner interview - click here] beforehand and I was always keen on working with him on a project, I got in touch with one of his producers and asked if any future projects were happening that I could be considered for. I was then told about the auditions for Exorcist Chronicles and I went along to meet producer D Michelle Gent [Michelle Gent interview - click here], and actors got into groups to improvise various scenarios, then I met Philip Gardiner for a second audition and a discussion about the film.
What can you tell us about your director Philip Gardiner [Philip Gardiner interview - click here], and what was your collaboration like?
Philip Gardiner is a very knowledgeable guy, he was amazing to work with, he knew just what he wanted out of each scene. He has tried to hide lots of symbolism and clues throughout Exorcist Chronicles that I think viewers should try to look out for. Everything in it has a meaning; nothing is in the film just for the sake of it.
A few words about the actual shoot and the on-set atmosphere?
It was pretty good, everyone got to know each other pretty well during filming because the majoritory of the cast were staying in the area. Even the actors who just appeared on the odd days for their scenes got on well with everyone, there was a good atmosphere and everyone stayed professional. Things got very messy though, and dirty. But itís a horror film and I think people have to let go or it looks too clean-cut.
Any future projects beyond Exorcist Chronicles?
I start a movie soon called Blaze Of Gory, which is a horror anthology made up of nine separate stories. Itís already got some amazing names attatched Kim SÝnderholm from The Horror Vault-trilogy [Kim SÝnderholm interview - click here], Sabrina Dickens whoís recently starred in Night Of The Living Dead: Resurrection and Silent Night, Bloody Night: The Homecoming, Damien Colletti from Robert Noel Giffordís No Strings 2: Playtime In Hell, Rami Hilmi from Forest Of The Damned 2 [Rami Hilmi interview - click here] and Victoria Broom from Zombie Women Of Satan. I play Josh, the lead guy in the first story, and from what Iíve read of the script it should be a success with horror fans. There are some very shocking and brutal moments, the writers Blaize-Alix Szanto and David V.G. Davies [David V.G. Davies interview - click here] have really pushed the limits with this one.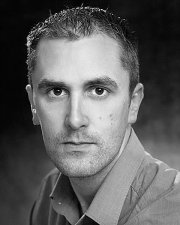 Let's go back to the beginnings of your career: What got you into acting in the first place, and did you receive any formal training on the subject?
I used to take acting classes while at school but then I wanted to be a set and prop designer and then a graphic designer and then a DJ and I eventually came back to being an actor. I did have actor training but I didnít attend any accredited theatre school or anything like that so I started out doing bit parts and acting in short films before going into theatre and then doing feature films and television roles.
As far as I know, you started out in theatre - a few words about your career in the theatre, and how does performing on stage compare to acting in front of a camera, and which do you actually prefer?
They are both very different, for many reasons. The performance is on a different level for one, it's more intimate on camera, and you only act in short bits, itís not usually a whole scene at a time like it would be on stage. I think I prefer working in films because you get more opportunity to get it right for the finished piece, you can start a scene again if it doesnít look good but on stage you donít get that chance. I still love acting live though and I admire anyone who does a live performance, it takes more strength and stamina and you need to be on the ball 100% of the time because, like I just said, you only have one chance to get it right when itís live. Iíd love to do more stage work but I guess Iíve been so tied up with filming the past couple of years I havenít had chance to dedicate any time to theatre.
Can you still remember your first time in front of a film or TV camera, and what was that experience like?
Well it was for a short film that never got finished (thereís a surprise), I was playing a Serbian soldier who was dying in the snow. I only had one line and it was in Albanian. I donít speak Albanian and I had to get taught how to pronounce this one line the right way. Looking back I would have done that film so very differently now, but I guess I probably wouldnít have started work on it knowing what I know now. It was doomed for failure.
I'd like you to say a few words about a few films I have picked from your filmography a bit randomly and your roles in them:
One Woman Show?
One Woman Show is one of my favourites, I just enjoy the lighting and cinematography in it so much. Thereís not much dialogue and I think the atmosphere carried it. Itís a film about kidnapping and drugging, but thereís an interesting plot that is quite unexpected. I had a few ideas to do a sequel to it but the opportunity never happened, the filmmaker moved back to Turkey and everyone just moved on.
Mark Macready and the Archangel Murders?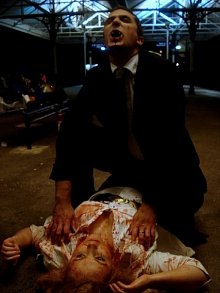 Mark Macready and the Archangel Murders
Mark Macready and the Archangel Murders is probably one of the most successful projects I have been involved in, it got some amazing reviews and it got a limited theatrical release in 2009 and it even went to Cannes. Itís a horror comedy about a special division of the police that deals with paranormal crimes, I played The Archangel, a shapeshifting demon, and I kidnap the wife of one of the police officers, the titular Mark Macready. It had some good gore in it, I do enjoy working in horror.
Terror of the Killer Carnivorous Coat?
This film has actually just had a sequel web-series produced called The Zombie Vampires - I wasnít in the sequel (mainly because my character died in the first film), but I was asked to return. I couldnít make the filming dates at the time. The Killer Coat is basically what it sounds like, a coat that kills people. There are some pretty inventive deaths in it, one guy gets deep fried and eaten alive by the coat.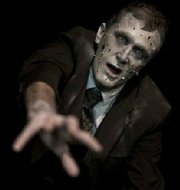 The Zombie King
The Zombie King?
I canít really say too much about The Zombie King because itís not out yet, but the story follows a group of people during a zombie outbreak and they discover that the dead have risen because a guy (played by Ed Furlong) has lost his wife and wants to control the dead in order to bring her back. I play one of his seven souls.
Other films of yours you'd like to talk about?
Well earlier on in the year I shot a psychological thriller from Eromenos Media called The Psychiatrist, it stars performance artiste David Hoyle, who is probably better known as Channel 4ís The Divine David from the 1990s and early 2000s, as the title character and I play his son. Itís quite a dark film about a psychiatric doctor who is mentally puppeteering his patients into killing themselves for his own kicks. It is a thriller style film with most of the horror being implied through the dialogue and music, there is some gore in it and some elements of a supernatural nature but I donít want to give away too many spoilers. Iíve recently been informed that a sequel is already being planned and Iím attatched to return as the same character, Wil Rosenberg.
You have also had a guest spot on the daily soap Doctors - how did working on that one differ from working on an actual movie?
Yeah I played the character Clarky in BBC1's Doctors in 2007, he was a drug dealer and there was a storyline running that this kid wanted to run away and live with him. Filming a TV soap was very different to working on a movie because of the speed of it all. You get the script only just before shooting and then you start shooting almost immediately (after bacon) and then break for lunch, then start again and thatís it. Most of it was first take stuff too, which is hard getting used to but you just have to trust the director to know what heís doing. It was great to work on that show though and I would love to return some day, or even do other soaps.
How would you describe yourself as an actor, and what are some techniques you use to bring your characters to life?
Well a lot of the roles Iíve played recently have been in horror productions, and with me being a fan of horror film and Iíve basically just drawn from my own experiences of watching other movies to help create the characters. For other types of roles it differs, I recently filmed a comedy film called Hotdesking, and for that character I just pieced together elements from various people Iíve met over the years.
Actors (or indeed actresses) who inspire you?
Xenia Seeberg has always inspired me, she got known as a sex symbol in the 1990s while she was on SyFy channelís Lexx, but I saw beyond that, she is talented, intelligent, good looking and a great singer all rolled into one. Xenia is a very professional woman who deserves success. I think also the British actor Andrew Lee Potts has been an inspiration to me, heís had small parts in productions and heís worked on indie films and webseries but heís also had leading roles in mainstream shows and films. Itís always good to see another actor reach success and still enjoy what they do, I have a lot of admiration for his dedication and passion and I hope I can hold on to those qualities myself.
Your favourite movies?

Feeling lucky ?
Want to
search
any of my partnershops yourself
for more, better results ?

The links below
will take you
just there!!!

Find Nathan Head
at the amazons ...

amazon.com

amazon.co.uk

amazon.de
Looking for imports ?
Find Nathan Head here ...
Something naughty ?
(Must be over 18 to go there !)

I used to say Hellraiser, or the Hellraiser-franchise, for this question but even though the Hellraiser-series holds a dear place in my heart and it will always be with me, I donít think I could confidently call it my ďfavouriteĒ film right now. I donít think I have a favourite, I see so many great movies and think it is near the top of my list only to see another film shortly afterwards that beats it. I have a few favourites, nothing specific, mostly horrors.
... and of course, films you really deplore?
Iím not sure, I can be quite a snob when it comes to giving up time to watch a film I donít like. So if there was one that I deplored, then Iíd try to forget it right away. I canít think of any off the top of my head that I really detest, I usually try to find something positive in everything but as I said, I can be quite a snob and just turn the film off if Iím not enjoying it in the first ten minutes (bad of me I know, I know).
Your website, Facebook, whatever else?
Anything else you are dying to mention and I have merely forgotten to ask?
Do you have any chocolate? I ate a whole box yesterday and I know I should have kept some for today but I just canít help myself sometimes.
Thanks for the interview!