Your new film is called Little Big Boy - in a few words, what is it about?
Very briefly, it is about an acclaimed movie director named Jimmy Duncan who is working on his fourth feature film, but things go badly for him, not at all like he expected and things take some rather unexpected turns for him.
With Little Big Boy you have written a film about a guy who, like yourself, is a filmmaker - whom you actually also play in the movie, sooo ... is there any autobiographical aspect to the film?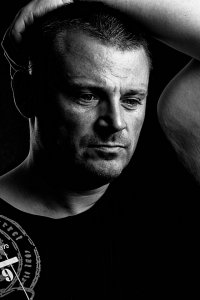 Haha, yes and no. I have experienced a massive amount of weird things not forgetting points of frustration both during my time as an actor but also as a director, and I wanted to tell a fun story about it. I think this is a film you will either love or hate. If you're a filmmaker you will probably laugh your ass off and say 'Hey, I've been there!'... others who are used to watching films with a linear way of storytelling might not get it and therefore hate it, that is of course to each his own, but it is not a traditional A-Z popcorn flick. But first and foremost I wanted to share a lot of weird experiences from my, so far, ten years of standing in front of or behind the camera. You meet a lot of people, some are talented, some are far from talented - and some even have way higher opinions about themselves and their skills than is realistic. Some are nice, some not so nice. It is about how everybody has an opinion about your work when you work with film. Some know what they are talking about, but a lot of them are completely clueless. In the end a review is always just an opinion and should be treated as a such, but a lot of reviewers use that opportunity to vent out a lot of frustration and in the end often have very little to do with the project they are talking about. I am not poking fun at anyone special in this film, but a lot of the situations are taken from real life.
Then of course, some, like the ending, is clearly not. But... You will need to see the film to know what I am talking about. Yes, I know - I'm a tease, haha.
What were your actual inspirations for writing the movie?
Real life... life as a film maker... I got the idea after seing a documentary named Overnight which basically was about the same thing, although this was a real documentary about things that really transpired. Not a lot of people know the documentary, but everybody knows the film it is about, that being Boondock Saints and more precisely the problems the director had with Harvey Weinstein and Miramax while making it. I found it very interesting, I love behind the scenes- and the making of-stuff and I thought to myself that it would be fun to make a mockumentary like that. Later I stumbled across another movie named Confessions of an Action Star which was just that, a fake documentary about a stuntman in Hollywood, I found it really funny and it was clearly a parody spoofing people like Stallone, Schwarzenegger and Steven Seagal to name but a few. So basically those two films were the inspiration for me, so sort of tell the story about Jimmy Duncan, an orphan movie director with a lot of emotional baggage and a very hot temper. I guess most people can already tell this is not a movie like any other, it is not one that tells a story from A to Z, it is setup as a documentary including interviews with a lot of people like eg. Troma's Lloyd Kaufman telling about his first meeting with Duncan at the Cannes Film Festival and some other very obscure anectones.
It has a lot of comedic elements, as well as horror elements and even some real drama in it. Although, don't be discouraged by the word 'drama', people... it's really not dangerous! Haha.
There is an extended and pretty amusing sequence about the casting of a topless role. Am I right in assuming this was based on your own expecience?
Haha, let's just say that scene in so many ways comes from real life, yes. You would be amazed the things you get presented to during casting sessions, haha. Making a film is hard work, much more than you can ever imagine. This is my way of venting, you might say, haha.
How did the death by donkey punch-idea slip into the movie, and could you elaborate on that whole concept?
Haha, oh dear. Well it is a known fact that a lot of creative people always seek new boundaries and experiences. I'm sure a lot of people are familiar with the donkey punch theory. I have to waive the white flag and come clean and say I never tried it and never felt the urge to either, but basically it is during the sexual act, if you punch the woman in the back of the head it should extend and highten the climax... problem with that is, punching someone in the back on the head is close access to the brain so something can easily go wrong... I'll leave you with that thought...
Despite its rather serious, disturbing topic, Little Big Boy also has a humourous side to it. How would you prefer to see your film, as a merciless genre flick or a black comedy?
Very black comedy. I put a lot of emphasis on the humor in it. But there is also a very serious side to it when you look past all the stupid fun. I always find that films, no matter how deep or serious a topic, need a tad of comic relief, it is an awesome way to get the viewer a bit off guard and therefore make them even more vulnerble to the shock that often is to follow. It may sound mean or calculated but it works like a charm and it is something I have worked very hard to corperate into my two previous feature films Craig and Tour de Force as well... Plus, making something funny on film is usually also fun in the process, it should really shine through.
Also, for me Little Big Boy is not first and foremost a serialkiller movie but an hommage to independent filmmaking. Would you agree to that?
Yes, it is not a serialkiller movie in any way like my first film Craig was. And thank you for giving the ending of the film away now, you should have put on a big spoiler sign there, haha. No, Jimmy is a very disturbed young man who has had a very traumatic childhood after seing his mother get murdered right in front of him, then being tossed from foster home to foster home until he finally ends up in an orphanage. That's a really tragic way to grow up and it is seems impossible to me that something like that won't leave a lot of emotional scars. This is one of the reasons why he has a very hot temper and often lets himself get carried away, he simply does not have the 'stop' or 'chill' button most people do. And... ultimatively, it has to end badly for him... and it very much does...
Your movie stars quite a few recognizable names of the indie movie scene. Would you like to talk about some of them, and how did you get them in the first place?
The idea attracted a lot of people, many of them even heard about it from others and asked to be involved, which was really what convinced me that I was working on something that could be interesting. Like I also mention in the end credits of the film, this project would never in a million years have been possible without the kind help of a lot of people to whom I owe a world of gratitude.
Quite frankly, Lloyd Kaufman talks utter nonsense in his segments (which is even noted on film). Was this scripted or did he make up his own lines as he went along?
Lloyd... is Lloyd... for better or for worse... but you gotta love the insanity of the man... but if you ask him to improvise, it is your own damn fault, haha. No obviously he did get a script, but most of the stuff he did that actually ended up in the movie was infact improvised. He started some insane ramblings about Disney being antisemetic and sexual fantasies about Pocahontas as well, but I simply did not have the balls to include it in the final film, haha.
Your character Jimmy Duncan is the director of movies with such trashy titles as Overnight Vixens, Outer Space Zombies, Serial Slasher's Murder Frenzy and Death Stalker. Honestly, are these movies you secretly would have liked to make, and your take on today's trash horror as such?
Haha, I wanted to come up with the cheesiest grindhouse titles possible and I think I succeeded. However, if I ever stumbled across movies with those names - the b-moviegeek I am - I would not be able to resist watching them. I love trash horror, I have to confess, it is great entertainment... but to answer your question, no I wouldn't have made them myself. Watching them is one thing, making them is another. But you never know, maybe one day...

Feeling lucky ?
Want to
search
any of my partnershops yourself
for more, better results ?

The links below
will take you
just there!!!

Find Kim Sønderholm
at the amazons ...

amazon.com

amazon.co.uk

amazon.de
Looking for imports ?
Find Kim Sønderholm here ...
Something naughty ?
(Must be over 18 to go there !)

Your and your film's website, Facebook, whatever else?
http://www.sonderholm.net/en
http://www.facebook.com/sonderholm.official - always interested in networking with fellow filmmakers.
Or... follow me on http://twitter.com/kim_sonderholm
Any future projects you'd like to talk about?
Well as an actor I am always looking for new projects to get involved with, but 2011 seems to be another busy year for me, so far two or three projects in Denmark, two projects in the UK, two project in the US and a project in Canada... but at this point I'm not allowed to say anything further about any of them. I am also working on a new horror anthology named Sinister Visions that I have already produced one segment for at this point, it was shot in Atlanta, Georgia and is called Mother Knows Best, a Hitchcock inspired short story written by UK author Garry Charles. Hopefully this anthology will be finished this year, time will tell.
Thanks for the interview!
No problem, any time.
photographs by Rikke Hass