Your upcoming movie Cleaver: Rise of the Killer Clown - in a few words, what's it going to be about?
The film is a look back at the origins of Carlton Layton, the man who becomes the infamous Clown Killer: After slaughtering his wife and her lover he escapes into the night. 5 years later, a small town in Oklahoma is haunted by a string of missing children. In the midst of it, Carley, a college girl needing a quick buck, takes a baby sitting job for the Palmer family, but as the night goes on, it appears she may be the only person that stands between the Palmer's little girl and The Cleaver.
What were your inspirations when dreaming up Cleaver: Rise of the Killer Clown - and what can you tell us about your co-writer Jason Harlow, and what was your collaboration like?
Cleaver: Rise of the Killer Clown had been bouncing around in my brain for a few years, I'd always had an idea for his origin story but didn't even figure that the world needed another killer clown film and if I was going to do it, I wanted to give it something different, and that was quite tricky when you consider how many horror flicks feature clowns. I knew I wanted to take it in a different direction to most films in the sub genre, and that was the main intention.
I had been working with Jason Harlow on some articles for a horror magazine and around the same time had been trying keep up with writing on about 3 other scripts, I knew that I just didn't have time to write it and then Jason asked if I'd like to work on something with him. I pitched the Cleaver story and he loved it. Pretty soon we were away figuring out the plot with the intention of just shooting it at some point in the future.
It's the first time I've worked with another writer like this, on a property that is already kind of established, but it's been fun and it's great to see what Jason brings to the table as a horror fan and as a writer. It's been a blast so far.
As far as I know, Cleaver: Rise of the Killer Clown does not mark the first appearance of your killer clown the Cleaver - so what can you tell us about his previous incarnations?
Cleaver has always been present in our little universe, he appeared in a couple of shorts we did over the years, but unusually silent and wearing some form of mask. It wasn't until I decided to put him in my feature Slasher House that I thought he needed to be defined and rounded out a little more. We cast Andrew M Greenwood to play him and he really took it to whole new level and brought real character to him.
We didn't really know if people would like him, but after the film got released we started getting messages (some of them outright angry) demanding that he should have had more screen time and that we should make a film just about him. I guess you can't really ignore a response like that.
What can you tell us about your movie's approach to the horror genre, and how far do you intend to go in terms of violence and gore?
I think in terms of the movie's approach, as with a lot of films like this, as soon as they introduce a clown, they seem to feel the need to make it all a bit goofy, which I enjoy of course and makes sense, but I wanted to do something in the other direction. What would becoming this thing do a person's psyche? What does a person who lives his life in a clown suit act like? I wanted him to be disturbing, the best example I can put give is I wanted him less Nightmare On Elm Street-sequels and more like the tone of the original, outright terrifying Krueger. I hope that makes sense.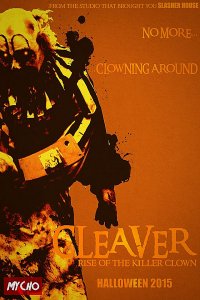 With regard to the violence and gore, it's not something I consider at first, I tend to look at the story and how that needs to play out to be as effective as it can be. After that I look and see where and if the violence and gore fit. I mean working in horror they go hand in hand a lot of the time, but our focus here is telling the story first and doing the violent side of it just right. However there will be some nice kills because... y'know... slasher movie. ;)
What can you tell us about the movie's intended look and feel as such?
The film is set in the 1990's, so getting that visual aesthetic right is paramount when it comes to the look and feel of the film's setting, and we plan to make it as authentic as possible. In terms of the feel of the film, one of the main reasons we chose Halloween night as a setting, is simply because a fan of Slasher House asked us to and from there we kind of thought, "actually decorating that set would be pretty cool", so we ran with it. Plus who doesn't love the feeling of Halloween? I was excited to try to portray that on screen.
The overall feel of the film is planned to be pretty disturbing, I mean you have this guy who is running around killing families and kidnapping little girls and doing god knows what to them, so there's very little to laugh about there and, although there are comedic moments in the film, the disturbing aspect is the one that's gonna float to the top. The idea is to give people who might not be scared of clowns a reason to fear them.
Anything you can tell us about your key cast yet, and why exactly these people?
Well, the first thing we did in terms of casting was contact Andrew M. Greenwood from Slasher House and made sure that he wanted to do it and more importantly that he had time to do it. Luckily he agreed, because as far as we were concerned without him, there was no movie in the first place.
As for the other cast, the process is ongoing at the minute. The film is set in the Southern USA, so we're trying to remain authentic to that, which is important as the film is being shot here in the UK, in Milton Keynes and although the city emulates America in a whole bunch of ways, we know that finding the right cast is important in selling that illusion and we're currently looking at several UK based American actors to take on the other roles in the film.
As far as I know, Cleaver: Rise of the Killer Clown is as we speak still in its fundraising stages - so what can you tell us about your fundraising efforts?
It is. The campaign came about because we realised that another movie we had in preproduction wasn't going to ready to shoot in November and so we found ourselves with the time open, a script and after talking to Andy, we knew that this was the project to fill the space. Unfortunately its takes a lot of time to find the money we would have needed from investors, and we had had success with crowdfunding on our last film Legacy Of Thorn, so we figured this was the way to go.
The campaign opened on September 18th and runs to the end of October, in return for donations we're offering HD Downloads, DVD's, VHS tapes, Producer credits and even meat cleavers from the set of the film. It's a great way of engaging our fan base and getting people involved and invested in the project.
The campaign can be found here: http://igg.me/at/cleavermovie/x/18021
Once your funds are raised, what's the schedule, and any idea when the film might be released yet (however tentatively)?
The aim is to hit festivals in Autumn next year and have the film ready for DVD and VOD release on October 26th next year along side a limited theatrical run in the UK throughout October. At least that's the plan. We thought that it was important to bring it out during the Halloween season due to the tone of the film.
Any future projects beyond Cleaver: Rise of the Killer Clown?
We've got plenty lined up, Blood On Santa's Claws has been pushed back to late next year, which is what opened up this opportunity in the first place. Outside of that we're shooting Slasher House 2 in the new year and we're talking about a follow up to Legacy Of Thorn that may or may not happen in the summer. There's also a super secret feature that we've been working on the background but I can't say anything about it at the minute.
I'm working on an anthology movie with 3 other filmmakers, all of which were big inspirations to me when I became a filmmaker all those years ago, so that's kind of a dream project to be working on and I was kind of, and still am, in shock when they asked me to come on board, but I'm not allowed to talk about it just yet.
You have recently also directed an episode of the anthology Blaze of Gory - care to talk about that one for a bit? And how did you get hooked up with the project in the first place?
The project came about after a filmmaking friend of mine got involved, we were chatting about it and he suggested that I contact David V G Davies [David V G Davies interview - click here], the project director, about directing a segment. Dave was really happy to have us on board and sent us the script for If You Were Here.
Shooting it was a strange experience for a couple of reasons, most of all, I hadn't directed something I hadn't written for a few years and getting back into the swing of that was hard, because you don't have the script hardcoded into your head as much, and secondly the subject material was pretty dark, so finding the right people to be involved became pretty difficult. We were really lucky in terms of our cast, Jade Wallis, Evie Constanti, Robert Chapman and Debra Mawdsley because they made what could have been a really tough shoot into a breeze.

Feeling lucky ?
Want to
search
any of my partnershops yourself
for more, better results ?

The links below
will take you
just there!!!

Find Mj Dixon
at the amazons ...

amazon.com

amazon.co.uk

amazon.de
Looking for imports ?
Find Mj Dixon here ...
Something naughty ?
(Must be over 18 to go there !)

Your/your movie's website, Facebook, IndieGoGo, whatever else?
http://facebook.com/cleavermovie
http://igg.me/at/cleavermovie/x/18021
Anything else you are dying to mention and I have merely forgotten to ask?
Yeah, I should probably mention that our film Legacy Of Thorn is now available for pre-order at http://legacyofthorn.com
The film is released Oct 27th.
Thanks for the interview!
Anytime Highlander! :)