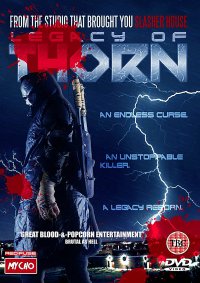 Every four years on leap day, Thorn (Richard Daniel Thomas Holloran), an unstoppable killing machine, stops by to wreak havoc on a small town. Four years ago, high school students Jessica (Jade Wallis), Eric (Paris Rivers), Clark (Craig Canning) and Alice (Jane Haslehurst) were at the center of Thorn's attack, but all survived, however barely. This year, the four of them want to kill and destroy him for good, and thus Jessica, who for some reason has always been Thorn's main focus, plays bait to Thorn, lures him onto an electrically charged field (electricity slows him down), and then they all tie him up with the intention of literally taking him apart, limb by limb. But once they have him tied up, tensions in the group break out, as not all of them are really ok with their carefully laid out plan anymore. It also doesn't help that the group isn't nearly as tightly knit as would be advisable for an operation like this: Back in high school, Alice was bullied by Jessica, the most popular girl in school, Eric the righteous jock detested Jessica for her smug attitude, and Clark the nerd just flew under everyone's radar. And ultimately, everyone claims the appearances of Thorn on Jessica, who finally wills in to behead him herself ... when the police arrive to make a mess out of everything, and soon enough, Thorn is loose again
With Thorn roaming the city once more, our heroes find themselves forced to fend for themselves again, which is the hardest for Jessica because the others have found out that he's really only after her, and at least some of them figure sacrificing Jessica might solve everything ...
A very interesting and tense slasher that at the same time is deeply rooted in the slasher genre and takes unusual routes telling its story. Basically, the film ditches linear storytelling in favour of a series of flashbacks to gradually enrichen its storyline with more and more interesting details but also give its characters more depth and heighten the whole thing's creepiness. Now add to this expert pacing, an atmospheric direction and a competent ensemble cast, and you've got yourself a very tight movie - and one that even people who are not into slasher movies might enjoy.
... and if this has at all gotten you interested, you might want to order Legacy of Thorn from here: http://legacyofthorn.com (release date: October 27th, 2014).