Your new movie Ax - in a few words, what is it about?
Ax is the story of James, who just murdered his wife with an ax, and is left trying to understand why he is slowly descending into madness.
Michael, what inspired you to write Ax?
Michael: I've always been fascinated by people and their reaction to certain situations. Ax started as a short story; a writing exercise I was doing about a man holding an ax and the thoughts that would go through his mind when holding it. I wanted to explore the sense of power as well as the helplessness one would feel.
Cuyle, what drew you to the story of Ax and made you want to produce the movie?
Cuyle: Well first off, as you know, I love horror films. I loved the unique perspective of the script. The audience gets to live a horrific event through the eyes of a madman. I don't know of any horror films where you get to live and feel the story from the perspective of the 'beast' rather than the victim. On top of that, the story takes place in one isolated location and only two characters. It's such a simple story but the main characters conflict is so complex and compelling. The script is very visual and I knew it would be a film with unbelievably beautiful cinematography - and it is.
How did you two hook up in the first place, and what was your collaboration like?
Cuyle: We met in 2010 on the set of Dragon Day. It was my first job in LA. Michael was the script supervisor on set. I had a small two day job on the film. We discovered a mutual love of horror films, and that led to more conversations and we became friends (now roommates). Working with Michael on Ax was great. Not that I have a ton of experience but I thought I had a lot to offer on the production of a short horror film - I had just directed/produced my first short Amused - and Ax seemed to have a few of the same elements - i.e. style, budget, tone. The other producer, Marisa Garay did a great job helping Michael getting funding going for the film, and with the amount they had raised together - I knew it was plenty to rock this film - since I'm such a cheap bastard and know how to turn $1 into gold.
Michael: Cuyle is correct, we did meet on the set of Dragon Day. We definitely had a love of horror films and since I had just co-founded the Big Bear Horror Film Festival, we had a platform in which to start a conversation. I started Ax with Marisa and the original Director of Photography, Candace Higgins. I was casting Ax while also in production of a play I had written. But I lucked out by finding Todd, our actor. Cuyle and I were talking and I mentioned to him that I was casting and he asked to read the script. He wanted nothing more than to see this movie made. He loved the story and the tone. He had just written and directed his own film Amused on the same budget and had a lot of advice to offer. Seeing as I was a first time director I was eager to listen.
You just have to talk about your hauntingly fitting outside location for a bit, and how did you find it, and what were the main challenges filming there?
Cuyle: Yes! It's the most perfect location we could've asked for. I actually didn't think a completely isolated cabin on a mountainside existed in LA. We completely lucked out finding it. We had been trying to find a cabin that worked for some time but everything was falling through. We needed a completely isolated, small cabin. I was eavesdropping on a friend's conversation about a party he was having at his cabin - as soon as I heard the word 'cabin' I jumped in the conversation and asked to see it. As you know, it ended up being perfect - even more perfect than anything we actually hoped for. I'll let Michael handle the challenges of filming there.
Michael: The challenges we faced were the fact that it was indeed... isolated. That means it wasn't exactly easy to get to. We had to carry the equipment up on a small trail. Not to mention that that was coupled by the fact that the day we filmed in rained. The rain was great because it added to the amazing ambience of the film, but it did mean that our actor had to spend the day half-dressed in extremely cold and wet conditions. Also, the cabin was hand built so it had no electricity nor plumbing... so we lit a fire inside the house to stay warm and to use for light... it was very intimate, to say the least.
Michael, what can you tell us about your directorial approach to your story at hand?
Michael: Well I work in film so I'm not unfamiliar with filmmaking... and I've worked on 70 features as a script supervisor on set so I comprehend the concept of story telling. The approach I took was simple. I tried to make a movie that was different and enjoyable. I wrote a simple story: a man holds an ax, so I auditioned actors that could not only act but were able to convey an emotion with their face rather than with words. I wrote the movie in VO as a way of living in this man's mind, so I needed an actor who could definitely act.... but also an actor who was mesmerizing to watch as well.
After that, I wanted to create shots that I felt could tell a story as well as enhance the story along. With one man on camera the whole time I had to keep the movie alive and engaging. I also wanted to use the cabin and the isolation of the location as a character.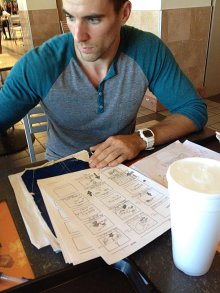 Cuyle Carvin storyboarding
Cuyle, being known as an actor first and foremost as an actor who has only recently directed his first movie (Amused) - were you ever tempted to step in as an actor and/or director on Ax, and how much of a hands-on/hands-off producer were you/would Michael let you be?
Cuyle: I had a slight urge to want to be in Ax, but I honestly loved the script so much that I wanted to help get the film made more than being in it. Plus, there's no way I could've been as great as Todd was in the film - he's a fantastic actor and we got lucky having him in the film. Don't tell Michael but yes, absolutely, I would've loved to direct Ax. But Michael rocked his directorial debut and I couldn't be happier with his direction and how the film ended up. I'm honestly happy to help produce the film and be Michael's AD. He actually let me help a lot and we did a lot of collaboration during all aspects of the process - pre production, on set and post.
Your lead Todd James Jackson - how did you find him, what can you tell us about him, and what was your collaboration like?
Cuyle: Todd is a good friend of mine. I met him at an acting class here in LA. We became friends pretty quickly. Todd's an intense actor/person. He's a really good guy, great personality - and he definitely has an intense gaze. Michael actually had a casting session for Ax before I was involved with the film and Todd had come in for the audition.
Michael: I auditioned so many actors for this movie over two days and it was truly one of the hardest - and yet rewarding - experiences for me. I saw Todd's headshot and asked him to come in. When Todd walked in on Day 1 I knew he was the actor I wanted. And then he rocked the auditioned and I was doubly sure.
What I can tell you about Todd is this: he's amazing. And I am not just saying that because he was my actor, he really is. He has been extremely supportive with me as a first time director. I'm extremely lucky to have worked with an amazingly patient actor. He loved the script and took direction well. I know he felt he had a stake in the movie as well. We have become good friends because of this movie. I am grateful for that.
I would work with Todd again. In fact, I plan on working with him again in the future. It wouldn't surprise me if he blows up. He has a great look and is seriously mad talent...and completely humble...and you wouldn't know it...but he's very shy. It's refreshing to work with an actor who possesses all of that.
Do talk about the actual shoot for a bit, and the on-set atmosphere?
Cuyle: Ax was shot in two days in different locations. We had a completely different crew at each location. We shot all of the interior shots on the first day and then, 3 or 4 months later, we shot the exterior location. Long story short, but we had spent all of our budget on the first day of shooting, and that was basically the biggest cause of us taking so long to finish the film. On-set experiences were very different between the two locations as well. We had a decent size crew for the first day of filming - around 12-15 bodies on set. For the second day we had 5 people total, including cast/crew. Film sets can be stressful, but overall I think both days on set were pretty smooth.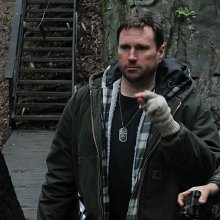 Michael Coloumbe on set
Michael: I feel Cuyle summed it up well. The on-set atmosphere was so different each day we shot. The first day was stressful, exciting, exhilarating, and exhausting. It was my first day as a director and I guess I was just so focused and wanting to do a good job and make a good film. The second day I was so ready for the film to be finished. I knew we had something good and I was so excited to finish it and get it put together. The second day was fun to shoot because that was the day we shot James' (character) descent into madness. I was eager to start seeing Todd with the ax. We had discussed the ax as being it's own character - even drawing close ups of the ax on the storyboards. I can't look at that ax the same way anymore, that's for sure.
With Ax so far only shown to a handful of reviewers - what can you tell us about reception of your movie so far, and when and where will it be released onto the general public?
Cuyle: People are really giving us fantastic feedback so far. The best part of it is that different aspects of the film are getting attention. The actors, the direction, the cinematography, the sound - they're each getting recognition on their own and I think that's so cool and well deserved.
Michael: There is the motion where you really think your film is good and then there is the moment where you have to wait to see if public reception feels the same. I remember when my play was produced and we had great reviews. I didn't direct the play, I just wrote it. With Ax I wrote AND directed it and I was beyond nervous. I suppose that's just me projecting my fears onto that...but because I work in film and have an extensive IMDb-page and coupled with the fact that I co-founded a horror film festival, I suppose I believe that people would expect more from me - I know I certainly did. But beyond writing a good script and directing the film... there were so many other factors that were brought into the project by the directors of Photography, my editor Cuyle, and my sound designer Dima. They each brought their ideas to the movie and I'm so grateful for that. The sound design alone brought such a great element to the movie...more than I think Cuyle, Marisa or I had originally imagined. We are having our world premiere at my festival: The Big Bear Horror Film Festival... and hopefully more festivals will accept us after that. I'd also love to have our own screening here in LA, if possible.
Any future projects beyond Ax?

Feeling lucky ?
Want to
search
any of my partnershops yourself
for more, better results ?

The links below
will take you
just there!!!


Cuyle: Of course! By the C Productions starts filming a new short this June in New York. And of course Michael has a few things brewing as well - we're looking forward to working on many more films together.
Michael: I have 2 other shorts I wrote that I want to direct. I have also collaborated on 2 feature film scripts, one which was co-written with Victor Miller (of Friday the 13th) and a friend, Martin Rogers. Beyond film, I am working on a book as well as a children's book.
Your/your movie's website, Facebook, whatever else?
www.bythecproductions.com/Ax.html
Thanks for the interview!