Your new movie Nocta - in a few words, what is it about?
It's about the early stages of a developing romantic relationship between the male virgin Ernst Lichtenbusch and the - on the first view cute and harmless looking - vampire empress Nocta, who was invited to Ernst 40th birthday, the first birthday Ernst was ever able to celebrate, due to his father's cruel Christian upbringing.
With Nocta being about a party gone horribly wrong, what are some of your worst party experiences?
That depends on the personal sensitivities I guess. One might be disgusted by intense menstrueal bleeding, one might not like to see people eating poop, one maybe can't find an appetite for people getting eaten alive, one might go nuts when he has to witness a horrible karaoke show and another one just don't like to have a certain kind of people on his birthday party, like Nazis, Satanists or an Afro-German muslim.
So what were your sources of inspiration when writing Nocta?
The initial spark of inspiration for Nocta was the colour and viscosity of our new film blood, which we created for our first feature film The Secret of the Magic Mushrooms, which gave Master W the raw idea of a woman with irregular and extreme mentrual bleedings. The flesh to bone came of course from the vast number of vampire movies Master W watched over all the years. Picking up only the best elements from each vampire sub genre, mixing them and adding gruesome ideas and perspectives to the bloody soup of vampirism. A classic vampire love story presented in a never before seen way was the result of Master W's reinventive approach to this concidered sucked dry genre.
What were the main challenges of bringing Nocta to the screen from a producer's point of view?
There were several big issues producer Crippler Criss had to deal with. First we had more people involved than ever before: Around 50! And many times we needed a lot of people on set at the same time. So finding dates to shoot at which all the people you need have time was a big problem. Then finding locations where we were allowed to shoot while spraying everything blood red with our fake blood was hard. Cleaning those rooms was a pain in the ass as you can imagine. Cleaning the bathroom in which Nocta transforms into a vampire took one and a half hours and we couldn't get it clean enough. The fake blood made the white toilet seat turn pink, so we had to replace it. And mold was a big problem. The fake blood crawls into every little corner and in a cold and moist basement, those corners start developing mold. Disgusting, unhealthy and hard to clean. A pain in the ass... again. Then all of a sudden we were not allowed to shoot in one room so we had to find another one that looked like the old one. But in the end we got it done and that's what matters.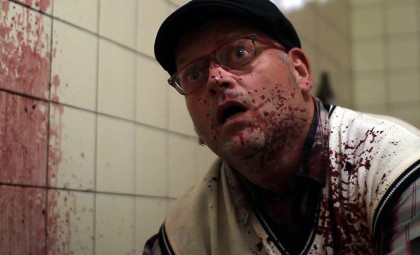 Nocta doesn't exactly hold back when it comes to blood and guts - so what can you tell us about the gore effects in your movie, and how were they achieved?
As in Cannibal Messiah, the special effects are one hundred percent practical analog old fashioned special effects realized by our special effects specialist Sebastian Zeglarski, the head of Violent Art, formerly the "Cannibal Messiah" himself, and also appearing in Nocta as the friendly but dangerously careless Till. With hundreds of litres of self made film blood shot through the party cellar by hand driven high pressure pumps as well as motorized charged fire extinguishers for some real over the top fountains and dozens of prepared masks, dummies and fake wounds, limps or intestinces, Zeglarski and his team managed to create a blood fest wich none of the crewmembers ever had witnessed before. It took two complete cellars, who will never be the same again, to bring the blood drenched fantasies of Nocta to reality.
What can you tell us about Nocta's approach to horror as such?
Nocta is definitly the most classic and straight of all our movies aproaching the horror genre. It still is trash of course, and it is a comedy movie, but with a much more believable story and much more heart-warming characters than ever before in any of our movies. You really can feel with the hardships of the good-hearted but hopelessly naive protagonist Ernst Lichtenbusch. But also with the suffering of Nocta, who is driven to kill against her initial wish to live a peaceful life and enjoy a nice party you can totally empathize with. We really gave the movie time to breathe and to let the viewer connect to our characters before they get torn apart. Also I would say that never before we were able to create real tension and a genuine horrific atmosphere from time to time. But even there's a more serious and believable story, than the stories we created before, still the way in detail is far away from beeing serious and believable. Nocta still is an over the top splatter comedy satire with scenes you've never seen before.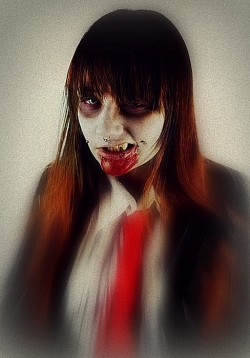 Do talk about Nocta's brand of humour for a bit!
First of all we have the all underlying humor of a romantic comedy movie: The nice but way too naive and unexperienced boy who desperetly tries to conquer the heart of a woman way out of his reach. Then we again play with racism, religious fundamentalism, alcoholism and sexual abnormalites of course. Needless to say that a big percentage of laughter is due to the toony Tokyo Gore Police-like splatter elements in the movie, which are working from about the middle of the movie up to its disgustingly romantic finale.
A few words about your directorial approach to your story at hand? And what was the collaboration between the two of you like?
Master W wrote the screenplay, but due to personal responsibilities he wasn't able to direct the movie from the very beginning. So Crippler Criss took over for the most part, and when he ran out of time to direct, Master W stepped in again. So we split the directing part. We also split the post production part. In the beginning Crippler Criss did most of it and then Master W took over and finished it. We both know what we're good at and what we're not so good at. We both complement each other very well.
What can you tell us about Nocta's key cast, and why exactly these people?
The whole key cast was already playing roles in Cannibal Messiah. While Sebastian Zeglarski was changing from one leading role into another, Jim Aal and Resa Elstner raised from minor roles in Cannibal Messiah straight up to two main leading roles in Nocta, Ernst Lichtenbusch and...Nocta. From the way both actors did their small part in Cannibal Messiah, Master W knew they would be great as leading role team in such a romantic yet controversial movie.
Do talk about the shoot as such, and the on-set atmosphere?
It was the first time we totally shot a movie inside, and so we encountered several problems we never had out in the wilderness of Silschede Forest. The problems went from house owners who were simply unwilling to share their beloved newly renovated cellar with the German underground of horror, to unspeakable infestations of fungi on the cellar walls due to our massive discharge of film blood and other fake body liquids. Despite all those problems the crew and the cast never lost their spirit of achieving something very special and outstanding and not to forget, having a great time. There was so much party on set that the producer even had to put up a ban on alcohol on set... with little to no success.
The $64-question of course, where can your movie be seen?
You can watch the movie on Blu-ray or 2 disc DVD. Just purchase the movie directly from P.S.Y.C.H.O. Productions and send an email to shop@
psychoproductions.
com or contact us through Facebook or Instagram.
Anything you can tell us about audience and critical reception of Nocta?
Till now the overall reception of Nocta was overwhelmingly positive, both from audience and critics. We never thought that people would love this twisted story of love and emancipation this much. Since we took our time with the splatter and gore to start we were worried a bit that the bloodthirsty splatter audience would lose their patience with Nocta over the first half hour, but no one ever complained about the movie beeing too slow in any way. On the contrary. Critics praised the movie for its story, humor, SFX and main actors. Some even compared it to Braindead. Maybe that's a bit much, but we surely feel honored.
Any future projects you'd like to share?
As usual our bag is filled with ideas and half cooked skripts. There are several projects in the pipe coming from writers other than Master W, but Master W is also already working on a new more than ever before thought-provoking masterpiece of the impossible.

Feeling lucky ?
Want to
search
any of my partnershops yourself
for more, better results ?

The links below
will take you
just there!!!


Your/your movie's website, Facebook, whatever else?
You can find us here:
https://www.facebook.com/PsychoProductionsNRW
https://www.instagram.com/psychoproductionsnrw
https://www.youtube.com/user/PsychoProductionsNRW
If you want to order some of our movies, just contact us through one of those sites or send an email to shop@psychoproductions.com. We ship worldwide.
Anything else you're dying to mention and I have merely forgotten to ask?
Support the underground, buy our stuff and tell all of your movie friends about it. Spread the word!
Thanks for the interview!
Thank you for having us.