Hot Picks

- Yes 2019
- Abi 2019
Der König der Kannibalen

Cannibal Messiah


Germany 2016
produced by
Crippler Criss for P.S.Y.C.H.O. Productions, MoreGore Pictures
directed by Master W, Crippler Criss
starring Raping Ras, Sebastian Zeglarski, Crippler Criss, Master W, Ahri Kalt, Resi Elstner, Willi, Jim Aal, ThYnomite, Zicka, Marc Gore, Dr. Kalt, Kai Sulmann, Dirk Sulmann, Karsten Fündgens, Christian Nowak, Dave Griesert, Pro Milla, Pete Lance, Uwe Choroba, Sebastian Badenberg, Jens Schütte, Christof-Milla Braun, Pantera Na Necrotério, Malte, Blutkid, Bemo B
written by Master W, music by European Breakdown, special effects by Sebastian Zeglarski

review by
Mike Haberfelner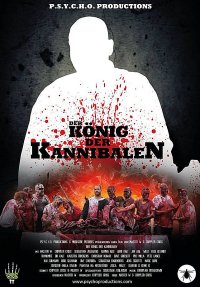 Mercenary "the Pathfinder" (Raping Ras) forces the two filmmakers who filmed his brother's death, stoner Master W and tick-phobic Crippler Criss to take him to the forest where they have last seen him. There they run across a hermit (Master W again) who tells them the secret of the local cannibals: Once upon a time, the hermit had a grandson who got turned into a beast when he passed the creepy tunnle, and because of that he soon took to the cannibalistic habits of his granddad. Then documentary filmmaker Alan Jates (Sebastian Zeglarski) is attacked and almost killed by the grandson but nursed back to health by the hermit, who also trains him in cannibalism. Soon Jates finds his own tribe of cannibals who he takes to the other side of the tunnle to create a utopia for cannibals. But now the Pathfinder figures he has to kill Jates for his revenge. There's one problem though, neither he nor his two sidekicks know the forest terribly well and are pretty much unable to find the tunnle ... and then Master W is kidnapped by the cannibals - but ultimately welcomed with open arms by Jates as he has put a cannibalistic video of Jates on the internet. Jates also asks him to shoot a documentary about his cannibalistic utopia ... but Master W feels less and less at home with the cannibals, as not all of them seem to really be into him filming there, and sometimes they even tend to eat one another rather than just their human prey ... and some of them are quite open about wanting to eat Master W, as he's not really one of them anyhow. Jates though figures the best way to integrate Master W into the community is to have him kill Crippler Criss - and since Master W was never really all that fond of his filmmaking partner anyhow and values his life very much, he agrees to it a bit too readily - but this is a path that can only lead to disaster ...
Now there are no two ways about it, Cannibal Messiah is not a movie for everyone: It's humour is blunt and of a gross-out denomination, its violence is very much on the explicit side, and it might be seen as inapropriate by some, and it has obviously been made on the cheap and is unapologetic about it (actually, one of the best sigh gags of the movie picks up on that, when - setting being deep in the unknown forest - a commuter train passes by during a key monologue, no 50 feet behind the speaker) ... and while yes, it might not be for everyone, these are the virtues that are certain to win over those who the movie's made for, as it's a loving, trashy and actually lovingly trashy hommage to cheap genre cinema from decades ago, but without ever becoming dumb parody, always focussed on telling its own story. And the self-deprecating manner in which the filmmakers portray themselves is just a sight to be seen all by itself.
All that said, being a genre fan will almost certainly help you enjoying this - but if you are, it's a genuine hoot of a movie!