Your new movie Rueful Warrior - in a few words, what is it about?
Alien soldier Yalalia has come to Earth to find water for her home planet in desperate need of it. Soldiers on Earth lock horns and wonít budge in a negotiation and her request for peace. The film is about the stupidity of conflict and war. Bad communication and naivety can lead to trigger-happy orders that result in disaster.
To what extent could you actually identify with the moral dilemma Yalalia is in in your movie?
Even if you eliminate Yalaliaís mission as a soldier, the simple fact remains that she is a person forced against her will. She doesnít want to be there and is at gunpoint from both the soldiers on Earth and on her home planet. I wanted to play with the fact that you have someone who, as a soldier, is obliged to follow command, but tangles with being a pacifist and seeing the bigger picture ahead of everyone else. Having said that, she is a reluctant fighter, but a fighter nonetheless. She doesnít take any crap and will defend herself out of duty and pride, but every fight or kill adds an emotional blow. Itís never a place anyone would want to be, certainly mentally. Regardless of being from another planet, I canít imagine anyone not sympathising with her plight.
What were your sources of inspiration when writing Rueful Warrior?
Iíd actually created a much bigger concept as a feature film and there was a huge ground battle involving Yalalia and several others on her side. In that film, Yalalia gets separated from the group and is never seen again. I decided it would be interesting to show a side-story to show what happens to her. So the film literally begins with that same battle as a background noise as she emerges from the smoke. Focussing on one lone mind amidst a sea of hatred and intimidation was intriguing prospect to bring to screen.
With Rueful Warrior being a science fiction movie, is that a genre at all dear to you?
First and foremost, as a filmmaker, I grew up with a full array of genres, so I was consequentially surrounded by science fiction films of course, but I wouldnít say I am particularly partial to science fiction. Having said that, it does lend itself well to creating an entire scope of concepts and bending the rules to tell more exciting stories and allowing the audience to perhaps escape the real world for a few hours and explore the wonders of another or follow a new set of rules and enjoy them.
Rueful Warrior is a very action-heavy short - so do talk about the stuntwork in your movie for a bit!
Our fight choreographer, Joe Golby, had worked with Oliver Park, who played Shade, before, so they knew how each other worked. Michelle Fahrenheim had basic stage combat training, but aside from that had no previous stunt or fight experience. We had 4 days before shooting to rehearse all the many fights. Michelle was in every day as itís her character versus everyone else! You could easily use stunt doubles in films like this, but the film is 100% Michelle. Joe and I were immensely proud of her efforts and hope everyone agrees that she pulls it off very well. As for the other soldiers, we had Jordan Dumaurier, who is actually an ex-soldier and we hurled him over the edge of a balcony, which was fun! Georgia Annable previously had some fight experience and Simon Pengelly and James Ballanger both play rugby and are giants, so I wanted to ensure most of their work represented a lot of their brute force. Christina Forrest is a very skilled fighter and she went to East 15 to learn fight training there. Claire Cartwright had held a gun in a Shakespeare play but that was it! Overall, we had a real mix; some stunts were underwater, where safety divers were at hand, some stunts involved falling, grappling or flying through the air! Michelle is feisty in her determination - which served the process, as well as her character, very well. The stunts were also emotionally charged. You can see each characterís emotional journey, every pause, expression, punch or kick has a range of emotions behind them.
What can you tell us about your overall directorial approach to your story at hand?
The only risk I was self-conscious of was combining having fun making an 80s style action film with the important moral message served throughout it. I fought that battle in my head several times, thinking it would be OK but you never really know for sure when youíre in your own bubble. I ended up skyping director, Mark Travis in the US and expressed my dilemma to him. Can I get away with making a film like this, having fun in a serious story? His response was ďHave you seen Deadpool?Ē Ė thatís all I needed to know and was confident I could make it work! Yalalia is a character so desperate to stop fighting that youíre with her at every stage of her journey. I love telling small moments of poignancy with characters and, as a director, Iíll always be looking for little opportunities, sometimes only a few seconds in length, to get a flash of what the character is actually thinking. Towards the end of the film, we see this clearly with Yalalia and Shade together.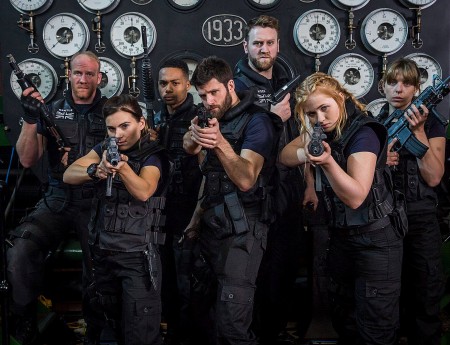 Do talk about your cast, and why exactly these people?
I had worked with Michelle Fahrenheim and Oliver Park in my previous film, and it was during the filming of that project that I mentioned Rueful Warrior. Michelle expressed an interest to play the lead. Initially, I was reluctant as I didnít particularly see her in the role. Then I started to visualise her as the character so I thought that Michelleís sheer persistence and grittiness would match that of Yalaliaís and that of a reluctant fighter. Oliver was cool and calculated in my previous film, Fade, so it felt natural to play him as the main villain. Around that, I wanted a mix of soldiers with different personalities and fighting styles. Christina Forrest who plays Lethalis came on board very late in the day, just a few days before fight training before the shoot. Claire Cartwright as Wise originally applied to play Yalalia, but sadly I could only choose one. It went to Michelle, but I was so impressed by Claireís application and desire to be in the film, I thought Iíd give her the top dog female villain who can equally pack a punch.
You also have to talk about your location, and what was it like filming there?
Itís a question that gets asked a lot! The main location was Kempton Steam Museum in West London. Almost everything you see in the film is the real set. The only things that werenít real were the propeller which we added, and the underwater scene was shot at a separate location, then mapped together with VFX in the edit. But the location was almost its own character. I heard the cast mentioning how much it helped them settle and absorb the scene, especially Michelle. It felt part of that world and despite paying a fortune to secure it, it was definitely worth it, as the film simply wouldnít have worked without it.
A few words about the shoot as such, and the on-set atmosphere?
The shoot was split into five days at the steam house and one day in the underwater studio in Basildon. Despite years of prep, our storyboards went out the window on day 1 as the location required so many positional adjustments, not just for cast but also equipment. With this in mind, it was all rather rushed, but still carefully calculated. Despite this, Iíd like to think the on-set atmosphere was still one of camaraderie and togetherness. The actors seemed to be having a great time and I had an amazing crew putting heart and soul into everything, so you could see this in the happiness and dedication on peopleís faces.
The $64-question of course, where can your movie be seen?
Currently, itís only at film festivals for their exclusive privilege, but after that, weíre looking at marketing it online and hammering home this is a movie you should see!
What can you tell us about audience and critical reception of Rueful Warrior?
From what Iíve seen so far on the filmís critical reaction, itís been well received and, though some points I think have been missed, most reporters have picked up on the details and aims I was striving for. We were never looking to necessarily make a ground-breaking piece of cinema Ė the moral message in the film was always going to be more important and the main focus. Iím glad itís making waves for that reason above all else and hopefully it will continue to maintain a positive following after the festival circuit is over.
Any future projects you'd like to share?
Now Rueful Warriorís journey is nearing an end, Iím already looking to shoot a short drama next month about the fragility of life. Iím also writing a comedy superhero webseries with Emmalie El Fadli, Rueful Warriorís editor. Then Iíll be looking to crack on with my first feature film which will be a domestic drama/sci-fi!
What got you into filmmaking in the first place, and did you receive any formal training on the subject?
I had just seen so many movies growing up, I always had a passion for films. It was the only thing that made me happy, so I always had a connection. It wasnít till 2004 that I had a delayed lightbulb moment of deciding to go to film school. In April that year I enrolled at the Met Film School, now located at Ealing Studios. But I was a guinea pig in its inaugural year when it was located in a shack in Clapham Common! I learned the very basics of technique, story, script and editing. Emailing actors and their agents was also a key moment in turning my very shy self, as I was back then, into a person of extreme confidence. I started off with two awful films, but learned the ropes and, from the moment of graduation in early 2005, have taught myself everything Iíve learned today. I continue to learn and the key is to keep learning and absorbing as much as you can. The clichť is true Ė experience, especially on a film set, is everything! There really is no substitute.
What can you tell us about your filmwork prior to Rueful Warrior?
Prior to this film, I have made a few shorts that also did well on the festival circuit. FadeĒwas my most recent before Rueful Warrior. It was a short about life and how quickly it can change between two people in a relationship. I also made one about a woman trying to recover from sexual assault. I always try to keep the genres mixed and do the exact opposite to my last film in my next one.
How would you describe yourself as a director?
I would describe myself as fully invested in every project. If itís not a project I believe in or I canít do it justice with production value and talent, then it wonít happen. On set, Iím probably a mixed bag of quiet and loud but normally love working things out with actors and enforcing my vision.
Filmmakers who inspire you?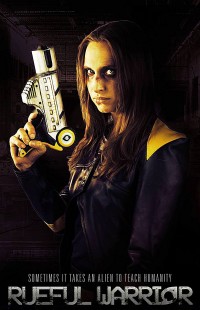 Feeling lucky ?
Want to
search
any of my partnershops yourself
for more, better results ?

The links below
will take you
just there!!!


I grew up with Spielbergís work. I remember I kept seeing his name in the Back to the Future credits and it always seemed to be a name that just appeared in every movie I watched as a kid. Other directors like Wes Anderson, Ron Howard, Peter Weir, Ridley Scott, Stanley Kubrick, Alfred Hitchcock and Tim Burton are among my biggest influencers.
Your favourite movies?
Raiders of the Lost Ark is the reason I became a filmmaker. Youíll see fun Indiana Jones nods in this film, but the 80s had the best action movies. Anything by Spielberg I found mesmerising, whether it was trucks back in Duel in the earliest part of his career, or dinosaurs in Jurassic Park. I also love world cinema and one-off gems like Grand Budapest Hotel or Withnail and I or Run Lola Run.
... and of course, films you really deplore?
If a film entertains me, even if itís crap, Iíll still watch it, but Iím totally put off by this generation of remakes, reboots and revamps Ė all rather embarrassing and desperate. Indie film still has far more definition, scope and originality than most big bucks franchises at the moment.
Your/your movie's website, Facebook, whatever else?
Belloqproductions.com is where you can see everything in my crazy brain. Rueful Warrior is getting its own website as we speak, but you can see the Facebook page here and more behind the scenes pics: www.facebook.com/RuefulWarrior/
Anything else you're dying to mention and I have merely forgotten to ask?
Iím still entertaining plans for a feature film version that I know would be slightly different but ridiculously awesome. So, if anyone fancies getting in touch with funding and ideas, Iím all ears!
Thanks for the interview!
Thank you for having me!