Your new movie The Awakened - in a few words, what is it about?
Lou – It's about five friends who decide to have a hurricane party. After performing a spiritual healing as a joke, they're trapped inside the house with a demon that has been awakened.
Juan – To me, The Awakened is about having faith. The main character, Gina, in the beginning of the movie doesn't believe in anything.
The Awakened revolves around a hurricane party - did any of you ever attend such events, and to what extent did your own hurricane experiences influence the screenplay?
Lou – Right after college, my friends and I had several hurricane parties. When you're in your early 20's, you just don't realize the gravity of the situation and just treat it all as a joke. Thinking back now, it was pretty risky what we did, especially because, unlike in the movie, we didn't have hurricane shutters. That's a theme that I tried to convey in the script – the stupidity of youth.
Juan – Having been born and raised in Miami, Florida, hurricanes have been a part of my life. I have lived and survived thru every single storm that has hit South Florida, including hurricane Andrew. And unfortunately, since The Awakened was a no-budget film, we did not have the resources to really show the audience the other REAL TERROR going on outside! After Andrew, South Florida residents know that they must prepare, prepare, prepare for what could come. It's like getting ready for the end of the world. After a storm hits you have no water, no electricity, and no phones for weeks! The only positive thing after a storm is you get to know neighbors very well.
With The Awakened being essentially a ghost story - is that a genre you can at all relate to, and do you have any specific interest in the occult?
Lou – I'm fascinated by the unknown. Whether it's ghosts, demons, aliens or even the concept of an afterlife, I always like to debate what's real. So many people can say that they've had experiences so they know for sure, but the majority of us can do no more than believe one way or another without knowing for sure. Not knowing is scary, and that makes the best horror.
Juan – I have never had any close calls with ghosts and would like to keep it that way. That's why I'm a sucker for these types of movies. I've always said I'm not your true horror fan, not because I don't like them, it's just that I really do get scared watching them.
(Other) sources of inspiration for The Awakened, and how did the idea for the film pop up in the first place?
Juan – The whole idea started after many unsuccessful years of trying to sell a script to Hollywood. So we decided to make a film ourselves. And what's the proven genre film first-time filmmakers make? The one location, low-budget Horror! And since Lou was the true hardcore Horror fan, we decided she would write the script. But we needed a story. Something the same, but different. And one day, a friend of mine who had been diagnosed with cancer calls me up . So, I went over and as soon as I saw him, I was in shock. He looked great for someone who was going thru treatment. I asked him what was the secret. He asked me to put my hand out and he immediately began waving his hands around my palm. I felt this incredible energy, like a laser beam. He never touched me. And I know that I saw a white beam of light that day emit between us. He said his cancer was cured by this natural healing therapy. That night I went home and shared the news with my daughter, my mother, and Lou. I told them that I wanted them to try it for themselves so I can see if it was just my mind playing tricks on me. They went and confirmed what I already knew. And now I knew I had my story. All we needed was a reason why they couldn't leave the house. And Lou then came up with the brilliant idea that they were trapped inside because of a hurricane.
Storywise, the ghosts in The Awakened are never fully explained (which I found quite refreshing). Did you ever plan to afford them more of a backstory?
Lou – The limitation of the story happening in one night and one location makes it hard for them to know what they're up against. Normally, in a horror film, someone would go to the library and find some old newspaper story or, more recently, they do a search in the internet that explains the whole thing. Here, we couldn't do either one of those things. In the end, I feel that in a way that made the situation more tense, because they just don't know what it is. Once again, the unknown is what's really scary.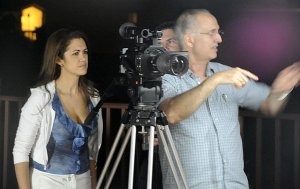 Lou Simon and Douglas Villalba directing
How did you approach your story at hand - and what can you tell us about your collaboration with co-director Douglas Villalba?
Juan – The story was approached keeping the budget in mind. In other words, could we shoot the script even if we didn't raise the full amount? I met Douglas about five years ago at a networking event and I was impressed with his background in shooting Hi-Definition TV commercials. When the idea came up to shoot a digital feature, I thought his experience would be the right fit for the project although he had not yet done a full feature. That is probably why he was just as excited as we were. We collaborated with Douglas all the way from pre-production, principal photography, and thru post-production.
Your film was almost entirely shot in one single location. What advantages and challenges did that bring, and provided you had the time and money, would you have expanded the movie, location-wise?
Juan – The first advantage was, since we decided to use our home as the only location, the script was specifically written with that in mind, saving us time and money on location scouting and getting location agreements signed. The cast and crew could never get lost or be late. And we didn't have to worry about becoming a nuisance to the property owners if something was lost, damaged, or even worse, stolen. One of the challenges is how do you add production value with one location? How do you keep the audience from getting bored of the same interiors for 80 minutes? Is the ceiling high enough for the BOOM MIKE? Plenty of parking? Restrooms? Garbage disposal? Keep in mind, you have about 20 people for two weeks at your house during the shoot. I truly believe you can't add time and money to solve problems. Don't get me wrong, I'm not saying I wouldn't want more time and money. Who wouldn't? What I am saying is that the problem was addressed by writing an excellent script. It all started there. I have seen many movies that add multiple locations, and maybe it does add some eye candy, but does it move the story forward in an engaging way?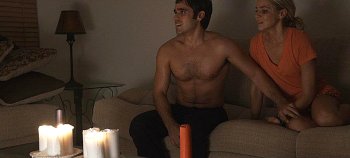 Lou - For me, the challenges was that after shooting was over each day, we left things in place for purposes of continuity. That made it very difficult for us to do anything in our home for 2 weeks. If I had the money and time, I would have added just one more quick scene. I would have had the main character waking up in the hospital, possessed by the demon.
A few words about the actual shoot and the on-set atmosphere?
Lou – There was a real comradery between the cast and crew. Most of us had never worked on a feature before, so everyone was very excited. To this day, we all keep in touch and are all friends. You know what they say, you never forget your first!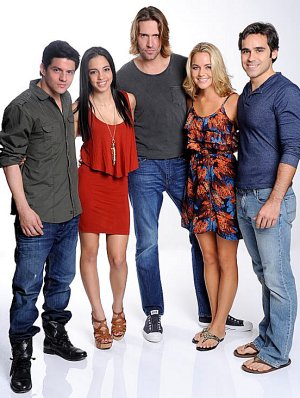 The Awakened-cast:
Jonathan 'Legacy' Perez, Nancy Sayegh, John Thomassen, Stephanie Rae Pitts, Nikolas Holmes
Juan – We decided to shoot during Halloween season, from October 17th thru October 31! Giving it more of an eerie feeling. Since we got together frequently during rehearsals, the first day wasn't like the first day at school. Nobody had a job to do, everyone had a mission. I can't say everything was rosy. Since my background comes from sales, my true experience comes from dealing with all types of people. And I believe, as the producer on this film, the on-set atmosphere starts with me, by recognizing at this stage my job was to support the cast and crew. Actually, I felt pretty useless during principal photography. What was most important to me was that the cast and crew were comfortable and taken care of.
What can you tell us about your key cast, and why exactly these people?
Juan – Lou was also responsible for casting. And rightfully so, since she envisioned these characters on paper. I could only imagine how exciting it must have been for her as a writer to see them read her dialogue LIVE! Why these people? One word. C-H-E-M-I-S-T-R-Y! We had a lot of talented actors audition for the roles. These people were not only talented, but when all of them were together, they had chemistry. And when you have an 80 minute film with 5 actors in one location, they better have it.
A few words about audience and critical reception of your movie so far?
Juan – There is a big difference between the feedback you get from your friends and families and complete strangers. The difference is you really don't know if to believe your loved ones. The best reward by far has been the feedback from complete strangers at our World Premiere in Indianapolis. After the film, they came up to us and said that they loved our film. That simple. And at our second film festival, a gentleman told us that out of the last three film festivals he's been to, ours was the best film he had seen. Our film is not even the bloodiest, goriest, or even the scariest. It's in the story!
Let's go all the way to the beginnings of your careers: What got you into filmmaking in the first place, did you receive any formal education on the subject, and what can you tell us about your filmwork prior to The Awakened?
Juan – I remember when I was just a kid, walking out of theatre from watching The Terminator. I remember how powerful the images and the sound from the theatre made me feel. It was then that I said to myself I would love to make a movie one day. That day took many, many years. I wish I would have done this sooner. With no formal education, I taught myself how to write screenplays. And since nobody hires nobodys, the best advice I can give anyone out there is to hire yourself and make your first movie and be somebody. Somebody with a film."
Lou – This was our first film, and neither one of us had any type of training or education in film. I went to school to write novels, but never envisioned writing films. That idea only came after meeting Juan and working with him to polish a script he was working on. From then on, I just started writing screenplays instead. Then, we were just two frustrated writers, so we decided to make a film ourselves. Little did we know that we would get hooked on the actual filmmaking process itself.
Any future projects you'd like to talk about?
Lou – I'm in pre-production on a slasher called HazMat. It's about a TV crew from a hidden camera show called Scary Antics who sets up the wrong guy on a practical joke. We start principal photography in March, and I'm very excited to be working with a very talented cast and crew. You can read more about it at www.hazmatmovie.com and our Facebook page www.facebook.com/hazmatmovie.
Juan – Blackout! Tagline: Fear The Blackout. Blackout is a horror-zombie apocalypse film currently in development to be shot on location in the Florida Keys. www.feartheblackout.com - coming Soon in 2013!
Filmmakers who inspire you?
Lou – Wes Craven, Guillermo Del Toro, John Carpenter and Steven Spielberg (all started in horror).
Juan – James Cameron, Guillermo Del Toro, Zach Snyder, Oliver Stone, and Christopher Nolan.
Your favourite movies?
Lou – You'd expect me to say something horror-related, but I guess I'm still a girl at heart. My all-time favorite film is Gone With The Wind. After that, it's probably Silence of the Lambs, which is not exactly horror but it's definitely horrific. Next would be A Nightmare on Elm Street, Halloween, and Friday the 13th. I'm definitely a "horrorphile".
Juan – 300, Escape From New York, Gladiator, Blood Sport, Tron, The Matrix, The Shawshank Redemption, The Passion of the Christ, Indiana Jones, The Last of the Mohicans, and Pan's Labyrinth.
... and of course, films you really deplore?

Feeling lucky ?
Want to
search
any of my partnershops yourself
for more, better results ?

The links below
will take you
just there!!!

Find The Awakened
at the amazons ...

amazon.com

amazon.co.uk

amazon.de
Looking for imports ?
Find The Awakened here ...
Something naughty ?
(Must be over 18 to go there !)

Lou – After making our film and seeing how hard it was to do, I won't criticize anyone's work again. I watch as many films as I can, because I believe you learn something from every one of them.
Juan – Anything on TV. Except for the Discovery and History Channel.
Your/your movie's website, Facebook, whatever else?
www.facebook.com/theawakenedfilm
Anything else you are dying to mention and I have merely forgotten to ask?
Juan – For anyone out there looking to make a feature film, it is probably the most challenging and time consuming project you will ever face. But the reward -- the satisfaction and people you meet on the journey -- is worth the sacrifice you make!
Thanks for the interview!
Juan – Michael, thank you for taking the time to watch The Awakened and the writing the review!