Your upcoming movie HazMat - in a few words, what is it about?
HazMat is about the TV crew of a show called Scary Antics that helps three friends pull a practical joke on a troubled young man, but it ends up backfiring when he goes crazy and starts killing them one by one.
Quite obviously, the set-up of HazMat alludes to trashy and irresponsible prank shows like Scare Tactics and, ummm, the one with Ashton Kutcher. So what made you base your movie on these, and your personal take on these shows? And honestly, do you watch them some times (for other than "research"-purposes)?
I was recovering from major surgery and was bedridden for two weeks, when I caught a marathon of Scare Tactics on TV. At first, I felt very guilty about the fact that I couldnít stop laughing at something that was so cruel. Then it occurred to me that nobody knows how someone will react when theyíre scared. Someone could have a heart attack or attack one of the actors. Thatís what started the whole premise for the script and itís a recurring theme throughout the story Ė whether itís right to have fun at someone elseís expense.
Part of me thinks that itís wrong, but I still have watched Scare Tactics a couple of times since then. Itís a guilty pleasure. I never watched Punkíd though. If the prank is not scary, itís not as funny.
For better or worse, HazMat will be called a slasher movie - a genre at all dear to you, and did you consciously follow any genre rules when making the movie?
Iíd like to think that HazMat is a supernatural slasher since it has elements of both. Yes, thereís a guy killing people with an ax, but a lot of the storyline is about this abandoned chemical plant and whether or not itís haunted.
I love anything scary, so I love slashers. The only problem is that when you get to number three and beyond of any franchise, the characters become paper thin and youíre just waiting for the next person to die. I tried to make the characters in HazMat real people, so that if and when they die, you feel for them. Even the villain, Hazmat, is unique in that youíre supposed to like him and feel for him. Unlike Jason Voorhees or Michael Myers who are faceless killers, you get to know Hazmat as a human being. I wanted people to like him and root for him a little. What could be scarier than sympathizing with a killer?
Any other sources of inspiration when writing HazMat?
Iíll be honest that when I was writing it, I was on so many pain killers that I donít remember where most of the ideas Ė the mask, the axe Ė came from. When I came out of my haze, it was all there on paper.
How would you describe your directorial approach to your story at hand?
I hired the best cast and crew, and they did all of the hard work for me. The toughest part I did was staying on schedule since it was shot in ten days. My biggest contribution to the film as a director was how to film a scene in the least amount of shots possible so that we could finish on time.
You just have to talk about your location for a bit: How did you find it, did you have the script or location first, and what were the advantages and challenges filming there?
The original script called for the building to be located in the middle of nowhere. The problem was that there are not a lot of abandoned buildings in Miami since most were torn down during the real estate boom. The few that were left were just not safe for anyone to be inside.
Then, I was lucky to find this building in the FilmMiami.org website. They warned me that it was in really bad shape, the second floor had weight limits because it was in danger of collapsing, and there was no water or electricity. But when I saw it, I knew it was perfect.
I had to rewrite the script to fit the location, but it worked great. Most of the props and all of the furniture you see in the film were already there so that saved us a lot of money. The only problem was that they started construction right outside the building the week we began production. It caused a lot of delays, and it drove us all crazy.
Please do talk about your cast for a bit, and why exactly these people?
Because they were meant to play those roles. Thereís a magic that happens during casting that is hard to explain. I canít imagine anyone else playing those characters.
Everyone was so great and professional. Everyone knew their lines and was willing to work in very uncomfortable conditions. In my opinion, everyoneís acting was stellar, and Iím very happy with the results.
A special recognition is due to Norbert Velez, who plays Hazmat. He endured so much in that suit and mask. It was like 90 degrees in that place, and he never once complained. Heís the ultimate professional. And despite the fact that heís covered head to toe, he brought a lot of personality to that role.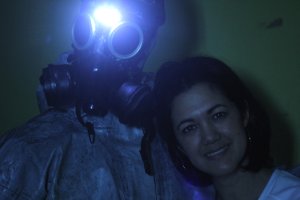 Lou Simon on set
What can you tell us about the actual shoot, and the on-set atmosphere?
Stress, stress and more stress, but fun, fun, fun at the same time. The problem with the outside noise caused a lot of delays, but we sort of incorporated the construction noise into the film and made it work. When youíre doing low-budget films, you just have to be flexible. I was lucky to also be the writer, because I could then change the story or dialogue on the spot.
Now I know your movie is still hot off the presses so far, but anything you can tell us about critical reception yet, and any idea when it might be released onto the general public?
Your review was very kind, of course. We also received another review that called Hazmat the new horror icon. If others agree, weíre golden. I do believe that Hazmat, as a villain, is a very cool character. I wish I could take credit for that, but as I said, it was the pain meds that came up with him.
Weíve already submitted the film to several film festivals worldwide, and hopefully weíll be selected to screen at a few. Thatís the fun part when you get to see the audienceís reaction. After that, we hope that a distributor will pick it up and make it available for everyone to see.
Any future projects beyond HazMat you'd like to share?
Iím still exhausted from HazMat, but Iím already thinking of the next one. I have three in mind, but which one will depend largely on how much money we can raise. I would love to make an entire film where the entire cast and crew in the production is made up entirely of women. We are not well represented in the horror genre, so it would be very cool.

Feeling lucky ?
Want to
search
any of my partnershops yourself
for more, better results ?

The links below
will take you
just there!!!

Find Lou Simon
at the amazons ...

amazon.com

amazon.co.uk

amazon.de
Looking for imports ?
Find Lou Simon here ...
Something naughty ?
(Must be over 18 to go there !)

Meanwhile, a script I wrote called Blackout (www.feartheblackout.com) is being produced by Blue Nile Pictures. Itís a horror adventure. Sort of Into the Blue meets Evil Dead.
Your/your movie's website, Facebook, whatever else?
@hazmatmovie
Anything else you'd like to mention and I have merely forgotten to ask?
Iíd like to encourage everyone who goes to your site to support independent filmmakers by giving to the crowd funding campaigns online. Even a small donation can get them a very cool gift and help us tremendously. Just think of it as pre-ordering a DVD way ahead of time, but then getting to be a part of all the phases of production.
Thanks for the interview!