Your upcoming movie The Dying Fields - in a few words, what is it about?
The Dying Fields follows Bailey, who's heading home from a drug treatment program. Her closest friend died of a drug overdose, and she blames herself. The group she's traveling with becomes stranded at a seemingly abandoned farmhouse, where anyone who drinks the well water finds themselves in a rabid, almost zombie-like state.
What were your inspirations when writing The Dying Fields?
While preparing for a much larger, more in-depth exorcism film (which is now on hold), my impatience got the best of me, and my mind began to wander. What can we shoot now that will be a relatively quick project, but that's fun, gory, and adventurous? A group of teens or twenty-somethings seems to be the norm, but what can I come up with to make it different, or unique? I came up with the idea to have them be a group of former junkies returning home cross-country from a drug rehab facility. After that, details about what kind of shenanigans they might encounter began to take shape, and the rest became the script we're working from today.
With The Dying Fields being a slasher (if with supernatural elements), is that a genre at all dear to you, and what do you feel sets your movie apart from the crowd?
Gone seem to be the days where horror movies are both scary and fun. I'm not talking about horror/comedy, which can be great. I'm talking about thrills and chills in a film that takes the viewer on a wild ride! It seems like horror movies are either spoofs, or just 100% dark, serious affairs. The Dying Fields has unique characters, who are taken on an adventure of both terror and excitement. I am a big slasher fan: Freddy, Chucky, Michael Myers, Leatherface, etc. I wanted to put a fresh spin on things, as much as that's possible, by mixing classic slasher elements with supernatural elements to create a film where the characters are not only being pursued by a cold-blooded killer, but also possessed/zombified versions of their friends.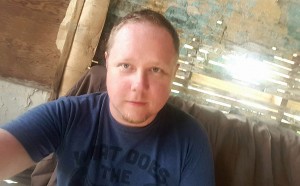 Lewis on set of the promo short
Quite apart from being a slasher, what can you tell us about your movie's approach to horror?
I'm a huge fan of psychological horror. The psyche of a killer has always fascinated me, as have the inner-workings of people haunted by their own past, like Bailey in this movie. The central theme of the movie is Bailey's struggle to forgive herself for her friend's death. All-the-while, she's faced with the tangible horrors of keeping her flesh-eating friends at bay. To make the situation even more dire, she's confronted with the curator of the farmhouse, a man who makes human sacrifices to a group of demons, who supposedly reside in the field outside his farm. There are several different horror elements in this film that I basically threw into a blender, and came out with a plethora of horror goodness!
For all the gorehounds among my readers, do talk about the bloody bits in your movie for a bit, and how do you plan to achieve them?
This is where it gets good! We have enlisted the services of long-time collaborator Evil John Mays to head up the practical effects department. John is well-versed in all things horror, and we're extremely excited to have him on board for an impalement that features a pole, the look of the demons, as well as the possessed, and maybe even a good ole fashioned decapitation! We will spare no expense when it comes to the creative kills and the gore in this film.
What can ou tell us about your film's intended look and feel?
My tonal intentions are to attempt to capture the visceral fear and grit of the original Texas Chainsaw Massacre, while shooting in high quality to make sure the film will stand the test of time. The rural locations, and brutal situations the characters find themselves in will lend to the aesthetic, and overall feel of the finished film.
Anything you can tell us about The Dying Fields' key cast yet, and why exactly these people?
My producing partner, and lead actress, Amanda Marie has done a stellar job of helping to compile a cast list that includes Emmy-nominated rapper/actor T.O.N.E-z, who's most well known for the theme song to the show Justified. Paula Marcenaro Solinger [Paula Marcenaro Solinger interview - click here] was in the 2016 film Blood Sombrero, and she's married to former Skid Row front man Johnny Solinger. We're also excited to have well-known musician and actress Aeon Cruz on the team, as well as Kevin Sean Ryan, who was in The Black Hole with Malcolm McDowell and Dean Cain.
As I understand it, the key location of your film is an old abandoned farm - do you at all have that location secured yet, and if so, do talk about the expected challenges of filming there for a bit!
We do have a location available where we shot the proof of concept short, but are always on the hunt for options. The location we used previously is atmospheric and moody, for sure. The holes in the walls let in enough light during the day to create a very unique look, but for the night scenes, it could prove a little challenging in the sense that it will really have to be night time to film night scenes, which can be costly, tiring, and more time consuming in the long run. Those are some of the challenges that we anticipate, but ultimately, it will all come together the way it's supposed to.
You're currently running a fundraiser for The Dying Fields - so what can you tell us about your campaign?
The proof of concept short is available to view on our IndieGoGo page, so you can get a taste of what we're going for in the feature. We are running the campaign through mid-November, and are offering exclusive perks for contributing such as props from the film, and even a trip to the set during filming (projected spring 2018). I would challenge everyone to take a real look at the page, and contribute if you can. It's going to take all the funding we can get to make this film stand out in the saturated horror film market.
Once the funds are raised, what's the schedule, and even if it might be waaay too early to ask, any idea when and where The Dying Fields might be released yet, however tentatively?
We plan to begin filming in the spring of 2018 with myself and Amanda Marie co-directing. A completed film by the end of next year is not out of the question, although 2019 seems more likely for a release. We are in talks with a couple of distributors already, but are planning to hit a few film festivals before settling on a distribution route. With VOD being so accessible these days, I'm sure you will be able to find a way to watch the film when it's all said and done.
Any future projects beyond The Dying Fields?
We have three feature films that are in various stages of post-production: The psychological drama Strange Company features Emmy-winner (and horror favorite) Bill Oberst jr [Bill Oberst jr interview - click here]. Dream Hero Productions will be also releasing the female-led revenge thriller Battered, which stars Mia Klosterman and Stacy Firkus, as well as a really twisted ensemble film about a group of people who wake up trapped in a room with no way out, called Sinners, Inc.
As far as future films, we still have the exorcism film Cross to Bear on our radar, that was written for Bill Oberst jr, as well as my first script The Diary of Melvin Sanborn, which is about a boy who witnesses his parents' death at the hands of a vicious monster that haunts him into his college years, where he's finally forced to go back to the scene of the crime, and confront the beast once-and-for-all.
Your/your movie's website, Facebook, IndieGoGo, whatever else?

Feeling lucky ?
Want to
search
any of my partnershops yourself
for more, better results ?

The links below
will take you
just there!!!


IndieGoGo: https://www.indiegogo.com/projects/the-dying-fields-feature-film-horror/x/11507411#/
Facebook: www.facebook.com/thedyingfields
Anything else you're dying to mention and I have merely forgotten to ask?
We have extremely high expectations for The Dying Fields, and I am grateful that you took the time for this interview to highlight the project. There are a lot of talented, and very experienced people involved. This will be my fifth feature, and in some ways, the most ambitious. I wrote this film to be an easy shoot, if there is such a thing, but it's going to take extreme care and planning to achieve the desired experience. With the team involved, I have no doubt that this will be a movie we're all still talking about upon its release!
Thanks for the interview!