Your movie Deadly Revisions - in a few words, what is it about, and what can you tell us about your character in it?
First, please allow me to thank you for having me as a guest on SearchMyTrash.com. I love this site because it is so eclectic. I never know what I will find, so it is aptly named, too!
As for Deadly Revisions, it's a psychological thriller feature film. I play Grafton Torn, a writer with amnesia. It's bad not to be able to remember, but in Grafton's case, remembering may be worse.
What did you draw upon to bring your character to life, and how much of Bill Oberst jr can we find in Grafton? And how did you get hooked up with the project in the first place?
Like George Washington, I cannot tell a lie - I thought I was completely wrong for this role! When Gregory Blair [Gregory Blair interview - click here] sent me the script I told him I loved it but that he should cast someone else. Blair wanted me. I said "Why?!" Grafton is not physical, he's scared of his own shadow, he's a nebbish. Blair thought it would be fun to see me play the victim for a change. He's my friend so I trusted him, but secretly inside I was thinking "This is going to be a disaster" the whole time. A lot of this business is learning to trust the director. They're usually right. Actors are crazy bastards, you know. It's a personality defect disguised as a profession.
What can you tell us about your director Gregory Blair [Gregory Blair interview - click here], and what was your collaboration like?
The whole shoot was Gregory messing with my hair (he wanted Grafton's hair to be excessively neat) and me asking him "Why does Grafton have to be such a wimp?" In the business we call this creative tension. In the end I did what he said and the movie is better for it. As Michael Caine says "The director is the guvnor and what the guvnor wants the guvnor gets!"
What can you tell us about the shoot as such, and the on-set atmosphere?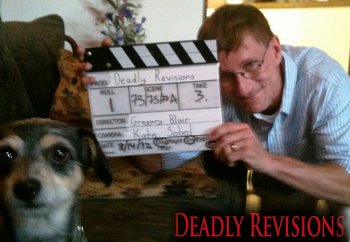 Bill and the slate and Pixie
The shoot was really fun because there was a dog on set. I'm a dog man. Gregory's little Pixie was there every day and we all took turns adoring her. She's the namesake of his production company Pix/See Productions. I thought Pixie should be barking in a little circle at the start of the movie, just like the MGM lion. Oddly, no one else thought this was a good idea.
You recently won a couple of awards for Deadly Revisions - and even if that might be a moronic question, how does this make you feel?
It is not a moronic question at all. Winning an individual award is uncomfortable, because filmmaking is such a team sport. I always try to do penance by turning the attention to others on the crew - directors, cinematographers, gaffers, set designers, focus pullers and a hundred other people who are behind every frame. And winning awards for Deadly Revisions was a shock, because I really thought I had destroyed the movie with my performance! Which goes to show you what actors know.
Another recent film of yours is The Dooms Chapel Horror - so what can you tell us about that one and your character in it?
I play the leader of a rural cult in The Dooms Chapel Horror, a found-footage feature about a young man who returns home with a film crew to face old demons (of which I am one). We shot in Kentucky, so the scenery is both beautiful and authentic. It's the second time I have played a cult leader (after Children Of Sorrow) and in both cases I was pleased that the directors choose to have the cult based on beliefs other than Christianity. I find the depiction of "crazy Christians" to be tired, lazy and (because I'm a follower of Jesus) offensive. The beliefs of my character in The Dooms Chapel Horror have echoes of Lovecraft. It's a clever and refreshing take on cults.
How did you get involved with that project then?
Producer Christopher Bower [Christopher Bower interview - click here] and director John Holt [John Holt interview - click here] sent me the script. I liked the character. And I knew the food in Kentucky would be phenomenal (I'm a Southern boy and I still miss Southern cooking.)
What can you tell us about the shoot as such, and what was your collaboration with your director John Holt [John Holt interview - click here] like?
The most exciting part first: I was chased by a bull! We did a shot of my rural cult leader character walking through an idyllic pasture; a very pretty shot taken at golden hour. I'm strolling through the pasture barefoot and I hear this sound. It's a bull. He's not happy. I keep strolling. John calls cut and then I haul ass. Those are the moments that make life worthwhile!
John Holt was delightful. He's a fan of classic horror and monster movies, as am I, so we were kindred spirits.
Yet another recent movie of yours: At Granny's House - again, what's that one about, and what can you tell us about your character?
At Granny's House is a horror/thriller directed by Les Mahoney, who also stars in the film. A female caretaker with a taste for love and death has moved in with a sweet Mid-Western grandmother. Granny's house will never be the same! I play a supporting role; a detective determined to get to the bottom of the macabre goings-on.
Once again, talk about the shoot for a bit, and your director Les Mahoney [Les Mahoney interview - click here]?
Les is a colleague (a focused director and an intense actor) and I respect him tremendously. We shot in a picture-perfect little town in Colorado, in a house that was so right for the script I doubt any soundstage set could have topped it. The house is as much a star as the lead cast is. At Granny's House is a fun, dark and sexy little thriller. I think Les will do well with it.
With all three movies being horror film, how do they compare in approach to the genre, and which approach could you identify with the strongest?
A very interesting question. Deadly Revisions is a psychological thriller; The Dooms Chapel Horror is a found-footage monster movie; At Granny's House is a character-driven horror movie set in an old house. As an actor I enjoyed all three approaches and I think all three worked. As a person, I identify with psychological terror most strongly. My mind is the most frightening place I know of. There's a great Mark Twain quote; "Night brings many a deep remorse... like the rest of the race, I am never quite sane in the night." That's true for me.
Any other current/future projects you'd like to share?
On TV: I enjoyed being included by CBS-TV in their list of the Most Notorious Killers in the 10-year history of the series Criminal Minds - http://www.cbs.com/shows/criminal_minds/insider_blog/1003330/. My Season 9 character came in at Number 11 on that list; I'm hoping that they will have him back this season.
On Film: I've been wanting to play my silent film hero Lon Chaney for years, and after receiving The Lon Chaney Award from his great-grandson Ron Chaney - http://www.imdb.com/media/rm2481649664/nm2454994 - at the FANtastic Horror Film Festival in San Diego last month I've been approached by a couple of screenwriters with ideas for screenplays incorporating Lon Chaney as a character, which is very exciting.
On Stage: I'm touring in 2015 with my one-man stage shows (The Book Of Genesis and Jesus Of Nazareth - https://www.youtube.com/watch?v=FEcempfpQoQ) and have the usual slew of movies in pre-production, production and release, all detailed at http://www.imdb.com/name/nm2454994/ My next two movie releases are the arthouse-horror hybrid Coyote on Dec 16 and the Civil War period-piece The Retrieval on Feb 3.
Thank you for asking.
Your website, Facebook, whatever else?

Feeling lucky ?
Want to
search
any of my partnershops yourself
for more, better results ?

The links below
will take you
just there!!!

Find Bill Oberst jr
at the amazons ...

amazon.com

amazon.co.uk

amazon.de
Looking for imports ?
Find Bill Oberst jr here ...
Something naughty ?
(Must be over 18 to go there !)

My FB is https://www.facebook.com/ActorBillOberstJr and my Twittter is https://twitter.com/billoberstjr - I follow back and I answer my own messages (eventually).
Anything else you are dying to mention and I have merely forgotten to ask?
Oh Micheal, actors talk too damned much as it is. Don't encourage us!
Thanks for the interview!
I thank you and your readers. By the way, I'd like to get to Austria to do a film. Not the typical Hollywood "let's use Austria to stand in for somewhere else", but something rooted in Austrian history, ancient beliefs and folklore. If anyone has ideas, I'm listening.