Your upcoming movie The Haunting of the Lady-Jane - in a few words, what is it about?
Folklore, the supernatural and haunted minds.
The British waterways are plagued by folklore, myths and legends of Rŗn, a water spirit who feeds on the souls of the sinners. The Haunting of the Lady-Jane follows the story of Lily as she hides from a life shattering experience and has now become a successful writer on female empowerment. For her new book she is researching the life of Zara, a British born second-generation Turkish woman. The two of them decide to travel along the British canals where they meet Willard, a mysterious bargeman. The three of them travel the scenic waterways when Willardís mysterious nature begins to fracture the journey as Rŗn ebbs closer to catching them.
With The Haunting of the Lady-Jane being a ghost story, is that a favourite genre of yours, and some of your genre favourites? And what do you think will make your movie stand out of the crowd?
The ghost story has always been a favourite of mine, there is something so uniquely British about the ethereal ghost story mixed with the folklore of ancient civilisations. The excitement for me comes from the supernatural being a doorway into the broken minds of haunted people and using that to create a space to explore these broken minds.
I have a huge list of favourites within this genre, but my all-time favourites and inspirations have to be The Woman in Black (1989), The Haunting, Symptoms, Demons of the Mind to name a few, but then I am hugely inspired by folklore horror which is my favourite of the horror genre. Films and TV shows like The Wicker Man, Blood on Satanís Claw, Robin Redbreast, Hammer House of Horror and basically folklore horror from 1970s British TV and film. My biggest influence came from literature sources, namely M.R. James and Vern Lee and the TV adaptations Ghost Stories for Christmas. The way they used the ghost story as a vehicle to explore the human condition but also chill you to the bone has always been a big influence on my own work.
The Haunting of the Lady-Jane will be influenced by the classics, but with my own style while also taking the audience on a dark journey with us. We want to create an iconic ghostly spectre in Rŗn, one that the audiences will remember while making a film that tightens the tension to hopefully create an unforgettable experience.
What can you tell us about your movie's roots in mythology and folklore, how much research did you do on the subject, and how much liberty will you grant yourself with your sources?
I love reading, I have volumes of books on mythology and folklore. I do a lot of research, and for The Haunting of the Lady-Jane there was no exception. I also feel that some artistic licence has to be adopted so as to work within the structure of the story. The film is rooted in folklore and mythology some of which I took inspiration from and some of which I created for the purpose of the film. For me the most important part of telling stories is creating characters that audiences can relate to and want to follow and surround them in a world that pulls them apart for us to watch.
(Other) sources of inspiration when writing The Haunting of the Lady-Jane?
I take a huge amount of inspiration from arthouse cinema where character portrayal is more the focus than action and entertainment, so there will be some influence from this area of cinema. For me telling a full-on scary ghost story where youíre constantly looking into the dark spaces is my objective.
Large parts of The Haunting of the Lady-Jane take place on a barge - so what do you expect to be the challenges filming on water?
Yes, a cardinal sin filming on water. It will be challenging and it will be painful but all films are. I think us filmmakers enjoy throwing ourselves in deep wate,r so working on the water I am that one step closer. I like my characters in isolation and I myself am claustrophobic, so the idea of being trapped is my own fear so itís a way to explore those themes of isolation and confined spaces.
Do talk about your film's approach to horror, and what can you tell us about The Haunting of the Lady-Jane's intended look and feel?
I am a huge horror fan; the genre is such a massive entity that has grown so much over the years. My own approach will surround my characters in fear and dread and in the same way the audience. The film will have a unique look and style influenced by art and art history where I drew inspiration from Algernon Newton, whose paintings of the canals are so evocative. Other visual influences are Frida Kahloís Little Dear and Les Krasnerís Charred Landscape, whose work are inspirational to me.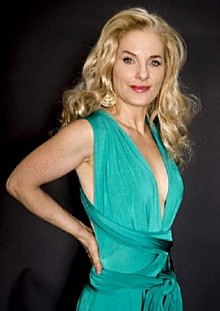 Helene Udy
Anything you can tell us about The Haunting of the Lady-Jane's projected cast yet, and why exactly these people?
The film is fully cast now and its one I am excited about. I have an exceptional cast all chosen for their dedication to their craft and for believing in the script.
We are also lucky have an American icon playing Rŗn, Helene Udy - My Bloody Valentine (1981), Dr Quinn Medicine Woman, Star Trek: Deep Space Nine to name a few [Helene Udy interview - click here]. We discussed and chatted about film, she watched my previous films and loved my style of making films and signed up to play the two roles in the film. We are all very excited about the project.
You're currently running a fundraiser for The Haunting of the Lady-Jane - so what can you tell us about your campaign? And once the money's in place, what's the schedule? And any idea when the film might be released, however tentatively?
The crowdfunder is so far going well, which is key to us getting this film made covering the main shoot on the barge Ė a critical aspect of the production. So we are looking to horror fans and lovers of indie film to really get behind the project and help us make this film a reality. There are some amazing perks on offer and a real chance for people to get involved. Our Executive Producer perk is a great one as it offers 1% in the net profits of the film which most films of this budget donít offer. We care about our potential audience and really want people to join us and become part of the wider team. We plan to begin filming early October 2021, with a projected finish line ready for sales by October 2022.
Our film's Kickstarter: http://kck.st/2Nvs8xG
Any future projects beyond The Haunting of the Lady-Jane?
Yes, there are quite a few films in development at the moment, so the future looks good. My latest film Wastelands which is a dark arthouse psycho drama is currently touring festivals ahead of its planned 2022 release, it's already picked up multiple awards, nominations and selections. I also have two short films I am shooting later this year before The Haunting of the Lady-Jane and have been lucky enough to be cast in two awesome films by great film makers. Mask of the Devil by Ash Mountain Films, a fantastic team of filmmakers. I will be playing a jaded porn director. The film is set to be amazing, a slasher film which is a genre I also really love. The other film by Ciao Handy Films, another great talented filmmaker. The film is called Tales from the Great War, such a funny script and I get to play a soldier named Chalky, so really looking forward to getting in the trenches for that one.

Feeling lucky ?
Want to
search
any of my partnershops yourself
for more, better results ?

The links below
will take you
just there!!!


Your/your movie's website, social media, Kickstarter, whatever else?
The Haunting of the Lady-Jane can be found at:
Crowdfunding campaign link: http://kck.st/2Nvs8xG
https://twitter.com/HauntingFilm
https://www.facebook.com/TheHauntingOfTheLadyJane
https://www.instagram.com/thehauntingoftheladyjanefilm/
https://www.imdb.com/title/tt12857892/reference
Thanks for the interview!