What can you tell us about your upcoming film The Hospital? And at what stage of production are you right now?
The Hospital mixes the paranormal and slasher genres and can best be described as Saw meets Hostel meets Paranormal Activity meets Texas Chainsaw Massacre. It features John Dugan (Texas Chainsaw Massacre), Scott Teppeman (Ghost Hunters International), Daniel Emery Taylor (Return of Swamp Thing), Jason Crowe (Dead Moon Rising, [Jason Crowe interview - click here]), myself, and a slew of attractive women (just what every horror film needs... ha ha ha). The basic synopsis is this: Old St. Leopold's Hospital has many urban legends surrounding it, but the residents of Bridgeport all agree on one thing: tortured souls roam its abandoned halls. The mystery proves too much for a pretty young student who decides to investigate for her senior class project. Unfortunately, she does not find ghosts. She, instead, finds Stanley - serial rapist, murderer, and psychopath. As the young girl becomes Stanley's new pet, a team of young investigators descend on the hospital to "hunt some ghosts". Stanley sees nothing but fun and games in his future. But what Stanley does not know is that the hospital truly is haunted, and the restless spirits there are not happy with what he has been doing.
The project begins filming in actual haunted locations this summer in Eastern Tennessee. We are currently in the pre-production and funding stage, so anyone who would like to get involved can check out the IndieGoGo campaign and receive some nice perks for their participation as well as pre-order the DVD at: www.indiegogo.com/thehospital
Old South Pittsburg Hospital
What were your initial inspirations for The Hospital, and what can you tell us about your co-writer Daniel Emery Taylor? And what was your collaboration like?
The inspiration for the film came to Daniel and me one night while we were doing a paranormal investigation of the Old South Pittsburg Hospital, just outside of Chattanooga. We thought it would be a fantastic location for a creepy horror film. While taking a break in the investigation, Daniel and I started talking and realized that a movie hadnít been made, yet, that combined the horror films of the 1980ís with the paranormal craze of today. Both Daniel and I had several ideas, so a few days after we returned home, Daniel pounded out his ideas into a rough script and sent it to me. I, then, added my ideas to the script and polished it up some. We suddenly had a project. Itís been a very smooth and productive collaboration.
Daniel Emery Taylor will be co-directing The Hospital with Tommy Golden. What can you tell us about them, and what makes them the right team for the job?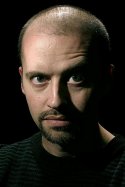 Jim O'Rear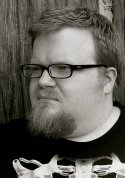 Daniel Emery Talyor


Tommy Golden
Tommy is also a paranormal investigator who, like Daniel and me, have investigated the Old South Pittsburg Hospital numerous times. Tommy could easily visualize what we had in our minds for the story from the start because we were all speaking from the same point of reference. Tommy is also a big horror fan, so it was a natural fit. Daniel and Tommy are both very talented guys who are familiar with the horror genre as well as the paranormal field. They both totally get the material and have the same vision for this film. Thatís a big plus for co-directors. In addition, whatís going to make this a great team-up is that Daniel has years and years of experience working with actors and, as an actor himself, knows what goes on inside of actors' heads. Tommy has less experience with actors, but as a graduate of the Nashville Film Institute, has a wealth of technical knowledge that he brings to the table. So, between Daniel and Tommy, we have a perfect balance.
What can you tell us about your projected cast yet?
Itís mixture of genre vets and newcomers. We had a lot of very talented people audition and it was difficult finding that balance of acting talent with the look and attitude we wanted for each character. Unfortunately, we had to turn a lot of good people down. In addition to Daniel and myself, we have John Dugan from the original Texas Chainsaw Massacre), Scott Teppeman (Ghost Hunters International), Jason Crowe (Dead Moon Rising, [Jason Crowe interview - click here]), Christina Schimmel (American Pie), G. Larry Butler (Frankenstein vs the Creature from Blood Cove), Alicia Clark (Spectres), and many more.
Since there are quite a few gorehounds among my readers - how far do you intend to go in terms of violence and gore?
Weíre going way too far with the violence. There will be a lot of blood. Weíre doing some things in this film that havenít been done before and the violence will be brutal and in your face. We will not cut away at the point where most films would. Thatís not to say that weíre not going to let the audience use their imagination, though, because the mind can come up with something far worse than what we can show you, but there will be a lot of very uncomfortable and bloody moments. We want to make you squirm. Tony Todd (Candyman) actually said that this script is ďthe sickest s**t since Rosemary's Baby.Ē
I know it might be waaaay too early to ask - but any idea when The Hospital will be released onto the general public?
Ha ha. Youíre right, itís waaaay too early to say. We hope to have a sneak peek available a few months after production wraps. As far as when it will become available to the mass public is hard to tell. We have to find a distributor with the same twisted mind as ours to release it. I think thatís going to be our biggest challengeÖ finding a distribution company that doesnít think we went too far and will take a chance on unleashing it upon the public.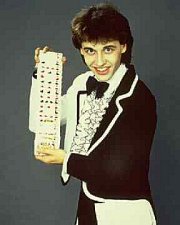 Jim O'Rear in his early days as a magician
Let's go back to the beginnings of your career: You initially entered the entertainment world as a stage magician - what can you tell us about that aspect of your career, and how did you learn your trade in the first place?
Yes, I started out many, many years ago touring as The Youngest Professional Magician. Thatís what I was really interested in. I had no desire to become an actor, writer, producer, or anything else involved in the film industry. I was self-taught in the art and developed ways for my small hands to do the same things the adult magicians were doing. This caught the attention of several magicians, such as David Copperfield, Harry Blackstone Jr, and the great Tomsoni and afforded me the opportunity to work alongside some of the greats.
How did you make the transition from magic shows to film, and what attracted you to the film business in the first place?
It was totally by accident. As I mentioned before, I had no desire to be involved in the film industry. However, one night, after a magic performance a television producer approached me and wanted to hire me for a TV commercial. I was probably in 5th grade at the time. I turned him down and told him I wasnít interested in acting, and even if I was, I had no idea how to do it. He tried to convince me that my entire magic show was ďactingĒ, but I wasnít seeing the comparison. After a week or two of him begging me, my parents, and my agent, I finally folded and said Iíd do the TV commercial. It was shown all over the United States and I was suddenly known as an ďactorĒ. I did enjoy my time on set though, and continued to work in more television, films,and live theater until I finally branched out into other areas, such as stunt work, special effects makeup, directing, etc.
I might be totally wrong about this, but according to my information your first writing assignment was for Gary Whitson's quite amusing Hayride Slaughter [Gary Whitson interview - click here], in which you also do an extended magic act. You have to talk about that film for a bit?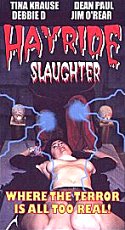 Ha ha ha. No, you are not wrong. My first screenwriting credit was on Hayride Slaughter, which I also starred in opposite Tina Krause [Tina Krause interview - click here] and Debbie D [Debbie D interview - click here]. I was writing before that though, for horror magazines and publications, which is where Gary learned of my writing skills. I canít really say I wrote any of it, though. Gary knew I was an actor and a magician and he liked my writings in various publications. He had a script written for Hayride Slaughter which he wanted to be a little more legitimate that the typical exploitation films he had made in the past, so he asked me if I would look it over and give him some suggestions. I read the script and shot him over several notes about what I would change if I was writing it, and he liked those suggestions I made, so he re-wrote the script and gave me a screenwriting credit, as well. It was a good script. Unfortunately - no disrespect to the actors - when we arrived on the set in New Jersey the only people who had read the script were me and Gary. So, he ended up filming a lot of actors just making up lines and edited together a story out of it. I think thatís part of the reason why he also uses about 20 minutes of me doing magic tricks in the film just to pad out the running time.
What can you tell us about Jim O'Rear the writer, and some of the other films you have written?


Iím the most undisciplined writer ever. They say that a writer must write everyday and that inspiration must come from the writing. Not me. I have to be inspired to write. I may not write a word for two weeks, but when I get inspired to do so I can crank out 20 to 30 pages in one sitting. Itís worked for me, as I have 3 books in the stores with a 4th one coming out later this year, numerous articles published, and several screenplays that have been turned into films with several more under studio options. So, I guess youíd say that Jim OíRear The Writer is pretty untraditional in his approach. Some of the other films Iíve written that people may know are The Deepening (featuring Gunnar Hansen and Debbie Rochon), which is a tribute to the drive-in slasher films of the 1980ís, Scream Farm, a very different kind of zombie flick, Underground Entertainment, a crazy comedy featuring Robert Englund [Robert Englund bio - click here], Danielle Harris, Tom Savini, Ernie Hudson, Tony Todd, William Forsythe, and many other genre greats, and Ghosts of Tennessee, a paranormal documentary based on my first book.
Over the years, you have also directed a handful of films. Want to talk about those for a bit?
I put on the director's hat now and then. Usually itís for my own scripts though, such as The Deepening and Scream Farm, among others. However, I am currently in negotiations with a studio in Los Angeles to direct six horror films beginning later this year - four of them based on my scripts and two of them based on scripts from other writers. I donít have a lot more to share on that, at the present time, though. I enjoy directing, but it really does consume you. When I directed The Deepening and Scream Farm I didnít work on anything else for several months. You really have to put all other aspects of your career on hold when you take on a directing job. Robert Englund told me that he loves to direct but only does so now and then because he knows that itís going to take a commitment of about two years of his life. Thatís why I only direct a film about every three years.
And finally, what can you tell us about Jim O'Rear the actor, and some highlights in your acting resumť?
Tom Savini, Jim O'Rear
on the set of Dead Matter
Well, Iím a character actor. Iím proud of that, too. A lot of actors want to be the leading man and are frustrated when they are not. I donít find the leading man interesting at all. What I find joy in are the odd character roles. The smaller parts that stick with people. I was told by one of my acting teachers in New York (while I was attending the American Academy Of Dramatic Arts) that ďYou will never be the leading man. You will always be the character actor.Ē A lot of students thought that was a pretty harsh statement, but I said, ďThatís great because those are the roles I find most interesting.Ē So, in my career Iíve played a lot of crazy characters - monsters, killers, drug addicts, crossdressers, psychologically disturbed people, things like that - in a wide variety of projects ranging from The Dead Matter to Star Trek 4 to Bloody Poetry to Stephen King's The Boogeyman and more. It means more to me for someone to recognize me from a small character role than from a leading role. For example, I appear in only three scenes in The Dead Matter opposite Andrew Divoff and Tom Savini. However, I always have people approach me and tell me how much they enjoyed my performance in that film. That means a lot to me because it tells me that I was able to create a memorable character that stuck in peopleís minds, even though they had only seen me in three scenes of the movie. Thatís the joy in character acting.
Your film career never seems to stray too far from the horror genre. A genre at all dear to you, and why?
I didnít set out to make my mark in horror, it just kinda fell into placeÖ as have many things in my life. My background is actually musical comedy. I love musicals and performed in a wide variety of comedies before stepping into horror. I enjoyed the horror genre for years and years but never saw myself working in it. By chance, I fell into a couple of small roles in horror films while I was in college that people really enjoyed, which brought me into the publicís eye and caused me to be typecast as a ďhorror guyĒ. Iíve continued to work in the genre because thatís what makes up the majority of projects Iím approached with by directors. If someone was to come to me with a great comedy or a romantic drama, Iíd love to jump into that, but people really like to see me perform in horror roles and production companies tend to want to give the public what they want - so, the same actors get hired quite a bit in the same genres. Itís a good thing that I also enjoy horror and am a horror fan.
Writers, actors, filmmakers, maybe even magicians who inspire you?
Thereís a lot, actually. I like all genres and all aspects of the arts, so itís very hard to pick just a few influences. I think, as far as filmmakers are concerned, I was heavily inspired by the early works of George Romero and John Carpenter. Current filmmakers I enjoy are Chris Columbus, Zack Snyder, Timur Bekmambetov, Bryan Singer, Peter Jackson, Tim Burton, and Guillermo del Toro. Many of these filmmakers also write their own material, so I guess they fall into the writer category, too. Other writers I enjoy are Richard Matheson and early Stephen King (I donít care much for his new stuff). ActorsÖ Iíd have to say some of my favorites are Martin Sheen, Johnny Depp, John Cusack, Kevin Bacon (I think heís highly underrated as an actor), Steve Buscemi, and Robert EnglundÖ but there are waaaay too many favorites to list. My magician influences were Harry Blackstone jr, Houdini, Shimada, Mark Wilson, David Copperfield, Siegfried And Roy, The Pendragons, and Lance Burton.
Your favourite movies?

Feeling lucky ?
Want to
search
any of my partnershops yourself
for more, better results ?

The links below
will take you
just there!!!

Find Jim O'Rear
at the amazons ...

amazon.com

amazon.co.uk

amazon.de
Looking for imports ?
Find Jim O'Rear here ...
Something naughty ?
(Must be over 18 to go there !)

AgainÖ hard for me to pin down. There are so many for a variety of different reason. Off the top of my head I would say Stand by Me, the original Halloween, Star Wars, the original Phantasm, the original Night of the Living Dead, The Notebook, and Shaun of the Dead, just to name a few. Howís that for an odd mixture?
... and of course, films you really deplore?
Iíve already deleted those titles out of my memory! Ha ha ha!
Your/your movie's website, Facebook, indiegogo, whatever else?
Readers can keep up with all of my projects through my website, www.JimORear.com, which also includes a link to my Facebook page and Twitter account.
People wanting to keep up with all of the progress on The Hospital can ďLikeĒ the Facebook page here: www.Facebook.com/SIBpresentsThehospital
Of course, weíd LOVE for everyone to stop by The Hospital campaign page and participate in any way possible at: www.indiegogo.com/thehospital. Time on this is quickly running out and you can get some really cool stuff for very little (including pre-ordering the DVD).
Thanks for the interview!
Thank you for asking me. Hopefully we can do it again in the near future!