Your new movie Fog Warning - in a few words, what is it about and what can you tell us about your character in the film?
Fog Warning is about a group of men trying to make some cash and stir up some scandal, and in wanting selfish things change a woman's life probably forever. They hold her captive and try to get her to confess to being a vampire ... only with her confession can they get their reward. They use Trippy Miller, a 16 year old awkward girl who just wants people to like her, to try and get her to confess. It backfires (as our plans in life often do) and Trippy and Anna actually become comrades saving each other in a way.
How would you describe your approach to the role, and how much of your character, whom I would describe as a naive yet well-meaning misfit, did you find in yourself?
My first instinct with Trippy was to twirl my hair, keep my eyes really wide and innocently and bashfully smirk. That was what I did on my audition. That and I crossed my legs indian style. From there, I explored the nature of loneliness, of being unwanted and unloved, but not truly feeling unlovable. In fact, I viewed Trippy as someone who had no idea that she wasn't liked because she liked everyone... naive is the right word. She did want people to accept her (especially her brother and his friends) and that's what most of her actions in this movie were motivated by.
What I found in myself was the misfit part. I grew up somewhere that I just did not fit in. I hated it there, and I was able to use that for Trippy. Also, I have an older brother, and I have always wanted his approval and acceptance so I grabbed at that feeling right away.
Also, I didn't approach Trippy as 16. At 16, I was "bad" to describe it in one word, so I looked at myself at 12 years old and went from there...
Fog Warning gets a bit rough on your character in the finale. What was it like filming these particular scenes?
It was a rough night, and not just for myself. I mean, I'm not one of those people that is uncomfortable doing things in front of the camera or on stage. I think that everything that happens in life (nudity, sex, rape, murder, love, hate, work etc...) all of it should be in art as long as it's done for a reason and not just there to sell. I'm not sure how I feel about the scene in this film, but I'm not the writer or director. My job was to play Trippy, and she was just trying to save Anna, and when her brother and his friends took advantage of her it actually saved her from ever trying to please them again. In a sense, now she was free to go.
How did you get involved with the movie in the first place?
I submitted myself through Backstage I believe. I had to go all the way to Connecticut for the audition which absolutely made me want to cancel. The day off I was going to cancel, but decided to take the trip. I'm glad I did.
What can you tell us about Fog Warning's director Christopher Ward [Christopher Ward interview - click here], and what was your collaboration like?
Chris Ward knows what he wants. He goes for it, and I like that. I love the actor/ director relationship. There's few things more enjoyable to me than collaborating on finding a character.
Chris really let me have my process. He wasn't super demanding about anything. He was motivating and helpful and gave positive feedback.
With Fog Warning being a horror thriller - is that a genre you can at all relate to, and your genre favourites?
Good question. No, I am not a horror movie person. I get scared really easily and though it's something I instantly enjoy it only takes moments after the film is over for me to wish I hadn't watched it. I don't really enjoy the vampire theme that's happening lately either. I like that Chris put some sweet scenes and some comedy in the film. It's not all blood and guts ...
Let's go back all the way to the beginning of your career: What got you into acting in the first place?
Oh wow, I just loved to play pretend. From the time I can remember I sat in front of the mirror talking to "people". I preferred it to real friendships. I had romantic relationships in the mirror and everything. Ha! Then in the 6th grade I got put in a drama class and fell in love. It was so natural for me to be on stage. I hated the people I went to school with but in that class I felt so free from it all. I found out about LaGuardia High School of Performing Arts at Lincoln Center and decided to audition. I did an Agnes of God monologue and something comedic. It was quite possibly the happiest day of my life when I got the acceptance letter, and the rest is history :)
You got your acting education at the prestigious William Esper Studios. What can you tell us about the acting techniques taught there, and how have these techniques changed your approach to performing?
Well, I did four years at LaGuardia first, and then only after Fog Warning did I study with Bill. Oh Bill, I adore everything about that man. He is freaking brilliant. He has a book called The Actor's Art and Craft. In it is everything I learned in that school. It is the Meisner Technique with a bit extra.
I learned how to be simple and specific. I learned how to use fantasy to prepare emotionally. I learned how to LISTEN. I learned that reaction - reacting with my instincts - is the most important thing. I learned to find the things that make me tick. What pisses me off, what upsets me, what makes me jump for joy etc. I learned how to work hard and how to enjoy every second of it. By watching Bill, I learned that I want to be as passionate as he is until the day I die. Passion for the juice of life.
Let's talk about some of your your other movies for a bit: In As We Were, you appear opposite Fog Warning's Cuyle Carvin [Cuyle Carvin interview - click here]. A few words about that movie?
As We Were is about a man who ends up caught in a relationship with a selfish, alcoholic woman that he can't seem to untangle himself from until a beautiful sweet girl begins pursuing him. I had a blast playing Sarah (the selfish one) and I loved the cast and crew.
What can you tell us about the wonderfully titled Coney Island-set Sodom by the Sea?
I can tell you that the director is really passionate about keeping Coney Island alive and thriving and that I had fun in that role too.
A few words about Spooky Cabin?
Spooky Cabin was a student film. I play a 15 year old girl in that movie. I can barely remember the story anymore, but the crew was great - really sweet people.
Any other films of yours you'd like to talk about? Any future projects?
I did another film with Joesph Kathrein and the DP from Fog Warning, Alan Smith, called The Fabula Project, about a script within a script. They were inspired by Wes Anderson films.
I also did a film with director Liz Agate where I play a 16 year old girl, who is sexually confused and she is attracted to an older married woman, her trailer trash neighbor. Also done with great people.
In the past few years, you've also had quite a prolific career as a stage actress. Why don't you talk about your theatre work for a bit?
I did a play called The Pomo Sex Romp in Manhattan a couple years ago. The director, Fia Alvarez, and the writer, Keith Hendershot, were just brilliant people to work with. My whole part was written in prose. It was such a fun, rewarding part.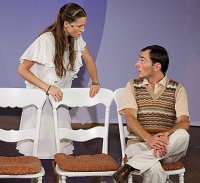 with Eric Peterson in
Teophilus North
I played Myra and Eloise in Matthew Burnett's Theopholius North back in March, and I'm currently playing Sylvia in A.R Gurneys Sylvia. Both projects have taught me a lot and been very rewarding.
How does acting on the stage compare to acting in front of the camera, and which do you prefer, actually?
They're, of course, very different, but acting is acting. My process is very similar in both. Finding the emotional preps, living truthfully moment to moment, reacting, listening. That's all the same. I love them both for different reasons. I love the whole of the art in film: the lighting, the locations, the cinematography, the craft services (yum! ha!), the editing. I love that whole process, but the theater, well that's where I really get to dive into the art of acting. There's nothing like a live audience feeding you energy. I love the rehearsal on stage with the bare minimum for a set, in jeans and a t-shirt script in hand, with a bunch of empty seats and the director. It's so raw. I love that I can live through the entirety of the script each time I perform, instead of jumping from place to place for film. However, with all of that said, I also love that damn camera in my face :)
Roles you'd really like to play (no matter how improbable)?
I've done Juliet scenes but never the whole play and as cliché as it sounds, I would love to do that.
Phaedra, either of the two women in that play - it's so beautiful.
Tracy in Seascape with Sharks and Dancer. Sally in I am a Camera. Ophelia of Hamlet. Liza in Pygmalion. Jill in Butterflies are Free. Marlene in My Sweet Charlie.
There are tons of film roles I wish I could have done but now they're done and so I don't want them anymore... anything really juicy: girl in distress, like Gia, or Clementine, or Naomi Watts in 21 Grams, Sarah in Little Children, that girl in Winter's Bone. Amy Adams in The Fighter ...
Actresses (or indeed actors) who inspire you?

Feeling lucky ?
Want to
search
any of my partnershops yourself
for more, better results ?

The links below
will take you
just there!!!

Find Jackie Shea
at the amazons ...

amazon.com

amazon.co.uk

amazon.de
Looking for imports ?
Find Jackie Shea here ...
Something naughty ?
(Must be over 18 to go there !)

Kate Winslet. She is brilliant, I love everything she has done. Cate Blanchett, Meryl Streep of course. Kristin Scott Thomas - I saw her in The Seagull on Broadway ... brilliant. And I saw Jude Law as Hamlet and he was so remarkable that he is definitely on this list even though he has done the corny stuff too. Melissa Leo (did you see Frozen River!?). I'm a Leo fan also, partially for his face and partially for his skill ;)
Your favourite movies?
Eternal Sunshine of the Spotless Mind, Charlie Kaufmann blows my mind.
Little Children, Raising Arizona, Boogie Nights, The Fighter, Rachel Getting Married, Some Like it Hot, A Bout de Soufle (Breathless), Run, Lola, Run, Annie Hall, Crimes and Misdemeanors, Manhattan, Almost Famous etc...
... and of course, films you really deplore?
The Holiday, Gigli, Charlie Bartlett, anything with Keanu Reeves, Don't Mess with the Zohan, oh, there are so many terrible movies in this world.
Your website, Facebook, whatever else?
http://www.facebook.com/profile.php?id=1483868412
http://www.imdb.com/name/nm2728330/
Anything else you are dying to mention and I have merely forgotten to ask?
Nope! That was quite the rundown :)
Thanks for the interview!