Your movie Fog Warning - in a few words, what is it about?
Fog Warning is about reckless ambition. In the film, three men hold a woman captive because they believe she is a vampire and that they can profit from her confession.
Your sources of inspiration when writing Fog Warning?
I got the idea based on an actual incident of some nut who drank blood because he thought he was a vampire.
Despite the fact that Fog Warning plays it straight throughout, I also sense some highly ironic undercurrents. Would you like to comment on this?
No. I want people to decide for themselves what the film is about and what motivated me to write it.
How would you describe your directorial approach to the subject at hand?
I had the opportunity to work with Robert Altman (The Player, MASH, Gosford Park) back in the 1990's and I learned a lot from the way he used to improvise. I like to keep it loose and be open to ideas as we are filming. We planned out all of the shots, of course, but we would add lines or change shots that felt right for the moment. Most of the picture was shot hand-held which gives it a semi-documentary feel. It is certainly my most satisfying work as a director.
With Fog Warning being a sort-of vampire movie, is the vampire genre especially dear to you, and your genre favourites?
Absolutely! I love the Hammer films of the 1960's and 1970's; Count Yorga, The Night Stalker, anything with Christopher Lee in it, etc. I haven't cared too much for the more recent efforts, not a fan of Twilight, but I did enjoy Bram Stoker's Dracula, which was directed by Francis Coppola. I should add that I read Stoker's book years ago and loved it.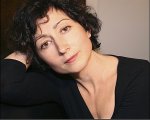 Elise Rovinsky
Let's talk about your principal cast for a bit:
Elise Rovinsky as "the vampire"?
I actually wrote this part for her. We had worked together on my first film, Person of Interest, so I already knew she was an outstanding actress with the range to pull this off. The only reason I want to do a sequel to Fog Warning is to get a chance to work with Elise and Jackie again. It was a pure joy to come to the set everyday she was shooting.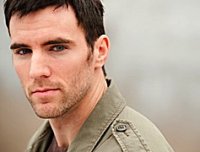 Cuyle Carvin
Cuyle Carvin [Cuyle Carvin interview - click here], Michael Barra and Joseph Kathrein as the thugs?
Three very talented young men. I took a chance on Cuyle for the male lead in my first film, Person of Interest, he was actually too young for the part, yet he pulled it off. In Fog Warning, the character of Karl is a rapist and sociopath, a very nasty fellow; Cuyle is nothing like Karl but in the audition he nailed the part. Like it or not, we all have darkness in us. Cuyle was able to find his and use it to full advantage. That's what great acting is all about. Let me state that I believe Cuyle Carvin will become a major star in Hollywood. By the way, he and Elise Rovinsky have a developed a strong friendship and often work together.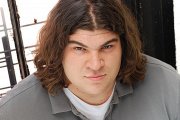 Michael Barra
The part of Ronny was in many ways the most difficult to cast. He has a high IQ yet somewhere along the way he got misguided, took a job in a comic book store, and is now obsessed with the occult and conspiracy theories. I've known some people very much like Ronny. We auditioned every actor we could find but no one could play this part to my satisfaction. Then we just got lucky because Michael Barra was on tour with the musical Man of La Mancha and they happen to be playing in New Haven, which is where we held the auditions. Michael's transformation into Ronny was a revelation. Michael has a part in the new Spider-Man-movie and has already become a serious character actor for television film.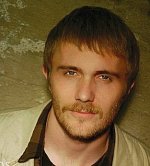 Joseph Kathrein
Joseph Kathrein is another lucky find. On Person of Interest we needed someone to play a drug addict who assaults a priest. We began filming without the part being cast and then one of the actors told me that there was this guy in her acting class who blew everybody away. Joe came up and blew us away. His character in Fog Warning is a white trash moron who wants to sleep with his sister. A thankless part! Joe found the humanity to make the it work.
Jackie Shea as the airheaded teenager [Jackie Shea interview - click here]?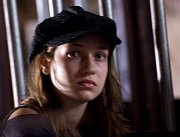 Jackie Shea
I was looking at older actresses who looked young, the character of Trippy is 16, few teenagers have the chops to play a part like this one. Jackie, who was 19 at the time we filmed, owned the part from the very beginning. The wardrobe she wears in the film are actually her own clothes that she wore when she was 16 and dug out of her closet. Her potential as an actress is unlimited. I'm not sure Jackie realizes how great she can be and working with her on the sequel will be amazing.
Madeline Reed as the nosey cop?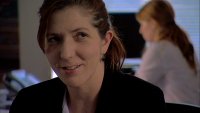 Madeline Reed
While we were filming, another actress dropped out at the last minute because her mother was ill. Madeline, who works in the theatre on Broadway, had auditioned hoping to get the lead. We were lucky that she was available and I changed the part of the cop to fit her because Madeline has a great wit. In fact, she actually came up with some great lines that worked for her character. When interrogating the boys, for example, she talks about how Karl could be in prison "playing don't drop the soap". A great ad-lib.
A few words about the rest of your cast and crew?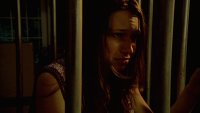 Look these people up on IMDb and I think you'll be amazed at their credits. Alan McIntyre Smith is a fantastic cinematographer and great guy. He also shot most of the film hand-held, not an easy feat with a shoulder mounted Varicam. Jeff Marvin is a very experienced producer who made a huge difference behind the scenes. Marty Lang is a young filmmaker with a bright future who co-produced. Michelle Schulter-Ford is a remarkable A list set designer who took a chance on this low budget indie because she liked the script. The vampire cage, which is an antique lion's cage, was totally her idea. Editor Richard Byard is an old friend who, like Michelle and Jeff, usually works on big budget productions, including Steven Spielberg films. Bryan Capri is a technical wizard and another great guy. Jeff Preston wrote and produced an original score for the film. Glenn Schloss, Brian Quill and the team at G&E Music handled all the post mixing and effects, which is HD 5.1 audio.
What can you tell us about the "historic site" main location of your film, and in what way did it influence Fog Warning, both narratively and aesthetically?
When I was writing the script the Mark Twain house in Hartford, Connecticut, was in the news. They had all kinds of budget problems that delayed the opening and it gave me the idea to make the house a historic site. The house we used was just a nice McMansion in North Stamford, Connecticut. I thought it was very telling that these guys haven't a clue about history or famous writers and that Karl just wants to steal everything that isn't nailed down. That's as much as I want to say about the house.
Would you like to explain the title of your movie?
My favorite painting is Fog Warning by Winslow Homer. It is a great metaphor for the struggle of life. We got permission from the Boston Fine Art Museum to shoot the painting and it appears early on in the film.
What can you tell us about audience reaction to Fog Warning so far?
We've had some film festival screenings, mostly horror fans - which worried me. This is not a slasher film yet their reaction was overwhelmingly positive. I think the actors are so good that you can't help but be caught up in the story.
Let's go back to the beginning of your career: What got you into moviemaking in the first place, and did you receive any formal education on the subject?
I went to a Hitchock film retrospective at a museum when I was 10 years old. After that I knew I would work as a writer/director. I went to film school at The Ohio State University, but learned just as much experimenting with my own short films.
As far as I know, you have started out as a documentary filmmaker. What can you tell us about that aspect of your career, and what made you take the step into feature filmmaking?
I worked as a network television producer for many years and did a lot of docs. I always wanted to direct a narrative feature, of course, and so far have done two. Next up is Fog Warning 2, which will follow the women, Elise and Jackie, as they go across the country avenging the abuse of animals.
What can you tell us about your first feature, Person of Interest?
It is a traditional Agatha Christie type mystery with lesbian protagonists. It was a blast to shoot and many of the same people appear in Fog Warning. It is being distributed by Ariztical Entertainment:
http://www.ariztical.com/filmsAZ/person_of_interest.html
Any other movies of yours you'd like to talk about, any future projects?
Fog Warning 2 is on my radar right now. Jeff Marvin and I have also formed a partnership and are pitching some projects.
You also teach filmmaking at Quinnipiac University, right? What can you tell us about that aspect of your career, and any advice for young filmmakers you can share right here and now?
I also teach at NYIT in Manhattan, which has a lot of students from Europe. My best advice is this: Find a good teacher or mentor to help you hone your work with production classes! We learn by doing. Get out there with your camera and start shooting, docs, short films, etc.
Filmmakers who inspire you?
Anyone doing something different. Lars Von Trier's The Celebration changed my life by getting me to move into narrative features. It all began with Hitchock, but I love the other master filmmakers, such as Altman, Kubrick, Truffaut, Fellini, Herzog, Kurosawa, Leone, Welles, and on and on.

Feeling lucky ?
Want to
search
any of my partnershops yourself
for more, better results ?

The links below
will take you
just there!!!

Find Christopher Ward
at the amazons ...

amazon.com

amazon.co.uk

amazon.de
Looking for imports ?
Find Christopher Ward here ...
Something naughty ?
(Must be over 18 to go there !)

Your favourite movies?
How much time do you have here? The Red Shoes, Paths of Glory, Vertigo, The 400 Blows, MASH, Amacord, The Lady from Shanghai, Goodfellas, No Regrets for Our Youth, Once Upon a Time in the West... I could go on and on.
... and of course, films you really deplore?
Most of the garbage being produced by Hollywood these days. The movies are all made by the marketing departments. Love it or hate it, Fog Warning is completely original.
Your/your movie's website, Facebook, whatever else?
www.fogwarningthemovie.com
Check out the Fog Warning page on Facebook.
Anything else you are dying to mention and I have merely forgotten to ask?
The film comes out on the 31st on i-Tunes and I'd love to know what people think. I can be reached at ward_christopher@hotmail.com
Thanks for the interview!